Handmade furniture is a huge market with a lot of potential. The thing that makes it stand out is that every item is unique and hand crafted. This means no more run-of-the-mill furniture in one's home, making it a pleasant, cozy, and more comfortable environment. If you're good with your hands and you're wondering if you should take your handmade furniture to Etsy, there are a couple of things you should know.
Firstly, Google search volume for these products is massive at around 1.5 million searches per month. Secondly, Etsy search volume for "furniture" is also considerably high at 26,672. This makes the market worth exploring.

But what strategies do you need to use to get in front of the right audience?
We explore this question in more depth below.
How big is the market for handmade furniture?
Using Sale Samurai's "Search" module together with some browsing on Etsy, we determined that there is above 500,000 results for the keyword "furniture" on the marketplace. These range from smaller bookshelves to much larger items such as sofas.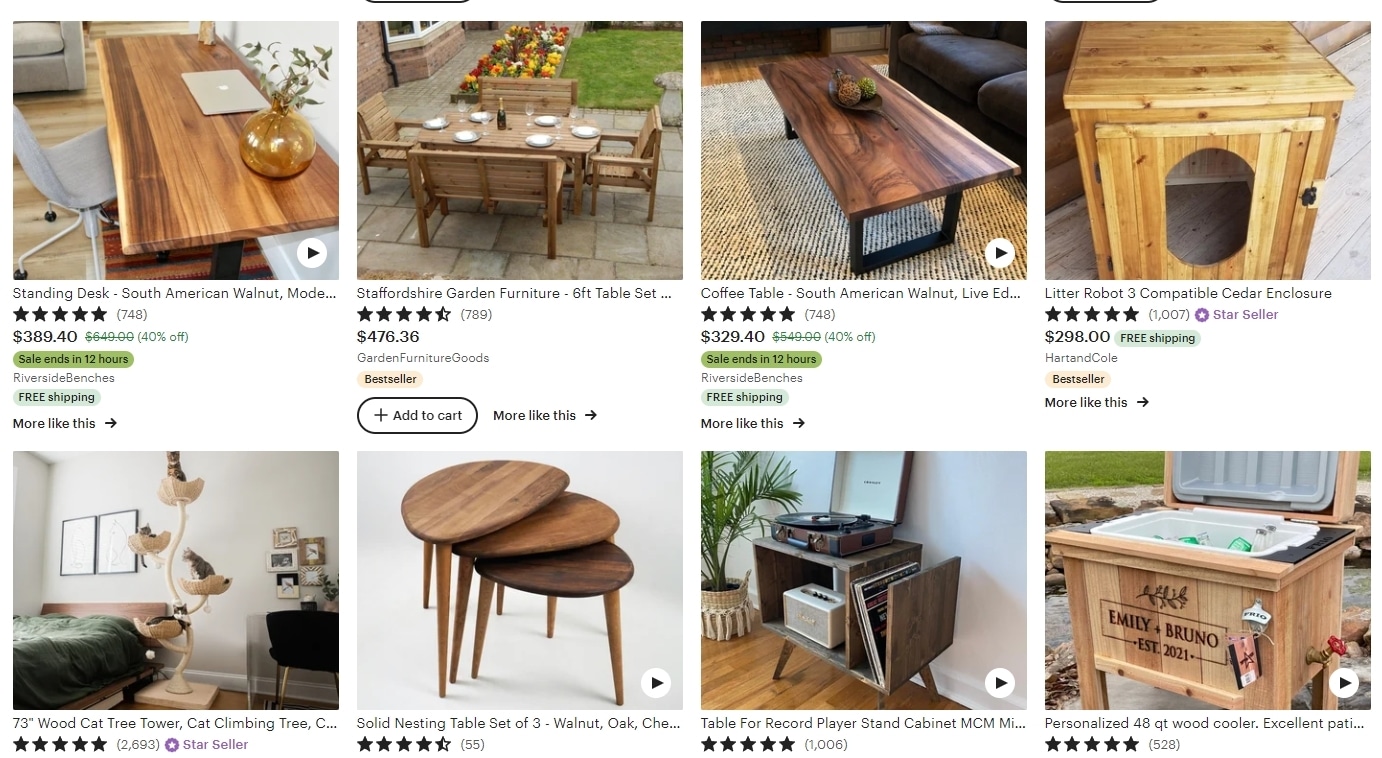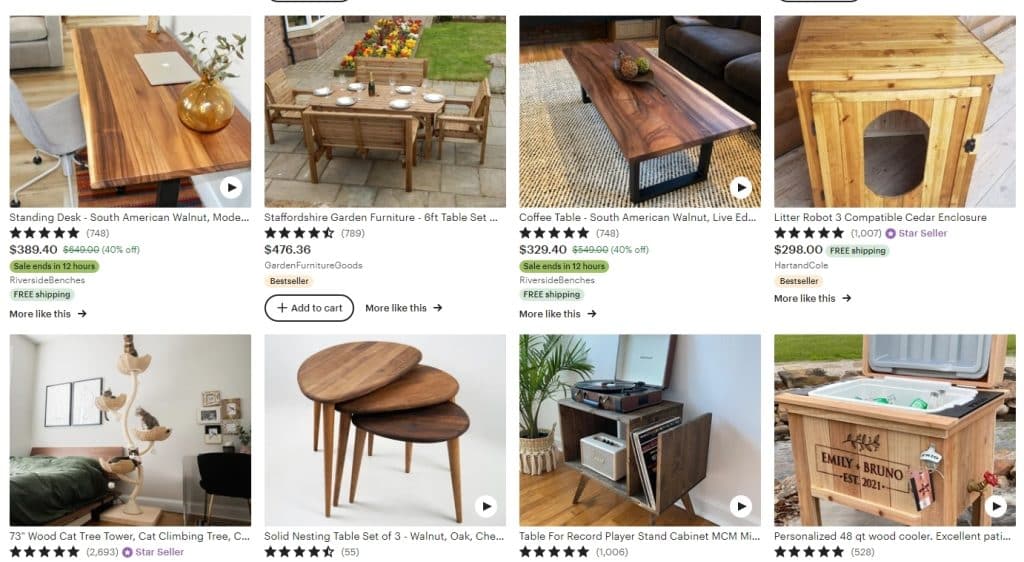 Next, we dove deeper into the specifics of the market to uncover the following keywords with their associated Etsy listings count:
"Handmade furniture dining table": 22,955
"Handmade furniture coffee table": 25,326
"Handmade furniture chair": 17,578
"Handmade furniture side table": 16,529
"Handmade furniture end table": 16,529
"Handmade furniture epoxy": 10,037
"Handmade furniture bed": 7,127
"Handmade furniture desk": 5,520
"Handmade furniture dresser": 4,628
It's fair to say that dining and coffee tables are the most popular items in the handmade furniture category, with chairs and auxiliary tables coming in at a close second.
In terms of related keywords, we looked at what Sale Samurai has to offer in terms of keywords and their search volume. Our findings reveal that "unfinished furniture" (1,148), "mcguire furniture" (1,130), "plywood furniture" (1,127), "antiques furniture" (1,107), "dixie furniture" (1,087), "vault furniture" (1,070), "ak47 furniture" (1,051), and "hifi furniture" (1,048) are among the most popular searches.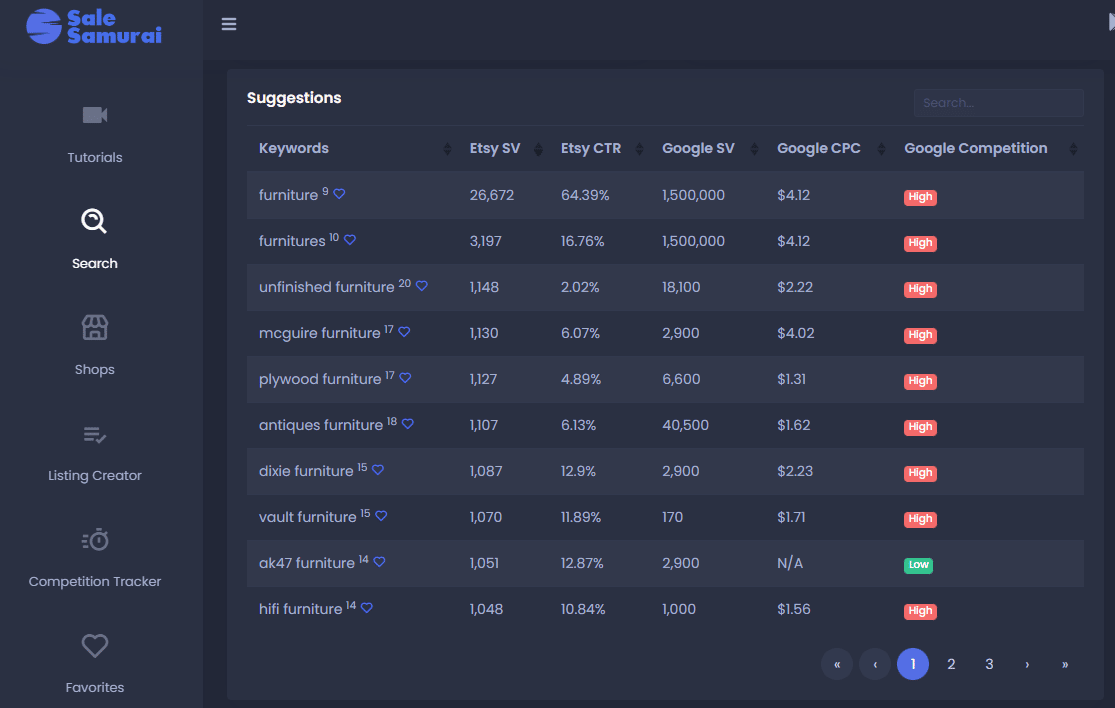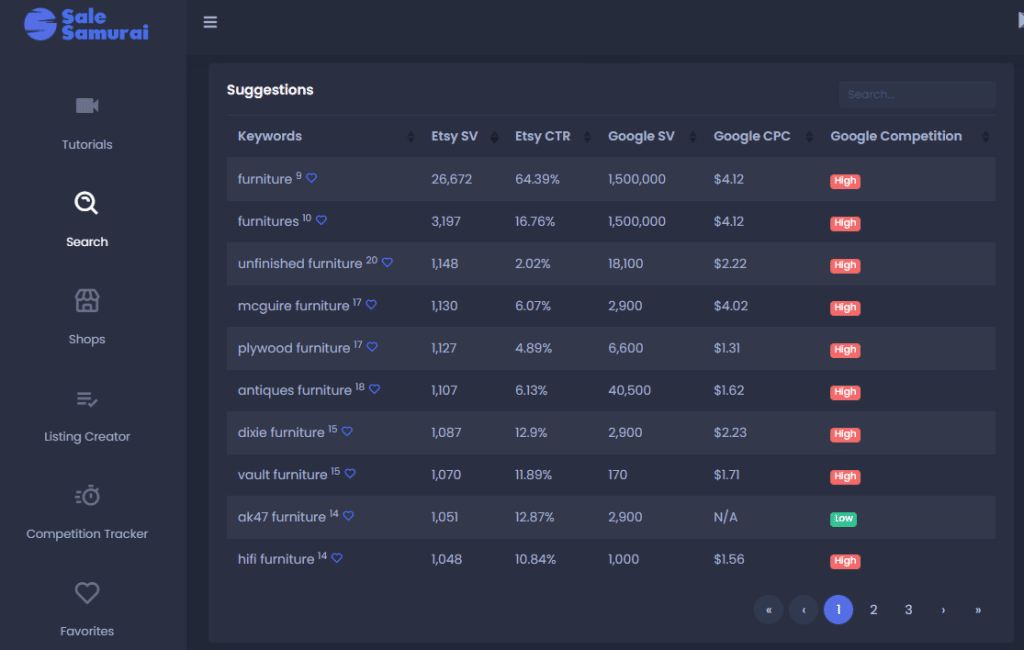 These findings indicate that buyers are looking for specific, albeit diverse attributes, including materials used, style and even blocks of furniture to put together themselves.
Tags are the keywords used by sellers to help them rank higher when an Etsy customer is doing a search for particular queries. In relation to handmade furniture, some of the most popular tags used include: "home decor" (26,172), "farmhouse decor" (3,558), "dining table" (3,378), "round table" (3,253), "drawers" (2,531), "wooden" (2,193), "table" (1,865), "chair" (1,831), "sofa" (1,375), "living room decor" (1,127), and "farmhouse table" (1,089).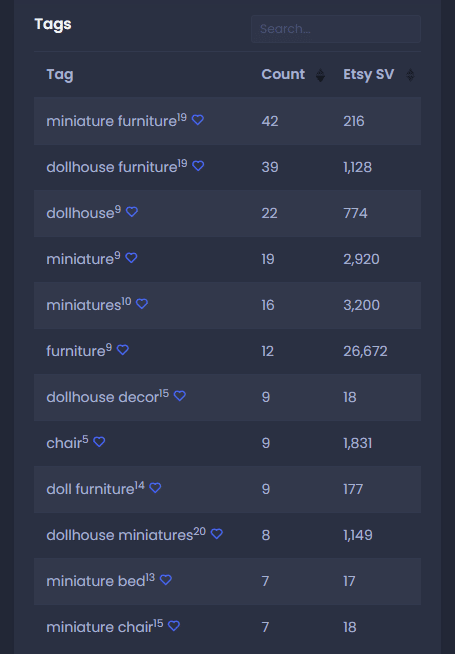 This confirms our previous findings in terms of tables being the most popular item in the space.
Lastly, we explored the prices for the main keyword "furniture". Surprisingly, some of the lowest prices for furniture on Etsy are $0.58. The highest prices go as far as $280.61. Meanwhile, the average price is $28.01.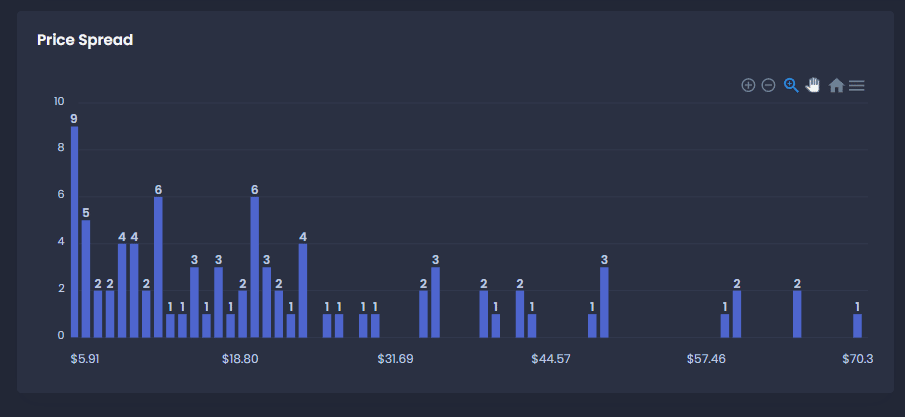 What are some of the best-selling merchants doing right?
We chose two of the top bestsellers in the handmade furniture category to see what strategies they're pursuing.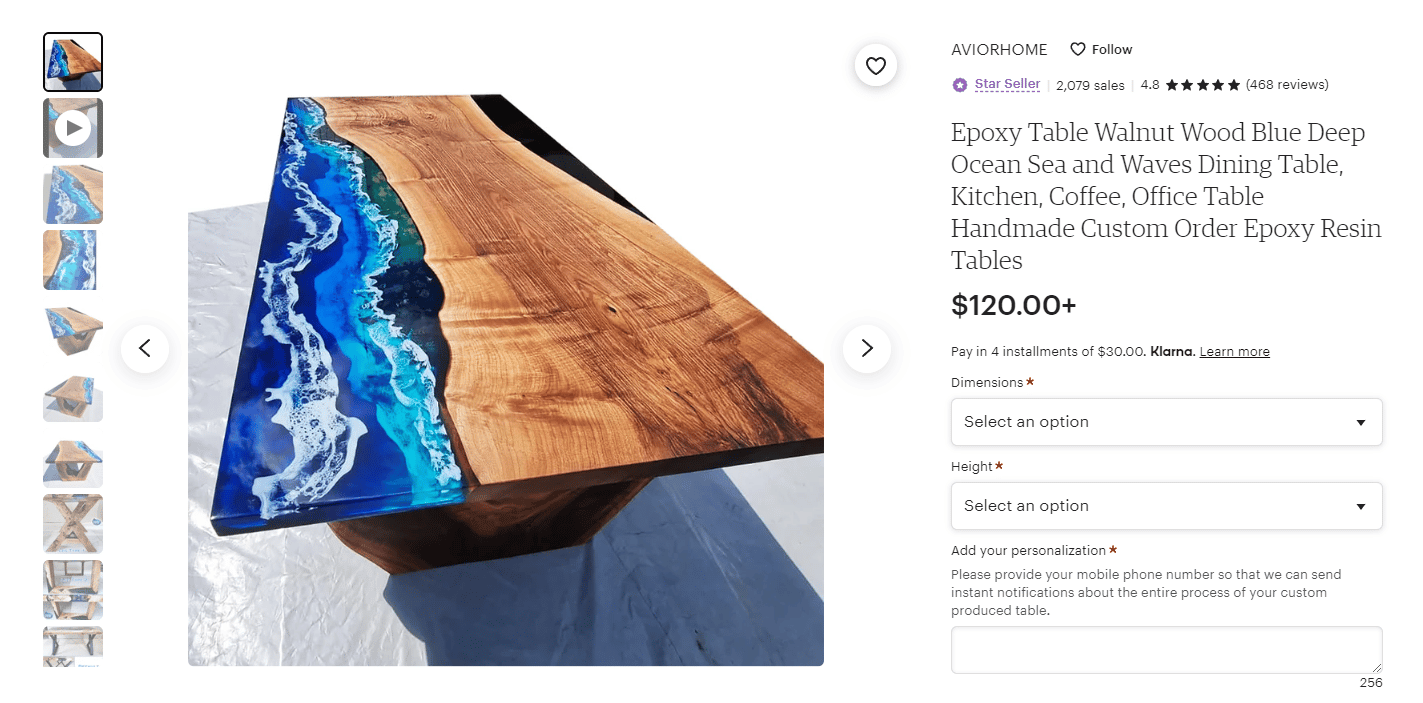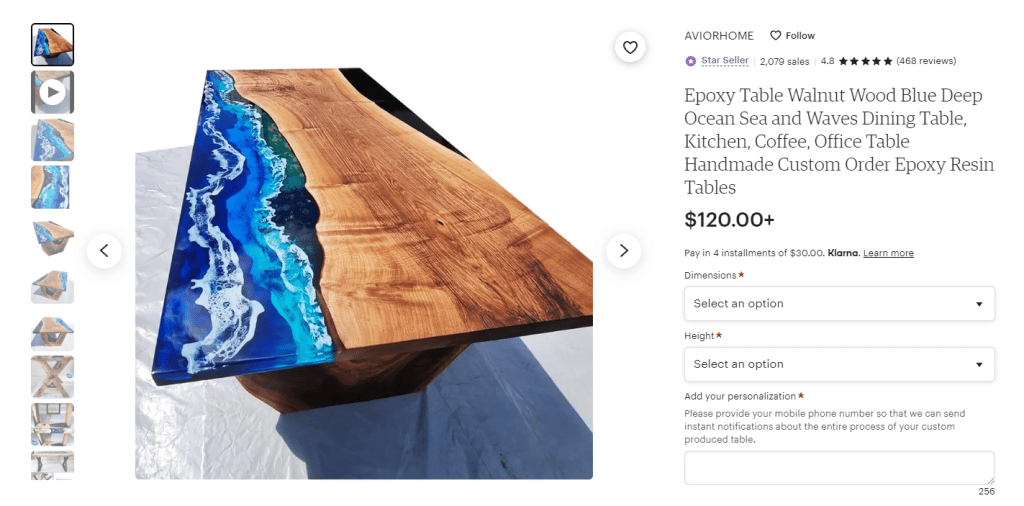 First up we have AVIORHOME with their "Epoxy Table Walnut Wood Blue Deep Ocean Sea and Waves Dining Table, Kitchen, Coffee, Office Table Handmade Custom Order Epoxy Resin Tables". This seller has maximized their 140 character space allowed for titles on Etsy, while incorporating high search volume keywords such as "epoxy", "table", "kitchen", "dining", and "coffee".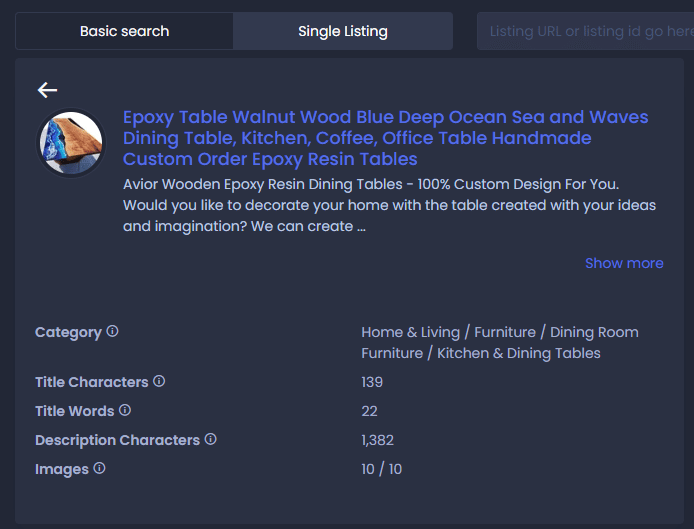 The description is highly detailed, spelling out the types of materials used and the ability to customize the table. The seller has used 10 images to display the item from different angles. Regarding price, they've gone quite a bit above the average selling at $999.00. The quality of the product and the customer service has earned this seller five out of five stars and multiple positive reviews.
Secondly, we have the metallegscom star seller on Etsy. They have produced the "Unique shape metal table base for heavy round tables. Premium quality from EU. Handmade furniture table legs [RTBUN9]". This title captures searches for "furniture legs" and "table". It's a detailed title because it talks about the shape and materials used in creating it. With this in mind, the seller has also mentioned in their description the dimensions of this product, information about shipping, and more.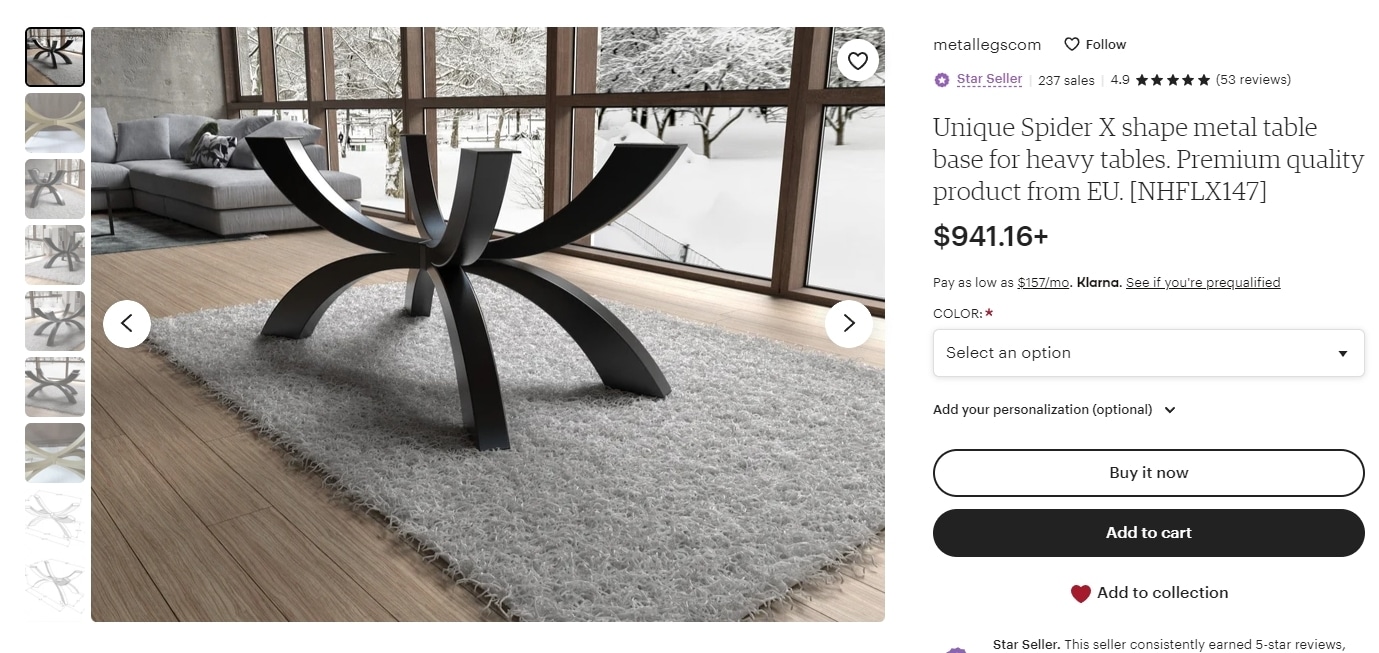 This has earned them five out of five stars, despite the relatively high price of $947.22. The seller has also presented eight images of their product when listing on Etsy.
How profitable is this niche?
Looking at potential profitability, we can calculate the expected turnover for each of these star sellers. For the first seller mentioned above, we see that they've made 2,074 sales selling at $999.00. This leads to an impressive turnover of $2,071,926.
With regard to the second seller, they've made considerably fewer sales at 216, resulting in a turnover of $204,599.52.
Profitability in this niche is a definite possibility, as furniture is generally expensive. Add in the handmade and custom-built nature of the products, and you've got yourself the chance to earn some pretty solid figures. Just remember to factor in the assembly costs when coming up with a fair price.
Recommendations for sellers seeking to enter the handmade furniture niche
There are certain strategies that you can use, modeled on the bestsellers we described above, as well as our initial findings regarding listings, keywords and search volume.
Keywords
Starting with the right keywords in your title, you need to look for high search volume, low competition keywords. These will not be limited to the keyword "furniture". They must also include the type of furniture you're selling such as sofa, chair, dining table, side table, coffee table, and others. Generally speaking, tables of all sorts should be your priority. This means different styles, different materials and different practical applications.


When creating your title, make it as long as Etsy allows. This means going up to the 140-character limit the platform offers. As for descriptions, since furniture can be quite a pricy investment, be as detailed as you possibly can. Don't forget to mention the dimensions and materials of the item, how long it will take to ship, what your customer service is like, and if you have a return policy.
Pricing
As for pricing, it's evident that the bulkier items that take longer to craft are going to be more expensive than smaller bookshelves, for example. This is why you need to calculate your cost of materials, labor, the Etsy listing fee, the transaction rates, shipping, and other costs to come up with the final price.
In this sense, the time-tested strategy of pricing around the average will be highly dependent on a whole range of factors. It makes sense that a large wooden dining room table will cost a lot more than a set of bookshelves. This is why you need to strike a fine balance between charging what the product is worth and what others in the same sub-niche as you are pricing their products at.
Presentation
The quality of the images you use cannot be overstated. These images are the only access your customer has to your product. Without a quality image, your title and description will be futile. Therefore, not only should you make use of all the 10 spaces for images that Etsy allows, but you should also use lifestyle, action photos of your furniture products to show what settings it can be used in. The more attractive your photo, the better chance of making a sale.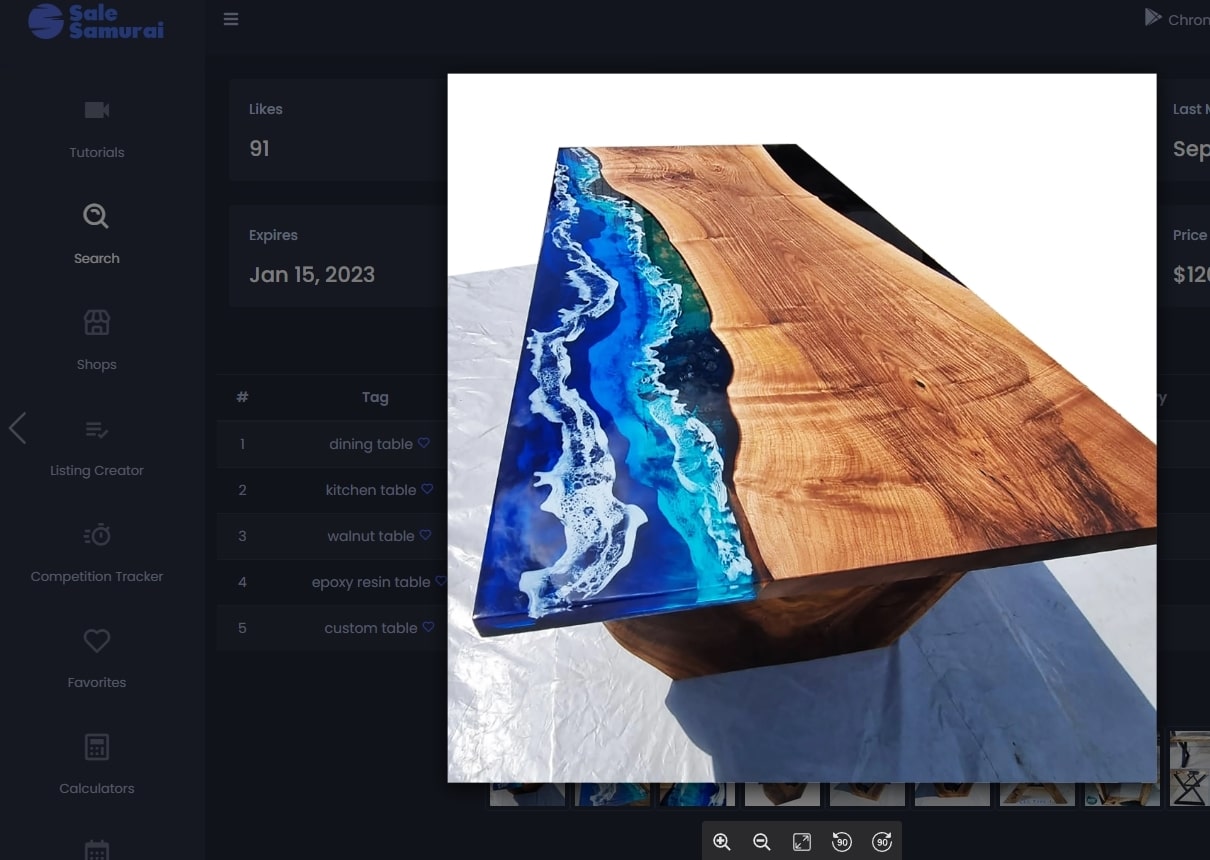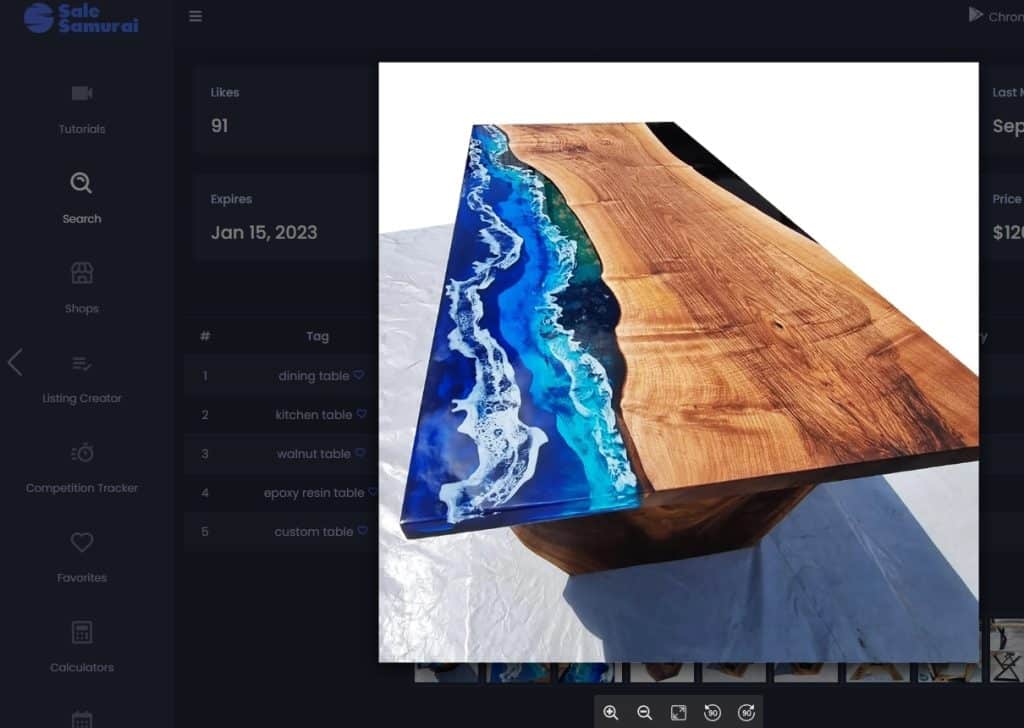 Ratings and reviews
Finally, we reach your ratings and reviews. These serve as social proof that your product is worth the purchase. It is the modern day equivalent to word-of-mouth advertising. When customers see others who are satisfied with your product, they are more likely to purchase it based on these positive reviews.
Although getting ratings and reviews can sometimes be difficult because it's an organic process that shouldn't be pushed onto buyers, the quality of your product and customer service should speak for themselves. This will lead to better sales and better reviews.
Final thoughts
Although handmade furniture constitutes a broad category on Etsy, there is certainly room for profitability if you are a good craftsman. Some of the top sellers are bringing home more than $2 million, whereas others are making hundreds of thousands of dollars with just a couple of hundred completed sales. It's true that the larger the product and the longer it takes to produce it, the higher the price will be. But you shouldn't be put off by creating smaller items either. Ultimately, your Etsy strategy should incorporate a listing optimization process that is accompanied by strong customer service and quality items.
When you're ready to get started, we highly recommend that you make use of one of the industry's most versatile and helpful platforms to help you do your research right.
Sale Samurai goes for only $9.99 per month. It grants you access to Etsy and Google search volume and competition, related keywords and tags, images, views, and likes, average number of days for shipping, average prices, and a whole lot more.