From tote bags to clutches, handmade bags have a unique place in every woman's heart.
But there's one question that stirs curiosity among sellers. Are these artisanal treasures making a significant mark on Etsy?
In the following sections, we delve into the realm of handmade bags, exploring their allure, impact, and diversity.
A broad overview of the handmade bag market on Etsy
The handmade bag segment on Etsy is colorful and diverse.
But before we dive into the deep waters of this exciting space, it's worth investigating the size and popularity of the niche.
This will help sellers make informed decisions on whether this segment is something worth pursuing.
We used Sale Samurai to get access to all the insights we needed to fully understand the niche. What struck us most is the difference between "bags" and "handmade bags".
Let us show you what we mean.
When researching the phrase "handmade bag", we discovered a total of 414,998 results on Etsy. According to Sale Samurai, the monthly search volume of this phrase is only 369, with a competition level of 639,807.


These numbers don't necessarily scream a thriving market.
However, things change dramatically when we analyze "bag" as a market.
The space stands out with 3,584,871 Etsy results, a monthly search volume of 26,658 and an astounding competition level of 5,774,511.
But why is there such a substantial difference?
First, "bag" is a general keyword that can apply to both men's and women's bags.
It also represents various bag styles, which can be considered individual product categories.
Another important thing to note is that the bag market on Etsy mainly comprises handmade creations.
After all, Etsy is a well-known marketplace for unique, authentic, and handmade gems. When browsing the platform for women's bags, the majority of listing descriptions state that the item is man-made.
Despite this, most product titles don't feature the word "handmade".
This detail is key as it can skew numerical data from Sale Samurai. It's, therefore, essential to apply critical thinking to determine whether the bag market is, in fact, the "handmade" bag market on Etsy.
To make sure our insights refer to bags as women's accessories, we performed another search – "women bag".
Etsy displays a total of 442,673 results for this phrase, while Sale Samurai uncovers a search volume of 34 and a competition level of 611,178.
But what if we go further than this and explore the most popular bag styles?
Let's take a look.
A deep dive into Etsy's most popular women's bag categories
Most ladies will agree that one bag is never enough. There are a plethora of bag styles that are specifically designed for different occasions.
For sellers, this creates a tremendous opportunity to be creative and open up new revenue streams.
After extensive research, we identified the following five bag categories as the most popular:
Clutch bags
Tote bags
Hobo bags
Shoulder bags
Crossbody bags
Let's dive into each one of these markets to determine how trendy they are among consumers, their competition level, and what profitability you can expect.
Clutch bags
Sleek and elegant, clutch bags are the epitome of evening chic, offering a touch of glamour to any ensemble. They're a must-have item in a woman's wardrobe and an attractive niche from a seller's perspective.
Looking at the numbers, clutch bags generate a monthly search volume of 877 on Etsy. They come with a competition level of 197,404, indicating that ranking high in this category won't be a walk in the park.
At the same time, there are plenty of sub-niches to explore. Getting your hands on the right ones enables you to position your listings competitively and quickly gain visibility.
For example, one of the most loved listings in this space is the "Designer Party Clutch, Ultra Slim Modern Clutch with Tassel, Women's Bohemian Clutch Purse with Multiple Slots for Money, Cards, Smartphone", which sells for $28.79.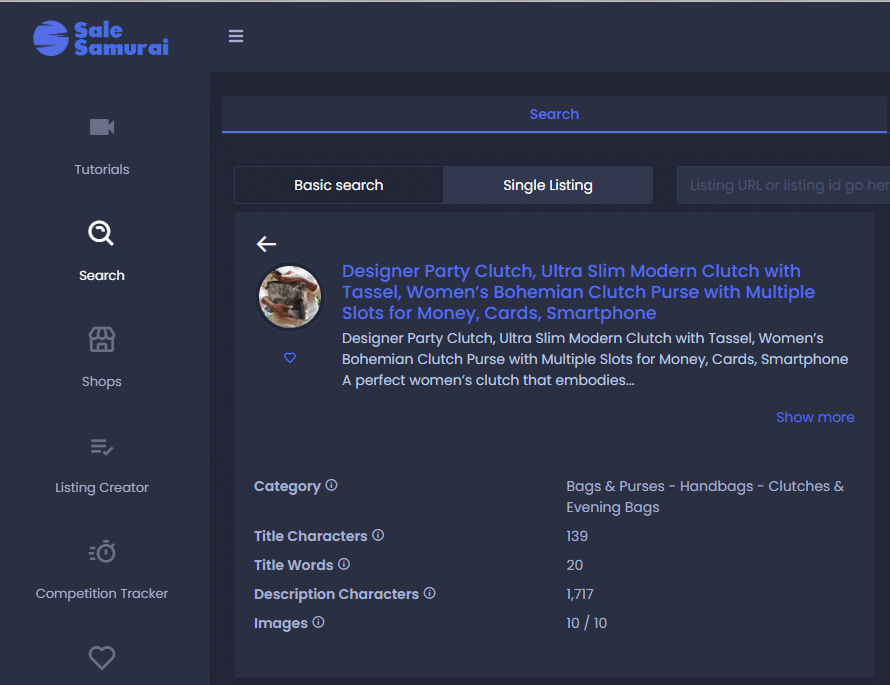 The price is much lower than the average in the market ($48.57), which makes it appear like an extremely good deal.
The listing title is also optimized for diverse keywords, including "designer", "party", "ultra slim", "modern", "tassel", and "bohemian". All of these words are part of distinctive niches, which makes the item easily discoverable to a wider audience.
Tote bags
The next big handmade women's bag category is tote bags.
Spacious and versatile, they effortlessly blend fashion with function, making them the go-to choice for busy days and weekend getaways.
According to the numbers, tote bags rise above other categories with the highest search volume (26,190). At the same time, they're also the hardest to rank for, with a competition level of 998,145.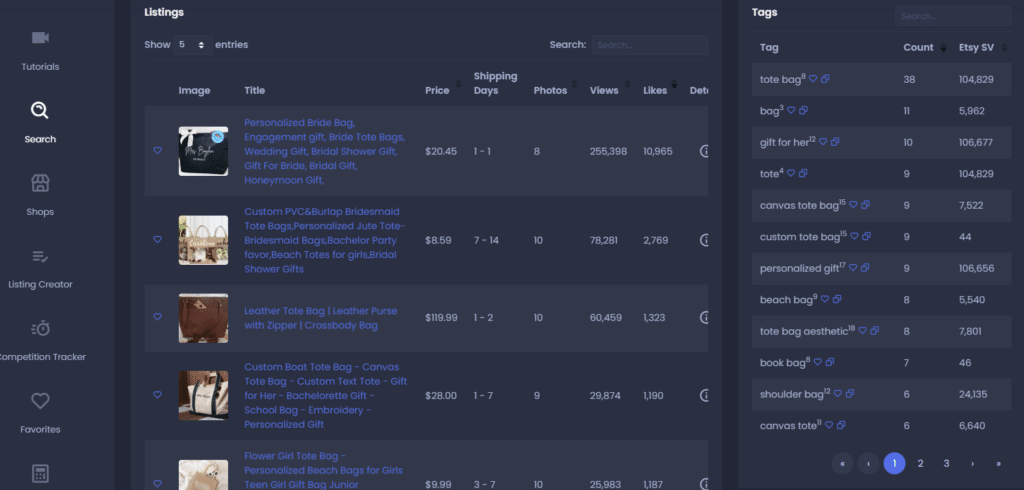 If penetrating this market is your next mission as a seller, you'll need to know the minimum, maximum, and average prices. This will help you craft a successful pricing strategy and outperform others.
In this case, these are as follows:
Minimum price – $3.00
Maximum price – $434.78
Average price – $28.67
Do these prices translate into profitability?
To find out, think about the expenses of creating a stunning clutch bag. Subtract your costs from your price to determine your revenue.
In most cases, we recommend starting with a price that is similar to the average in the space. This will give you a competitive edge and will make your listing stand out.
Hobo bags
The third big handmade women's bag style we identified is hobo bags.
With their slouchy silhouette and bohemian flair, hobo bags exude a casual yet stylish vibe, perfect for those who embrace a laid-back approach to fashion.
Although the search volume of this phrase doesn't trigger any excitement (only 787), the competition level does.
The phrase "Hobo bags" has a competition level of 33,416, which is the lowest on our list.


Put otherwise, hobo bags are the easiest to rank for.
For new sellers, this means quick access to more traffic and ultimately, more sales.
Surprisingly, this category also stands out with the most impressive average and highest prices ($125.94) and ($1,500).
Assuming that creating these products costs a similar price to that of clutch bags and tote bags, it's safe to say that you can expect to earn the highest revenue per sale in this category.
Shoulder bags
Classic and timeless, shoulder bags are designed for everyday convenience, allowing you to carry your essentials while keeping your hands free. They're yet another broad and diverse niche on Etsy, creating money-making opportunities for sellers.
According to Sale Samurai, the phrase "shoulder bag" generates a monthly search volume of 977 and goes hand in hand with a competition level of 581,531.

Here, the minimum, maximum, and average prices are mediocre:
Minimum price – $5.20
Maximum price – $366.67
Average price – $88.23
Browsing on Etsy, we identified that some of the most popular materials used for successful bags include leather, wax fabrics, cotton, and rope.
Why is this important? Because it can guide you towards crafting the perfect product.
Crossbody bags
The final handmade bag category we explore is crossbody bags.
Offering both style and practicality, crossbody bags are the ideal companions for on-the-go individuals, providing comfort and security while adding a trendy touch to any outfit.
Sale Samurai unearths that this category attracts substantial interest from shoppers. It generates a monthly search volume of 3,429 and has a competition level of 336,614.
In addition, sellers can truly enjoy fruitful gains, considering the lowest, highest, and average prices in the market:
Minimum price – $7.99
Maximum price – $271.74
Average price – $53.93
Let's look at a real-life example.
The "Leather Crossbody bag. Leather bag. handmade leather bag. UN The Original." listing is one of the most popular items in the space. It sells for $96.86 and has received a total of 829 customer reviews.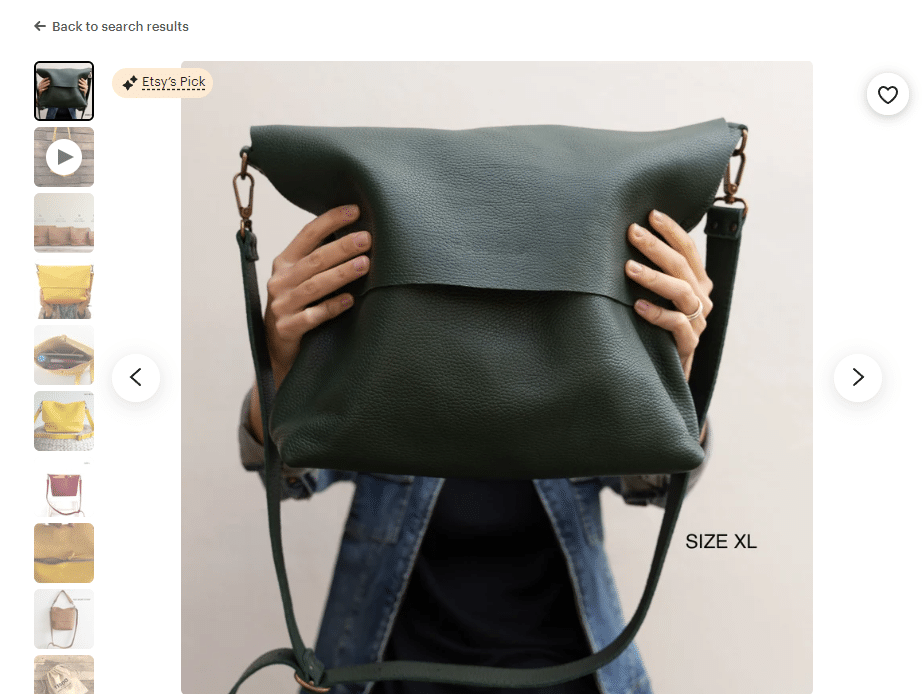 It's part of the ELEVEN600 shop's portfolio and contributes to a total of 29,143 sales. As you can see, the listing targets vital keywords like "leather", "handmade leather bag", and "crossbody bag". This enables the seller to rank for these phrases and win consumer interest.
Most popular tags in the handmade women's bags niche
Now that you're familiar with the top categories in the space, you're probably eager to get started.
But before you can set on the road to success, there's one final detail to mention – accompanying tags.
Remember, once you've created your listing, you can optimize it with a total of 13 tags. These further equip your listing for more traffic and discoverability on Etsy.
In the case of handmade women's bags, we noticed that some of the trending tags include:
Gift for her
Wedding gift
Personalized
Bride
Bridesmaid gift
These words and phrases suggest that women's bags often make the perfect Wedding gift.
You can use this data to prepare the ultimate sales strategy and create a bestselling item.
Conclusion
As it turns out, "handmade" isn't a dominating word in the women's bags market on Etsy.
However, the reality is that the majority of bestsellers in this category are, in fact, handmade, according to product descriptions.
If you're ready to put your fingers into this lucrative and diverse market, stick to the niches we've shared above. Compete in proven markets that sell and don't forget to use Sale Samurai for reliable data along the way.