Boho, Eclectic or Minimalist: what is the style that brings the most cash to Etsy decor artists?
In the vast and vibrant world of Etsy, creativity flourishes. Countless artists and artisans showcase their unique creations to captivate the hearts of buyers worldwide. Etsy has become a bustling marketplace for diverse product categories, like interior design or home decor.
Among the myriad of styles that adorn the digital shelves, three distinct design aesthetics have risen to prominence: Boho, Eclectic, and Minimalist.
But for Etsy decor artists seeking to turn their passion into a profitable venture, there's one burning question that lingers. Which style reigns supreme in terms of financial gains?
Let's find out using precise data from Sale Samurai.
Exploring boho, eclectic, and minimalist styles
If you know your interior design and you're enthusiastic about the different styles, you'll probably know the differences between these three pillars. However, our research on Etsy revealed that there are a lot of links between these separate styles.
This sometimes leads to a listing being categorized as boho and eclectic simultaneously, for instance.
But to create some barriers around each style, let's shortly explain what it features.
Boho, short for "bohemian," is a home decor style that embraces a free-spirited and artistic aesthetic. Rooted in a bohemian lifestyle and inspired by various cultures and eras, Boho decor combines vibrant colors, natural elements, and a mix of patterns to create a relaxed and laid-back atmosphere.


On the other hand, the eclectic home decor style is a design approach that embraces a mix of different styles, eras, and influences to create a harmonious and visually engaging space. Unlike more traditional or uniform design styles, eclectic decor celebrates the freedom to combine diverse elements, creating a unique and personalized environment that reflects the homeowner's tastes and interests.
Lastly, minimalism in interior design is characterized by simplicity, clean lines, and a focus on functionality. It revolves around the principle of "less is more," emphasizing a pared-down aesthetic and removing unnecessary clutter to create a calm and serene living space.
Are all three styles popular on Etsy? According to our research – yes, they are. But by far, the boho home decor style dominates in terms of both user interest and generated sales.
Let's look into the numbers.
Boho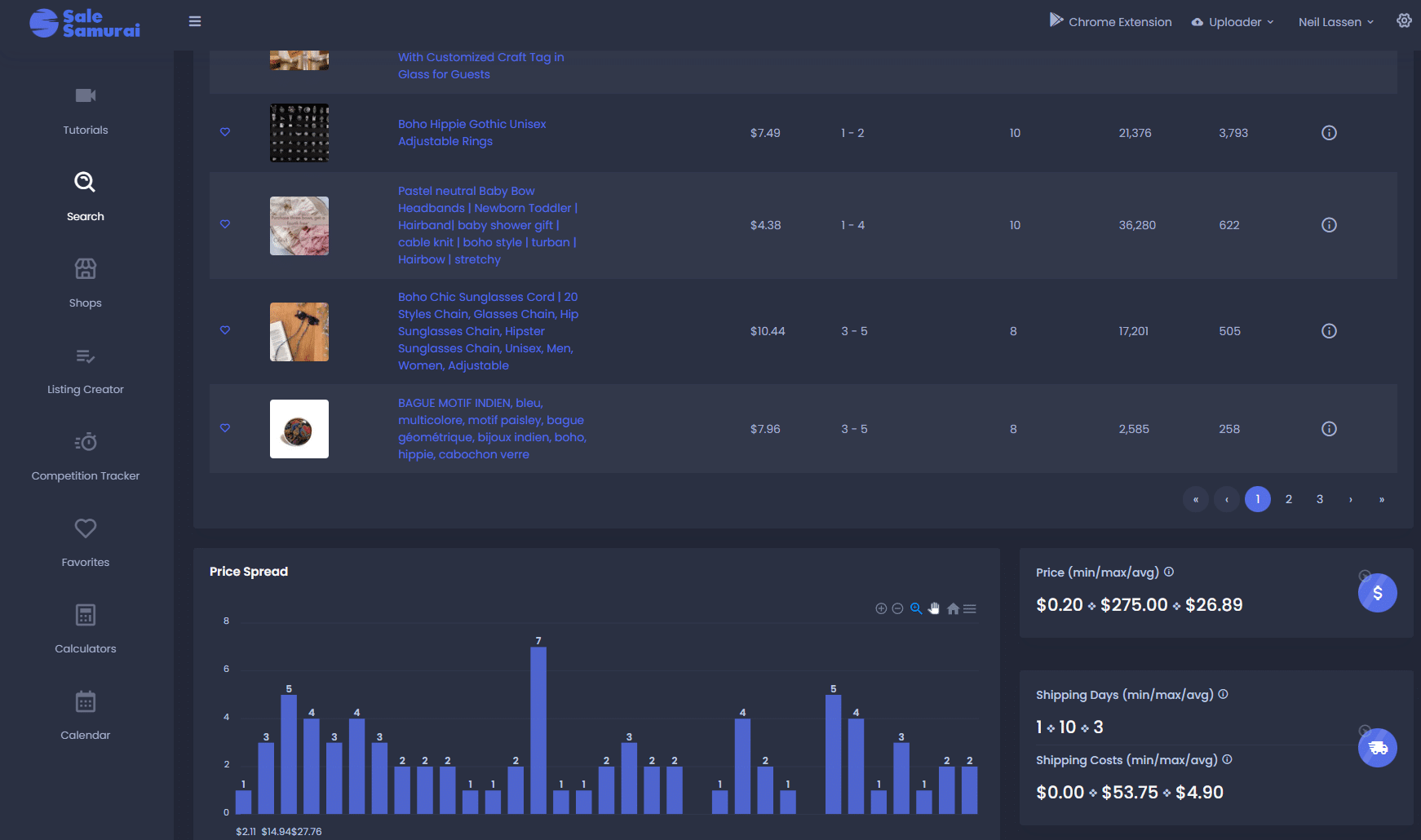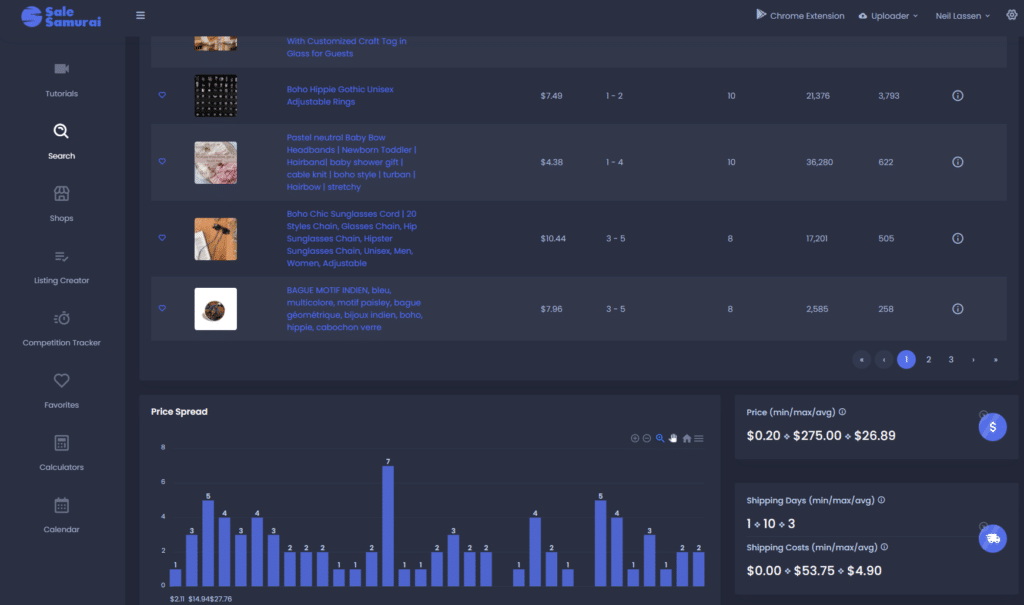 Right off the bat, the boho decor category stands out with the highest search volume (3,191) from all three styles. However, it also has the second-highest competition on Etsy (1,463,151), meaning that building your name in the space may be a bit more difficult.
The average prices for boho decor pieces are around $90, while the highest reach up to $1,400.
So far so good, but the interesting part comes when we inspect three of the successful shops in the market.
MetalWallArtDecors
The MetalWallArtDecors shop specializes in metal wall art and spring home decorations specifically in the boho style. It has scored 5,789 sales with a portfolio of 263 listings. Individual listings receive around 100 customer reviews and the overall shop rating is five stars.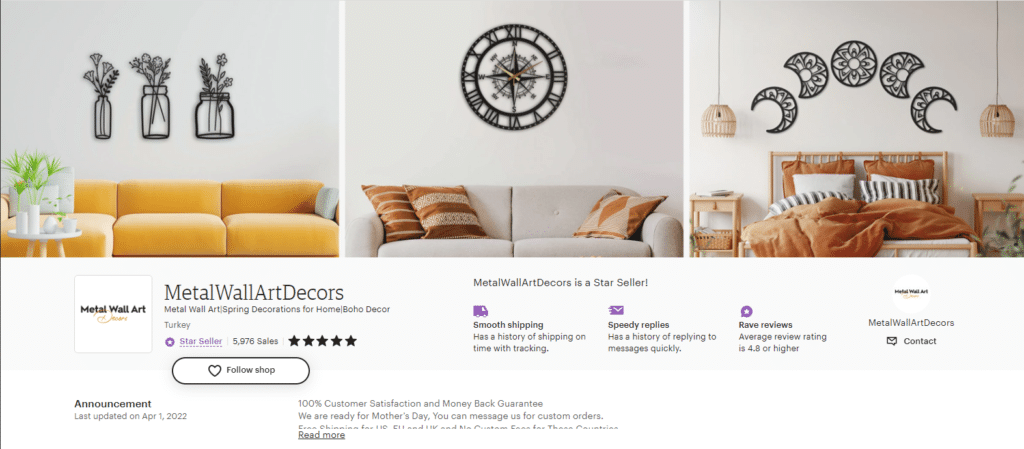 The price tags vary from $11.88 for custom metal art to $209.50 for wall art products. The seller has positioned themselves below and above the average price in the market. This enables them to attract different audiences and still be competitive from a price perspective (as even the highest price is much lower than the maximum in the space).
UrbanTroos
Another profitable shop is the UrbanTroos, which sells handmade home pieces, mostly boho pillowcases. The shop's 226 listings have generated more than 5,000 sales (similar to the previous example).
This is another shop that stands out with a five-star rating. Its price range spans from $13.62 for wall art pieces to $79.90 for boho pillow covers.
As you can see, the pricing strategy here is very comparable to the MetalWallArtDecors shop. So are the product varieties in terms of quantity.
These insights show that shops specializing in the boho home decor style should aim for product and price diversity to guarantee sales.
WallKnot
Perhaps the most intriguing shop to look at is WallKnot. The seller has accumulated over 33,000 sales, positioning themselves as one of the leaders in the segment.
The shop offers macrame wall-hanging bedroom decor and provides users with a choice from 1,002 listings. You can discover items like tapestries, curtains, valances, and more decor ideas.
This shop expands the price range of the previous two examples. Here, you can purchase gems from $17.23 for macrame wall hangings to $2,284.89 for macrame window curtains.
As you can see, this shop offers roughly five times more products to Etsy shoppers. At the same time, it has generated nearly six times more sales. The conclusion? The richer your product variety is, the higher your likelihood of significant sales volumes.
Eclectic


The eclectic style comes second in terms of search volume on Etsy (2,721). Although it's the least competitive of the three styles, it still has a competition level of 1,586,651, which shouldn't be neglected.
The important price points in the market are the average price of $76 and the maximum price of $1,943, which are slightly lower than those in the boho decor.
EthnicRugCarpet
Remember, the eclectic style is all about combining unique styles to create a space full of vibrancy and life. And ethnic rugs are an item that contributes to this interior approach.


We discovered the EthnicRugCarpet as a shop that specializes specifically in eclectic, ethnic rugs. With more than 2,000 generated sales, the shop offers Turkish rugs, Oushak rugs, Afghan rugs, and more.
The seller has received a 4.5-star rating from clients and offers a total of 562 listings, with prices from $37 to $3,871.
As you can see, the sales volume here is lower than in most boho shops, especially considering the product quantity offered. However, it's important to note that some of the provided rugs and carpets are incredibly expensive. This could potentially be a deal breaker for some shoppers looking for a good deal.
SunSprinklesShop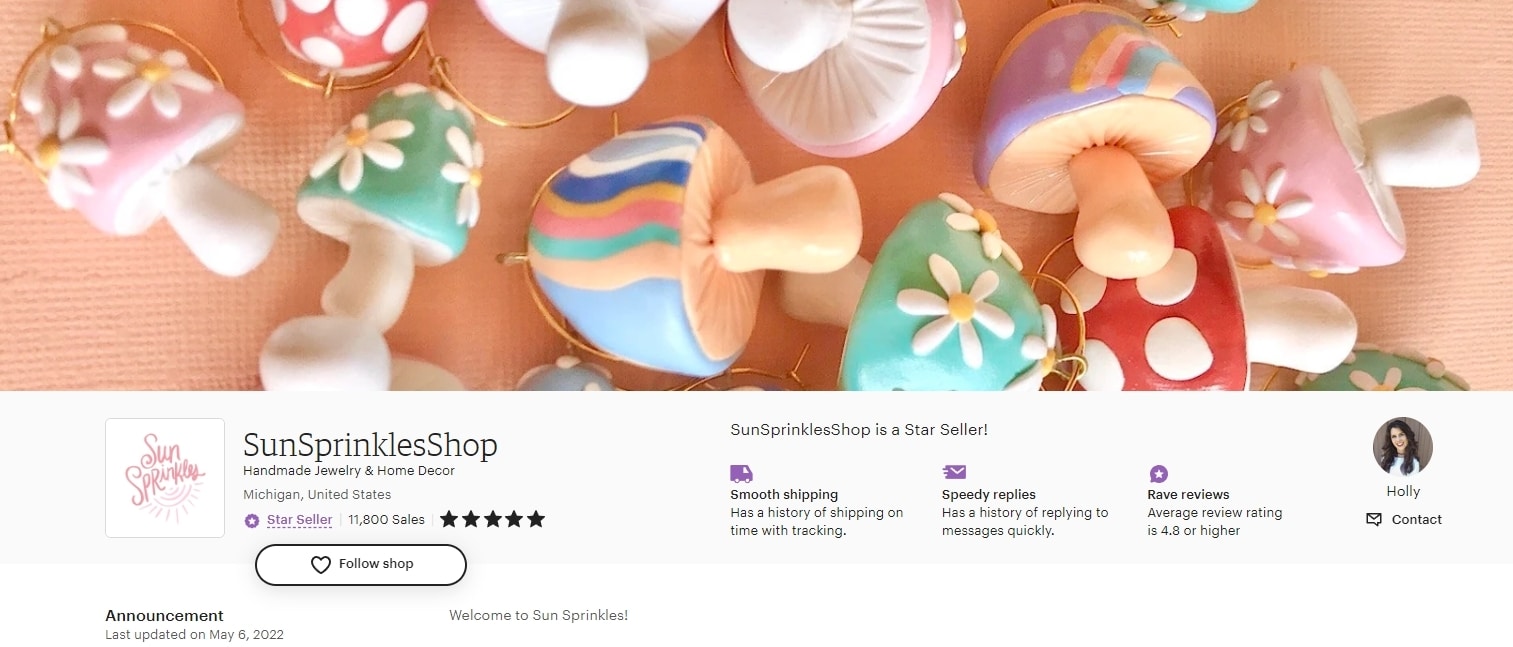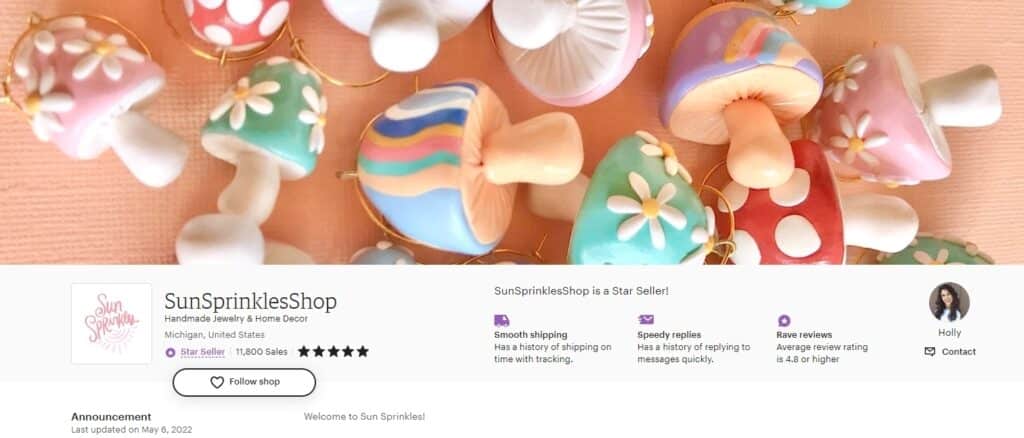 The SunSrpinklesShop is another eclectic home decor provider, with nearly 12,000 sales. Users browsing for eclectic vases, planters, and mugs often land on this five-star shop, where they can find a total of 32 items.
From all examined shops so far, this one is a clear leader when considering its sales-to-products-offered ratio. Only 32 items have secured almost 12,000 sales, whereas most listings have around 200 customer reviews.
This is a clear sign of success and proper positioning in the space. This could partially be a reflection of the affordable pricing. The most affordable decor items in the shop sell for around $50, while the most expensive ones reach up to $170.
However, keep in mind that the shop also offers cheaper products, like jewelry and stickers, skewing the data.
Minimalist
The minimalist home decor style comes with the lowest search volumes. Only 200 people search for "minimalist decor" on Etsy per month. Still, the competition is incredibly high (1,485,928), potentially making this niche the hardest to be successful in.

At the same time, prices are much lower than the previous two markets explored. On average, products cost around $23, while the highest prices are only $184.
Nonetheless, we identified a few shops that are thriving in this interior design style.
CalmandNeutral
The CalmandNeutral shop has secured 2,443 sales with a portfolio of only 27 listings. It specializes in carefully handmade neutral home decor in the minimalist style and has won the hearts of Etsy shoppers with a five-star rating.
You can shop for candle holders and other decorative owners ranging from $14 to $28. What's key here is that the prices stick around the average in the niche, giving the seller a competitive edge.
NoethDesigns


The NoethDesigns shop is slightly less successful, with 1,253 sales across 47 listings. However, the prices here start from $4.70 and reach $51, meaning that the potential earnings per sale for some products are higher than the previous example.
This shop offers handmade homeware like crafted minimalist vases, candle holders, and more. Although the seller has gone beyond the average price in the niche, they still secure significant sales, showing that price is not the sole factor users consider.
FIBALA
Last but not least, FIBALA creates serious waves among minimalist home decor lovers on Etsy. With 13,817 sales across a portfolio of 100 listings, this shop is one of the dominant figures in the minimalist style for home decor.
The seller offers items like bath boards, doorstops, trays, and other minimalist decor pieces. A lot of the products are created using concrete (a must-have minimal material). Prices are as low as $2 for some listings, while others cost up to $76.
While this shop has a lot more listings than the other two in the minimalist decor space, you can see that the product diversity is not as rich in this category as in boho and eclectic shops.
Wrapping up
After careful analysis, we can conclude that the boho home decor style is the most profitable for Etsy sellers. It generates a hefty amount of interest from shoppers and there are plenty of success stories to learn from.
But regardless of the home decor style you put your finger on, with a precisely crafted strategy, you can dominate the environment and climb to the top of the competition mountain. Don't forget that Sale Samurai is here to help with powerful features and insights.