Perhaps plants and seeds are not what many would consider as available to purchase on Etsy. But they can be bought there. Those with green fingers will be pleased to know that there are over 1.6 million listings on the marketplace just for the keyword "plants".
As one of the most precious goods to make their way to Etsy, it's worth considering the size of this niche and its profitability. This is why we embarked on an in-depth research process and are now ready to share our insights with you.
So, without further ado, let's take a look.
How big is the market for plants and seeds?
A quick search for "plants" on Etsy reveals over 2.4 million listings. Meanwhile, a search for "seeds" gives us 375,475 results. This immediately signals that there's a great demand for ready-grown plants, with seeds not that far behind.
As for search volume, we used Sale Samurai to discover that the keyword "plants" gets an average search volume of 26,125 while "seeds" gets a search volume of 1,834. There's quite a remarkable difference between the two search terms.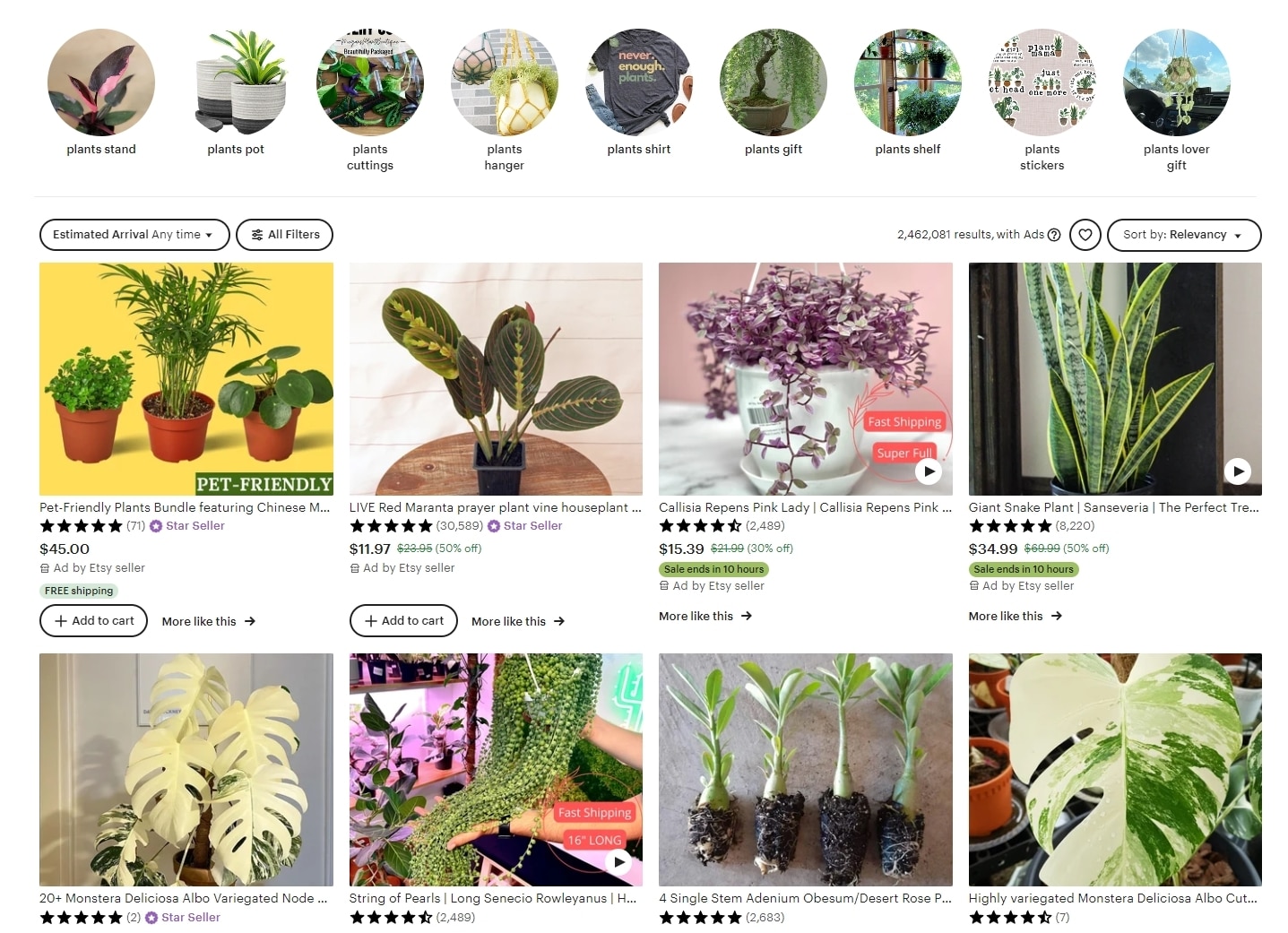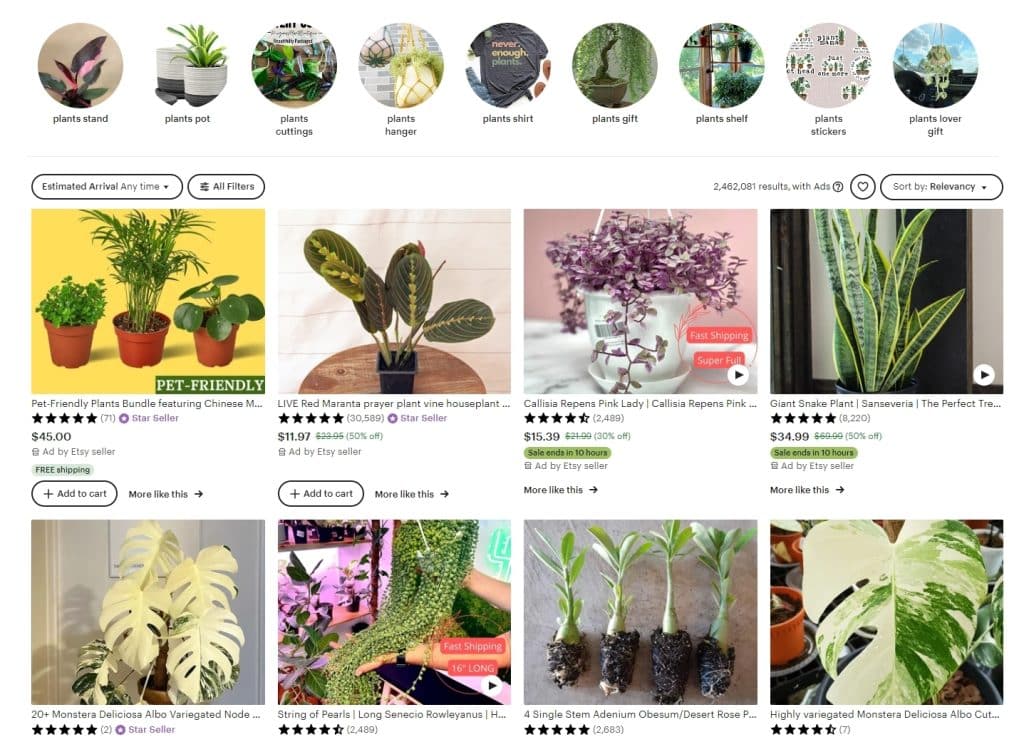 As such, we will explore both below so that you know which niche is less saturated and where you can earn more sales.
Listings saturation and search volume
We used Sale Samurai's Search module to help us find the most sought-after keywords in both the "plants" and "seeds" niche. We also checked the listings saturation by heading over to Etsy and typing in each of these keywords, respectively.
This is what we found: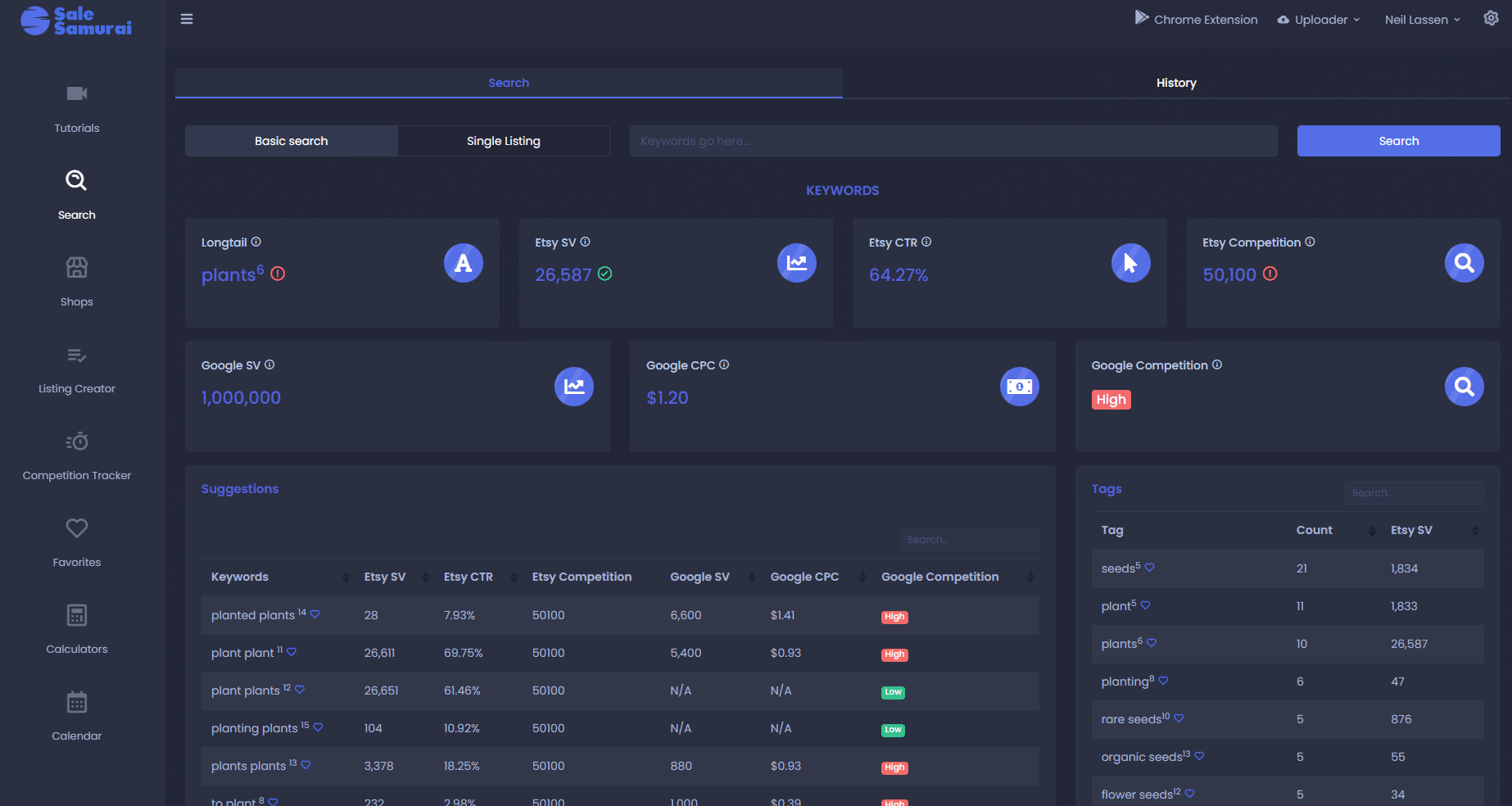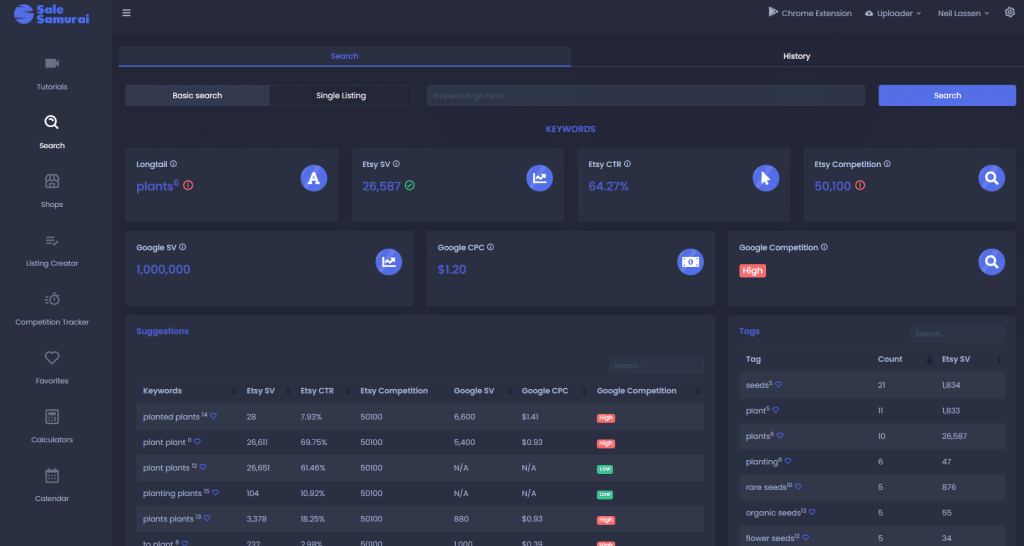 Plants
"Plants": search volume – 26,125; listings – 1,670,975
"Plant stand plants": search volume – 3,693; listings – 18,319
"Exotic plants plants": search volume – 3,623; listings – 14,034 results
"Succulent plant": search volume – 3,500; listings – 80,789
"Small plant": search volume – 3,310; listings – 71,300
"Vsoh plant": search volume – 3,195; listings – 60
"Z plant": search volume – 2,489; listings – 1,500
"Variegated plants" search volume – 1,107; listings – 9,662
"Jade plant plant": search volume – 1,090; listings – 4,262
"Tropical plants": search volume – 1,087; listings – 118,414
Seeds
"Vegetables seeds": search volume – 3,501; listings – 28,546
"Uda seed": search volume – 2,772; listings – 480
"LW seeds": search volume – 2,717; listings – 301
"Seeds": search volume – 1,834; listings – 375,444
"Gomphrena seeds": search volume – 1,070; listings – 276
"Vegetable seed": search volume – 1,049; listings – 28,531
"Ocotillo seeds": search volume – 1,033; listings – 238
"Succulent seed": search volume – 1,032; listings – 5,191
"Feverfew seed": search volume – 1,014; listings – 310
"Zinnias seeds": search volume – 1,011; listings – 1,322
Although there is a greater search volume for plants and seeds on Etsy, we narrowed down the results to those with a search volume of over 1,000 to keep the results relevant. What arises from this brief list is that Etsy customers are searching for incredibly varied types of plants and seeds. And they're very specific in their enquiries.
These can be vegetables, fruit, flowers, succulents, and more. As such, keywords that are typed in reflect a specific user intent for a given type of plant or seed.
Also interesting to note is that with regard to seeds, this keywords is also used for making bead jewelry. Sellers need to be very careful when offering actual seeds to avoid competing in an irrelevant category.
Tags
Tags help Etsy sellers make their listing more visible on the platform. They vastly improve rankings for given keywords.
In the plants and seeds niche, we discovered the following most common tags used by Etsy shops in their listing optimization. Note that we've excluded tags with a search volume lower than 1,000.
Plants
"Indoor plants": search volume – 26,188
"Plants": search volume – 26,125
"House plants": search volume – 3,378
"Snake plant": search volume – 3,306
"House plant": search volume – 3,255
"Succulents": search volume – 3,198
"Succulent": search volume – 2,919
"Garden": search volume – 2,229
"Flower": search volume – 2,194
"Seeds": search volume – 1,834
Seeds
"Seed": search volume – 1,378
"Rose": search volume – 1,377
"Sage": search volume – 1,377
From the tags used by sellers, we can deduce that the keywords used as tags are highly similar to keywords used by customers in terms of search intent.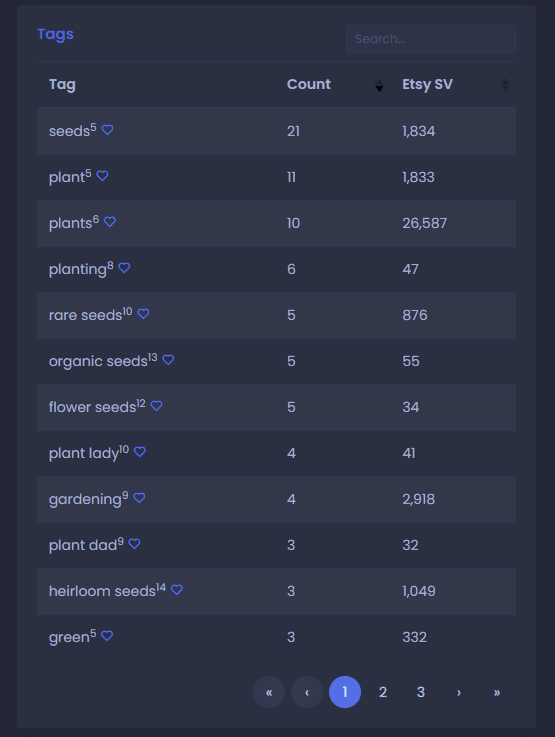 Although there may not be a great variety of competition for most of the keywords in the plants and seeds niche in terms of listings, it's all about selecting the right keywords to get in front of an audience and to capture this search intent.
Sellers appear to be doing well in this regard.
Prices
Of course, our research process would not be complete without exploring the prices in the niche.
The lowest, highest, and average prices for plants were $1.00, $78.88, and $10.05, respectively.
Meanwhile, for seeds, the lowest price is $0.48, the highest price is $65.00, and the average price is $7.24.
What are some of the best-selling merchants doing right?
Finding bestsellers in this niche can be like looking for a needle in a haystack. But with Sale Samurai, this search becomes like child's play.
We headed over to the Search module and looked for sellers that have priced their listings around the average for both categories of items.
This is what we discovered.
For plants, we found EnchantedDreamerCo with their product titled "10 Rare DWARF Moringa Seeds, Tree of Life, Miracle Plant, Moringa Oleifera Dwarf MR0110". This item sells for $12. The shop has made 181,601 sales, and has received 4.9 out of five star ratings with 21,756 reviews.
As for seeds, we found GardenEazy with their product titled "10 Pack Organic Seed Kit – Heirloom, Open Pollinated, Non GMO – Grow Indoors, Outdoors, In Pots, Grow Beds, Soil, Hydroponics & Aquaponics". This item goes for $4.89. The seller has made 296,450 sales overall, and they have a five out of five stars rating.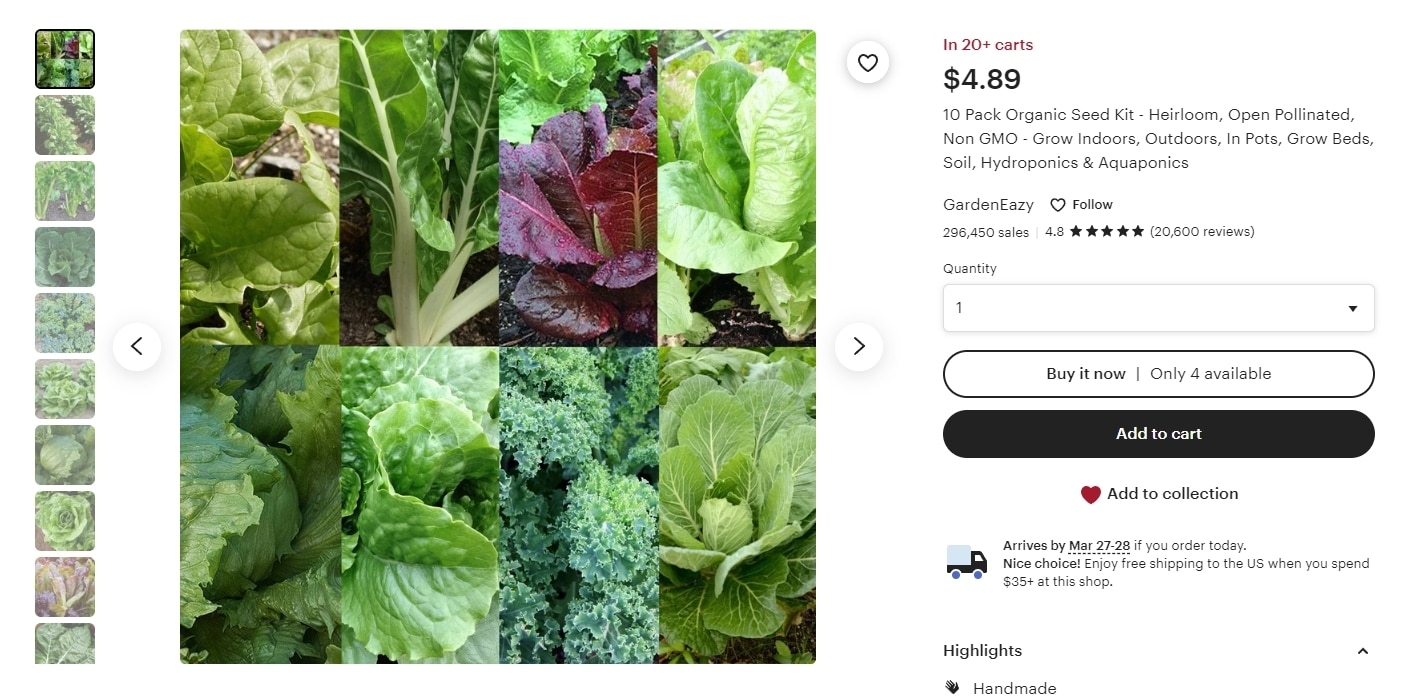 So, what have these sellers done right? We explore their strategies in more detail below.
Keyword optimization
The first thing about these sellers is that they have naturally flowing product titles that specify which plant or seed is being sold. This is the correct approach. Earlier we discovered that consumer intent is very specific in this niche, almost exact. By saying exactly what the seed or plant is in the title, the listing will capture search queries from interested buyers almost perfectly.
Also important to note is that they indicate whether the product is a genetically modified organism or not. With many buyers on Etsy searching for organic plants and seeds, this is a point of clarification that is worth making.
Pricing
We specifically chose sellers that have priced around the average in this niche of products on Etsy. And it appears that this strategy is paying off for them. To discuss profitability in more detail, take a look at the section below.
Images
Whereas the plant seller hasn't gone to great trouble to upload all 10 images of their product, the seed seller has done so extremely well.
This is perhaps an important aspect to do because the seed seller is selling a pack of different seeds and each one – when fully grown – is displayed for view by buyers.
This can help them decide if the product is what they are really looking for or not. As such, using the maximum amount of images is a great way to optimize one's listing.
How profitable is this niche?
To determine average profitability in this niche, we looked at the total number of sales by each shop discussed above and multiplied this by the price charged for their products.
For EnchantedDreamerCo, we multiplied $12 by the 181,601 number of sales to get average profitability of around $2,179,212.00.
For GardenEazy, we multiplied the selling price of $5.87 by 293,588 sales to get an average profitability of $1,723,361.56.
From the above, it is abundantly clear that sellers in an underrated niche with low competition are raking in over a million dollars, which makes it a considerably worthwhile pursuit.
As a final note here, it's important to say that sales data captures all of the shop's sales, and not only those of the listings in question.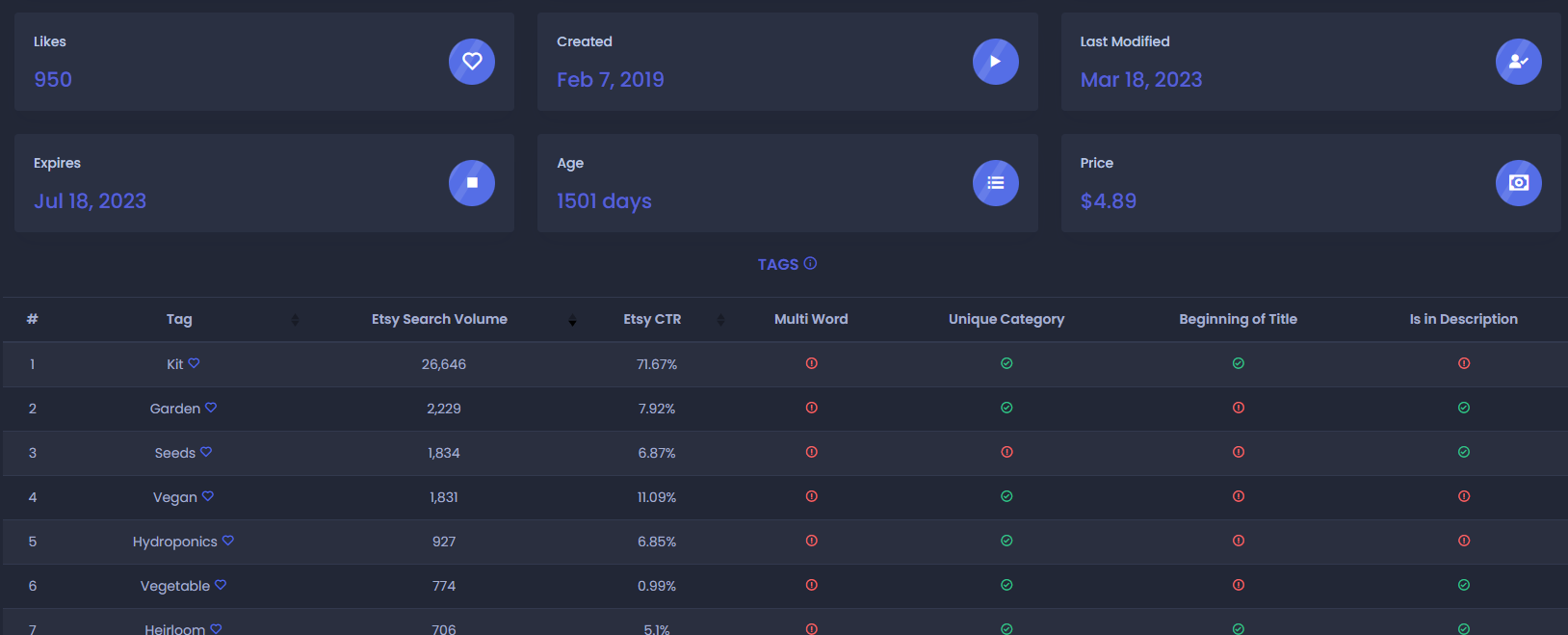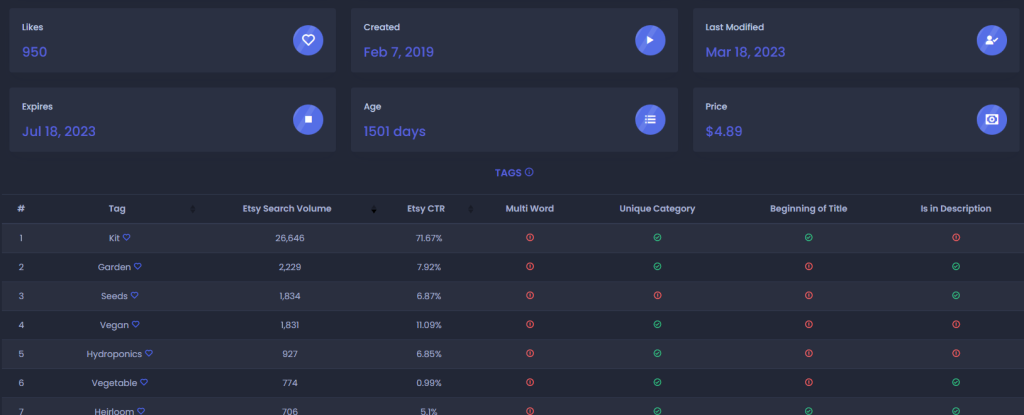 Our tip-list for sellers seeking to enter this niche
We've now dissected the niche sufficiently to present our recommendations. Here are a few key points to remember as you optimize your listing for the plants and seeds market on Etsy.
Keywords
Keywords and tags are crucial for your listing's success. Using the right keywords in your title and description as well as in your tags will help you rank higher. To do this, use Sale Samurai to help you determine where the highest demand is in terms of search volume. Remember to opt for low-competition or low listings count entries.
More specifically, this niche requires that you be very precise with your product's title and description. Mentioning words like "plants" and "seeds" will not be enough. Instead, you need to specify whether you're selling a VSOH plant or an Uda seed.
Explanations pertaining to the organic nature (GMO, organic, etc.) and the needs of the plant or seed (house, outdoors, etc.) are also incredibly useful.
Pricing strategy
Having a strong pricing strategy is also critical. Although some sellers are opting for prices above the $50 mark in both the plant and seed category, this can seem excessive if it's not backed by value for money.
This is why you need to be pricing around the average to ensure you capture a wider share of the market. In this case, your price should be between $7 and $10.
Images
Use as many images as you possibly can on Etsy. This means making the most of the 10 image slots that the platform offers you. Showcase your plants and seeds in full bloom and give your audience a taste of what's to come once the seeds and plants have grown in full.
This will sway your audience because they have no other way of seeing the product than the images you use.
Ratings and reviews
Both of the bestsellers mentioned above have extremely high ratings and reviews. This culminates in social proof that the seller's products are worth buying. You, too, should offer excellent customer service and try to generate high ratings with positive reviews. This will ensure that your rankings are higher and that you gain greater visibility on Etsy.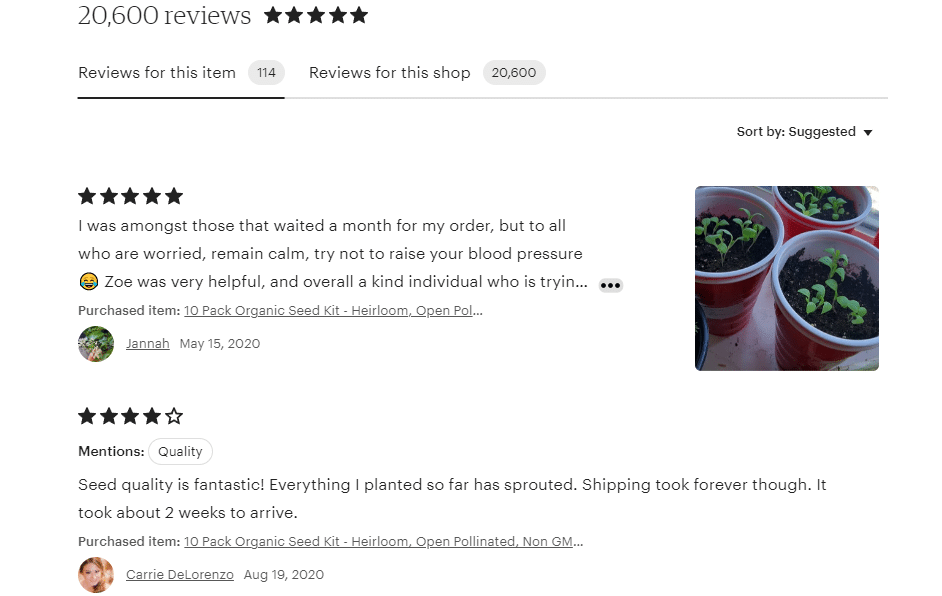 And that's a wrap
Despite the low average asking price for plants and seeds on Etsy, this is indeed a lucrative market with a large scope for opportunity and sales. Approaching this niche should be done carefully to optimize your listings and to increase your chance of profitability.
Use Sale Samurai to strategize better and do more informed research. It's an exceptionally handy tool that gives you thousands of insights in seconds. For only $9.99 per month, you can significantly up your sales with the help of a trusted tool.