There are a ton of Etsy niches that you can tap into as a Seller throughout the summer season. And if you've read some of our other articles, you'll probably have noticed that we put a lot of priority on niches. Why? Because they can help you differentiate from the rest, establish a specific and loyal customer base, and enjoy a competitive advantage.
Perhaps two of the most logical markets for the sunny months are outdoor and gardening. But, before we advise you to jump into these niches, we have some work to do. We must analyze the trends in the niches, see how popular they are, and establish what other Sellers are doing well. This way, we can help you make a strong entrance and enjoy higher returns.
So, without further ado, let's get the ball rolling.
How Popular Are The Outdoor And Gardening Markets On Etsy?
When considering whether a niche on Etsy is opportunity-rich, we always start by determining how popular it is. Sale Samurai offers two key insights that can answer this question – search volumes and the number of listings.
First, we unveil how popular the niche is among buyers. In other words, how often do they search for niche-related keywords on Etsy. Using Sale Samurai, we found out that "gardening" receives 2,924 monthly search volume, while "outdoor" receives 26,192. But say you're considering selling products from this niche. These two keywords won't be enough.


Sale Samurai provides information on additional, related keywords that are also worth inspecting. They can reveal sub-niches that may be profitable to enter.
When it comes to competition from other Sellers, both keywords are used in more than 50,000 listings. This means that they are popular among your peers and there are quite a few outdoor and gardening products you can discover on Etsy.

This doesn't mean that the niche isn't worth exploiting. We'll see how you can stay competitive in the market later on.
Factors That Make Listings From These Niches Lucrative
The next big question is what makes products from these niches sell. The best way to find out is to look at some of the bestsellers on the marketplace.
Throughout our detailed research, we were able to discern the following patterns.
Listing optimization
One of the first things we noticed is that the majority of dominating outdoor and gardening listings are properly optimized. What does this mean? They use relevant and popular tags, as many images as possible, follow best practices on title and description creation, and present the product well. Let's look at an example.
The "Personalized Any Name Laser Cut Metal Sign, Outdoor Hanging Family Last Name Monogram Garden, Door, Custom Wedding Wall Decor, Acrylic, Wood" listing has scored 113,871 sales at the price of $24.65. The tremendous success of this product is partially owed to listing optimization. For starters, the Seller has utilized the full 13 tags permitted by Etsy. Apart from "outdoor sign", they also use "wedding gift" and "custom sign", which both generate around 26,000 search volume per month.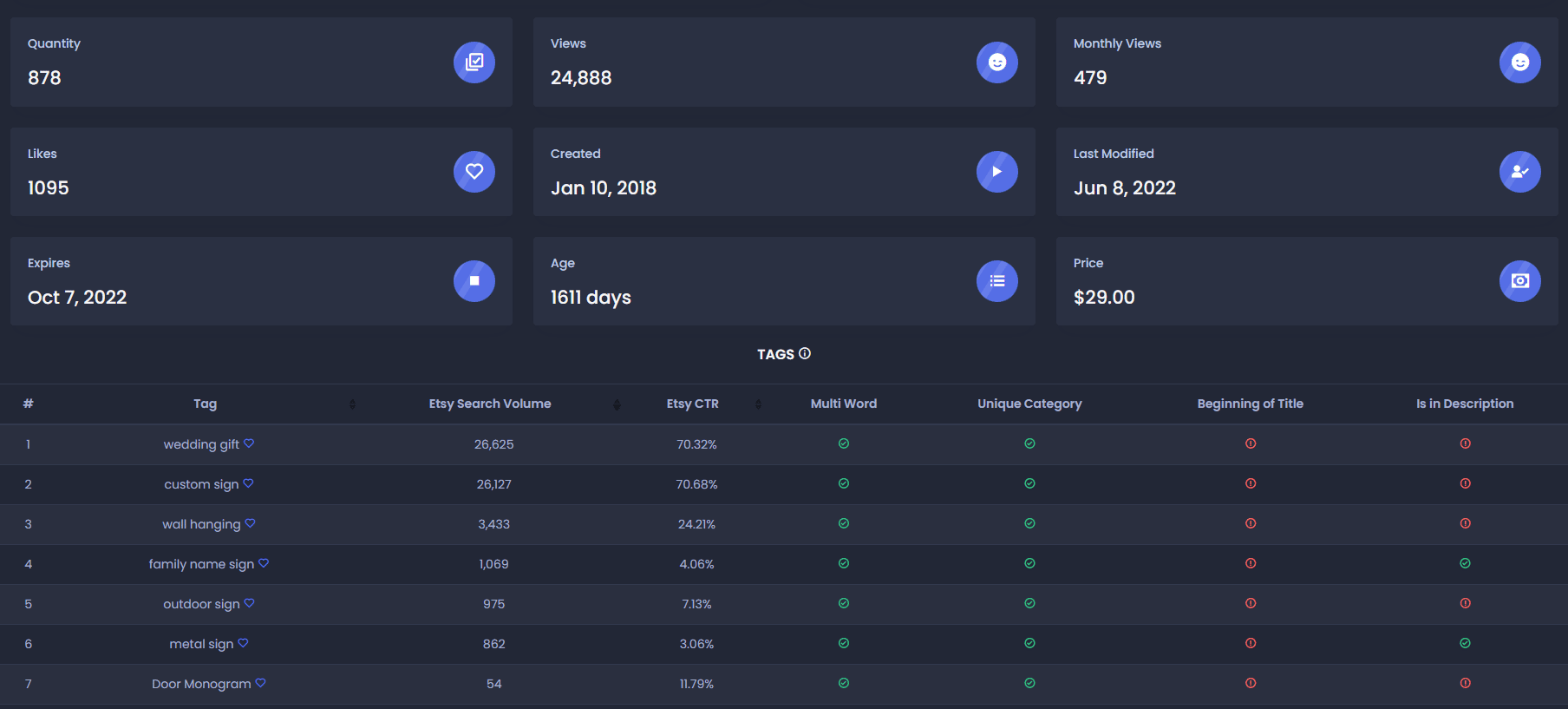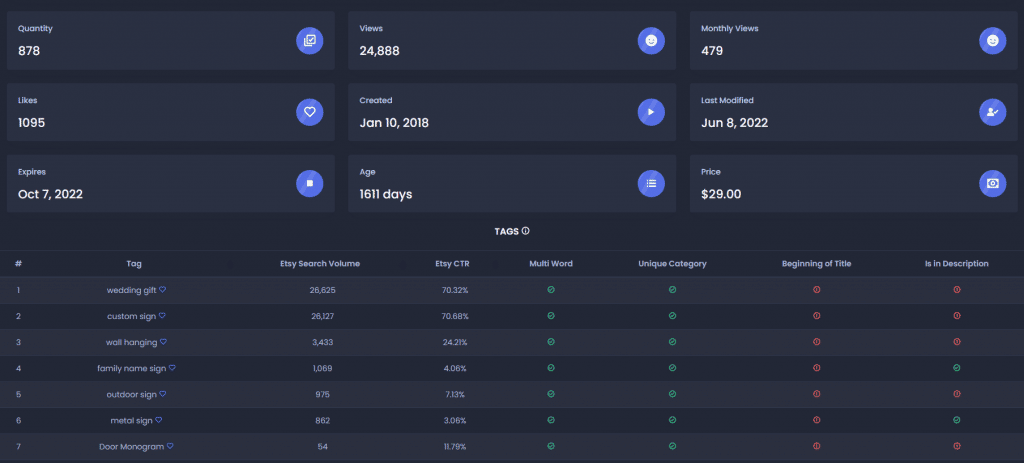 In addition, the listing has 8 images from a maximum of 10 per listing. Although it's not the full image capacity, it's still considered much better than listings with 5 images. The listing also abides by the 140-character-title-limit-and-description best practices.

Design
When it comes to design, one key feature is easy to spot straight away – personalization. The example above clearly shows this. In fact, if you browse through most results from the niches, you'll notice that the majority of titles include the words "personalized" or "customized". Why? Because Etsy buyers are constantly on the lookout for something tailor-made or adapted to their needs.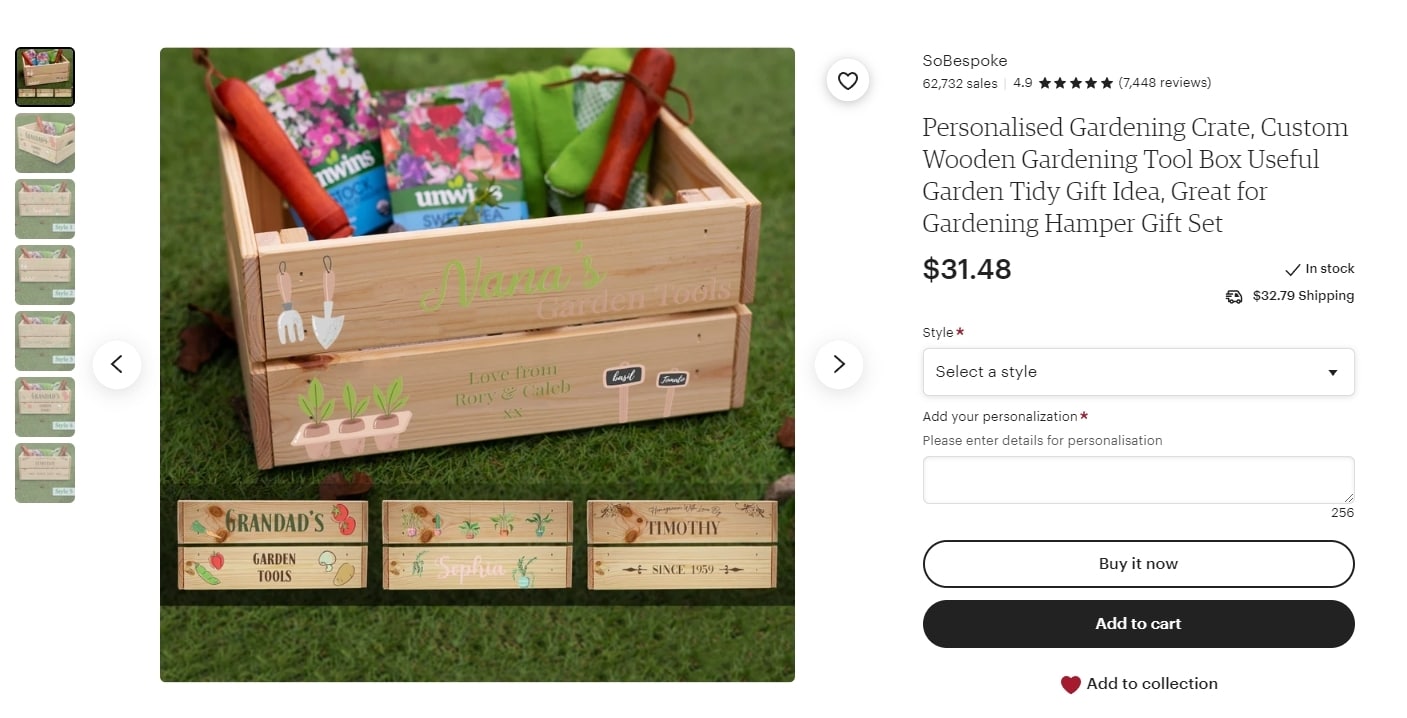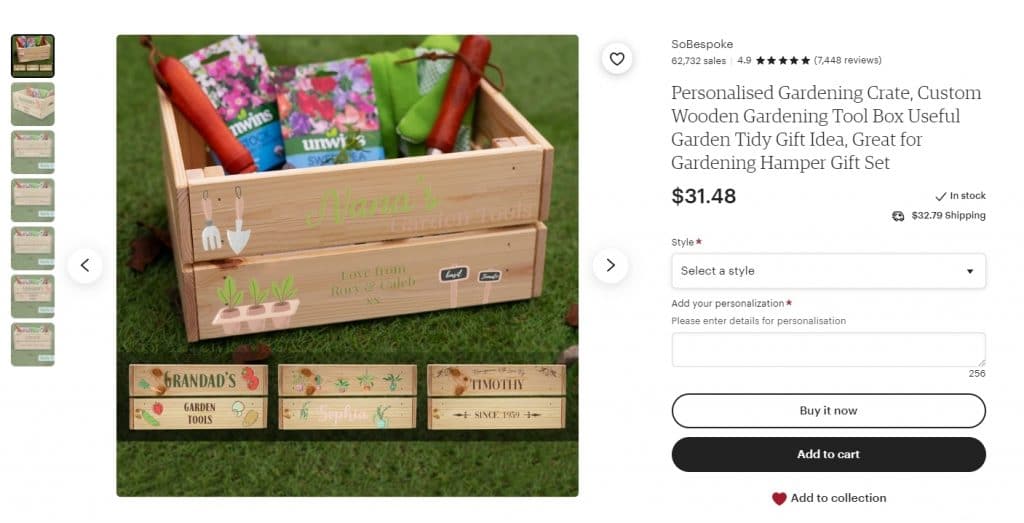 This approach is well-represented by the "Personalised Gardening Crate, Custom Wooden Gardening Tool Box Useful Garden Tidy Gift Idea, Great for Gardening Hamper Gift Set" listing. The product has cashed in on 62,732 sales at a price of $31.48. The crate can be completely customized to include names, different images, and colors. In other words, it perfectly fits the personalization-centric audience typically found on Etsy.
Creativity
Offering creative products is another vital component of a successful strategy in the outdoor and gardening niches. For instance, let's look at the "Eco Friendly Vegetable Herb Plant Garden Markers Home Aesthetic Vegetable Markers Herb Markers Plant Tags Father's Day Gift". This is an environmentally friendly gift idea for gardeners. It's a creative solution to organizing your garden and keeping your veggies easily recognizable. The product has been sold nearly 70,000 times, which only proves that buyers appreciate creativity in the market.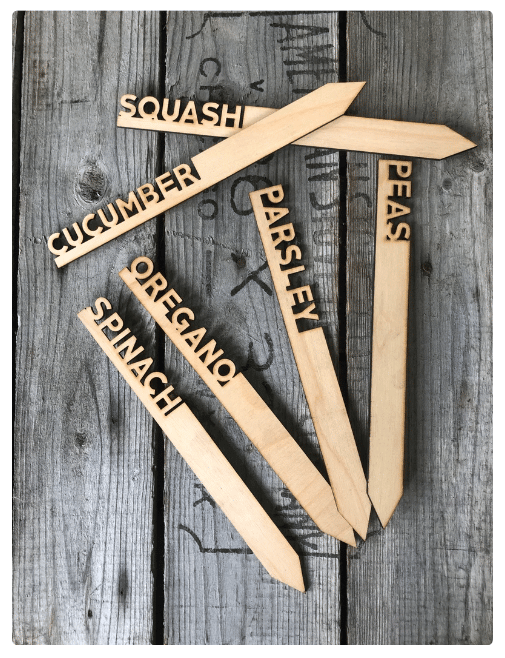 Price
Pricing is a deal-maker and a deal-breaker on Etsy, or any other online marketplace. If you want to enter the gardening and outdoor niches as a Seller, you must be prepared to price your products right. The only way to do so is to see what others in the niche are doing. For gardening-related products, the average price is $20.12. You can find products priced between $0.99 and $200. However, it's safe to say that the golden middle will be around the $20 mark.


For outdoor-related listings, the average price is much higher – $71.31. In this niche, the highest priced product is $840. This is due to the fact that the market includes outdoor furniture, which is rather costly.
Niches and sub-niches
You may be thinking that selecting a niche like gardening and outdoor is enough to outperform your competitors. This is not true. Every niche has sub-niches. You can narrow down and sell specific products to specific people. This will enable you to enjoy peace of mind knowing you're satisfying a particular demand.
When researching the outdoor and gardening niches, we were able to identify the following sub-niche trends:
Outdoor pillows
Outdoor décor
Outdoor rugs
Outdoor windchimes
Outdoor fountains
Outdoor dog houses
Name signs
Keychains
Personalized gardening crates
Gardening tools
Outdoor planters
Outdoor furniture
Gardening gloves
Gardening kits
Garden hangings
How can these add value to your Etsy offering? By researching them to see which ones are most profitable and least competitive. Once you've done this, you'll be able to commit, knowing full well that your bets are on a winning horse.
Theme
In terms of themes, we can conclude that gifts are exceptionally popular. A lot of the top-performing listings are presented as gifts for Mother's Day, Father's Day, weddings, and other special occasions. This is completely natural. After all, outdoor and gardening products are most useful for homeowners and established couples.
Which can tell us a lot about the perfect audience for such listings.
The Perfect Audience For The Outdoor And Gardening Markets
When marketing your products on Etsy, it's vital to understand who your target audience is. This will allow you to adapt your titles and descriptions, use relevant keywords, and set the right prices. All of this will lead to a boost in traffic and higher sales potential.
We looked closely into gardening and outdoor as two separate niches to determine what the perfect audience is. By examining some of the chart-topping listings, we were able to pinpoint who they're targeted at.
For gardening, the best audiences are parents and grandparents.
For outdoor-related products, the people who are most likely to be interested are families and homeowners.
How To Become A Profitable Seller In The Outdoor And Gardening Etsy Categories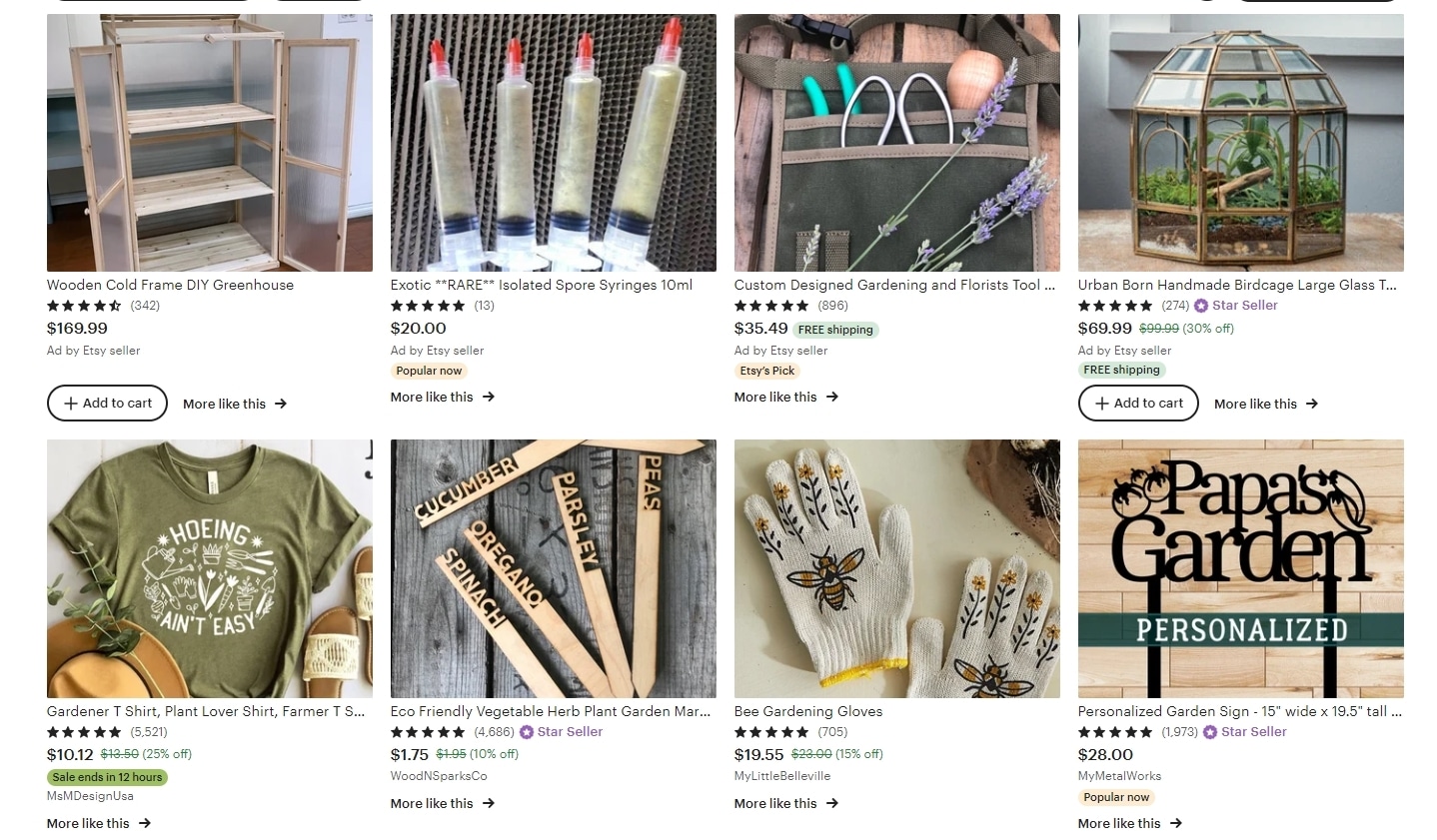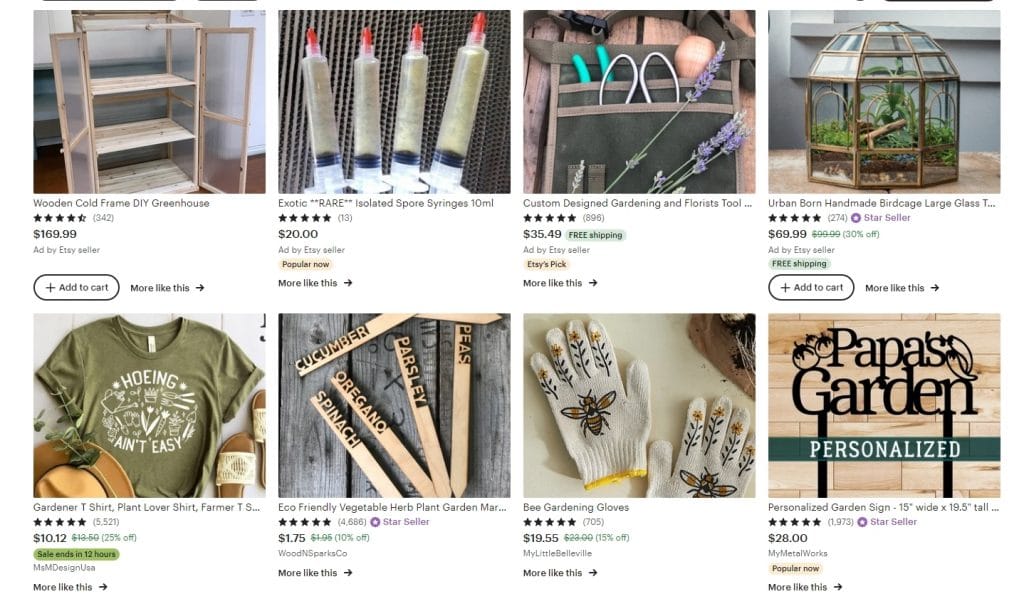 Now that we've confirmed that the outdoor and gardening niches are popular on Etsy, it's time to answer another question: "How can you compete in the market and enjoy fruitful results?"
Here's our shortlist:
Use all 10 image slots – We mentioned earlier that the majority of Sellers in the niche have optimized their listings with more images. However, few have utilized the full 10 image slots that Etsy offers. By including 10 images, your listings will have an advantage and can rank higher than competitors. As a result, you'll increase your products' visibility.
Offer personalization – When selling gardening and outdoor products, make sure that your customers can customize the product. In most cases, the personalization options will be related to adding a name, changing a product color or adding imagery. This will help you attract the dominant Etsy buyer group that is in search of authentic and unique products.
Optimize listings with tags – Another part of listing optimization is adding relevant keywords or tags to your titles and descriptions. Make sure you take advantage of the full 13 tags you can use on Etsy. Discover tags that receive a lot of search volume, yet are not as competitive. You can do this by using Sale Samurai. This technique will enable you to rank higher and make your products easily discoverable.
Pinpoint your audience – Remember that you're selling to people. Think about the audience that you want to reach and adapt your listings accordingly. We revealed that for outdoor and gardening, the most popular audience groups are parents, grandparents, families, and homeowners.
Set the right price – Last but not least, design a pricing strategy that will work to your advantage. Before entering the niche, always analyze existing listings' prices. Access to Sale Samurai will help you quickly detect the average prices in the niche. With such valuable information, you'll be able to make informed decisions about your products' prices.
Conclusion
The outdoor and gardening niches are certainly profitable, especially throughout the summer season. Take advantage of this opportunity and enter a new market with all of the necessary insights to create your very own success story.