If you've landed on this blog post, first of all, congratulations, secondly, it probably means you already know about the immense potential of selling digital downloads on Etsy. When people think "Etsy," they think of artists, crafters, and handmakers. While that is true, Etsy is actually the go-to platform right now to sell digital downloads and make passive income. Let's go over:
Maximizing Your Earnings with Digital Downloads on Etsy. Ensuring your success on Etsy with digital downloads comes down to the niche you choose, how well you do your research, your SEO, and your product/listing quality.
Making and selling digital downloads on Etsy has never been easier. That being said, the competition is getting fiercer by the day as more entrepreneurs and artists alike are getting into this lucrative side hustle. Let's go into detail on actionable steps you can take today to maximize your sales with digital downloads on Etsy.
Identify Your Niche and Stick With It
The one thing that separates highly successful Etsy shops from everyone else is the niche they chose.
Don't worry, you're not married to your niche but it's important to note that once you pick a niche and strategy you want to stick to it for some time before shifting to something else.
Most people fail on Etsy because they are either selling way too many different digital products without a proven track record or they quit before actually optimizing their listings.
Don't get me wrong, adapting, editing, and improving are all key success indicators but with the right tools, you shouldn't just bail after two weeks of no sales. Many Etsy sellers making six figures in digital download sales annually had made less than $100 in their first month.
Choosing your niche is super important. In fact, niching down is super important.


Too many unsuccessful Etsy shops have a plethora of digital products that have nothing to do with each other. If you're selling floral crochet patterns, Star Wars fan art posters, and dinosaur-themed daily planners, chances are you aren't going to attract your target audience.
In fact, in order to even identify your audience and market towards them you need to know your niche!
The good news is, you can go as niche as you would like. Entrepreneurs tend to seek more broad audiences which is great but creatives who get very deep into their passions also do extremely well.
So it doesn't matter if you're selling daily planners, a broad niche, or pasta and spaghetti calendars, a narrow niche, you can still maximize your earnings with everything else outlined in this article.
If you're looking for best-selling digital products to sell on Etsy check out our other blog posts. Here are a few to get you started:
Daily Planners and Journals
Wall Art
Custom Web Designs
Resume Templates
Sewing Patterns
Stickers
Coloring Books
Customized digital products (Invitations, Planners, Calendars, etc.)
Research The Market
Now that you've chosen your niche you need to get into the more boring side of things and really do your research.
Here's where we'll save you some time and tell you that you don't need to be on Reddit and Facebook Groups 24/7 reading every comment and post about your chosen niche and product just to get an understanding of your audience and competitors.
Find out which products in your niche are top sellers and analyze their listings, what they're doing right, and how you can improve.
Check out your competitor's reviews and see what people are happy about and what customers are complaining about.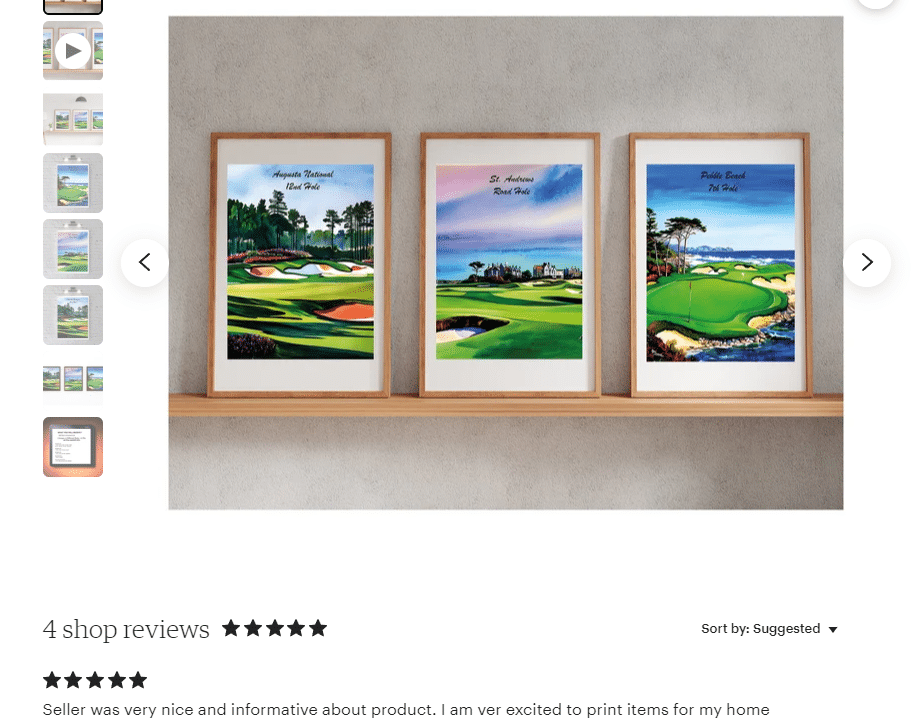 Find out what you can do to set yourself apart.
Lucky for you, Sale Samurai has made this process of competitor research super easy for you. More about that in the following section.
Optimizing Your Listings To Maximize Earnings
If there is one thing you should take away from this article it's that you need to be optimizing your listings. Even if your product is just average, which isn't something you should aim for, and your niche is very broad with a huge amount of competition you can still be a top seller with your digital download product on Etsy with the right SEO and listing optimization.
In the previous section, we went over researching your competitors, their products, and your potential audience, which is all sound advice. But you also need to be researching the right keywords to use when listing digital downloads.
You need to use the right combination of keywords that have high search volumes by potential customers but very low competition.
Meaning, you're looking for the right balance of in-demand searches by the existing traffic on Etsy and where your competitors are falling short in meeting said demand.
Apart from that you need to understand how many tags to use in your listings and the right phrases to integrate into your listings for the best outcome.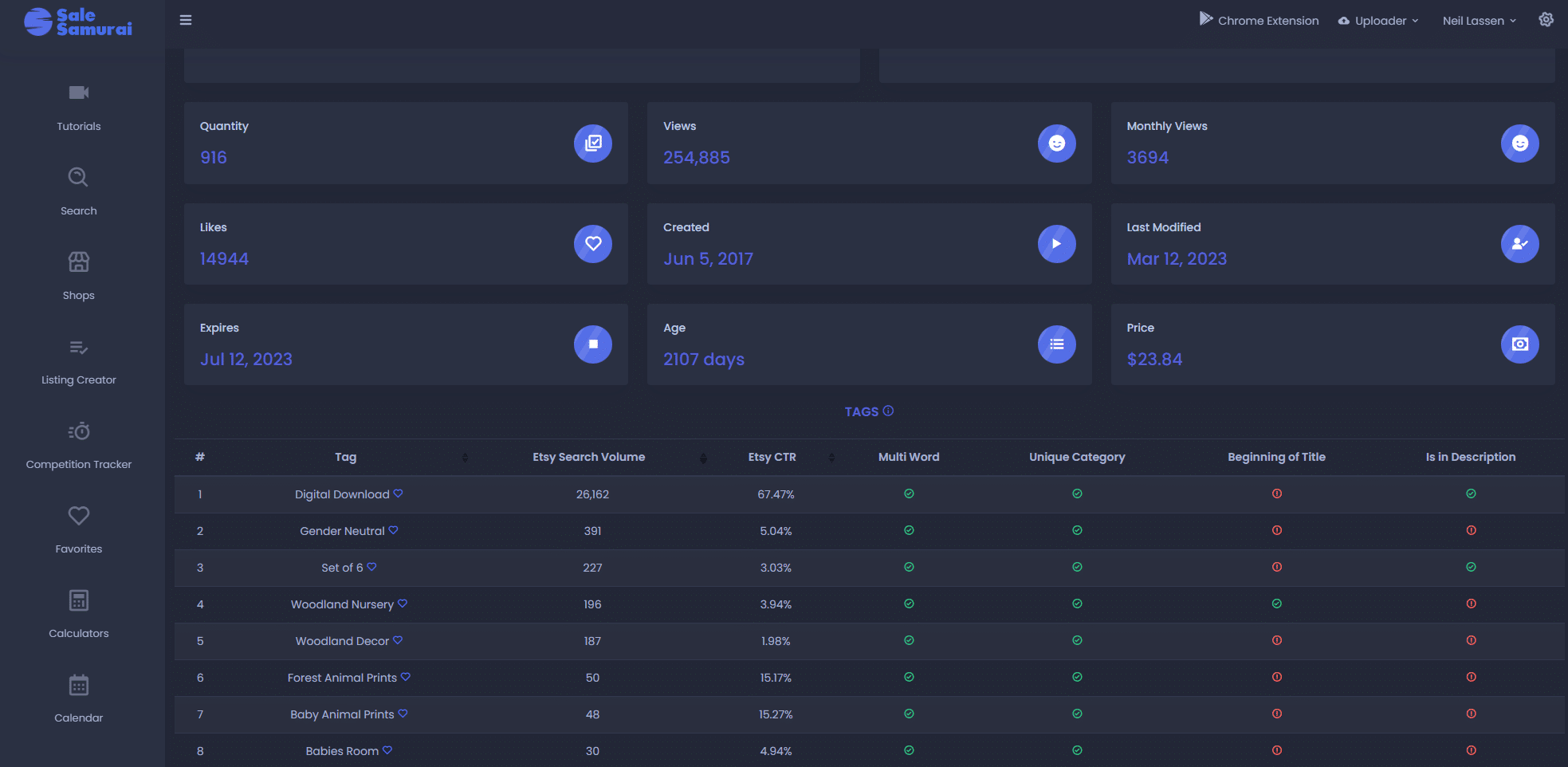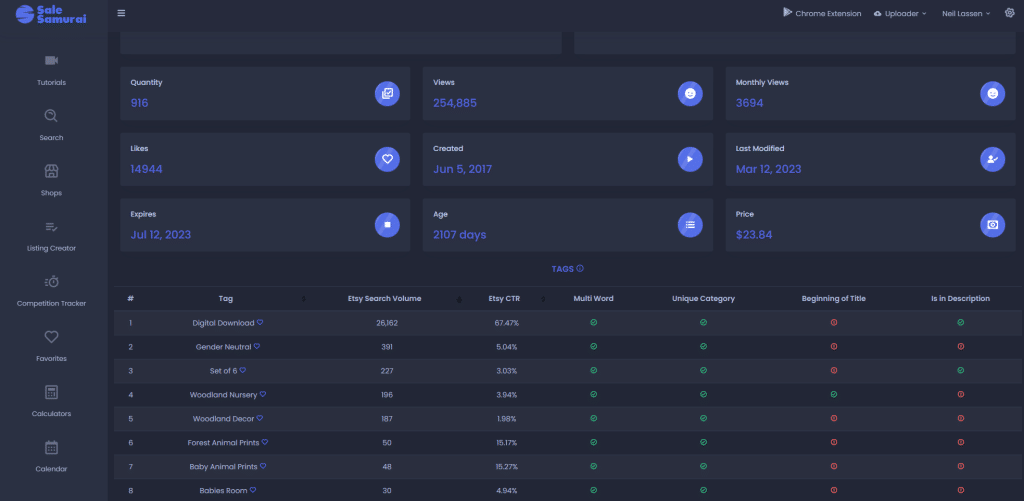 Maximizing your digital download sales and earnings on Etsy really comes down to how good your search engine optimization is on Etsy.
The platform already provides you with traffic, now all you have to do is capture it!
How do you go about doing this you may ask?
One way would be to test a bunch of listings until after several months you find the right formula. However, the smarter thing would be to use our highly intelligent software solutions to help you optimize your listings with the right keywords backed by real data!
Our data is provided from actual Etsy customer searches which will allow you to analyze and implement a working strategy from the get-go.
Sale Samurai has already helped thousands of e-Commerce sellers around the world scale their Etsy business and with the growing digital downloads industry taking over, your Etsy store could be next!
We'll help you with long-tail keywords, competitive pricing, tag counts, and so much more! Not to mention our One-Click Automation allows you to upload hundreds of products via multiple print provider integrations.