Collaboration can be a powerful strategy for Etsy sellers looking to expand their reach, increase sales, and build a sense of community. Whether you're a seasoned Etsy entrepreneur or just starting out, these strategies can help you harness the potential of collaboration and elevate your Etsy shop.
Section 1: Strength in Numbers – Collaborate for Success
One example is a lone Esty shopkeeper in Salzburg, Austria, who sold jewelry and accessories. For the first few years, she handled all her own marketing solo. Today, as a leader of Team Austria, she collaborates with fellow shop owners in her area to promote their shops and has experienced a tenfold uptick in her business. This seller's experience underscores the power of collaboration in presenting a creative community and increasing customer awareness.
Teaming up with other Etsy sellers can be a cost-effective way to reach new customers, boost views, and drive sales. Let's look at other Etsy Teams captains and leaders and how they have creatively promoted their shops and fellow sellers.

Section 2: Uniting for In-Person Sales Events
Organizing group selling events, such as craft fairs or pop-up shops, can effectively connect sellers within a local community while dividing the costs and tasks.
Some sellers excel at social media promotion, while others have a knack for negotiating with venues. Collaboration allows them to promote their events through a combination of fliers, social media posts, videos, and word of mouth, creating a buzz that resonates with the community.

Section 3: Pinterest – A Platform for Collaborative Promotion
Pinterest can serve as a valuable tool for showcasing team members' products cohesively and increasing shop exposure.
Each board can follow a specific theme, whether seasonal or product-focused. Team members actively contribute to these boards, pinning items multiple times a week to drive traffic to their peers' shops. By carefully curating the boards' visuals, they create a magazine-like appearance, providing an attractive shopping experience for potential customers.
Section 4: Instagram Loop Giveaways – Rapidly Boosting Followers
Instagram offers a visual platform to showcase products, share studio insights, and attract new customers. One Etsy seller, alongside seven other sellers, organized a "loop giveaway" on Instagram, contributing one of their items to a prize pack. To enter, users had to follow all participating accounts, like their posts, and tag friends in the comments.
This approach led to a surge in followers, with the seller's account surpassing 1,500. While loop giveaways can be effective, we suggest keeping the number of sellers involved limited, usually to around eight. A smaller group ensures clarity for participants, preventing confusion.
Section 5: Expanding Reach with Shared Hashtags
Hashtags are another avenue for expanding your reach and attracting new customers. The Glasgow Etsy Team, utilized #GETtoknowyou to advertise Etsy Made Local, a holiday selling event.
This strategic use of hashtags allowed potential shoppers to gain insights into the people behind the products. The social media accounts of both the team and individual members saw increased followers, culminating in a successful event with thousands of attendees.
Section 6: Collaborative PR and Resource Sharing
Handmade Cooperative, an Australian Etsy Team, demonstrates the potential of shared resources. Together, they pooled funds from nearly 100 members for a joint photo shoot with professional photographers.
This collaborative effort resulted in crisp, professional product photos and digital catalogs, benefiting all team members. Beyond the business advantages, they emphasize the profound friendships that form within such communities. The Handmade Cooperative is more than a group; it's a supportive community where members uplift one another.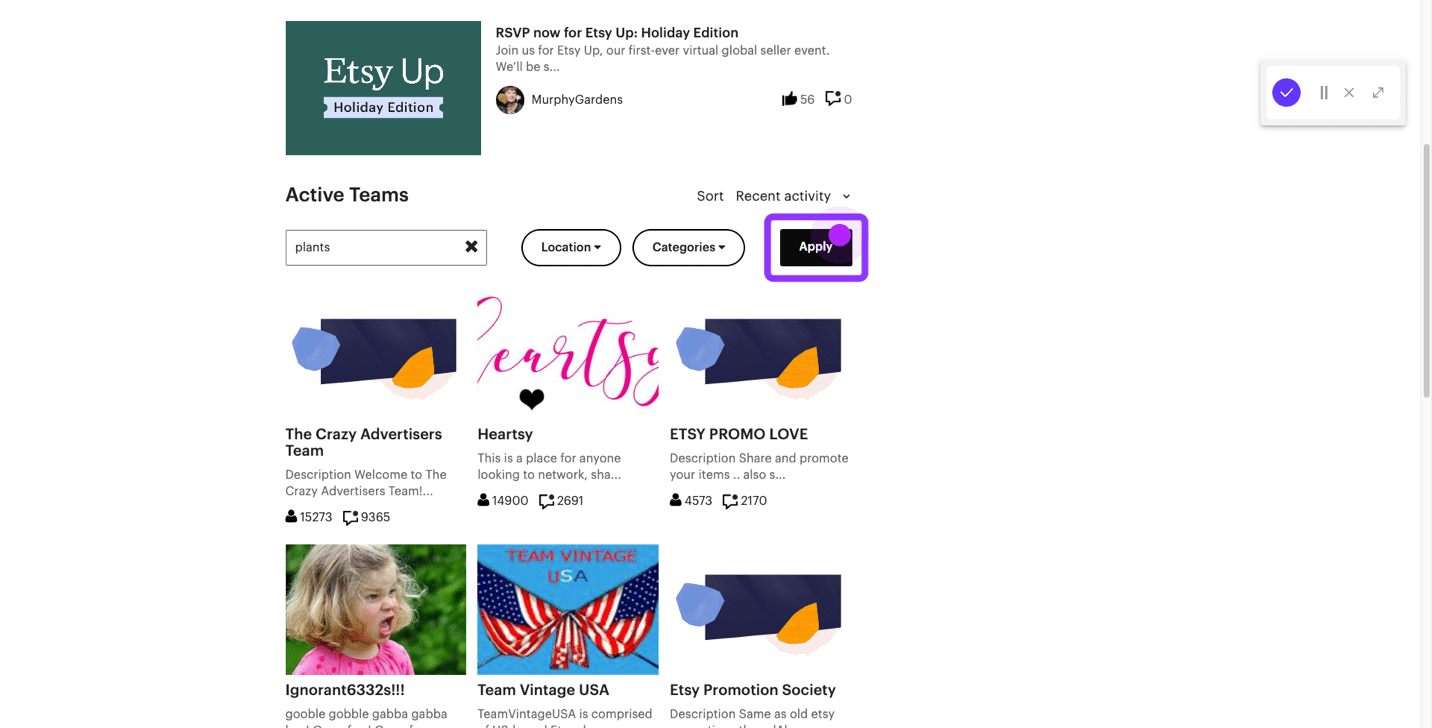 Section 7: Finding the Right Etsy Teams for You
Connecting with the right Etsy Teams is pivotal for successful collaboration. Here are some tips for finding your perfect match:
Narrow Your Search: Use specific keywords to browse active teams. Consider geographic proximity, unique selling points, or shared interests. Don't hesitate to explore niche topics; you might stumble upon unexpected collaboration opportunities.
Review Team Activities: Visit team pages to understand their activities and membership guidelines. Large teams often cover a broad range of topics, offering a wealth of support and advice.
Ask for Recommendations: If you're unsure where to start, seek recommendations from friends and fellow Etsy sellers. Their insights can guide you toward teams that align with your interests and goals.
Create Your Team: In the rare event that you can't find a team that suits your needs, consider creating your own. Etsy provides resources and guidance for setting up and leading a team.
Section 8: Understanding Etsy Teams
Etsy Teams are community-driven groups created and managed by sellers to provide support and camaraderie. These teams form for various purposes, including geographic proximity, similar product categories, or shared hobbies such as woodworking, photography, or marketing.
Being part of a team grants access to valuable advice, inspiration, and growth opportunities within a community of like-minded sellers. Teams often collaborate on initiatives like local selling events, social media campaigns, and educational workshops.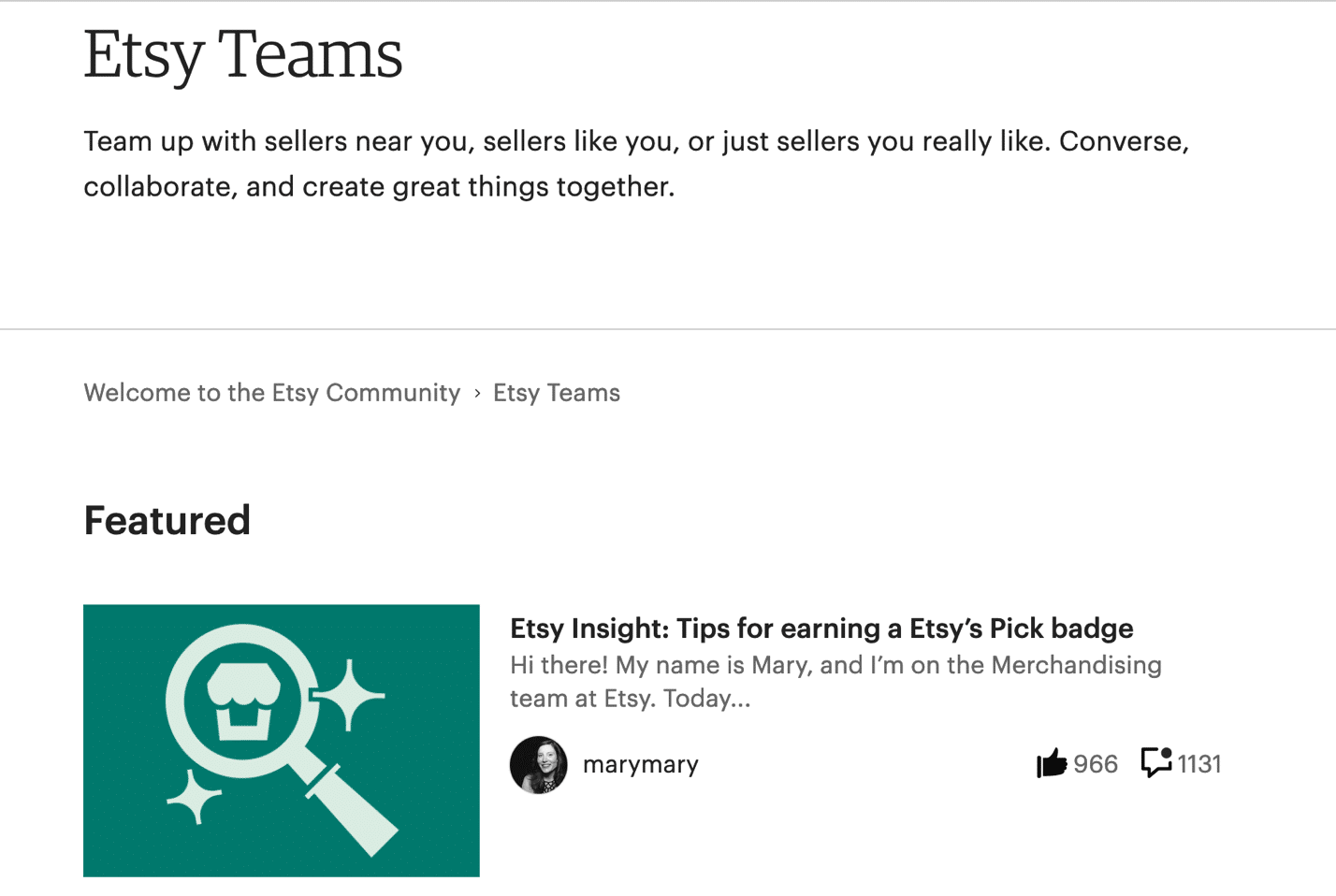 Section 9: Joining Etsy Teams
To participate in Etsy Teams, use your Etsy account to sign in at community.etsy.com. It goes without saying that without an active Etsy shop is a requirement to post in the Forums or joining and creating teams requires having an active Etsy shop. Make sure to review Etsy's Community Guidelines, as teams and sellers must adhere to these policies.
Your success is not only in your best interest, it's also in Etsy's. Etsy collaboration offers sellers a wealth of opportunities to expand their businesses, build lasting relationships, and create a thriving community. By implementing these strategies and tips, you can harness the power of teamwork and elevate your Etsy shop to new heights. Start collaborating today, and watch your Etsy business flourish in the company of fellow artisans.