Handmade wood products are a popular choice for personal use and for gifts on Etsy. They're also a perfect fit for a marketplace full of shoppers looking for authentic, unique, and creative items.
But if you're considering growing your Etsy business by entering the niche, you'll need more information than that. Don't worry, we've got your back. Using the powerful tools and features of Sale Samurai, we've closely analyzed the market to extract only useful and game-changing insights.
Let's see what the handmade wood niche on Etsy is all about.
The size of the handmade wood product niche on Etsy
The first stage of exploring a niche on Etsy is gaining an understanding of its size. The bigger a niche is, the more opportunities it offers. However, niche size is not only related to how many products are available. It's also a matter of determining the scale of the interest users show towards the market.
Using Sale Samurai, we performed thorough research to get an overview of the handmade wood niche on Etsy. First, we ran a quick product search on Etsy using the keyword "handmade wood". A total of 648,747 results showed up. This was the first sign that we're dealing with a large and popular niche.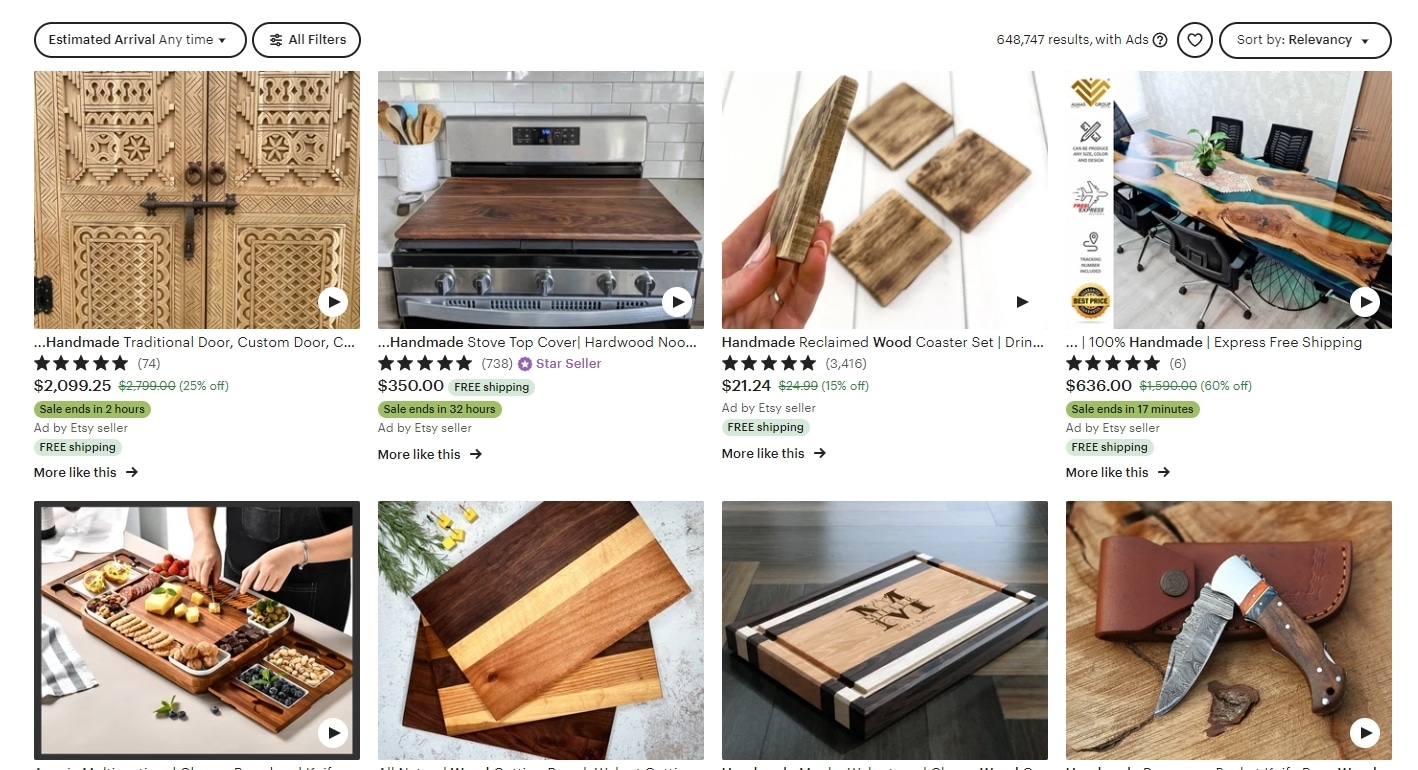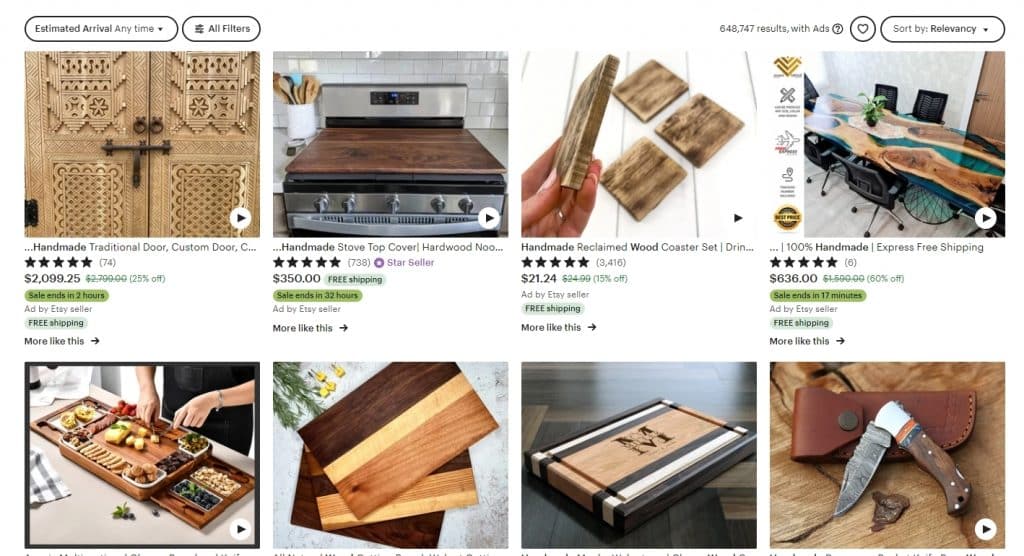 Next, we moved to Sale Samurai, where we performed a basic search using the same keyword. The tool revealed that the competition on Etsy for "handmade wood" is more than 50,000, which proved our theory. However, the search volume that the keyword receives is only 21. This doesn't necessarily mean that shoppers aren't interested in handmade items made from wood. Perhaps they conduct searches using different keywords that don't contain both "handmade" and "wood".
Popular handmade wood items
Our research into the handmade wood niche using Sale Samurai's Search tool led us to the discovery of some additional tags, which were actively used in the top listings. These tags present different sub-niches within the handmade wooden market on Etsy. Some of them include:
Handmade wood bowls
Handmade wood signs
Handmade wood spoons
Handmade wood box
Handmade wood craft
Handmade wood art
Handmade wood tray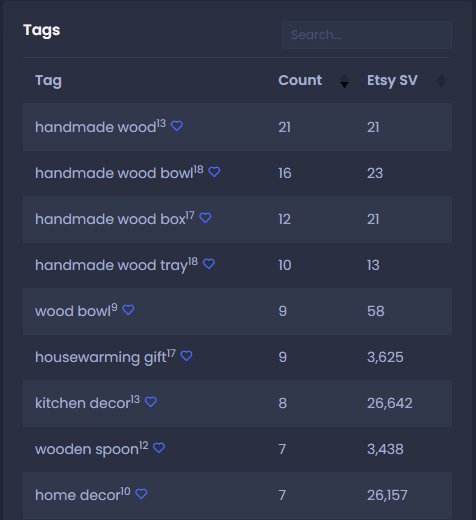 With some level of search volume, these are all products that Etsy shoppers are actively looking for. In other words, they're all areas that you can focus on to land more sales. We also browsed through some of the top listings that appear in Etsy search results when typing in "handmade wood" into the search box. We noticed a few product trends. Some of the most popular product types displayed include handmade wood tables, coasters, desks, plates, jewellery, clocks, and cutting boards.
The fact that these listings appear higher up in search results means that Etsy's algorithm considers them relevant and appropriate for our search. In other words, they're top-performers with enough reviews and high ratings to be shown with priority.
How profitable are handmade wood listings?
Once we've established the size of the niche and the most commonly sold products, it's time to explore the niche profitability. Entering a new niche is usually associated with expanding your reach, scoring more sales, and ultimately enjoying higher profits. However, selling like crazy in a niche isn't enough. Imagine that the average prices in the specific market are $1. Your earnings will be minimal compared to a market where the average price is $20. To avoid wasting efforts, always make sure you know what type of profitability you can expect.
Within the handmade wood niche, the average listing price is around $63, while the highest is $315. However, keep in mind that these insights are solely based on the keyword "handmade wood". For example, if we look at "handmade wood desk", we can see that the average price is around $380, while the highest is a whopping $4,950.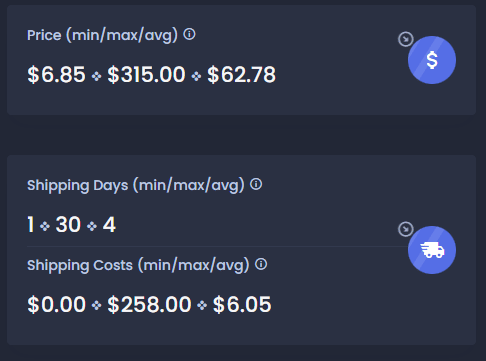 In a nutshell, if you've chosen a specific sub-niche to enter, inspect the pricing strategies of your competitors. Overall, the handmade wood market is profitable and offers a range of money-making opportunities.
A sneak peek into the bestsellers
What makes listings in this niche sell? The best way to find out is to explore some of the bestsellers in more detail.
Let's take the "Edison Lamp Engraved Personalized Custom Handmade Wood Desk Lamp With Vintage Bulb Toggle Switch (024774)" listing. At a price of $142.66, the product has been sold more than 215,000 times. It also enjoys a 4.8-star rating and has attracted more than 36,000 reviews. This success stems from several different components.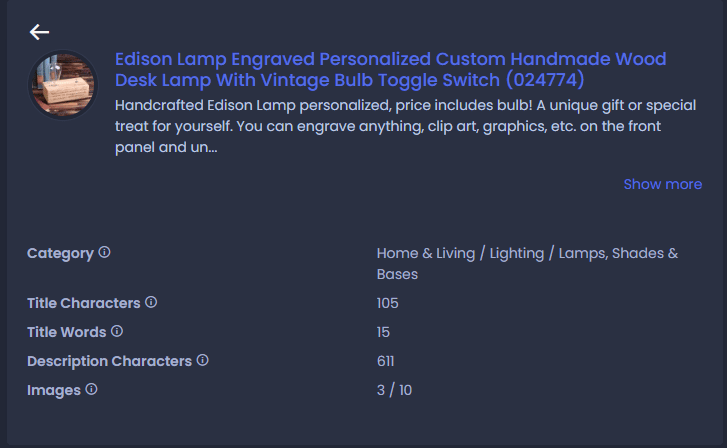 First, Sale Samurai showed us that the listing has utilized the full 13 tags that you can take advantage of. Etsy enables sellers to optimize listings with relevant tags, or in other words, keywords. Their main purpose is to properly position the product in search results and make it visible to shoppers.
The seller has included key tags like "wood Edison lamp", "custom", and "handmade". However, they've also added keywords like "gift for men", "personalized gift", "housewarming gift", and "boyfriend gifts". All of these words receive thousands of searches per month on Etsy and are relevant to the product.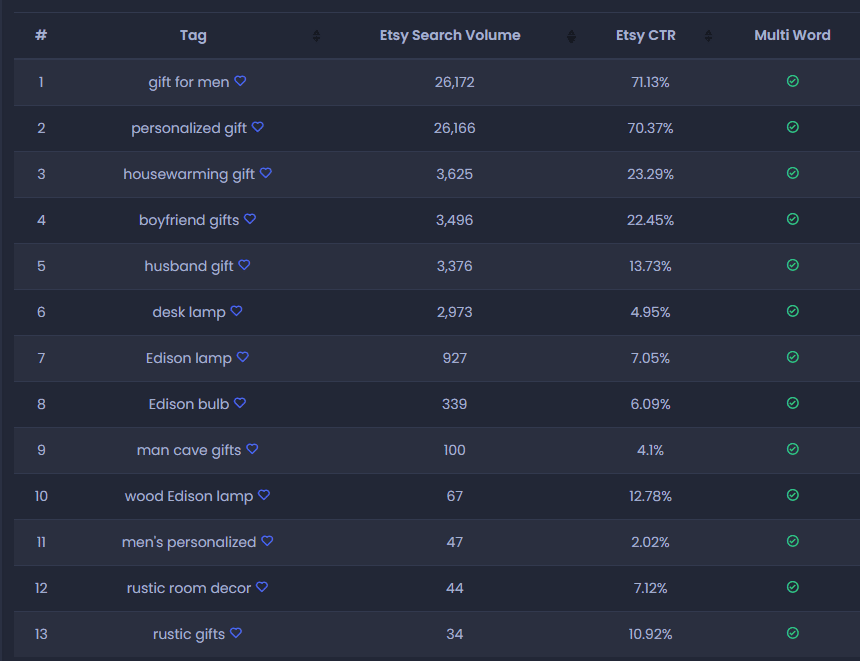 On the other hand, the listing only has three images. Etsy allows up to ten images per product, meaning that this is one area where the listing can further be optimized. The images are professional and high-quality, showing the product from different angles. They also help the user visualize what the product looks like in a setting, which is great for purchase decision-making. The tile is short and simple, while the description nicely introduces the unique selling points of the product.
Lastly, the pricing has carefully been selected to match the trends in the niche. A search into average prices of listings for "handmade wood lamp" indicates that most sellers price their products at around $180. The seller's price is $142.66, meaning it's slightly lower than the average. This puts the listing at a competitive advantage and makes it more affordable and budget-friendly compared to others.
How to sell handmade wood products like a pro on Etsy
Examples like the one above can inspire you to adjust and enhance your own listings in a particular niche. Inspecting the bestsellers using Sale Samurai will quickly reveal some of the best practices that you can use to your advantage as a seller.
Here are some of the recommendations that we can make for the handmade wood niche.
Use diverse keywords
Choosing a few popular keywords like "handmade", "wood", or "handmade wood" is great. But it won't be enough to attract enough traffic for considerable sales. From a look into other sellers' strategies and keyword research on Sale Samurai, we noticed that diversifying your tags will reward you with better results. For example, you can include related keywords like:
Handcrafted
Unique
Gift
Gift for men
Gift for women
Personalized
Personalized gift
Decorative
Custom
This will make your listing discoverable for a wider buyer group and will double the likelihood of landing more sales.
Optimize titles & descriptions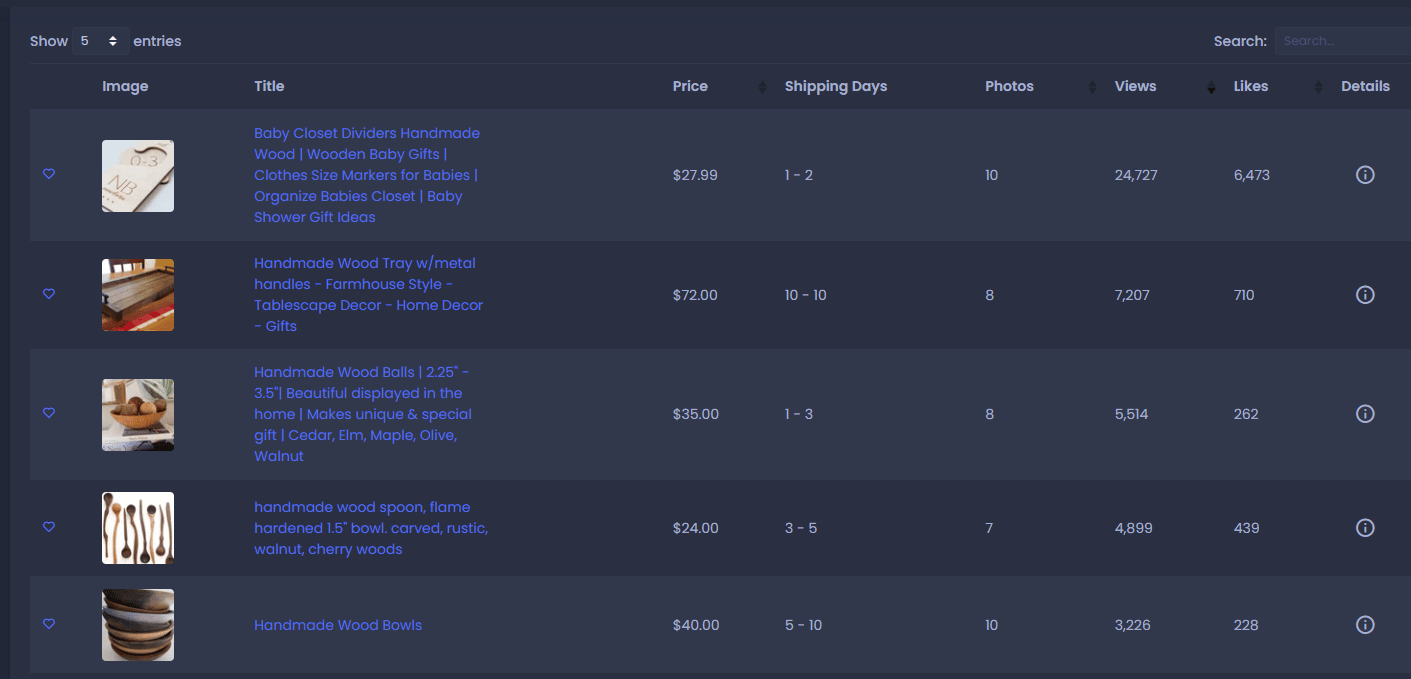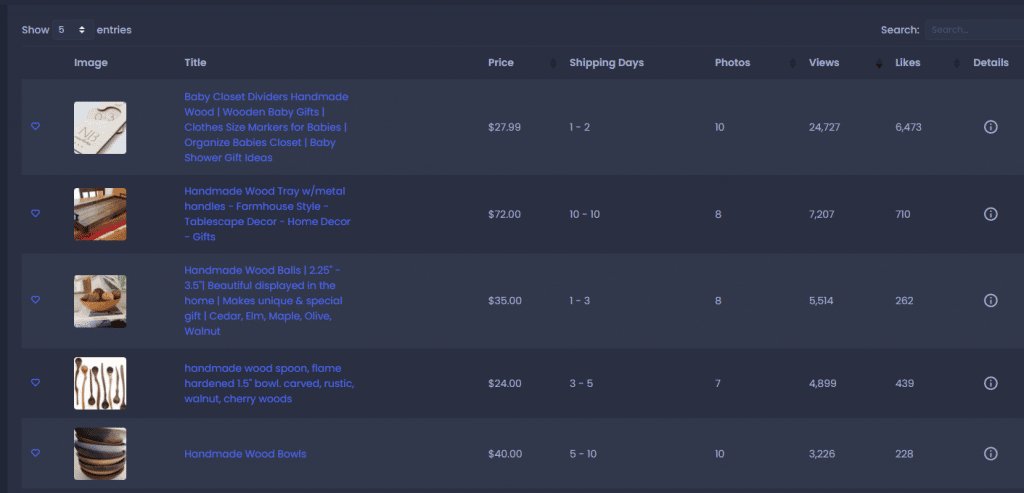 Make sure that you've taken advantage of tags in your titles and descriptions properly. It's best to focus your priority tags at the beginning of your titles to instantly grab attention.
In addition, we noticed that the majority of sellers use specific information in their product descriptions. There are different types of wood that can be used for handmade wood products. Give as many details as possible to your potential buyers. Tell them what type of wood the product has been created with, what the creation process was, who made it, and more. This will help build trust and can encourage more reviews and feedback.
Choose a pricing strategy appropriate for the specific sub-niche

Handmade wood items could be anything from earrings to massive, expensive desks. Regardless of the sub-niche you've selected, set a reasonable price based on what competitors are doing. And not just any competitors. Always look at the bestsellers. Why? Because their approach has proven to be successful.
Don't rely on the average price that you've discovered for handmade wood items in general. Rather, focus your attention on the narrowed-down market price, like handmade wood earrings.
Be creative with your product images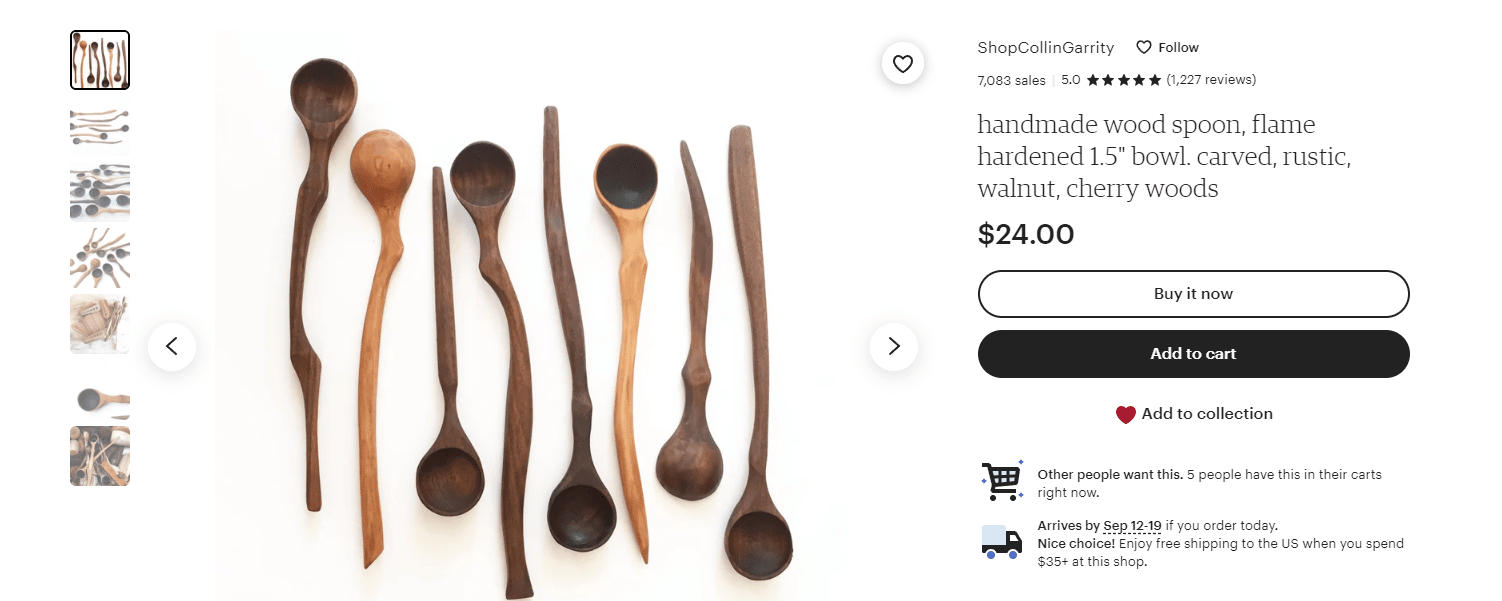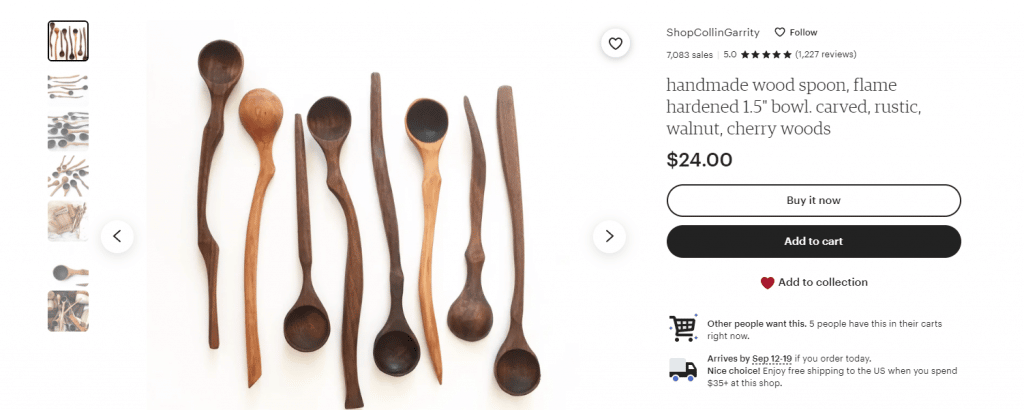 Your product images are the first things shoppers will see once they've spotted your listing. This is why it's vital that you get your product photoshoot right.
Think about the mentality of your typical buyer. Wood is a natural material. Chances are that your audience is interested in an organic way of living and it's likely that most shoppers will support an environmentally-friendly lifestyle.
When creating your images, try to display this way of thinking. You can do so by choosing natural colors, settings that include other organic or natural materials, and minimalistic designs.
Wrapping up
The handmade wood niche on Etsy is extremely large and diverse. It consists of a multitude of sub-niches that are worth exploring. If you're looking to diversify your portfolio and tap into a new and profit-making niche, we'd certainly recommend considering handcrafted wood items.
Using the data and tips from above, you can create a thriving seller strategy that will bring you the returns that you deserve.