Halloween is nearly upon us and it's time to bring out those spooky paraphernalia and costumes as you go trick or treating. The beauty of this special holiday is that it's suitable for both children and adults.
Etsy is perfectly positioned to offer Halloween-themed products to all audiences, especially with the impressive 2,357,503 listings on the platform for the keyword "Halloween". But as a seller, you need to be strategic in your approach. This means doing thorough research into the various niches and categories of products.
We've prepared this handy guide to help you determine where you should be targeting your efforts. Let's explore in more depth below.
What are the main Halloween-related niches this year?
With the help of Sale Samurai, we explored Halloween-related keywords alongside their search volume and listings saturation on Etsy.


This is what we discovered in terms of the top-performing search queries:
"Halloween is": search volume – 26,166; listings – 2,357,965
"Halloween svg": search volume – 26,640; listings – N/A
"Halloween decor": search volume – 26,627; listings – 478,334
"Halloween": search volume – 26,204; listings – 2,357,702
"Halloween decorations": search volume – 26,166; listings – 139,611
"Halloween couple": search volume – 3,557; listings – 19,841
"Adults Halloween": search volume – 3,503; listings – 534,574
Based on these results, we can deduce that adults are the primary purchasers of Halloween-themed products. Their main areas of interest are Halloween costumes and couples costumes, as well as decorations for the home's interior.
Next, we look at the tags used by sellers to get in front of an audience. We explored some of the most popular tags together with their search volume on Etsy.
Here's what we found:
"Halloween shirt" (26,644), "boo" (26,629), "Halloween decor" (26,627), "witch" (26,607), "Halloween sweatshirt" (26,584), "Halloween" (26,204), "Halloween costume" (26,178), "hocus pocus svg" (26,166), "pumpkin sweatshirt" (3,691), "trick or treat bag" (3,685), "vintage Halloween" (3,630), "toddler Halloween" (3,623), "spooky sweatshirt" (3,623), "spooky season shirt" (3,619), "ghost face svg" (3,559), "trick or treat" (3,558), "kids Halloween" (3,557), "Jack o lantern" (3,497), "spooky season" (3,437), "pumpkin png" (3,308), "witch svg" (2,972), "ghost svg" (2,920), "vampire" (2,579), "pumpkin" (2,572), "spooky" (2,232), "spider" (2,230), "ghost" (1,832), "Halloween decoration" (1,148), "funny Halloween" (1,086), "cute Halloween" (1,048), "Halloween png" (996), "witches shirt" (996), "Halloween svg" (995), and "skeleton svg" (976).
There are four main niches that we're able to extract from this data.
The first two are the above mentioned home decor and costumes niches. The third has to do with image files (identifiable by the png and svg file extensions) relating to the Halloween theme, such as magic, witches, and pumpkins. And the fourth appears to relate to scary objects popular with Hallloween festivities, such as vampires, spiders and jack-o'-lanterns.
There's also a fifth category, which is not as pronounced – the kids' niche.
What are the most popular categories of products in the Halloween niche this year?


From the aforementioned, we can also determine the most popular categories of Halloween-themed products this year.
These are:
Clothing and apparel: for babies, toddlers, children and adults in the form of either t-shirts, sweatshirts, or costumes
Bags: in particular, trick or treat bags for children
Home decor: cushions, decor paraphernalia such as jack-o'-lanterns, pumpkins, ghosts, spider webs, etc.
Now, if you're reading carefully, you might already have an idea of what to produce this Halloween season in order to rake in the sales.
And if you haven't, we recommend a simple two-step solution.
Step 1: Depending on your craft, choose one of the three product categories as a base for your item.
Step 2: Pick one of the five niches and design your item around it.
What is the profitability of Halloween-themed niches and categories of products?
Interesting to note regarding pricing of Halloween-themed products on Etsy is the fact that items are not too expensive. This means that more buyers can purchase products at an affordable rate. In fact, the search query "Halloween" indicates that the lowest price for such items is $0.40, the highest price is $72.22, and the average price is $13.08.
Halloween-themed cards
Pricing at around double the average, we explored the listing of TheRitzyRose. This is an Etsy star seller with their item titled "24 Dancing Skeleton Cards w/ Envelopes Halloween | All Occasion Blank Inside | Blush Pink Dead Ballerina Stationery 6082".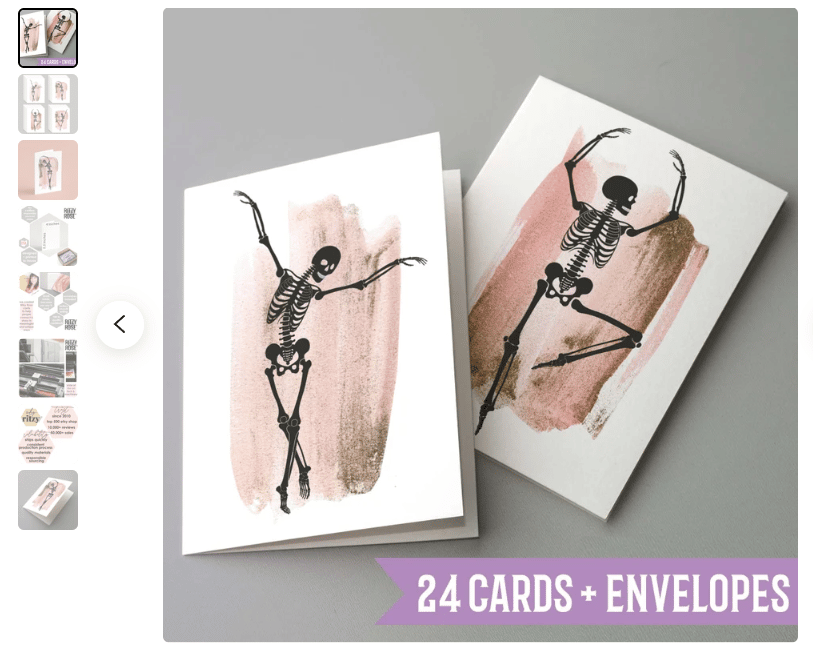 Catering to individuals who want to send out Halloween-themed cards, this seller has made 75,987 sales at a price of $33.60. This gives us a potential turnover of $2,553,163.20.
Halloween-themed t-shirt
In first place though, we have the star seller QuriousShop. They have created a t-shirt item titled "Skull Halloween Shirt – It's Never Too Early For Halloween – Goth Halloween T-Shirt". This item has been sold 87,470 times at a price of $31.06, giving us a potential turnover of $2,716,818.20.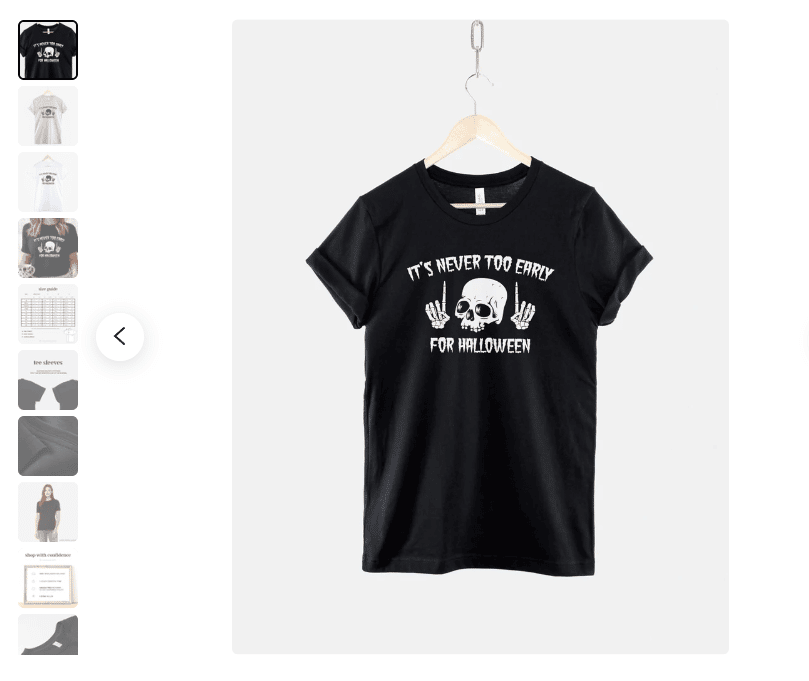 Overall, it appears that some sellers are really bringing home the bacon with sales in excess of two million dollars. This is quite significant because the creation of these products is quite easy to emulate if you were to go either in the t-shirt or gift card niche.
What audiences are looking for Halloween-related products?
Because Halloween is such a beloved event for young and old alike, the audiences are quite broad. However, it can be deduced that the purchasing power lies with adults. Therefore, whether buying their children's Halloween costumes on Etsy or purchasing home decor, adults appear to be the primary decision makers when it comes to this niche.
What is our advice to sellers looking to capitalize on the Halloween niche this year?
And now, we conclude with our key findings for this niche and strategies you should use to emulate other sellers' successes.
We already established what the main Halloween niches are this fall. Just to remind you, these are costumes, image files, scary objects and toys for kids. As for product categories, t-shirts, home decor and trick-or-treat bags are your go-to items of choice.
Here's what else you need to know.
Keywords and tags
The keywords that you use in your titles and descriptions will help you optimize your listing and get you ranking higher in the search results on Etsy. However, you need to use intelligent keywords. In other words, those seed keywords that relate your product and a strong link to the theme of Halloween.
While it's easy to think that you should only use the seed keyword "Halloween", you may also wish to try "31 October", "boo", "spooky", and other related keywords to ensure that you get more visibility.
Furthermore, you need to optimize your tag usage so that you cater to more search queries. Consider adding adjectives to your seed keyword such as "cute", "funny", or "spooky" when describing Halloween and the product you're offering.
Prices
Halloween-themed products are not expensive, with the average price being in the region of $13.00. This means that if you want to earn more sales, you need to be pricing around the average.


However, as seen from the two star sellers mentioned above, who have both gone beyond the $30.00 mark, it's possible to up your prices a bit and still remain competitive. Also, your pricing will depend on the actual product you sell. This is why studying the competition and their pricing strategies is crucial.
Images
Finally, be sure to use great lifestyle images as opposed to stock images in your listing. It's also important to use up as much of the space that Etsy allows for images. This means using all 10 spaces and making sure that each photo tells a story about your product.


Showcase it at different angles, place items next to your product for scale, and show how it can be used in real life. This will earn you an impressive audience indeed.
Final words
Our final words for the Halloween niche this year is – absolutely go for it!
You can adjust a massive number of products for this particular segment and target audience. For example, if you're selling cushions, adding bat or spider webs to your design is just one way of tailoring your product to the spooky season.
However, once you've decided on which item you will sell, it's crucial to have a fully optimized listing to get you ahead in the game. This will mean carefully studying your competition and following some best-selling advice related to your tags and keywords, pricing, and images.
Overall, the niche can be highly profitable. You just need to position your items correctly. Use Sale Samurai to help you with your efforts and you will never look back.