Whether you're into cosplay, you've got a romantic occasion coming up, or you just want to look good – hair pins are a small, yet discernible accessory to add to your hair style.
And if you're a seller who would like to enter the Etsy marketplace with your intricate hair pins, you'll want to know whether the market allows for it and what steps you should take to succeed.
Luckily, this blog post gives you all the answers, so that you are better equipped to enter the hair pin niche with confidence.
Read on to find out more.
How big is the market for handmade hair pins?
We headed over to Etsy to determine what type of listing saturation we are looking at in terms of the search query for "hair pins".
What's important to note from the get-go is the spelling of this keyword.
If you are a designer and seller of hair accessories such as hair pins, it's highly advisable to use the two words separately.
Searches for "hairpins" as one word yield results related to coffee table legs and other irrelevant items.
With that out of the way, we discovered that there are 158,153 listings on Etsy under the search term "hair pins".


For such a huge marketplace, this is a drop in the ocean. So, it's worth exploring this niche even further to see how you can succeed.
Listings saturation and search volume
Having gotten a bird's eye view of the marketplace, we then turned to Sale Samurai's search module to help us determine what buyers are actively searching for in this niche.
We looked at the highest search volume keywords to determine buyer intent.
Here's what we found in terms of the top 10 results:
"Gypsophila hair pin": search volume – 1,130
"Hairs pins": search volume – 862
"U hair pin": search volume – 846
"Hairs pin": search volume – 786
"Hair pins": search volume – 774
"Hair pin": search volume – 705
"Kanzashi hair pin": search volume – 444
"Miumiu hair pin": search volume – 405
"Gypsophila hair pins": search volume – 215
"France hair pin": search volume – 193
What strikes us the most is that gypsophila hair pins have the highest search volume of over 1,100 monthly queries. In comparison, the plural variation of the seed keyword "hairs pins" only has around 850, while being the second most searched term.
Apart from this interesting insight, we also see that general searches for hair pins have quite a high combined search volume, which is commensurate with the number of listings on Etsy for this search term.
Tags
Having covered the buyer-side of the search queries, we now turn to the tags that Etsy sellers are using to rank higher on the platform and earn more sales.
Here are some of the top tags that they are currently using, according to Sale Samurai:
"Hair accessories": search volume – 1,069
"Hair accessory": search volume – 1,033
"Hair pins": search volume – 774
"Hair pin": search volume – 705
"Bridal hair pins": search volume – 45
"Crystal hair pins": search volume – 34
"Wedding hair pins": search volume – 34
"Wedding hair pin": search volume – 33
"Wedding hair": search volume – 25
"Bridesmaid hair pins": search volume – 20
It's immediately clear that hair pins fall under the hair accessories category. It's worth noting that this category gets quite a high search volume overall, however the point is not to draw in more search volume, but to properly position the product in the correct class of items.
Next, it's clear that the most pronounced sub-niche is that of wedding hair pins. This is an important piece of info to consider, as it broadens your opportunities as a seller.
Prices
Of course, our search would be incomplete without studying the prices. With the help of Sale Samurai, we discovered the following price categories for hair pins:
Lowest price: $0.99
Highest price: $141.03
Average price: $17.7

What are some of the best-selling merchants doing right?
Practical examples are a great way of learning from the star sellers of Etsy. That's why we dug through a multitude of listings to uncover two of them. We're now going to discuss their strategies in detail.
Seller 1
Title: Rose Hair Pin Set Accessories Silver Bobby Pins Wholesale Wedding Floral Blue And Yellow gift for her
Seller: TheWildPoppyjewelco
Price: $21.00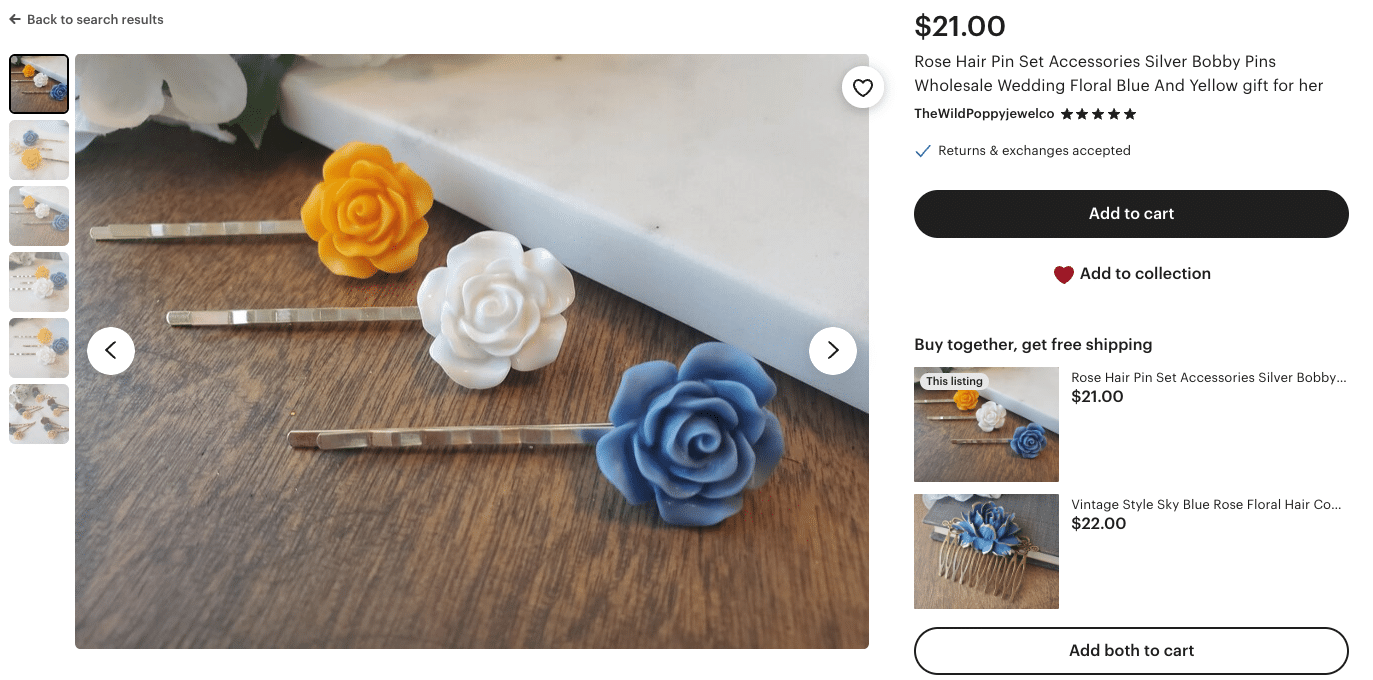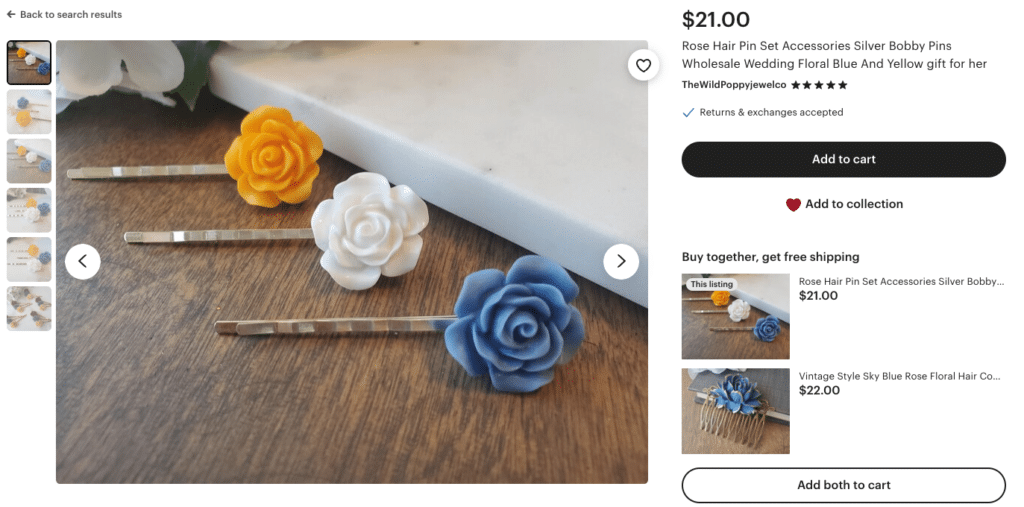 Seller 2
Title: Set of 2 Bridal Hair Pins, Crystal Hair pins, Pearl Hair pins, Gold Leaf Hair Pin Silver, Wedding Hair Clips
Seller: Natassory
Price: $18.70

Keyword optimization
In both of the cases outlined above, we see that the sellers have opted to use the seed keyword "hair pin"and its plural form as two separate words.
Both sellers have targeted the wedding segment through the use of the word "wedding" in their titles. The second seller has slightly over-used the word "hair pins", which could have been avoided.
Pricing
In terms of pricing, it's important to note that both sellers have priced just above the average, give or take a few dollars. This is an excellent way of helping them generate more sales. As we've repeatedly said, pricing around the average for the niche is the surest way to not only penetrate it, but to thrive in it.
Images
Whereas seller one has only used up six slots in their space for images, the second seller has done a great job of fully optimizing their real estate space to showcase their product.
The latter is a strong strategy for sales success because it's one of the few ways an audience can come into "contact" with your product to determine whether or not they will buy it.
Our tip-list for sellers seeking to enter this niche
When it comes to entering the hair pin niche on Etsy, a couple of important considerations are worth remembering.
Here's our brief breakdown.
Keywords: If you want to make it in the hair pin niche with your intricate designs, it's critical that you have a solid title. In order to create your title, there are a few essentials you need to take care of. Firstly, to avoid confusing your audience, make sure you use the words "hair pin" and not "hairpin". The former describes the item correctly, while the latter is usually used as a compound noun to describe legs of coffee tables. After you have used the words "hair pin" in your title, be descriptive. Make sure that you accurately describe who the audience is and what your product entails. Hair pins that are aimed at brides and bridesmaids for weddings are a surefire way to hit the sweet spot when it comes to targeting high search volume keywords.
Prices: Both of the bestsellers identified in this niche have priced just above the average of around $22. This means that they are showing value for money while not charging exorbitant amounts for their products. This is an excellent way of not alienating one's audience due to pricing out of the ball park and it's a strong strategy for ensuring that you earn those sales.
Images: Images are what will attract your buyer's attention. Make sure that you use up all 10 spaces for images and include video, where possible. Your images should be in a real-life setting or in an action setting where the product is actually being used. Static or stock images are often a poor quality way of displaying your products. Conversely, advertising your products in a life-like way is certain to draw attention and keep it.
Final thoughts
The hair pin niche on Etsy is not as oversaturated as some may think. However, entering this category with your own products requires careful research.
Without the help of Sale Samurai, we wouldn't have picked up on the difference in searches between "hair pins" and "hairpins".
For only $9.99 per month, you too can gain access to millions of valuable insights.