With an estimated 96.34 million active buyers in 2021 alone, Etsy is ideal for aspiring entrepreneurs with a creative flair.
As you already know, Etsy is the place to go for handmade and vintage items as well as craft supplies and tools. With this in mind, buyers want something original. In fact, many buyers are increasingly seeking more details about the sourcing of the materials used to make the final product so that they make more conscious and ethical purchasing decisions.
Some examples of this include choosing organic, eco-friendly products and production processes, as well as those that are branded as Fair Trade. In addition, buyers are increasingly looking for ways to help deserving artisans make an income. Putting this all together, it's clear that buyer perspectives are changing and are shaping how Sellers source their products.
As a Seller, it's important to keep in mind where your product is sourced from and what processes it has gone through to get to you and ultimately to the final buyer. Adding this to your description will help your buyers make a better, more informed, and more conscious choice.
Sourcing Eco-Materials For A Handmade Etsy Business
As a quick reminder, it's worth pointing out that one of the three categories of items that Etsy allows Sellers to offer on the platform are handmade items. According to Etsy's house rules, a Seller needs to make or design the products that they offer. If a partner is involved in this process, then this must be disclosed in the relevant listings.
Now that we've gotten some of the rules out of the way, let's take a look at just three of the multiple different types of handmade goods that one can find on Etsy. We'll also take a look at what strategies some Sellers have employed when sourcing and promoting their materials.
Candles
Candles are a huge category of handmade items on Etsy. In fact, the search for the keyword "candle" yields a Google search volume of 823,000 and an Etsy search volume of 26,204. In addition, there are over 51,000 listings to compete with.


When it comes to sourcing the materials for your handmade candles, the main ingredients are wax, fragrance, coloring, and wicks. Keeping in line with what was stated above, customers are looking for more sustainable options. Therefore, some of the materials you may wish to use for making handmade candles include beeswax, coconut wax, rapeseed wax, or even soy wax. Wicks, on the other hand, can be made of 100% cotton. The reason for this suggestion is that these are much less harmful when lit. And it's also crucial to ensure that these materials are responsibly sourced and produced.
Eco-friendly top performer
An example of a Seller who is into the sustainable candle niche is KOIARTANDCRAFT, with their listing title stating the following: "Spiral Round 5cm x7cm pillar candle / soy pillar candle /scented candle / home decoration/ vegan candle/ eco friendly candle."

Catering to a growing number of sustainable-thinking buyers, they have made 1,215 sales to date, pricing their candles at around $7.75. They have tapped into the vegan market, too, as well as offering an eco-friendly product, thereby appealing to an ever-growing number of eco-conscious customers.
Wooden items
From serving trays and fruit bowls, specially carved cane tops, to larger pieces of furniture and even toys, wooden items almost never go out of style.
However, when it comes to wood, we should be aware of deforestation and unsustainable forestry practices. To address this issue, some of the more sustainable types of wood that can be used to manufacture products include bamboo, which can be harvested comparatively quickly as it does not require new land for planting more.
Other types of wood that could be considered sustainable include those that are grown in forests that are certified by the non-profit Forest Stewardship Council (FSC). This is an important stamp of approval for such items.
Eco-friendly top performer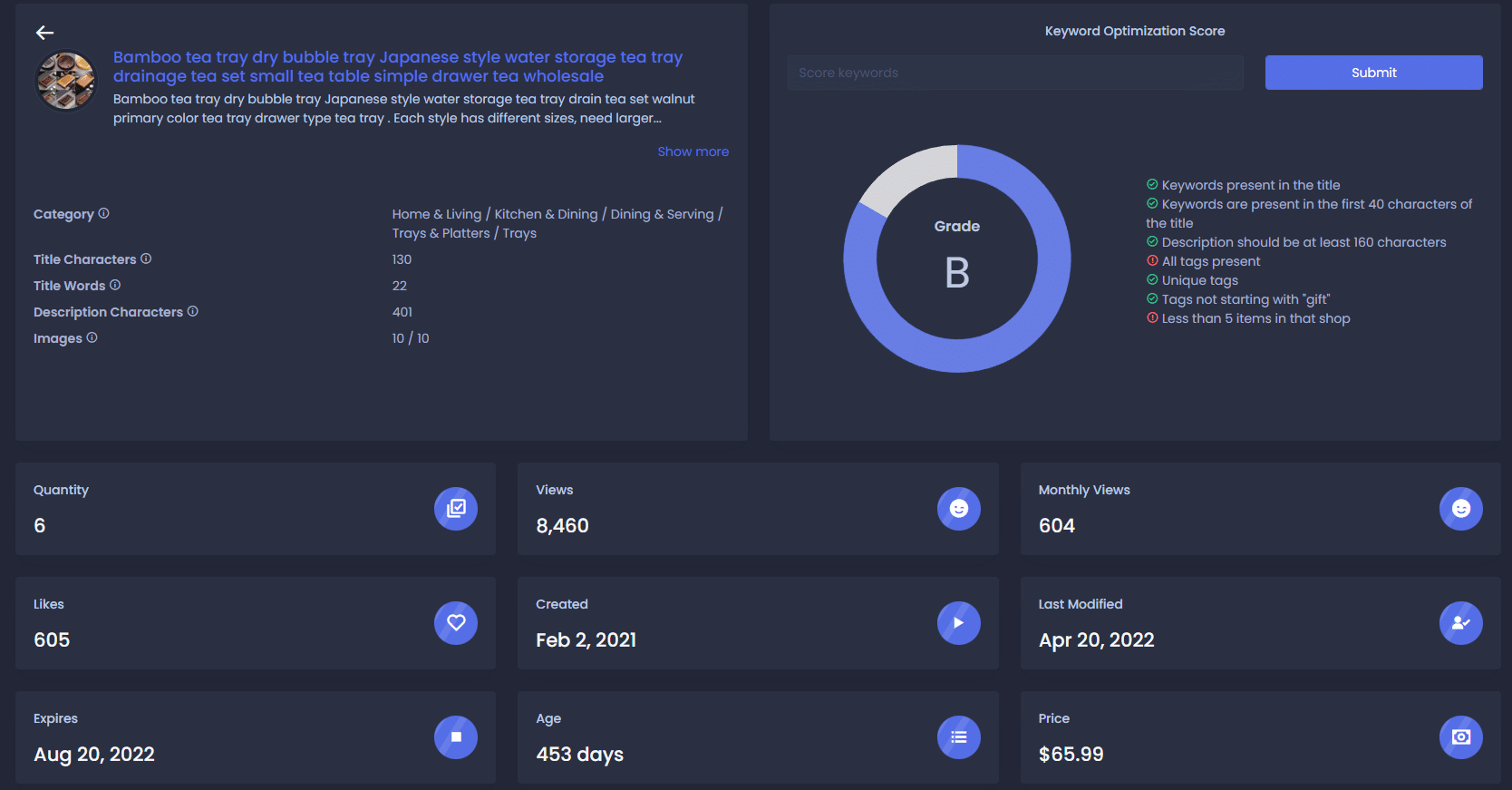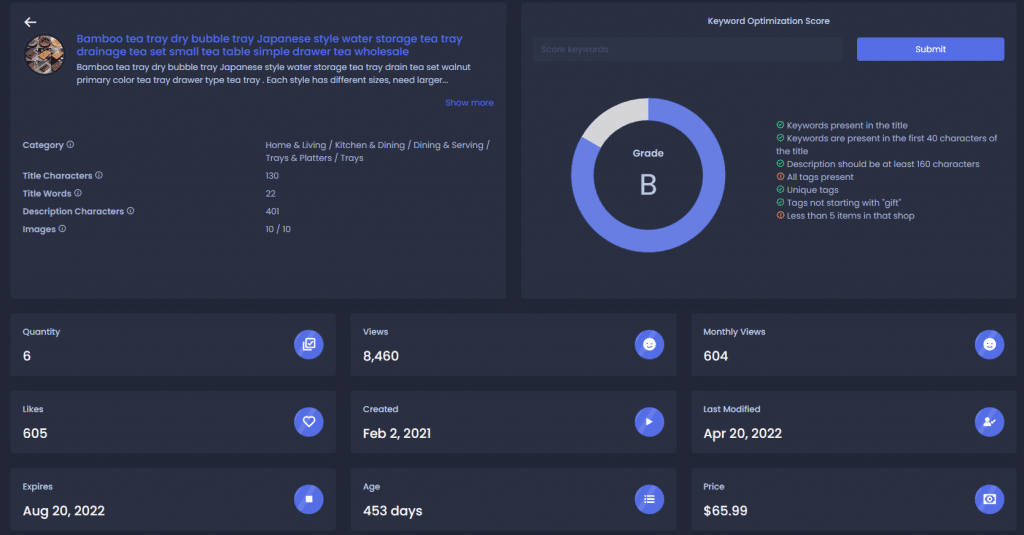 TeaWhiskHouse is an eco-friendly Seller, who offers "Bamboo tea tray dry bubble tray Japanese style water storage tea tray drainage tea set small tea table simple drawer tea wholesale," – a tea tray, which goes for $65.99. The primary material for this tea set is bamboo and the Seller has indicated that it is 100% handmade. The price, coupled with the materials and production method, are possible reasons why the item has sold 1,582 times to date.
Wool blankets
An ethical production process of creating wool for wool and knitted blankets involves the shearing of sheep and other animals. In addition, the land on which these animals graze and enjoy their pasture needs to be sustainably managed, too. This is why the entire process, when it comes to yarns and wool, needs to be factored into the equation when selling sustainable wool items.
What's more is that when it comes to dyeing the wool, non-toxic fabric dyes are the preferred choice for many buyers in addition to those that do not require the use of much water.
Eco-friendly top performer
HomeOfWool is an Etsy star Seller offering a "Cozy Merino Wool Blanket / 59″ x 75″ (150 x 190 cm) / All-Natural Throw Blanket." To date, this item has been sold 9,413 times and has gotten high ratings with 4.9 out of five stars and 1,908 reviews.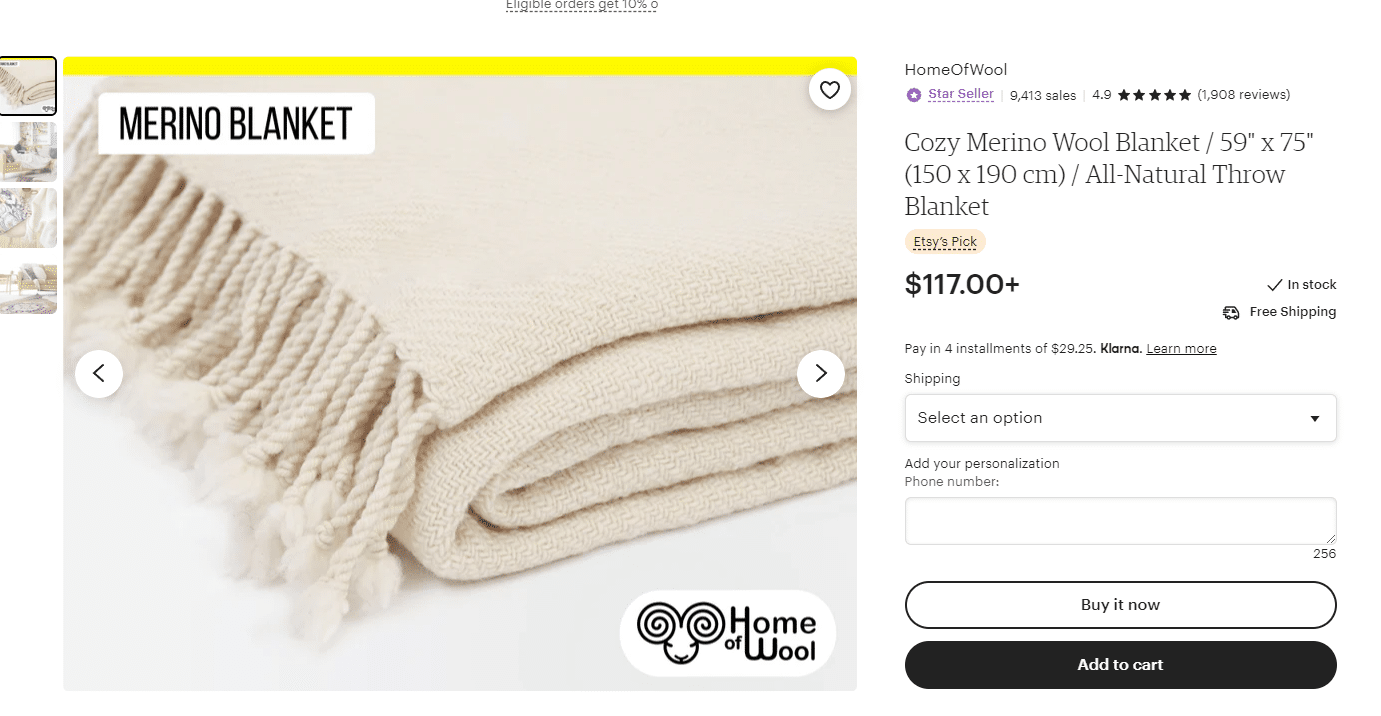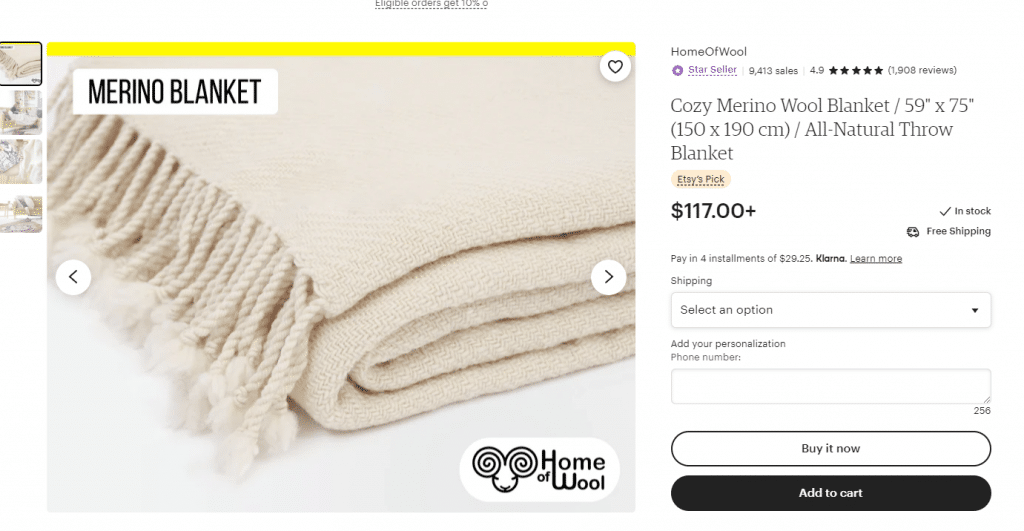 One of the contributing factors to this blanket's success is the fact that it is "completely chemical-free, with no off-gassing and zero VOCs." It is also completely biodegradable and uses only sustainable, renewable materials.
Sourcing Eco-Materials For A Craft Supplies & Tools For Etsy Businesses
Craft supplies and tools are the second category of items sold on Etsy. Once again, a Seller is encouraged to source the materials needed to sustain their Etsy gig in a sustainable manner. Some questions to consider when doing this include: How should you organize your materials? Where should you get them from, and how should you choose them?
Whether metal, wood, plastic, or fabric, it's important to understand the production processes involved in the creation of these supplies and tools, and take into consideration whether these are sustainably created or not.
While it may be tempting to source the cheapest materials, it's vital to remember that more and more customers are after quality.
As a general advice, do not over-rely on places like market stalls, shops that sell in bulk, even items that are sourced from China or another trade location. As viable as these options are, they won't contribute to your long-term success. Customers want items that are durable and versatile, as well as sustainably produced and affordable.
When it comes to adopting a profitable pricing strategy down the line, the most important factor to consider is the purchase price of the craft supplies and tools. The rule of thumb here is that the more sustainable the item is, the higher the sourcing price will be. In some cases, extra costs might include the time spent on creating the craft supplies and tools, storage and inventory costs and shipping costs (if any).
Why Keeping A Supply Of Eco-Friendly Materials Is Important To Your Etsy Business
Keeping a supply of sustainable materials is crucial to your Etsy gig. When we talk about sustainability, we're talking about two things.
First, sustainability in the sense that the products made or the craft supplies and tools offered are produced in an environmentally friendly manner. This increases the value of the items, builds up the reputation of your shop and ensures more upper-end buyers.
Second, we're talking about sustainability of materials in the sense that a Seller needs to have enough stock on hand. This is so they don't run out of items to sell and can continuously have new items in stock to affect the turnover of sales. To maintain a steady stock, we recommend to keep at least 50% of your most popular items in reserve, and decrease the value by 10% for each item according to popularity. In the most common scenario, you'd have 5 listings that are doing particularly well. So, that is: 50% of extra stock for your most popular item and 10% of extra stock for your least popular item. Super niche or rarely sold items can be left without reserves, although we do not recommend it.
The most obvious threat to your Etsy business is due to a failure to keep a sustainable supply of materials is a loss of potential sales if you have no items in stock.
It's vital to ensure that you manage the product's supply according to the demand for it. This will entail a careful balancing act that takes into account an average number of sales versus the time it takes to create or source the product, and the final selling price.
In Conclusion
Etsy is a creative marketplace. Sellers have an abundance of options in terms of what items to offer, with most being carefully handcrafted. As for the craft supplies and tools category, these can be handmade, commercial, or even vintage.
With rising consumer consciousness and efforts made to ensure more sustainable purchasing decisions, it's a wise move for Sellers to adopt strategies and pay close attention to their item's manufacturing or production processes to comply with this growing demand. You can always use Sale Samurai to find products and see listings of sustainable businesses and how they are doing it.
Offering an eco-friendly product can be a dealmaker as ever more consumers are choosing this option. Therefore, sustainability should be at the heart of what an Etsy Seller does, and this can be promoted through your listings' descriptions.