Etsy is one of the world's largest online platforms for creative and artistic souls. As a seller, you can explore a plethora of different niches that could potentially unlock the doors to the money vault. But leaving your performance to chance is never a good idea.
In this article, we research the handmade market for congratulatory cards on Etsy using the powerful Sale Samurai tool. We'll walk you through everything you need to know about it.
Ultimately, our findings will help you determine whether it's a lucrative space that deserves your attention.
How big is the congratulations cards market on Etsy?
If we think about congratulations cards in general, we could assume that they're an attractive money-making opportunity on Etsy. After all, there are so many different life events to celebrate that surely shoppers must love them.
We'll stop you right there.
We strongly encourage you to avoid this thought process. Instead, you are advised to rely on solid business intelligence that will prove or disprove your theories.
That's exactly what we did when tackling this topic. The first thing we focused on when analyzing the congratulatory card niche is the size of the market. The two important pieces of information we needed were the number of listings on Etsy and the search volume that niche-related keywords receive.
Number of listings


A browse through the eCommerce site nets more than 76,000 listings related to the seed word "congratulations card". A further inspection via Sale Samurai reveals that the keyword is highly competitive, with more than 50,000 listings ranking for it.
These discoveries lead us to conclude that congratulatory cards on Etsy are a big deal, indeed.
Search Volumes
Next, we checked the search volume of the main keyword. "Congratulations card" receives around 459 searches per month by Etsy users. However, that's not all.


Sale Samurai suggests the following similar keywords that buyers were showing interest in:
Congratulations on the wedding card – 476
Congratulations on pregnancy – 475
PhD congratulations card – 219
Rude congratulations card – 123 – low
This not only indicates that Etsy customers are shopping for congratulatory cards but also uncovers that there are different types of products in the niche.
Types of congratulatory cards on Etsy
Our examination of the congratulatory cards market took place both on Sale Samurai and on Etsy. We worked with both channels simultaneously to confirm our theories and check for discrepancies.
During our assessment, we noticed that not all congratulatory cards were the same. Some were targeted towards a specific event, while others were personalized, giving the client room for flexibility.
Here are the most popular types of congratulatory cards on the platform:
Weddings/Engagement cards
Pregnancy congratulatory cards
PhD congratulations cards
Graduation cards
Congratulations on a new job cards
Retirement cards
Good job/Well done congratulatory cards
Congratulations on a promotion cards
Personalized congratulatory cards
Pop-up congratulations cards
Marathon congratulations cards
Selling your home congratulatory cards
By tapping into one or several of these sub-niches, you can take advantage of all that the market has to offer.
A look into the bestsellers
But what about the listings that actually generate exceptional revenue? What makes them special and how do they attract sales?
Let's find out by dissecting a few best-selling listings.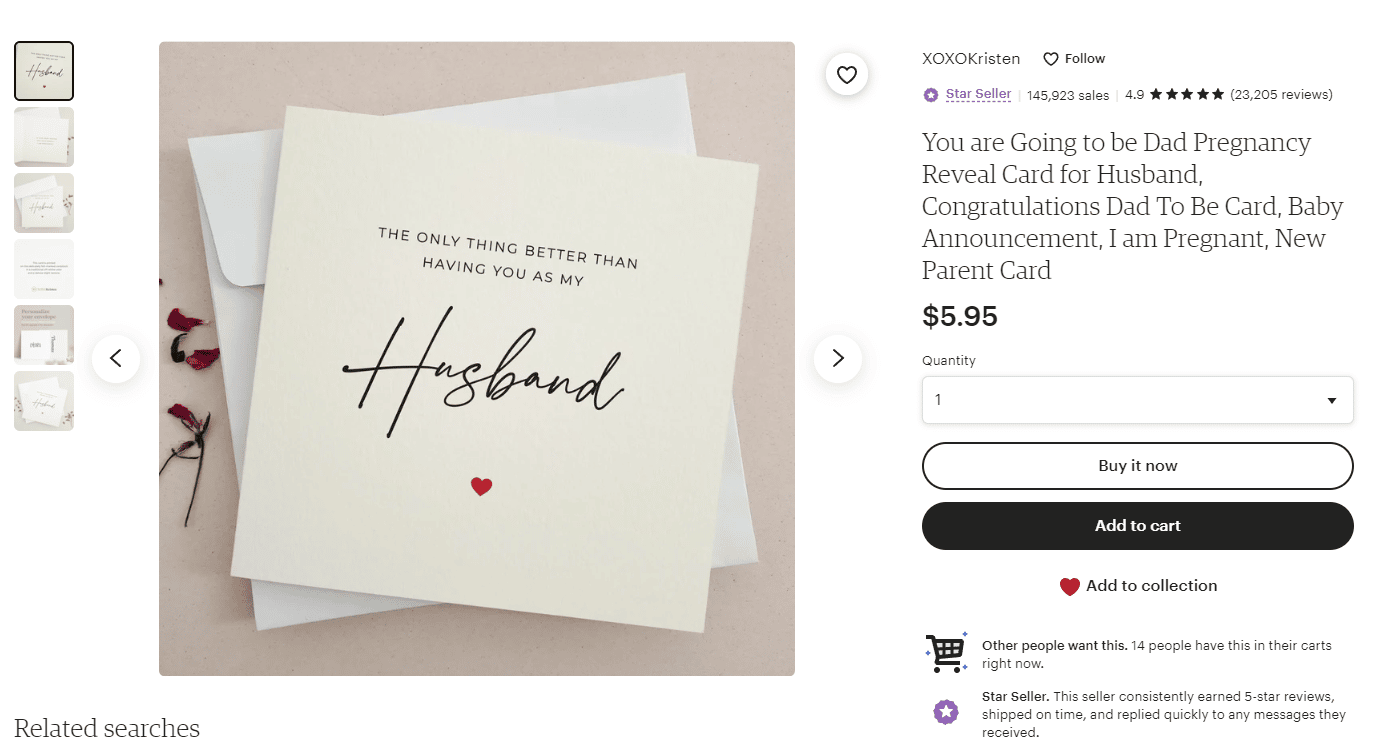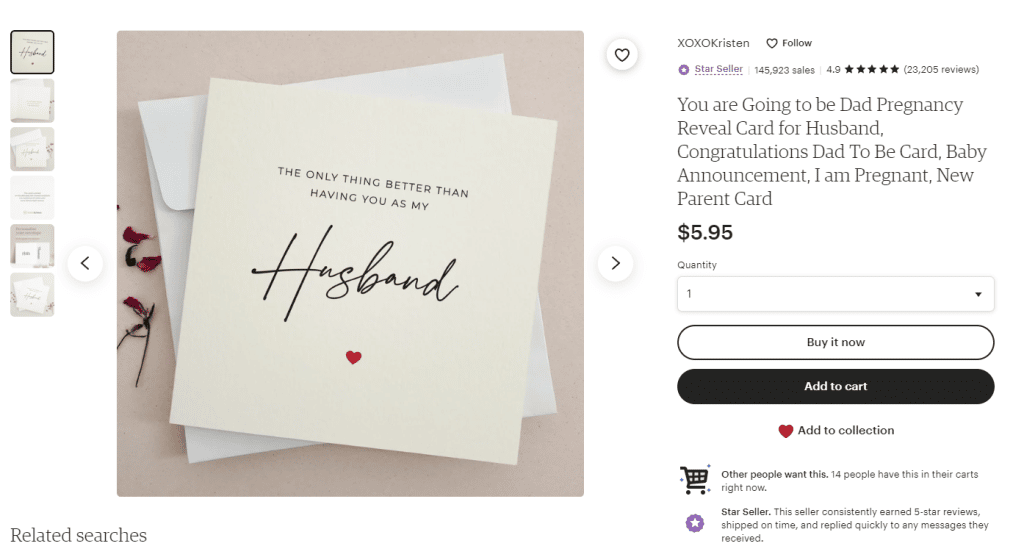 First on our list is the "You are Going to be Dad Pregnancy Reveal Card for Husband, Congratulations Dad To Be Card, Baby Announcement, I am Pregnant, New Parent Card" listing. The seller certainly knows what they're doing as they've received more than 23,000 shop reviews and have landed nearly 150,000 sales. They stand out with a "star seller" badge. For this handmade product, in particular, they ask for $5.95 and use only six product images to grab attention. At the same time, the seller has utilized the full 13 tags made available by Etsy per listing. Some of the profitable keywords that the title and description are optimized for include "pregnancy card", "new baby card", "husband", and "new parent card".  All of these help increase traffic to the listing.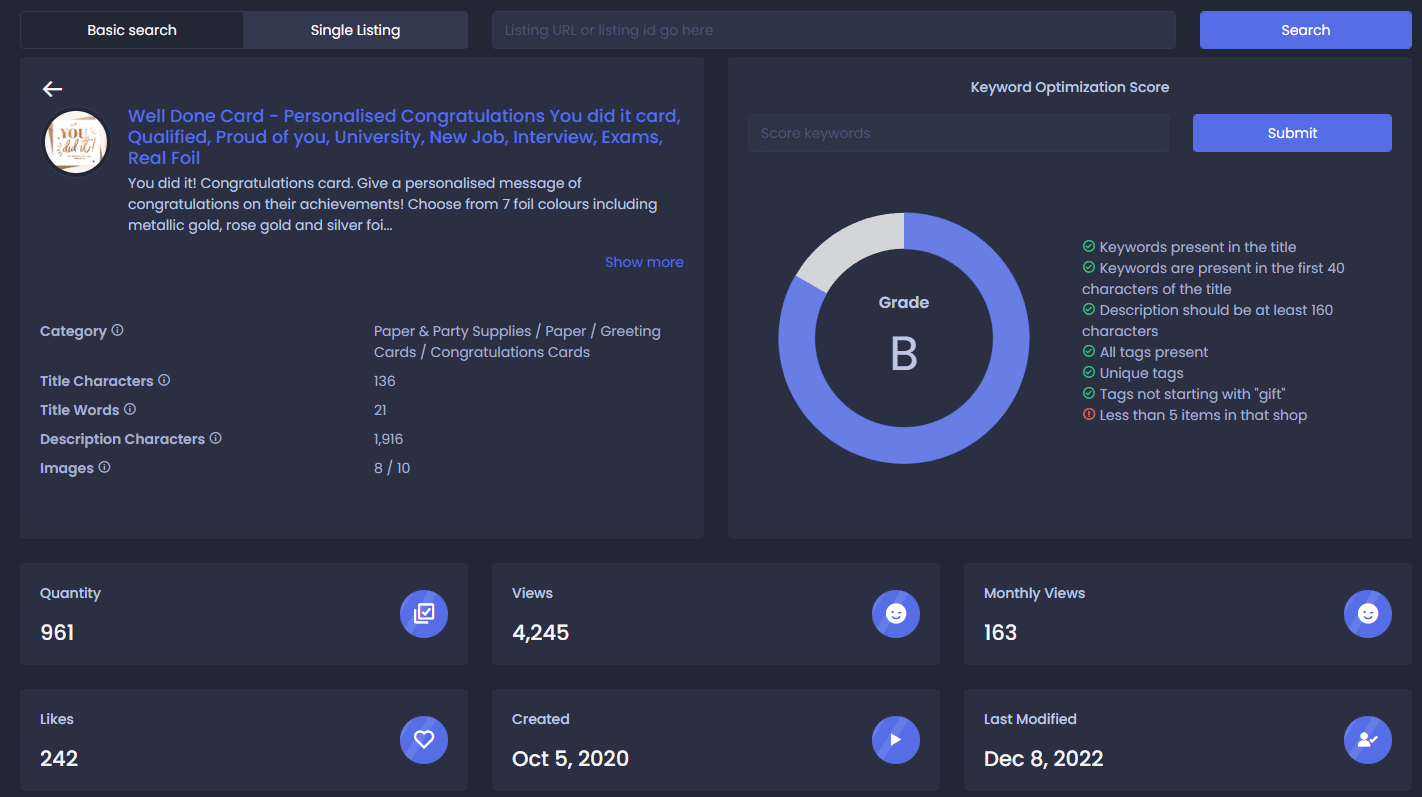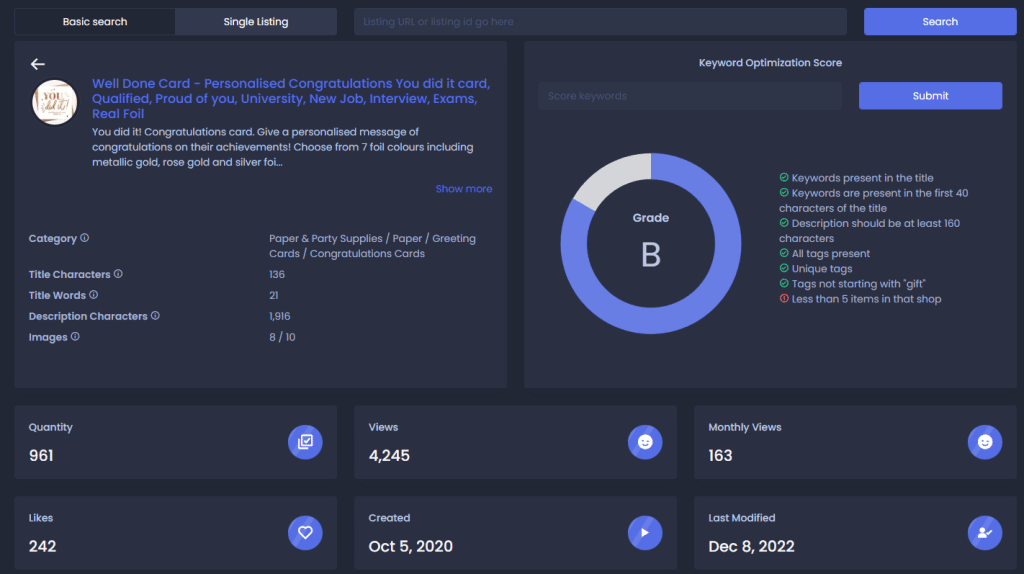 Another top-performing listing is the "Well Done Card – Personalised Congratulations You did it card, Qualified, Proud of you, University, New Job, Interview, Exams, Real Foil" product. Priced at $5.40, the listing has secured 129 reviews, while the Etsy shop has received more than 4,100 altogether.
The seller has taken advantage of eight out of the ten available images. They've also optimized the listing with the full 13 tags. Since this card is appropriate for different achievements or events, some of the keywords used in the title and description include "new job card", "you got this card", "proud of you card", "well-done card", "university card", "graduated card", and more. These words and phrases enable shoppers to discover this listing easily when searching for some of these specific keywords.
Best practices to follow when entering the niche
From the previous section, you may have already gotten an idea about the best practices in the congratulatory cards niche. But to put things into perspective, it's important to organize these techniques in a concise list.
Keyword diversification
Keyword assortment is crucially important for a listing's performance. We strongly advise using all of Etsy's 13 tags per listing and enhancing your titles and descriptions with strategically selected words and phrases.
The important keyword metrics to analyze when making your choice include search volume and level of competition. Ideally, the optimal case is picking out words that have a high search volume, yet low competition levels. They will be much easier to rank for, meaning getting your hands on a competitive edge.
In addition, be as diverse as possible with your keyword selection. Don't simply rely on the primary keyword, like "congratulatory cards" and versions of it. Instead, think about your target audience, Where possible, add age-related, hobby-related, or event-related words.
Imagery quantity & quality
Next, choose the images that will represent your product in its most attractive form. Remember that your listing's photos are like the cover of a book. We've all heard the saying "don't judge a book by its cover" but to be honest, we all do.
Especially on an eCommerce platform like Etsy, the visual presentation of a product makes a real difference.

We noticed that a lot of the bestsellers aren't fully utilizing the ten images per listing allocated by Etsy. Although some of them are still enjoying high sales numbers, we advise you to stick to the unwritten rules. Aim to add ten images per listing. This will boost your organic rankings and will also help you present your cards from a different perspective to shoppers.
Keep the images clean, minimalistic, and easy to understand. It's also helpful to display your cards in a real-life setting. This could mean capturing your card in the hands of a recipient or positioning it in a warm, cozy home or office environment.
The golden price point
Another best practice we exposed throughout our dive into the market is related to pricing. We revealed that the majority of chart-topping listings were priced around the average in the niche. How do we know? By checking with Sale Samurai.


According to the tool, the average price in the congratulatory card space is $4.76. From our examples above, we can see that both listings are priced at around $5. This is a popular pricing strategy that is especially suitable for new and intermediate sellers.
By positioning your products competitively, you can quickly grow their popularity and increase traffic. And the more traffic you have, the higher the chance of achieving conversions.
At the same time, overpricing or underpricing often leads to undesirable effects. These strategies can be viable during specific periods or under certain conditions, but are not recommended for inexperienced sellers.
Use sub-niches to your advantage
Last but not least, we recommend cashing in on the potential presented by sub-niches.
Throughout this article, we've focused solely on congratulatory cards. But the truth is that the niche can be successfully merged with other sub-niches that are related to age, interests, occasions, and more. For instance, creating a "congratulations on your retirement card for women in their 70s" listing is far more niche than simply creating a "retirement congratulations card" product. It enables you to target a very precise audience and satisfy a particular demand.
Conclusion
Overall, we can confirm our initial theory that congratulatory cards on Etsy are a money-making niche, especially when approached strategically. We advise you to form a healthy marriage between your creative flair and data insights to give rise to listings that will skyrocket your sales.
Don't forget that Sale Samurai can support you every step of the way.