Wrought iron is a specific type of metal art that involves heating followed by artistic warping. This process of changing the shape of the metal yields beautiful home decor pieces ranging from the small to the very large. The ironmongers amongst you may be wondering if the Etsy platform allows for market penetration and targeting. Based on the research we conducted, we emphatically answer in the affirmative.
In this article, we explore the market size of the wrought iron home decor niche on Etsy, take a look at best practices of star sellers, explore the potential for profitability, and provide some useful tips on how you can get started.


Let's dive right in.
How big is the market for wrought iron home décor?
Wrought iron as home décor is a unique way of expressing individuality and adding a special touch to your interior. Etsy caters well to customers interested in these types of products as evidenced by the number of options available and their corresponding number of listings on the platform.
Listings saturation
A quick search on Etsy for "wrought iron" brought back 31,056 listings. However, by narrowing down our search, we were able to dissect the market and uncover the types of products most popular with sellers.

"Wrought iron wall decor": 3,295 listings
"Wrought iron candle holder": 2,023 listings
"Wrought iron hooks": 1,927 listings
"Wrought iron handles": 1,750 listings
"Wrought iron gate": 1,121 listings
"Wrought iron chandelier": 1,054 listings
"Wrought iron shelf brackets": 621 listings
"Wrought iron plant holder": 494 listings
"Wrought iron railing": 392 listings
"Wrought iron curtain rod": 379 listings
Based on the relatively low number of listings for wrought iron products on Etsy, it can be concluded that the market is not over-saturated. Also, given the fact that there are sub- or micro-niches within this category, it becomes easier for sellers to penetrate this market, gain more visibility, and earn sales.
Search volume
In conjunction with the listings number, we also undertook keyword research for the most sought-after wrought iron items on Etsy. We used the tools and functionalities of Sale Samurai's Search module to help us with this task.
Our findings below include the most keyword queries entered by shoppers on the platform, as well as their corresponding search volume:
"Wrought iron patio furniture": 1,171
"Wrought iron candle holder": 1,169
"Wrought iron shelf brackets": 1,169
"Wrought iron wall decor": 1,168
"Wrought iron chandelier": 1,151
"Wrought iron railing": 1,151
"Wrought iron christmas tree": 1,151
"Wrought iron handrail": 1,149
"Wrought iron curtain rod": 1,149
"Wrought iron plant stand": 1,149
"Wrought iron gate": 1,130
"Wrought iron candle": 1,128
"Wrought iron decor": 1,128
"Wrought iron garden": 1,128
"Wrought iron stand": 1,110
"Wrought iron hanger": 1,108
"Wrought iron plant": 1,108
"Wrought iron hooks": 1,107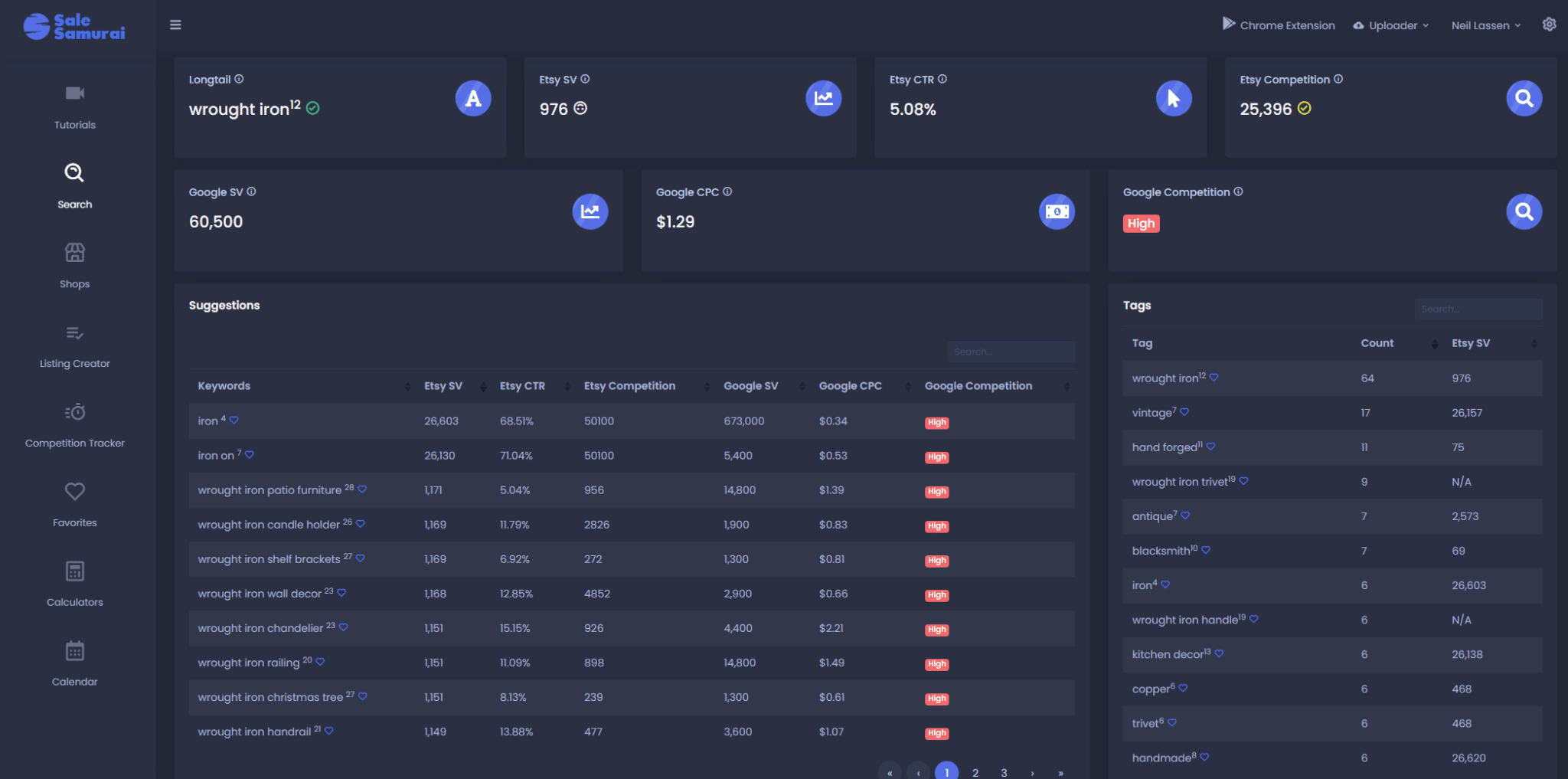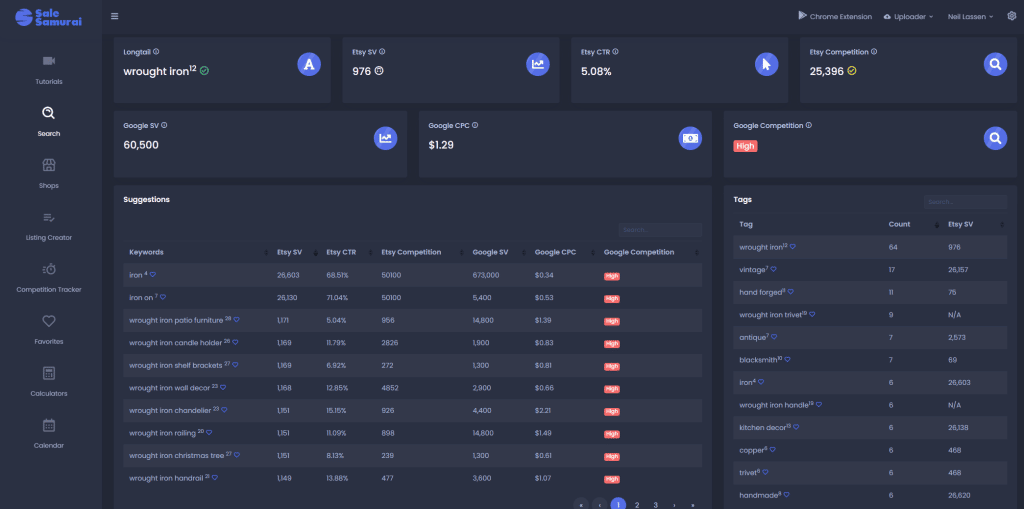 Based on these results, we can conservatively estimate that the average number of searches for "wrought iron" and its related variations offered amount to around 20,000. Given the fact that we mentioned listings totaling less than 20,000 above, it is safe to conclude that demand outstrips supply and that this niche has potential.
Tags
Tags are an important characteristic of Etsy, and Sale Samurai enables users to view them. Tags are employed by sellers to help them with the back-end listing optimization, enabling them to rank higher in Etsy search results.
We explored the tags used by sellers in the wrought iron niche, alongside their corresponding Etsy search volume.
"Home decor": 26,672
"Wall decor": 26,616
"Iron": 26,601
"Wall art": 26,172
"Kitchen decor": 26,138
"Metal wall art": 3,503
"Wall hanging": 3,435
"Candle holder": 3,431
"Garden decor": 3,430
"Chandelier": 3,145
"Rustic": 2,231
"Metal": 1,833
"Wrought iron railing": 1,151
"Wrought iron decor": 1,128
"Metal wall decor": 1,088
"Farmhouse decor": 1,070
"Cottage decor": 1,011
From this, we can immediately see that there is a wide spectrum of tags used by sellers to get in front of an audience. Some have high search volumes into the tens of thousands, while others are more targeted.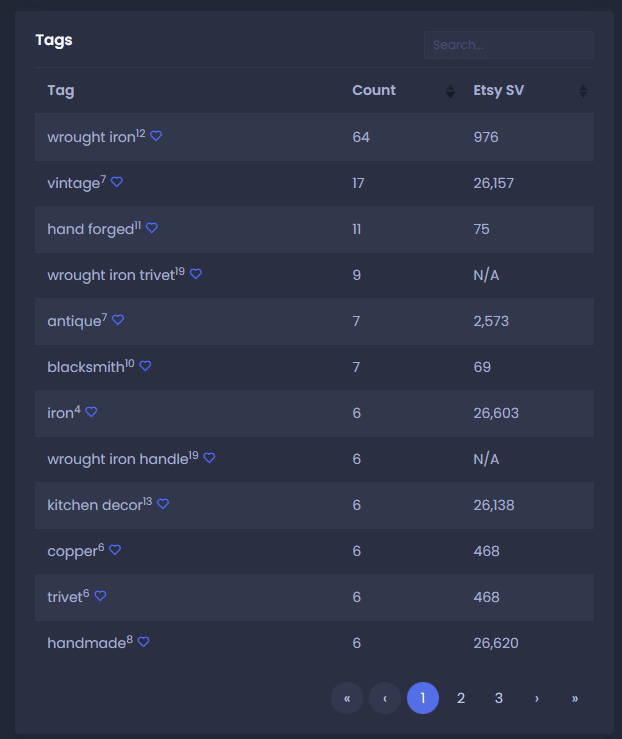 However, we can deduce that sellers targeting the wrought iron home décorniche are also using high search volume keywords (tags) to more accurately describe their offering. Since there are several micro-niches within this primary niche, this is an important approach to follow. However, we'll discuss this in more detail below.
Pricing


As a final step in our analysis, we also explored the prices in the space. Once again, with the help of Sale Samurai, we were able to determine the lowest, highest, and average price for "wrought iron" products.
Respectively, these have quite a broad pricing range: $1.03, $1,795.00, and $92.65.
What are some of the best-selling merchants doing right?
Let us now delve into some successful listings to establish their winning traits.
The first bestselling listing in the wrought iron niche is created by Magicidea. Their product is titled "Architectural / Iron Wall Art / Ornament Element / Decorative element / Metal Swirls / Home decor". With over 500 reviews and five out of five star ratings, their success is evident.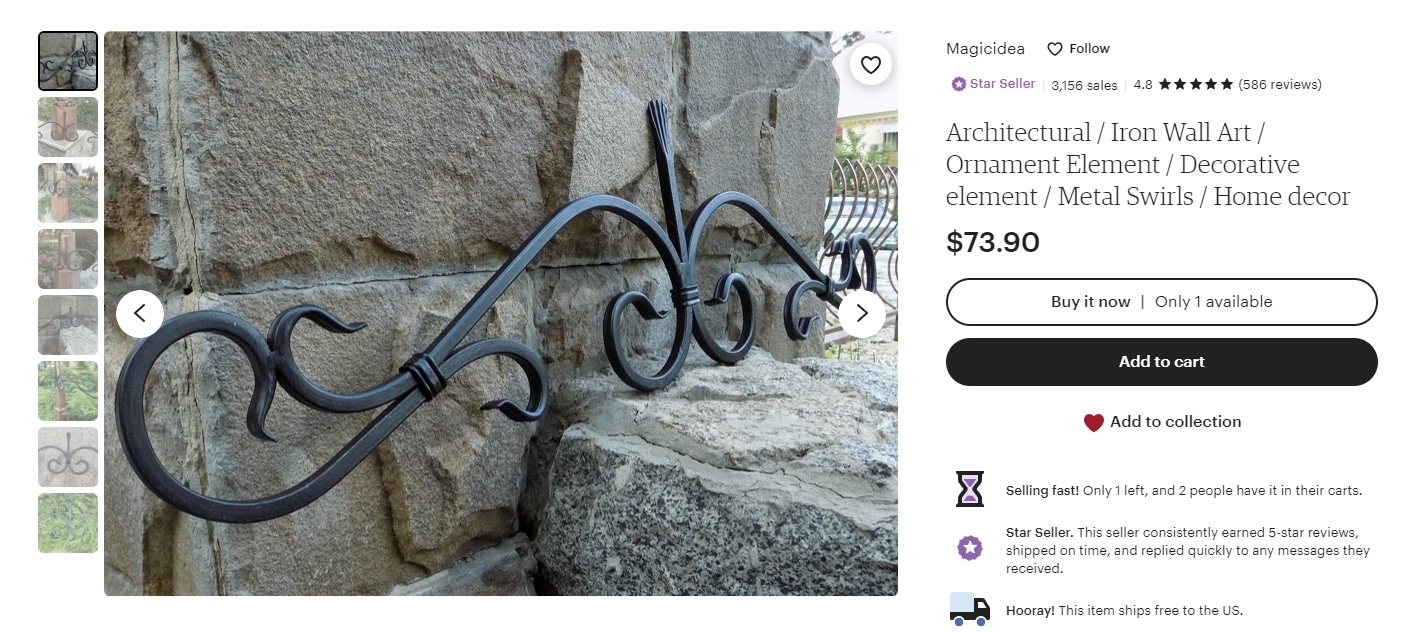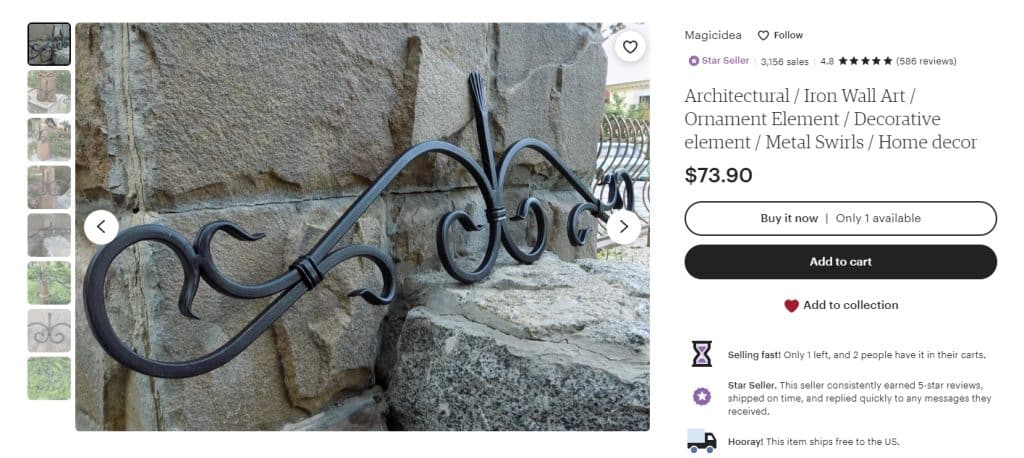 The second bestselling product is designed by EagleEmporium. They have entered the market with a lamp titled "Wrought Iron Floor Lamp – Flame Top – Adjustable Work Light – Handmade in the USA – Free Shipping". With over 700 reviews, this seller's success can be further evidenced by their five out of five star ratings.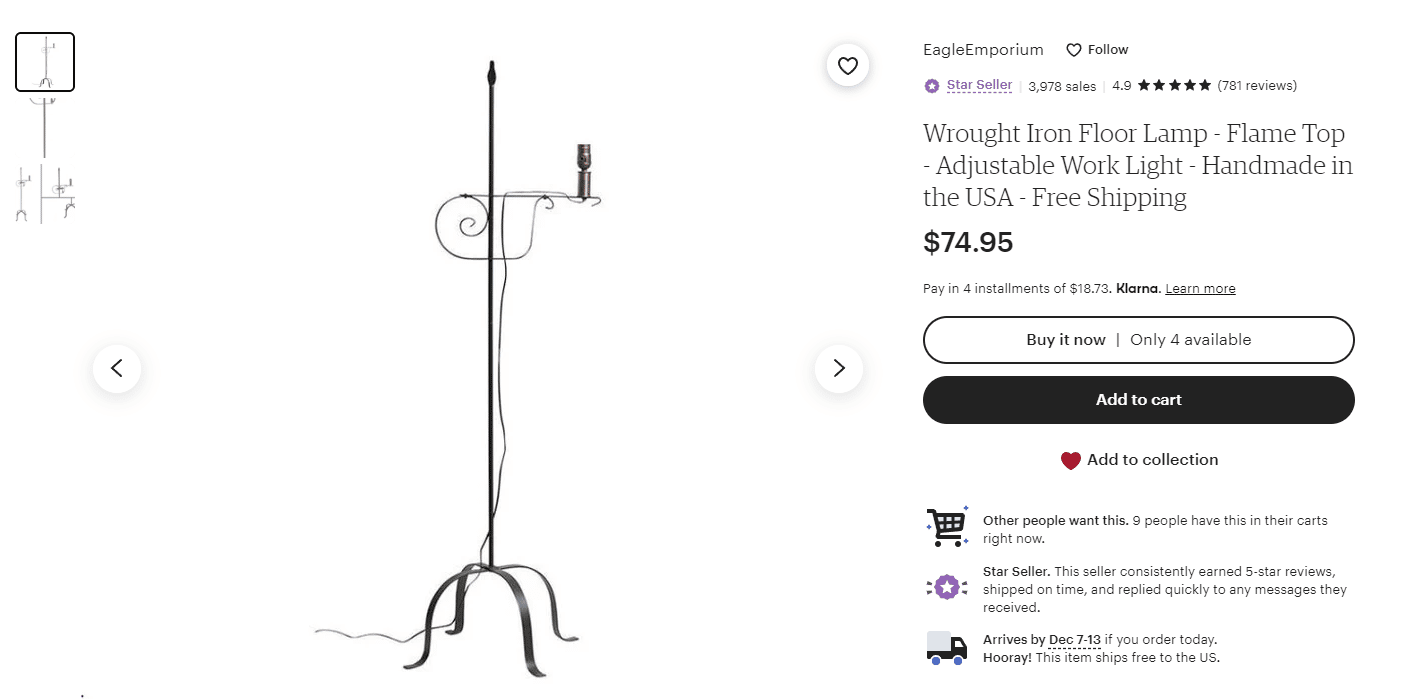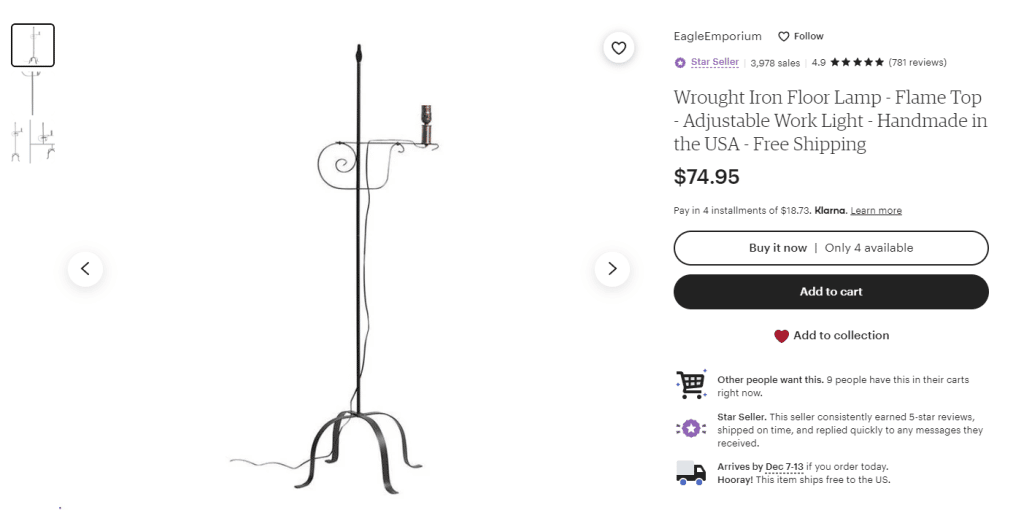 So, what do these two sellers have in common? It's interesting to note that the first bestseller mentioned above does not use the keywords "wrought iron" in their title at all. Instead, they have focused on "iron" as their primary keyword and "metal" as their secondary. These two keywords have a high search volume, and it can therefore be concluded that a seller sometimes may not need to use the seed keyword in their title to get in front of an audience.
Appearing on Etsy's search results with relevant tags and keywords that are similar in nature to a search query can be just as effective.
However, when comparing the two bestsellers, we see the use of "wrought iron" in the title of the second listing. It's followed by a "floor lamp" to accurately describe the product. Although this bestseller has not added many more descriptions in their title, the item nevertheless performs well.
In both bestsellers' cases, this could be attributed to effective descriptions, in addition to the number of ratings and reviews generated.
Furthermore, since both sellers have priced around the average for this category ($92.65), they're able to capture a wider market share than their competitors.
Finally, the images used by these sellers, although neither of them have used the full 10 spaces allocated, are effective. The reason for this is that they display the product from different angles and show how each one can be used in a real scenario. This brings images to life for the customer. It's a crucial selling point and a best practice to get their attention.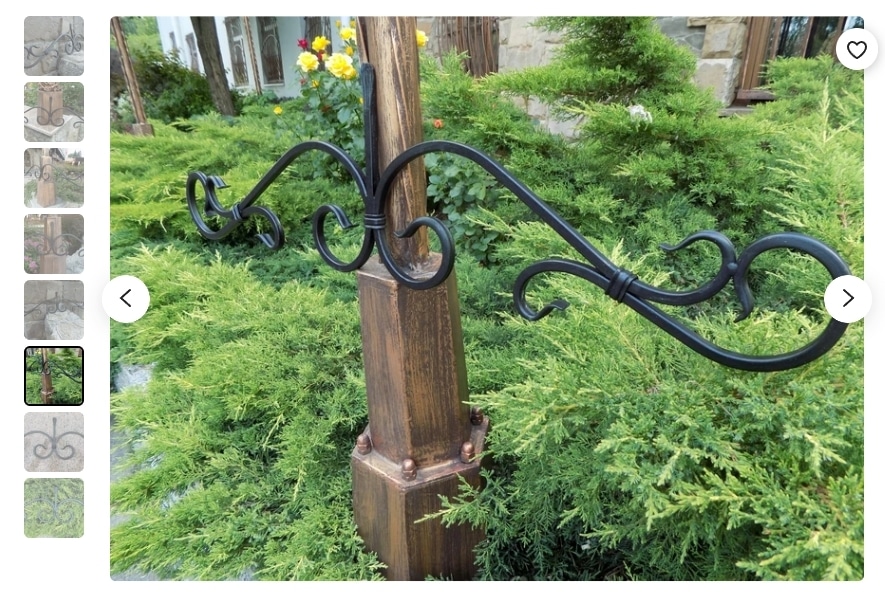 How profitable is this niche?
Exploring the potential for profitability on Etsy can be a rather difficult process since there is no access to information about how much time it took the seller to create their products or what the cost of the base materials are. However, we can work out a rough turnover of these bestselling products by multiplying the number of sales by the selling price.
In the case of Magicidea, we noted that the seller has made an impressive 3,144 sales, pricing their product at $88.68. This gives us an estimated turnover of $278,809.92.
Regarding the EagleEmporium bestseller's listing, we multiplied the number of sales (3,935) by the selling price of $89.94, giving us an estimated turnover of $353,913.90.
Wrought iron products take a lot of time, effort, and materials to produce. But once done, there is exceptional potential for profitability that reaches into and exceeds several hundred thousand dollars.
Consequently, if you're an ironmonger with expertise in creating wrought iron products, this could very well be the niche you need to enter.
Our recommendations for sellers seeking to enter this niche
The wrought iron home décor niche, although quite a broad one with multiple micro-niches within it, offers sellers the chance to achieve significant profitability. This can be achieved through optimized listings. Below are some of the key considerations you need to take into account in order to do so.
Keywords
Keywords, used both in the listing's title, description, and tags, are a highly effective, if not the most effective way to rank your wrought iron products. This is why keyword research is one of the most important things you can do for your listing. Using the right keywords in the right places is essential. The broad keyword "wrought iron" has a relatively low search volume. However, descriptive words after "wrought iron" such as lamp, candle holder, plant holder, gate, railing, chandelier, and others are great to narrow down and really focus on accurately describing what you're offering.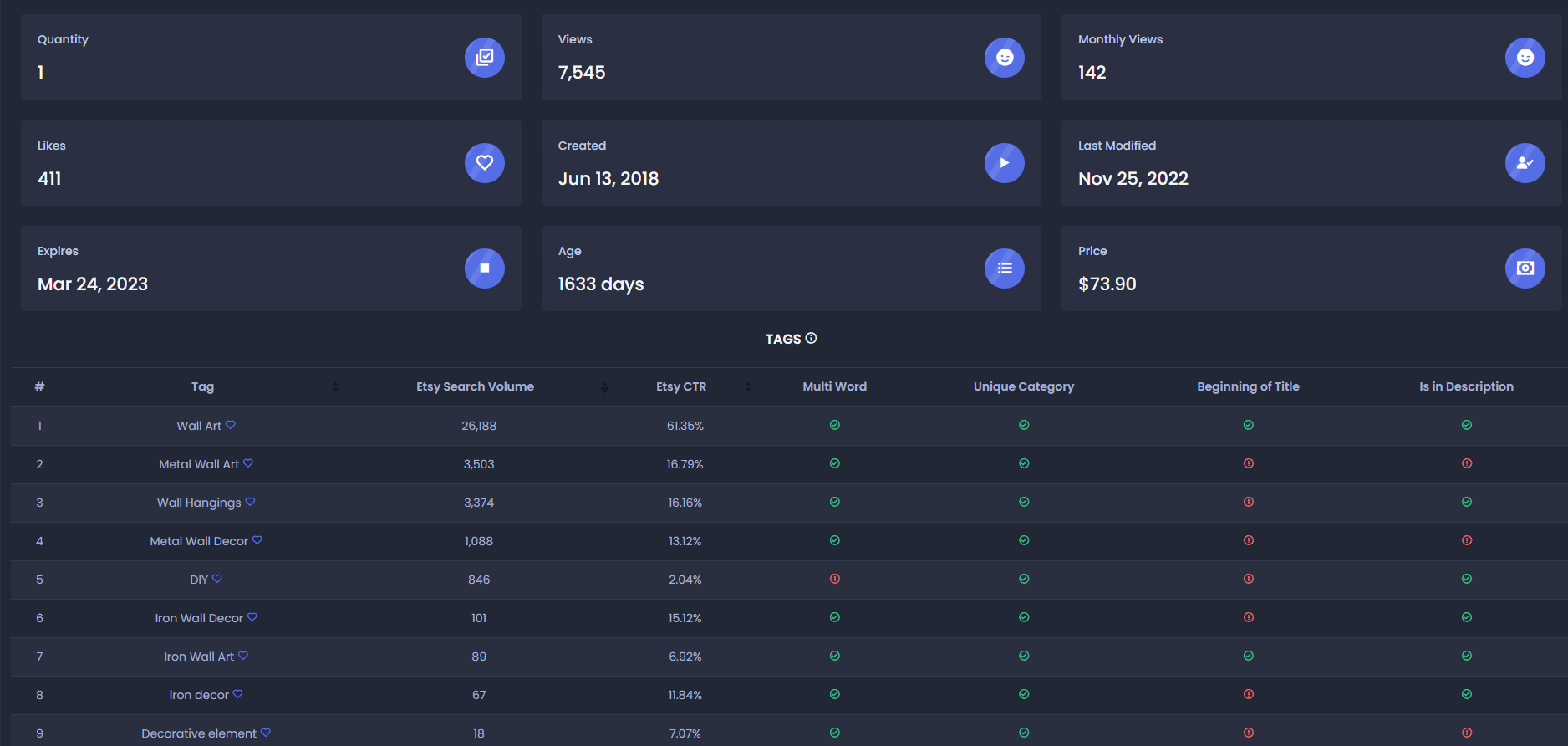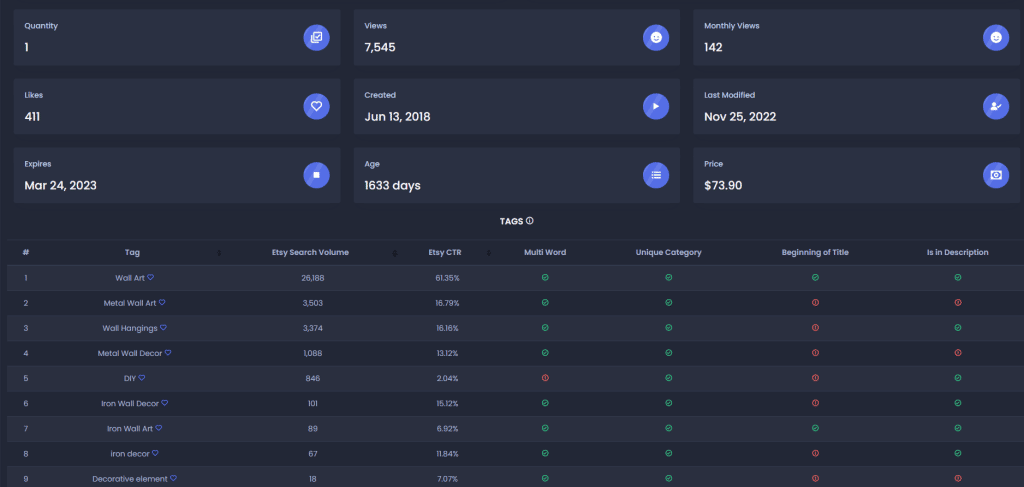 In addition to this, you'll also want to optimize the tags used. Etsy offers sellers 13 spaces to do this in order to improve the discoverability of their products. High search volume keywords (26,672) that are broad such as "home decor" should not be neglected in your tag selection process. Even if these words do not directly appear in your title or description, the tags will help the Etsy algorithm rank you higher on the results page.
Pricing strategy
An effective pricing strategy is highly important for success on Etsy. This particular niche features varied items, such as lamps, chandeliers, nails, roses, railings, and more. These items will naturally differ in terms of price, owing to their dimensions, characteristics and time to produce.
The average price for "wrought iron" is $92.65, but you'd want to double check whether that's applicable to your particular line of products.
Images

Etsy allocates sellers 10 spaces for image uploads. These images are possibly the most crucial deciding factor for a customer in terms of making a purchase.
As such, your images should be varied and demonstrate how the product can be used in practice. It's also important to use up the real estate space Etsy has given you to ensure your listing is fully optimized.
Ratings and reviews
Another important feature of an optimized listing is generating high-quality ratings and reviews. Although this is not something you can directly influence yourself, generating positive reviews serves as social proof that your product is worth buying. When customers read good reviews, they are more likely to be influenced to buy your product because it shows that others are happy with it.
A modern-day alternative to word-of-mouth marketing, reviews are one of the top ways to convince a customer to buy today.
Wrapping up
The listing optimization process on Etsy involves some serious legwork. It's the holistic approach that will ultimately get you ranking high and ensure you earn sales. While this process may seem overwhelming for newbie sellers, there is a solution. Sale Samurai offers a comprehensive research platform that enables you to find and use all the relevant keywords in your listing. Apart from that, you can also upload your listing to Etsy with a few clicks of a button.
The process becomes streamlined and easy to follow once you have access to the platform. This can save you significant time working on the back-end of your product listing.
Therefore, sellers who wish to enter the wrought iron home décor niche are highly advised to use the tools at their disposal to optimize their performance. At only $9.99 per month, this is a minimal investment with the potential to maximize results.