Ever since Russia's invasion of Ukraine on February 24, 2022, there's been a growing momentum in support of the Eastern European country.
To this end, Etsy sellers have come to the fore, promoting products that help raise awareness about the war.
From t-shirts to keyrings, bracelets and artwork, there are many ways for Etsy sellers to use the platform to earn support against the war.
In this article, we explore some of the most popular types of items on the marketplace in relation to the conflict. We also offer suggestions on how you can enter this category successfully.
Let's take a closer look.
How big is the market for Ukraine war-themed products on Etsy?
In order to kick off our research process, we headed over to Etsy to determine how many listings rank for the keyword "Ukraine".
The results are approximately 229,078. As confirmed by Sale Samurai, user demand in this market is high, with a search volume of 104,603.

But what are buyers actively searching for?
That's exactly what we set out to discover via an analysis of the listings saturation and search volume in this category.
Listings saturation and search volume
Using Sale Samurai's features, we explore a wide range of keywords related to the Russia-Ukraine conflict.
We've kept our analysis limited to a search volume of 1,000 and over.
Here's what we found.
"Ukraine": search volume – 104,603
"Ukrain": search volume – 26,216
"Ukraine ornaments": search volume – 3,623
"Ukraine sticker": search volume – 3,557
"Ukraine bracelet": search volume – 3,556
"Ukraine jewelry": search volume – 3,556
"Ukraine rainbow": search volume – 3,554
"Ukraine shirts": search volume – 3,503
"Ukraine pendant": search volume – 3,502
"Ukraine flag": search volume – 3,439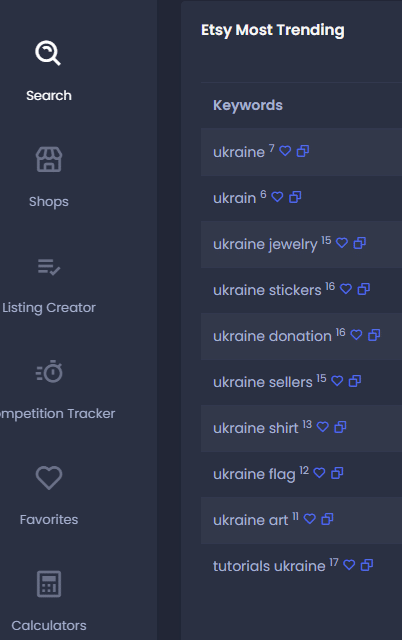 From this list, we can gather that Etsy sellers are offering quite a variety of Ukraine war-themed products.
However, the highest searches seem to be in the areas of ornaments, followed by stickers and jewelry. After this, the most popular browsing is for Ukrainian shirts, flags, and art.
The combined search volume for these items exceeds 82,000. As such, we have a category of offerings that is worth pursuing.
Tags
One question remains. How are Etsy sellers satisfying this substantial demand?
We looked at the most common tags, as presented by Sale Samurai, to find the answer.
Remember that Etsy allocates 13 tags to each listing, which are used to help a product rank higher.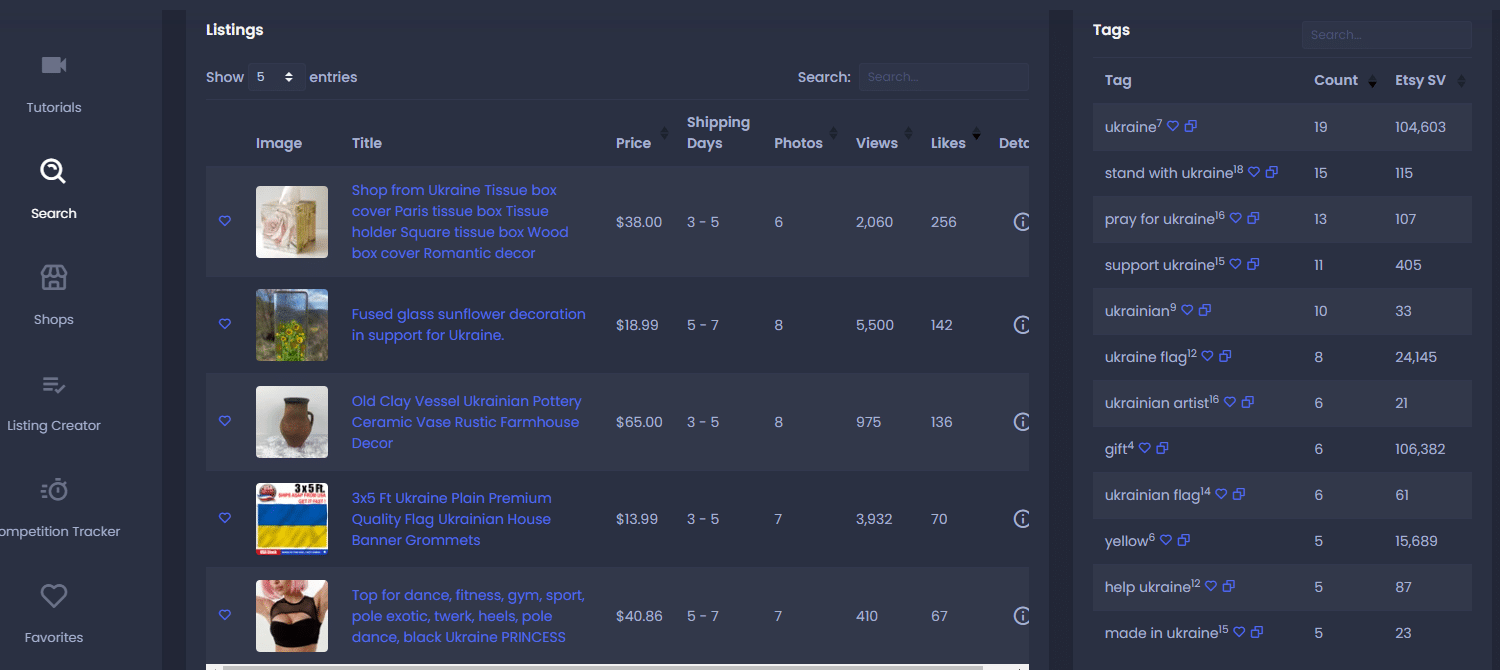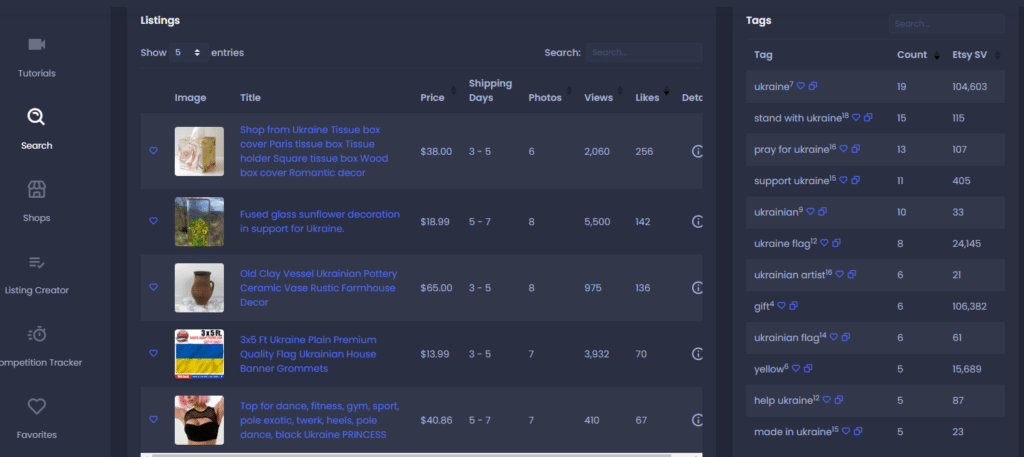 The closer a tag is to a search query, the higher the chance that the listing will appear on Etsy's first page of search results.
Our research unveils that the following words are often used by Etsy sellers:
"Ukraine": search volume – 26,620
"Ukraine jewelry": search volume – 3,556
"Ukraine bracelet": search volume – 3,556
"Ukraine flag": search volume – 3,439
"Ukraine shirt": search volume – 3,379
"Vyshyvanka": search volume – 3,200
"Yellow": search volume – 2,193
"Blue": search volume – 1,397
All of the above have comparatively high search volume. We can, therefore, conclude that sellers are actively promoting items that are trending among buyers.
For example, jewelry and its variations, followed by flags and shirts, seem to be the most popular in this space.
Note that these product types match the buyer intent mentioned above.
Prices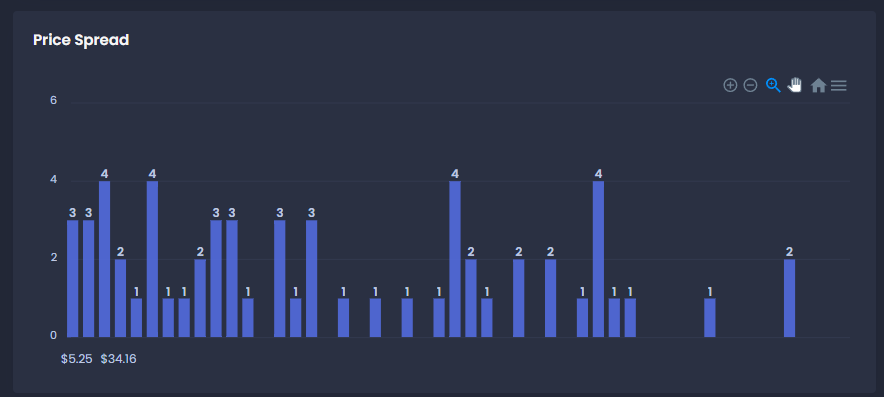 To establish the profitability in the niche, we explored the lowest, highest, and average prices.
Here are the results we received with a click of a button in Sale Samurai:
Lowest price: $1.00
Highest price: $361.00
Average price: $41.96
It quickly becomes apparent that the maximum market price is dramatically higher than the average.
This means that you'll need to strategically select a rate for your creations. Make sure that your price is appealing to your audience, yet profitable for your side gig.
What are the best-selling merchants doing right?
Having covered the groundwork for the main product types for this niche, we now explore some bestselling listings on Etsy.
Here is an example of two top-performing items that are enjoying strong performance on the marketplace.
Bestseller 1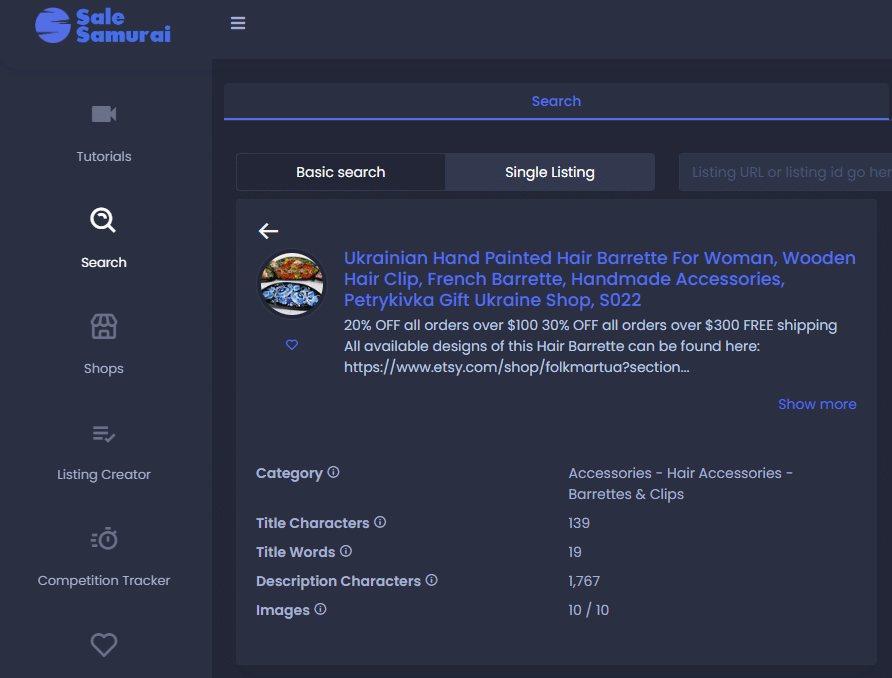 Title: Ukrainian Hand Painted Hair Barrette For Woman, Wooden Hair Clip, French Barrette, Handmade Accessories, Petrykivka Gift Ukraine Shop, S022
Seller: HandicraftsMill
Price: $35.99
Bestseller 2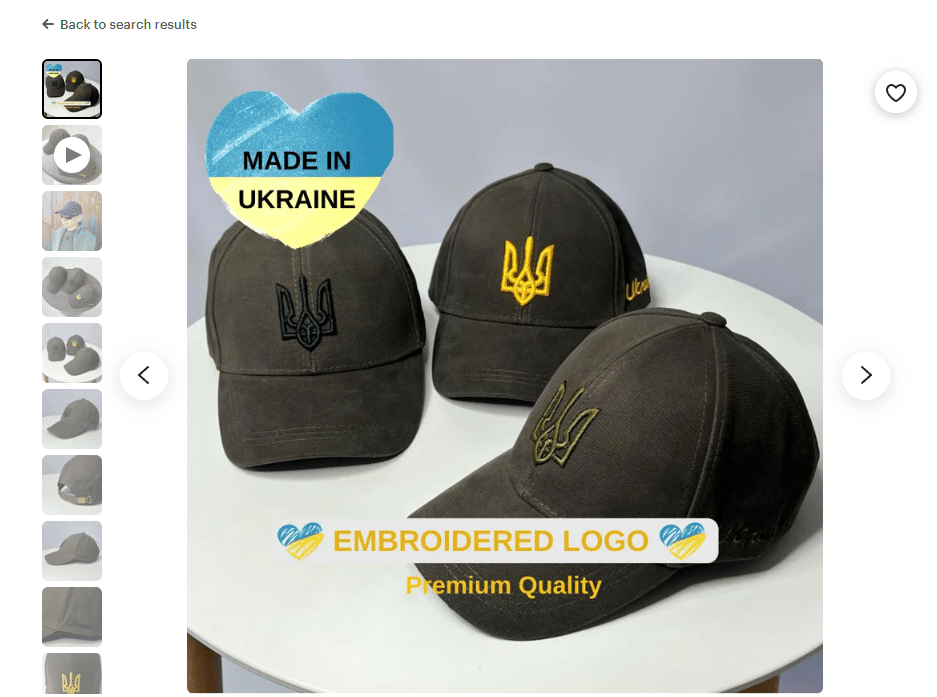 Title: Ukrainian Hat with Embroidered Ukrainian Trident from Ukraine Sellers | Ukraine Cap With Tryzub made in Ukraine | Ukraine Clothing Hats
Seller: UaHearts
Price: $39.60
Keyword use
The above insights show that seller one has strategically chosen to use the high-search-volume keywords "Ukrainian" and "Ukraine" twice in their listing title.
Meanwhile, seller two has used "Ukrainian" and "Ukraine" a total of six times.
Although keyword repetition doesn't typically affect rankings, in this case, this approach has proven effective.
Whereas neither of these products (hair barette and cap) stand out with high search volumes, both sellers have optimized their titles to the fullest. They take advantage of the 140 characters allocated by Etsy to accurately describe each listing. At the same time, the titles feature the category's seed keyword (Ukrainian).
Pricing strategy
Another key tactic both sellers utilize is pricing around the average in the niche, which is in the region of $42.
This positions both listings competitively, with a high likelihood of scoring rewarding sales numbers.
Images
Finally, the real estate space of 10 spots for images is optimally used by both merchants.
In addition, the two listings include videos to better demonstrate how the products can be used. This brings the items closer to their audience, encouraging purchase decision-making.
Our tip list for sellers seeking to enter this niche
All of the discoveries so far are critical for crafting the ultimate sales strategy when entering the Ukrainian segment on Etsy.
To put the numbers to use, we've summarized the must-have practices in a comprehensive list.
This will help you quickly apply these proven tips and witness fruitful results.
Keywords: Using high-search volume keywords in your listing is a must. That's why words like "Ukraine" and "Ukrainian" should be a staple in your titles and descriptions.
Pricing: Pricing near the average of $42 is also highly advisable. At the same time, keep in mind that the best pricing strategy will depend on the product type you're planning to sell. Let Sale Samurai help you unearth the right rates.
Images: Finally, ensure that you use up all 10 image slots allocated per listing. If possible, add a short, high-quality video to better showcase your merchandise.
Final thoughts
The Russia-Ukraine war has not yet come to an end. A lot still remains to be done to raise sufficient awareness about the topic. A promising way to do so is by popularizing related products.
Regardless of the type of Ukrainian-related item you choose to sell on Etsy, be sure to use the tips and recommendations shared above. For guaranteed effectiveness, don't forget to make the most of all that Sale Samurai has to offer.