Are you looking to shine a light on your Etsy sale strategy and advance in an ever-growing niche? Look no further, because in this post we'll dissect the lighting gig on Etsy.
From analyzing best-selling products to examining valuable metrics, we'll provide insights and tips to help you stand out from the crowd and brighten your sales.
Market overview
Let's face it – décor and home accessories will always be a thing on Etsy. The marketplace can satisfy the demand of any interior design enthusiast looking for a unique handmade and vintage gem. And lighting makes up a good portion of this lucrative industry.
When it comes to lighting products, it's essential to remove any imaginary barriers. Instead, take a bird's eye view and factor in all of the niches you can tap into as a seller. In terms of the current state of the lighting space on Etsy, we're talking about anything from bulbs to chandeliers.
But let's get down to the nitty-gritty of the lighting category using Sale Samurai data.
Category size, competition & popularity
Without a doubt, lighting is a well-developed, full-scale market on Etsy.
When typing in "lighting" into the platform's search box, we received more than 486,000 results. This is a clear indication that plenty of sellers are exploiting the potential of this segment. Our theory was confirmed by Sale Samurai, where the competition level of this keyword is 573,399 or high.


In addition, user demand is strong, with a total of 2,773 monthly searches for "lighting" on Etsy. And while this is a great start, we dived deeper.
As you can imagine, "lighting" is just the tip of the iceberg. Numerous branches stem from this niche, such as bulbs, chandeliers, pendants, and fixtures. Moreover, various sub-niches can be embraced, like outdoor lights, sputnik lights, lamps and night lights.
In essence, the opportunities for diversification here are infinite. To make the right decision, it's crucial to closely inspect the sub-niches you're interested in and weigh their potential.


For example, we discovered that "chandelier" generates a monthly search volume of 3,145, which is much higher than that of "lighting" (2,773). From this specific perspective, it makes more sense to enter the chandelier space as there is a greater demand for this particular type of product. There are also fewer listings ranking for "chandelier", suggesting a lower competition level.
Popular categories
When browsing on Etsy, we uncovered a few interesting and trending sub-categories in the lighting area.
For instance, some of the top-performing listings in terms of reviews and shop sales were from the pendants, fixtures, lamps, and chandelier categories. We also saw that lights for rooms, lights decor, ceiling lights, mosaic lights, and lights for bedrooms were also among the attractive groups of products.
We already revealed the monthly search volume of chandeliers (3,145). But are the rest of these products truly in demand?
Here's a quick breakdown:
Pendants light – 3,557
Ceiling lights – 3,432
Lamp – 26,190
Mosaics lamp – 384
Room light – 293
Lighting fixtures – 111
Lights decor – 33
Bedroom lights – 29
Clearly, the top three choices in terms of search volumes are chandeliers, pendant lights, and ceiling lights. These are the categories that Etsy shoppers are searching for the most. We're omitting lamps on purpose, as we believe that the word is being used as an overarching term, not associated with a particular item.


But let's not forget that the competition level of these products will strongly influence your performance. From the top three sub-categories, ceiling lights are the least competitive, while chandeliers are the most competitive. Considering the difference between their search volumes is not dramatic, we would recommend penetrating the ceiling light market as a new entrant. This move will enable you to quickly become discoverable and grow your popularity.
Other sub-niches Etsy users are interested in
Apart from these main lighting categories, other sub-niches attract decent search volumes every month.
These are:
outdoor lights – 26,637 – Unspecified
night lights night lights – 3,684 – High
a teachers light – 1,089 – Low
yehuda lighting – 1,086 – Unspecified
sputnik lights – 1,048 – High
huey lighting  – 1,012 – High
As you can see, some of these are related to themes, brands, or styles. As a seller, you can take advantage of these ideas, combine them with a trending category, and create a powerful listing with guaranteed performance.
Frequently used tags in bestselling listings
Another interesting discovery we made was that the top-sold listings don't stop at using niche- or category-related keywords. They also enrich titles and descriptions with diverse tags, making the product even more relevant for shoppers. This gives an additional boost to rankings and positively impacts your traffic and sales.
Some of the most popular tags we landed on include:
Vintage
Silver
Mid-century modern
Lamp
Home decor
Gift for mom
Home
Sublimation designs
Farmhouse decor
Ceiling light
These words and phrases can also give away a lot about the most popular niches, audiences, and spaces that the top performers populate.
Following our insights from above, a potentially successful listing could be one with a title like "chandelier light gift for mom – home decor ideas – vintage item". This title features a hot and trending category (chandeliers), a popular audience (moms), and sub-niches (home decor, vintage).
Naturally, its traffic is expected to skyrocket, landing you substantial earnings.
The lighting segment's profitability
If you're already making plans to dip your hands into this market, it's crucial to consider the niche's profitability. So far, we've discovered that certain lighting categories and branches are more popular than others. But how profitable is the space overall?
Here are the lowest, highest, and average prices of listings rankings for "lighting":
Min – $0.99
Max – $2,988.00
Avg – $122.72


Of course, the adequate price for your products will come down to the precise product type, your expenses, and other factors. But overall, the majority of sellers in this industry sell their lighting items for around $120. To calculate your profit based on this price, consider the money you'll need to invest in production, storage, delivery, equipment, and others.
Analyzing the bestsellers
One of the successful listings that we came across on Etsy is the "8 Colors – SWAG PLUG IN Turkish Moroccan Mosaic Lamp with 15feet Chain Cord & Plug". It's part of the mosaic lights niche, which we touched upon earlier. Although the niche didn't appear in the list of top searched-for, you can see that some sellers are still triggering a lot of buyer activity.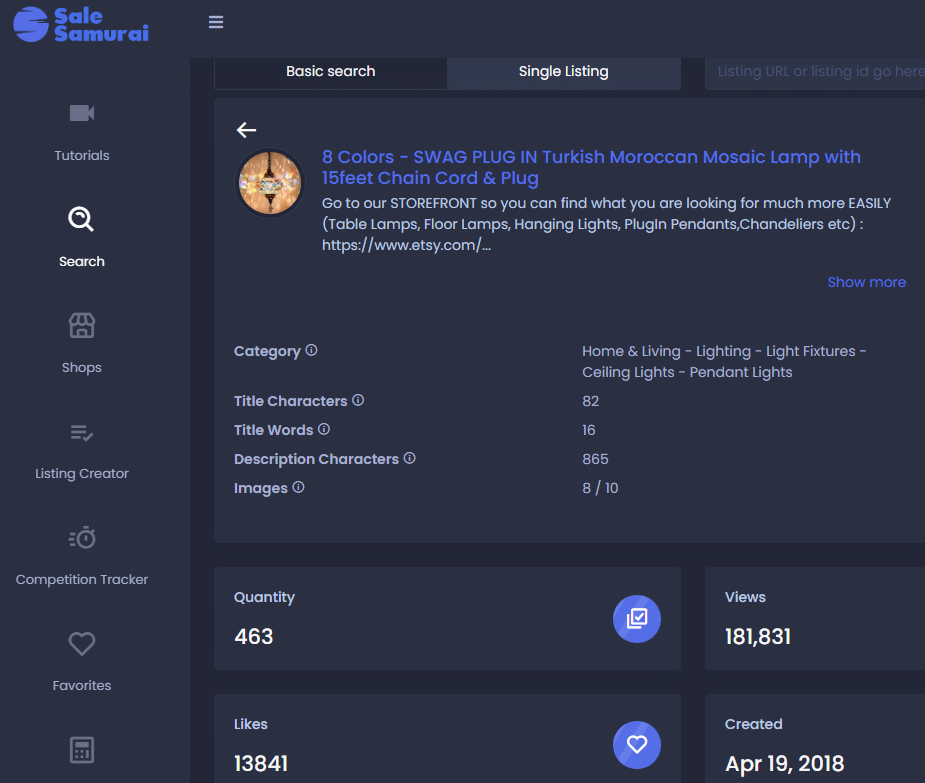 This listing sells for $62.12 and has received 502 reviews. It's sold by the TurkishLampBazaar, which has landed a total of 18,799 for a product portfolio of 254 items. Nine images represent the mosaic lamp to viewers, while the description covers key details, like the fact that the product is handmade and built from glass and metal.
Another chart-topper is the "Bubbles Lighting, Ceiling Pendant light with Multicolored bubbles for Kitchen island, bedside light – modern lighting" listing, which has attracted 1867 reviews and comes at a price of $209. It's offered by the yehudalight shop, which has secured nearly 8,500 sales across 532 products. Here, the seller has utilized eight product images and also doesn't fail to promote the item as handmade.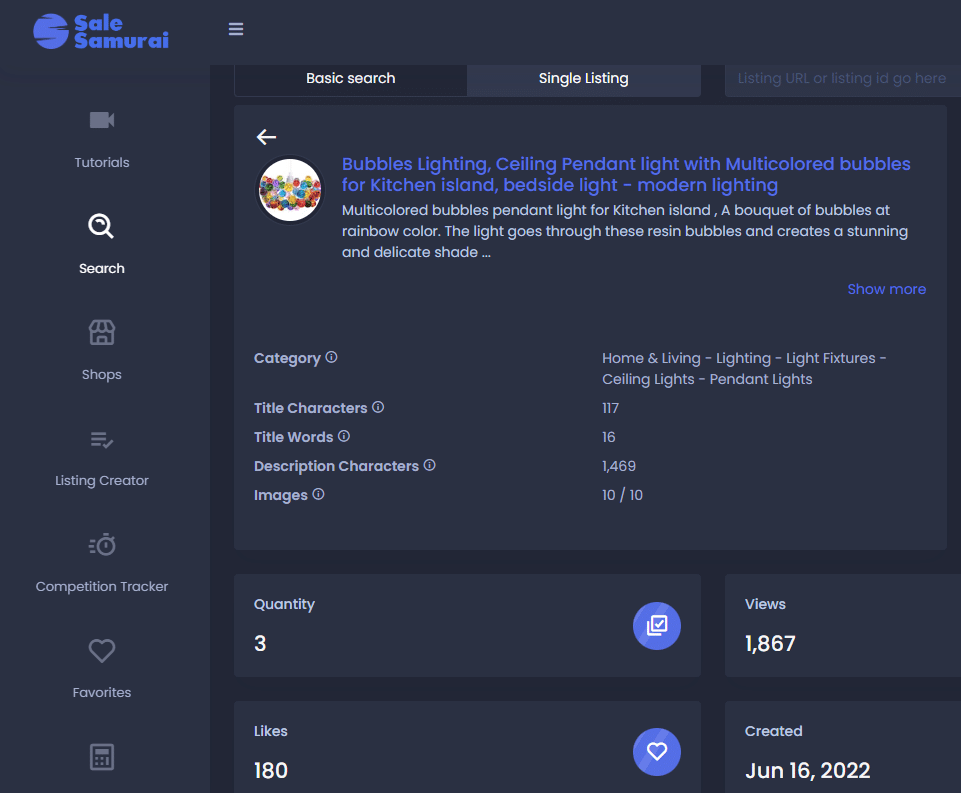 Analyzing these listings and other successful ones, we were able to conclude the following best practices.
Best practices for entering the lighting space on Etsy
All of the findings so far are pivotal for your performance in this distinct market. But even after you've selected the sub-niches that will generate the highest profits, you'll face fierce competition. The best way to overcome it is to follow a reliable strategy.
Here are several best practices that will help you stay ahead of others:
Be intelligent about image use – the first thing to remember about images is that Etsy allows sellers to upload up to ten photos per listing. Take advantage of this opportunity to present your products in the best possible light. Keep in mind that settings play a crucial role when it comes to imagery in the lighting market. Position your items in an appropriate setting to depict their value.
Use adequate keywords – above, we mentioned some of the most attractive, traffic-generating keywords in the space. Utilize them in your titles and descriptions. Diversify your choice of words and phrases to include niche-related, setting-related (kitchen, living rooms, ceiling, etc), material-based (metal, wood), and audience-based options.
Take advantage of sub-niches – as we concluded earlier, the lighting sector splits into numerous sub-niches. By penetrating them you can make your listings more competitive than others and grab the interest of specific target audiences.
Create informative, full, and detailed descriptions – we noticed that most top-selling listings in the lighting segment offer extensive descriptions. They always include the materials used for the product, whether or not it's handmade, and where it would fit best.
Remember that size matters for purchase decision-making, especially when it comes to home decor.
Wrapping up
To sum up, the lighting space on Etsy is one worth your time if you're interested in entering a new market and seeing your sales thrive. This market allows for diversification in terms of niches, flexibility when it comes to pricing, and a creative outlook for outranking your competitors.
Equipped with all the insights you'll ever need, Sale Samurai will prepare your listings for unquestionable success.