Is graphic design one of your skills? Are you looking to diversify your Etsy portfolio and attract more traffic to your listings?
Here's a cool idea that we're sure you'll love – put your graphic design capabilities to use and tap into the custom-made SVG and PNG file market on the platform.
That's right. Even if it sounds confusing at first, selling customized SVG and PNG files on Etsy is a thing. And as it turns out, it's more rewarding than you've probably imagined.
In this article, we'll dive into this interesting category and analyze the market in detail.
How big is the custom SVG and PNG market on Etsy?
You may be asking yourself whether Etsy's custom SVG and PNG market is large enough to grab your attention. Without any hesitation, our answer is yes, it is.
How do we know? We used Sale Samurai in combination with Etsy's basic search function to extract valuable insights from the category.
Let's see what we've uncovered.
Number of active listings
The first stage of our market analysis took place on Etsy. We used the platform's search box to browse for products using the keywords "custom SVG" and "custom PNG".
We found a staggering total of 336,840 listings displaying the phrase "custom SVG". This number includes sponsored and standard listings. On the other hand, a total of 122,695 listings show up for the phrase "custom PNG".


From these numbers, we can conclude that there are plenty of sellers that are already exploiting the potential of this market. In other words, the space is well-developed and large enough to attract your attention as a seller.
Competitors
We double-checked our discovery in Sale Samurai. We researched both phrases in the single listing search features. As a result, the tool revealed that there are more than 50,000 active listings for both, indicating a high level of competition.
Although this may be off-putting for some sellers (especially the rookies who are just getting started with Etsy), the truth is that this shouldn't frighten you. With a solid seller strategy and the right niches, you can outperform others and climb to the top.
Search volume
Another pointer for market size is the search volume of category-related keywords. The search volume displays how many shoppers are searching for specific words and phrases on Etsy. The higher the number, the more attractive related products are likely to be.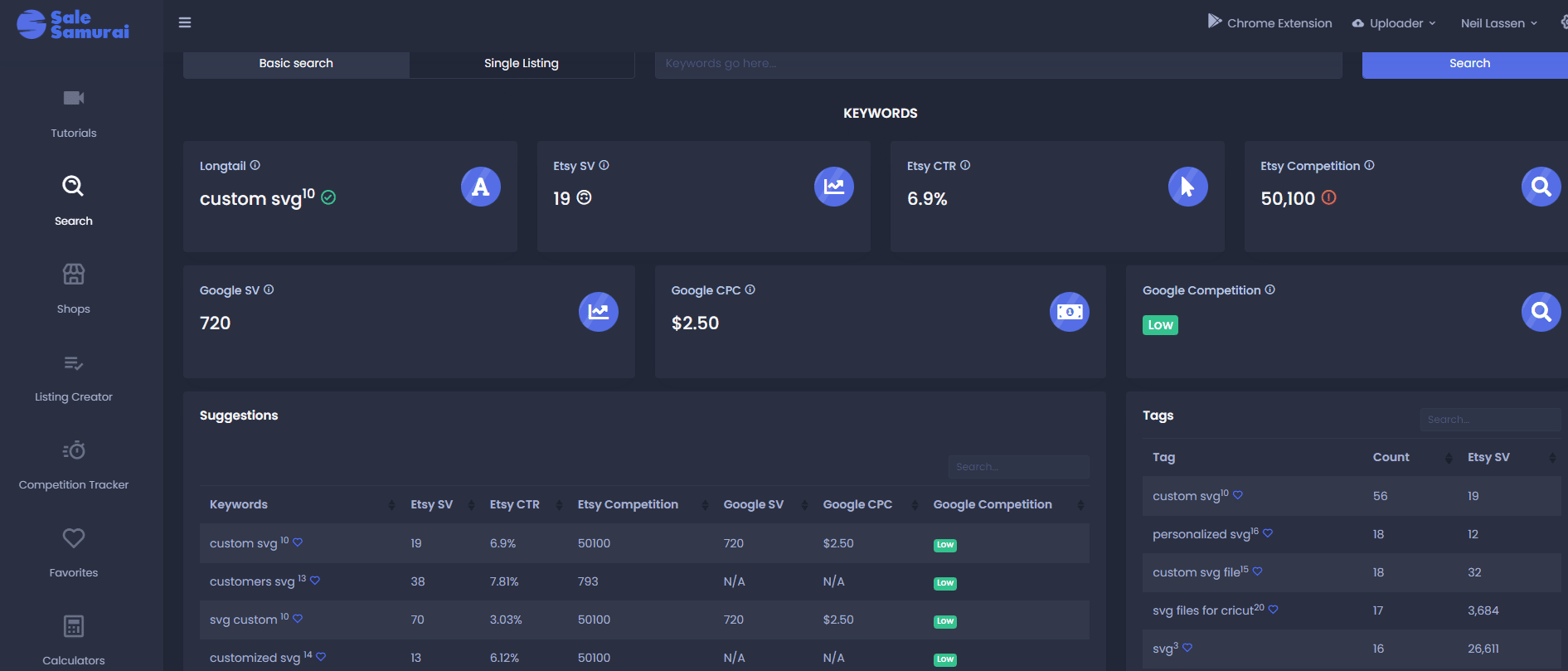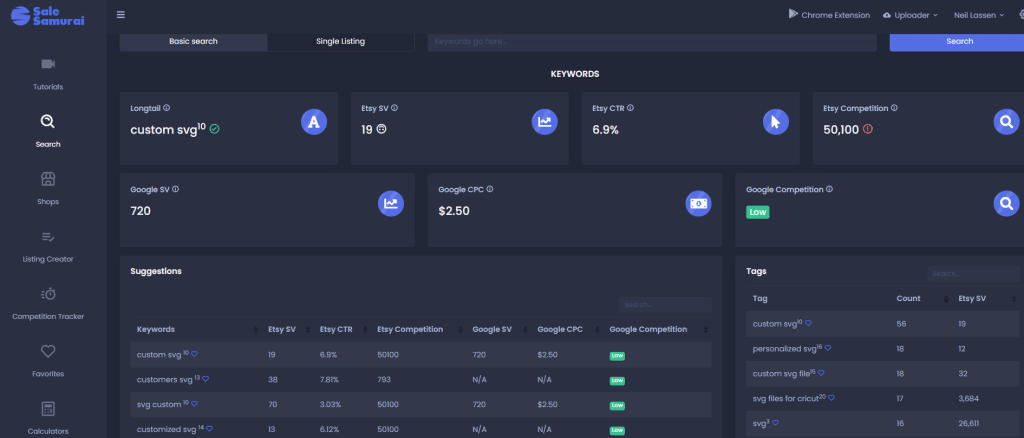 A general search on Sale Samurai reveals that there are a total of 18 searches per month for the phrase "custom PNG" and a total of 19 for "custom SVG". However, things get more interesting when we look at related keywords buyers are typing in Etsy's search box.
We discovered a ton of intriguing niche ideas and uncovered thousands of searches for related keywords.
Here's a quick rundown.
Custom PNG-related:
valentine png png – 3,693
halloween png png – 3,687
astro png – 2,926
volleyball mom png png – 22
popular png png – 1,086
butterflies png – 1,069
basketball png – 1,050
be mine png – 927
be kind png – 925
auburn png – 878
blippi png – 862
cactus png 861
bruno png 787
Customer SVG- related
mrs sweatshirt custom svg – 124
song plaque custom svg – 119
cat to customize – 108
spin customs svg – 107
dog svg custom – 100
pet svg custom – 100
elf customization svg – 74
svg custom basketball – 74
The number next to each phrase represents the monthly search volume. As you can see, there is a substantial demand for these products. As a seller, this is undoubtedly a gainful opportunity to explore.
What are the most popular niches in the custom SVG and PNG market?
If you've read any of our previous posts, you've probably noticed that we place a pretty big priority on niching down. The more niche your products are, the better chance you have of gaining a competitive advantage. Furthermore, you can target a specific audience, price your listings higher than others (in some cases), and more.
A look into the keyword research from above signals that shoppers are actively looking for custom-made PNG and SVG files in the following niches:
Holidays – St Valentine's Day, Halloween, Christmas
Animals – Pets, insects,
Sports – volleyball, basketball
Next, we analyzed the Etsy search results to identify the most common niches exploited by top performers.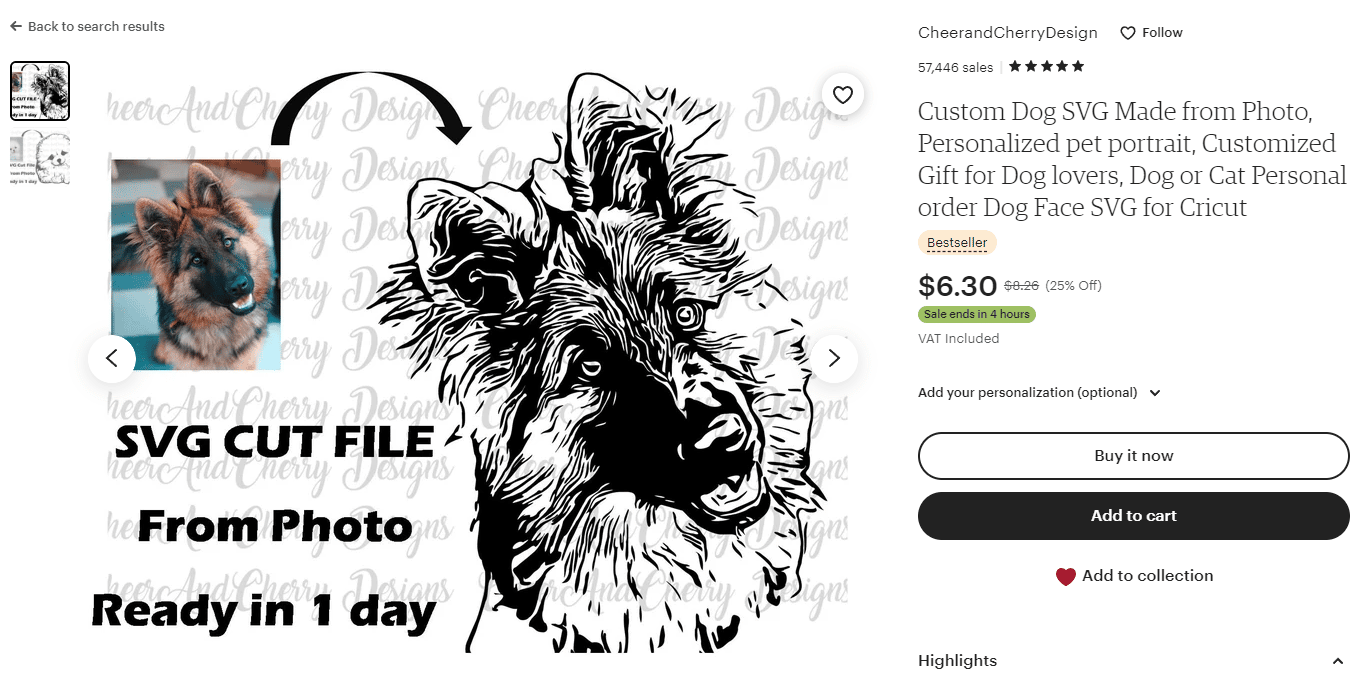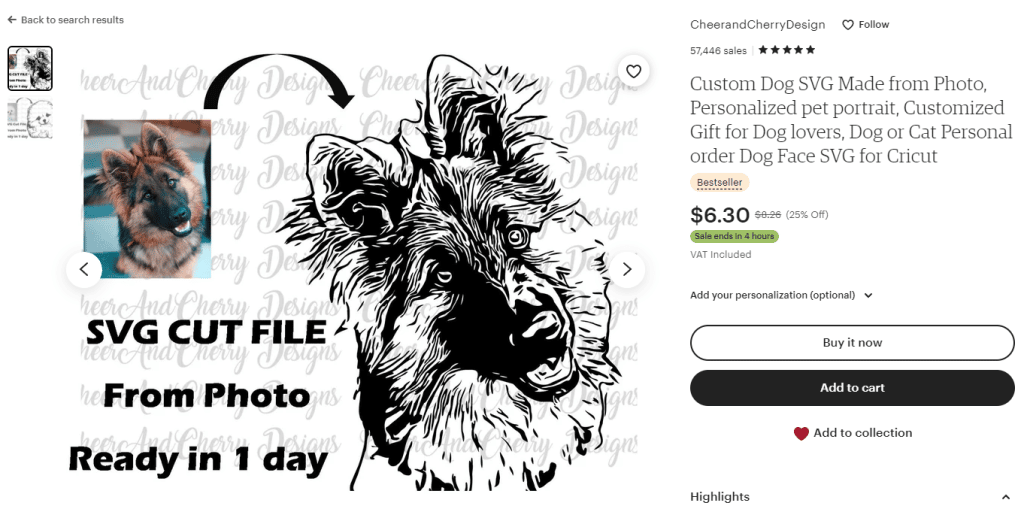 We found that a lot of listings were centered around:
Custom files for logos
Custom text or images for holidays
Sublimation designs
Digital portraits
Custom fonts
Custom pet graphic design
By taking advantage of some of these niches, you can satisfy significant buyer demand and quickly grow the popularity of your listings.
How profitable is the market?
All of this information is extremely valuable for deciding whether the custom PNG and SVG market is a suitable choice for you. But let's not forget one of the most important parts of it all – profitability.
To determine how profitable the market is, it's necessary to look at the minimum, maximum, and average prices in the space.
Custom PNG
Minimum price – $2.00
Maximum price – $90.00
Average price – $7.91
Custom SVG
Minimum price – $0.85
Maximum price – $50.99
Average price – $5.03


These numbers indicate that custom PNG listings are priced higher than SVG ones. Put otherwise, you'll be more profitable selling custom PNG files as long as you manage to score decent sales numbers. However, our research also showed that custom PNG and SVG files are usually sold as part of a single listing.
For example, the shopper can order a custom PNG, custom SVG, or other file formats, like PDG, EPS and JPEG. You don't have to choose between one or the other. Instead, you can merge them into a single listing and enjoy the results.
A bestseller sneak peek
To understand what makes a listing successful, it's vital to examine some of the top-performing entries.
Let's take the "Rudolph Girl Shirt SVG Cutting File, AI, Dxf and Printable PNG Files | Cricut and Silhouette | Custom Made | Christmas | Reindeer | Holidays" listing. It's priced at $4.80 and has generated more than 75,000 sales.


The seller has strategically targeted the listing by utilizing popular keywords in the title and description, including "custom made", "SVG", "printable PNG", "holidays", "Christmas", and others. They've successfully targeted a specific holiday niche, and offered diversity to buyers.
When purchasing the product, the shopper receives an SVG file, a DXF file, an AI file, and a PNG file.
The main image is catchy and playful, representing an example of a Rudolf design. It also contains the formats the seller provides, instantly showing shoppers what the listing can offer.
What can we take from all of these findings?
Below, we offer valuable, practical tips for entering the custom SVG and PNG market on Etsy.
Tips on entering the custom graphic design market on Etsy
By following the tips outlined below, you can quickly make your listings discoverable and land high sales numbers.
Keywords
Keywords are one of the most important factors behind listing success. Before creating your listing, perform extensive keyword research. Extract the words and phrases that stand out with high search volumes and low competition. This will make it easier for you to rank for them and make your listings visible to more shoppers. For instance, the "valentine png png" keyword generates more than 3,500 monthly searches, yet has a low competition level.

In the custom SVG and PNG market, we recommend using keywords related to personalization, such as "custom-made", "personalized", or "customized". We also suggest using both "SVG" and "PNG" formats as your main keywords. In addition, if you've entered a specific niche, don't forget to include market-related words and phrases.
Pricing
Your price can either encourage shoppers to complete a purchase or completely repel them. From our research, we concluded that the average price in the category is $7.91 for custom PNG files and $5.03 for SVG files.
Position your listing somewhere around these prices. The optimal choice is to go slightly under the average price to gain a competitive edge. This strategy is also adopted by the bestselling listing we explored earlier, where the price is $4.80.
Imagery
Listing images for custom-made PNG and SVG files are very specific, as you're not representing a particular product. The idea is to make it easy to understand what your product aims to achieve.
We suggest using a combination of imagery and text. Focus the text on showcasing the file formats your product supports. Use the imagery to offer examples of what your work looks like.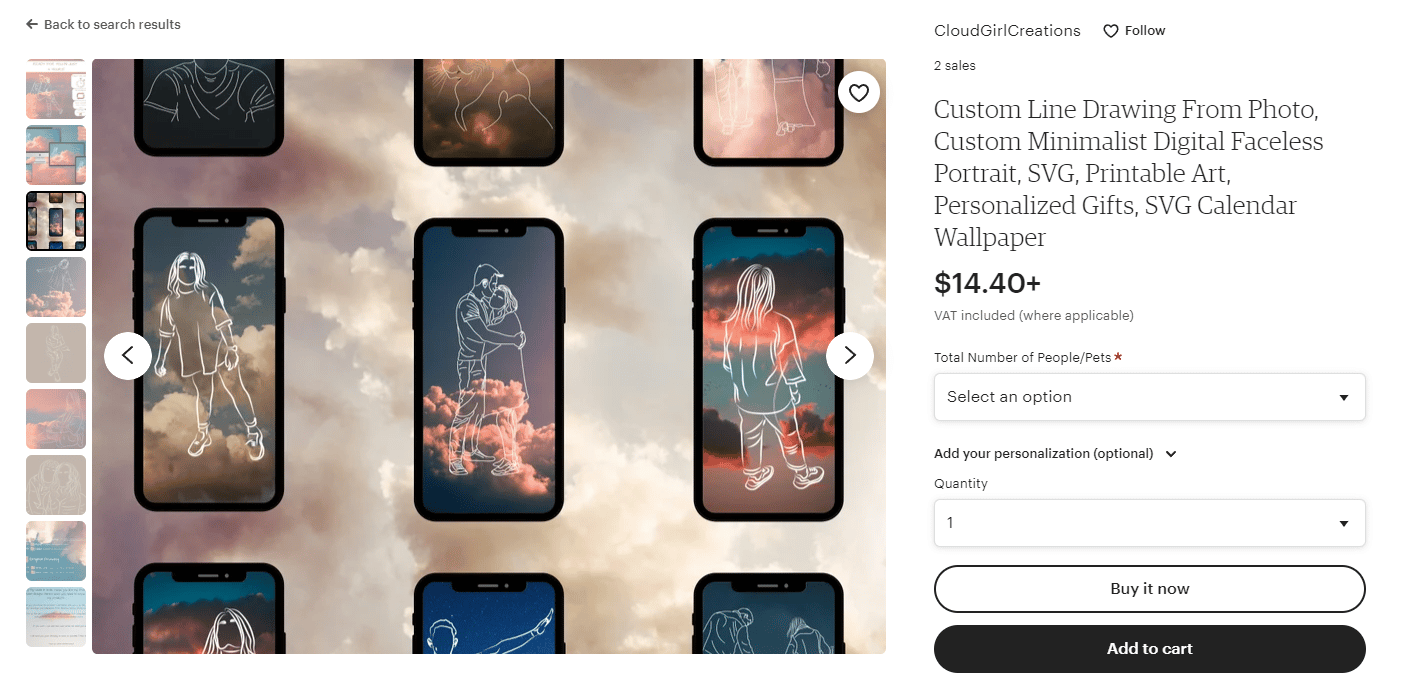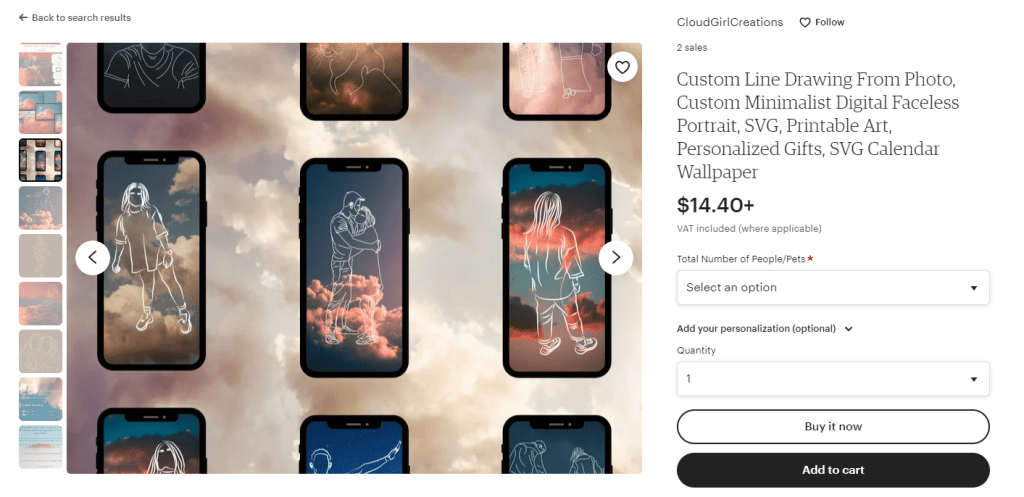 This will help shoppers figure out whether your graphic design skills match their expectations.
Listing description
Don't miss out on the opportunity to utilize the listing description space for more keywords. In addition, make the most of the area by describing your product in detail. For example, you could include the process that you follow, how long it takes on average to send the final product to the customer, how much experience you have, and more.
This will help you organically rank for the keywords you've used. Furthermore, by optimizing the section you'll be able to provide enough information to shoppers to encourage them to buy your product.
Wrapping up
Our analysis of the custom PNG and SVG market on Etsy proves that the niche is opportunity-rich and rewarding for sellers. By taking advantage of the insights we've provided and following our recommendations, you can successfully penetrate the market and witness substantial growth in sales.
Don't forget to rely on Sale Samurai for additional research and to use the tool's features and capabilities to differentiate yourself from other sellers.