Soon after Covid-19 broke out, it became apparent to pretty much everyone around the world that face masks would be with us for years to come. But one thing that may not have been as obvious is that handmade face masks would also become a business opportunity.
In fact, in its January 2021 updates, Etsy decided to add a new category for face mask accessories. Sellers could then use the following categories for their listings: Ear Savers & Extenders, Mask Lanyards & Chains, Stoppers & Cord Locks, Face Masks Charms & Tags. These can all be found under Bath & Beauty -> Personal Care -> Face Mask Accessories.
One question you might be asking at this point is why Bath & Beauty? The answer is quite straightforward. It's because by their very "handmade" nature, the masks sold on Etsy aren't medical-grade and Sellers cannot make medical or health claims about them.
The US-based Center for Disease Control (CDC) does, however, offer some recommended guidelines – whether for people who are interested in creating them at home for personal use or for selling online.
With that being said, there are currently several categories on Etsy specifically for face masks and these include masks with filters, washable masks, and kids' masks
How Big Is The Sub-Sector?
Just like it was expected, the handmade face masks sector erupted on Etsy with peaks in the summer of 2021. In fact, in August that year, Etsy said that there were 110,000 Sellers on the platform selling a whopping 29 million masks. And the total monetary value of this? Well, it led to sales totaling $346 million. Impressive indeed.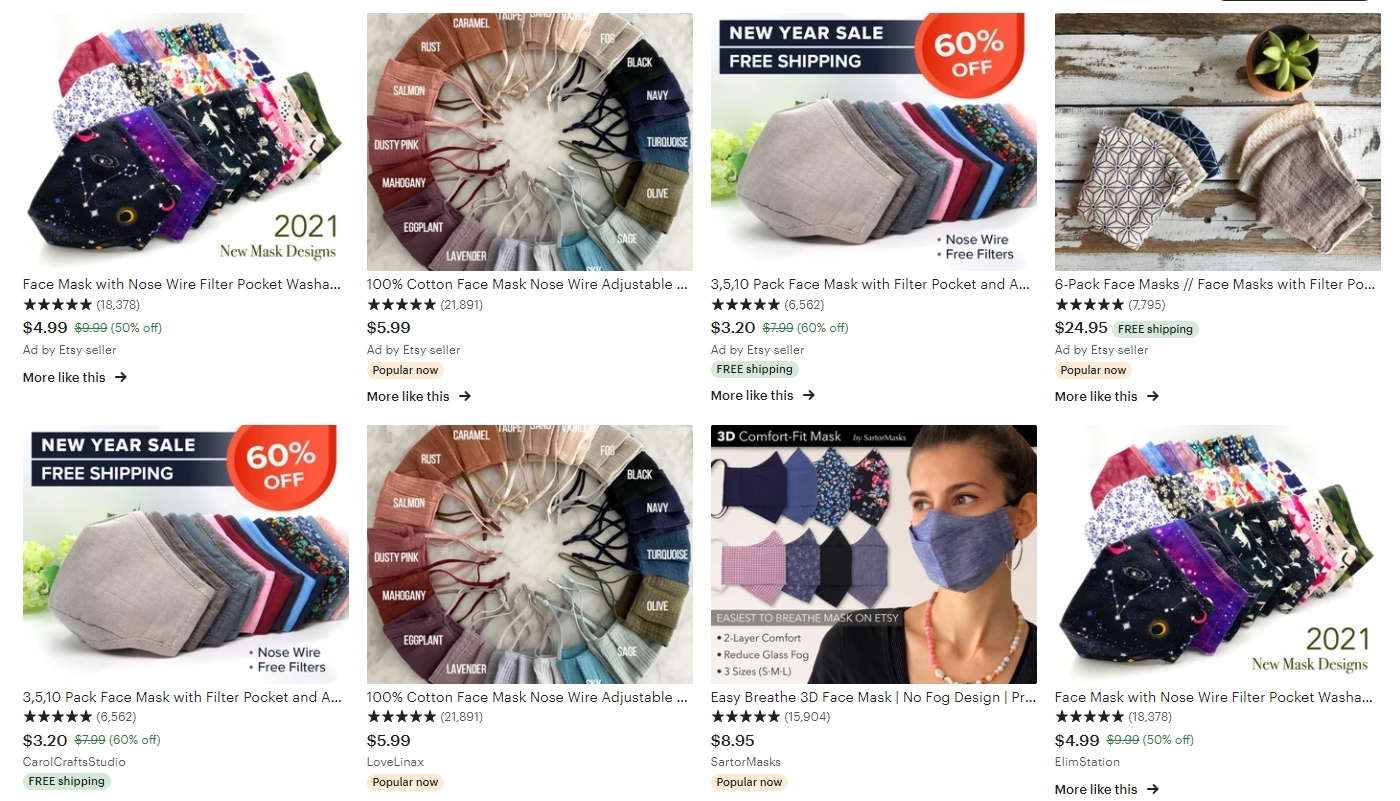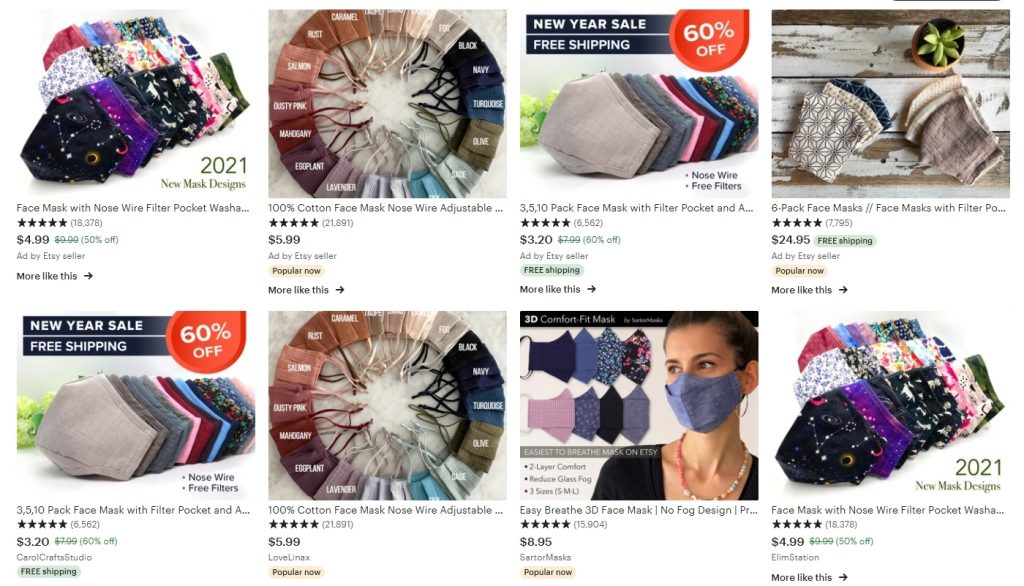 What are the best-selling face masks and what makes them such?
By their nature, the handmade face mask needs to comply with certain criteria in order to be considered effective. This is why some Etsy Sellers did better than others in this category. So, what made the popular products so popular and led to the boom in sales mentioned above? Here are some of the characteristics of the best-selling face masks on Etsy.
One of the first criteria is whether a face mask has nose wire. Why? Because it not only holds the mask securely in place, but it helps to keep dirty air out and your air in while being exhaled through the tiny gaps effectively. Another best-seller was the face mask that comes with a filter. This one's a no brainer. But face masks also got more sophisticated. New ones were created with an anti-fog feature or a shape that's suited to and adjustable for people wearing glasses.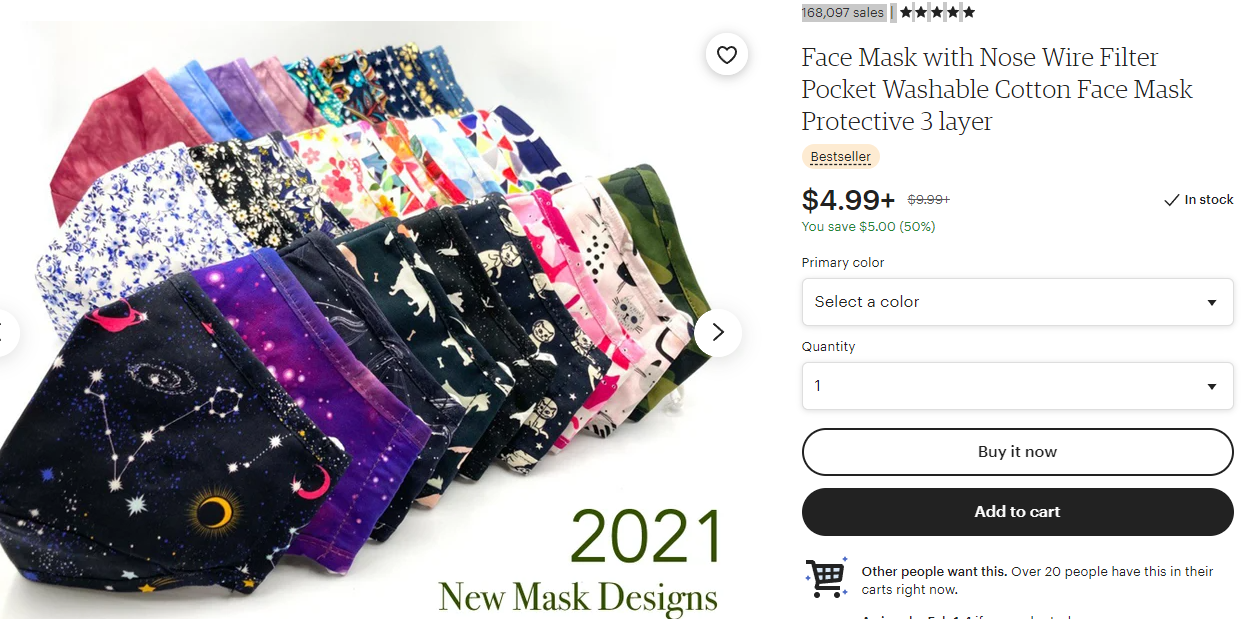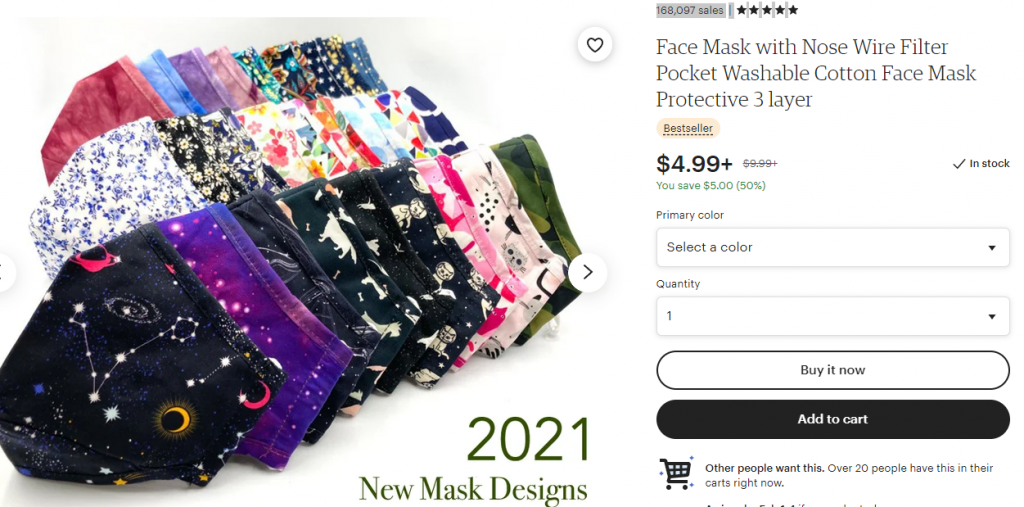 Finally, there were special masks for kids with designs going from fun and cheerful to the much-loved cat faces that have made the rounds on social media and other channels.
Delving deeper into the designs
Quality plays an important role – that much is clear. But this also begs the question – does design matter, too? For female customers, the answer is a resounding "yes". Some of the trending handmade face mask designs on Etsy have featured beautifying crystals and gems, different colors, as well as a variety of patterns and prints. Those range from squirrels to skulls and roses, pet patterns, floral to checkered patterns, and more.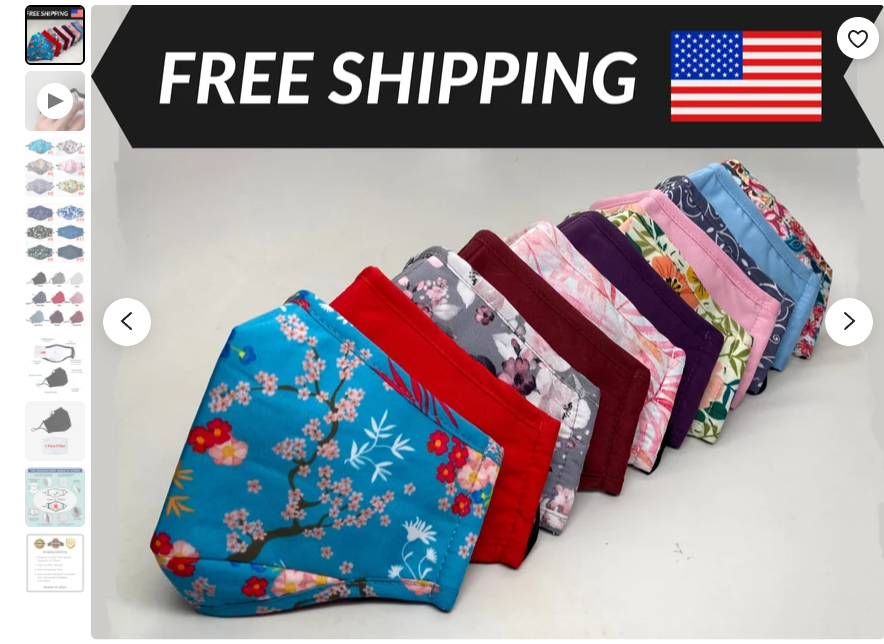 On the other hand, the data says men favor unisex masks, reusable and washable masks, as well as those that come printed with humorous sayings to express a person's individuality.
However, in both cases, you must remember that best-selling masks are a combination of design and functionality, so don't omit the nose wires and other perks.
So, what does this mean for you?
Taking the lead from the 23 top selling face mask Sellers on Etsy, which have also gotten many positive reviews and made thousands of sales, it's vital to first offer quality masks with a variety of materials such as cotton, cotton muslin and silk. Then, you must vary up the patterns and colors, make it breathable and comfortable, and possibly even think of something funny to say.
Finally, remember to strive for a balance between form and functionality.
Do's And Don'ts
According to the CDC, cloth face masks can be made from a variety of fabrics.
Ultimately, a good face mask will be one that provides a proper fit over one's nose, mouth, and chin to prevent leaks. It should also be created with multiple layers of tightly woven, breathable fabric, provide a nose wire, use fabric that blocks light when held up to a bright light source, and ones which are tightly woven.
Conversely, masks that have proven to be ineffective are those which have gaps around the sides of the face or nose; exhalation valves, vents, or other openings; are made of single-layer fabric or those made of thin fabric that don't block light; and the worst: those that are made from a wet or dirty material.
Effective Entry Strategy For Newbies
If you're convinced that selling handmade face masks on Etsy is the route to go, you'll want to partner up with the best in the industry to make the most out of this subsector and jump on the bandwagon to making sales.
The ideal partner for you with these endeavors is Sale Samurai. Why? Because it can give you all the insights and information you need to make the best out of your new face mask business. From checking out the competition (without having to scroll thousands of pages manually to see what works and what doesn't), to figuring out the right keywords and tags to use, so that you widen your audience, this business intelligence software is all you need to get started on your new Etsy endeavor.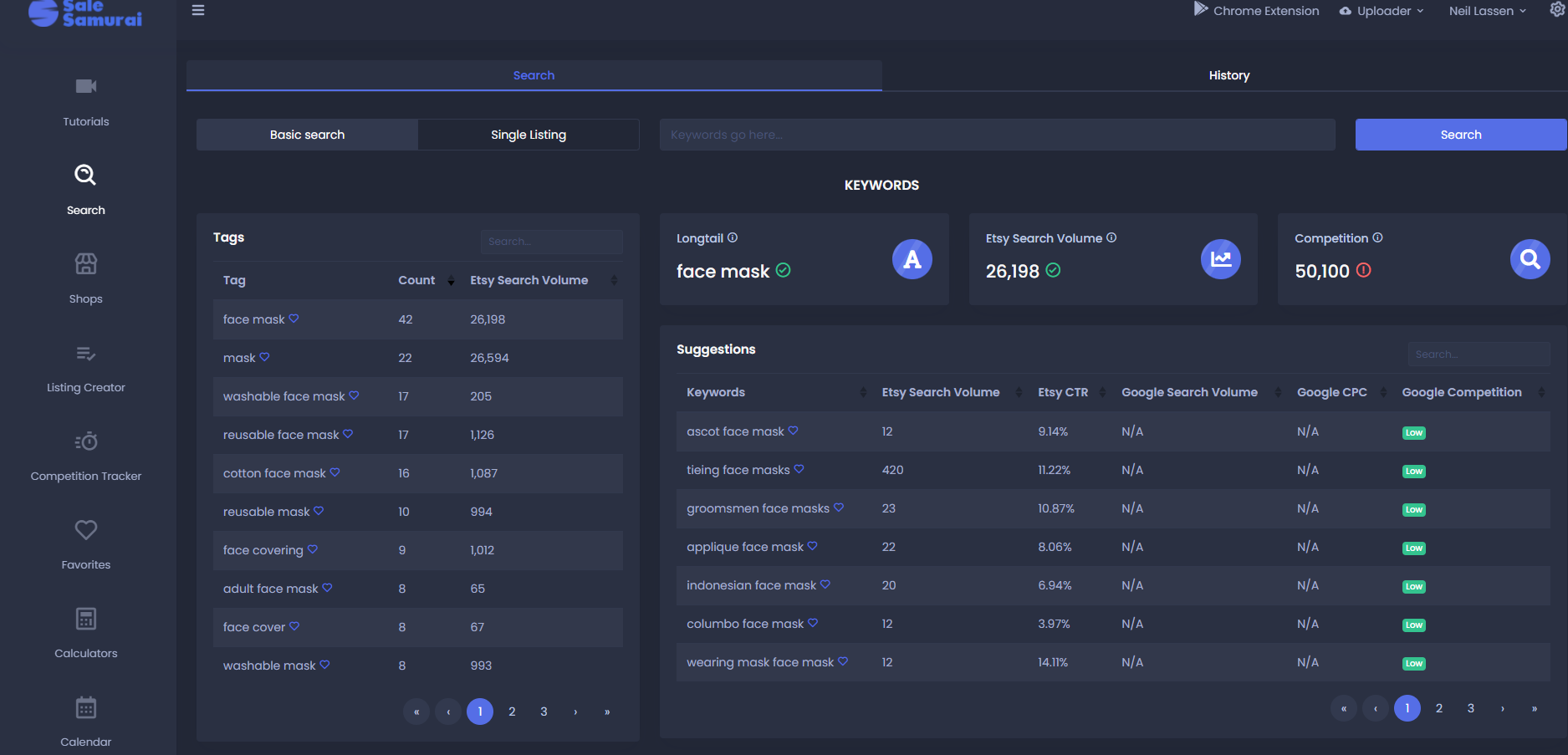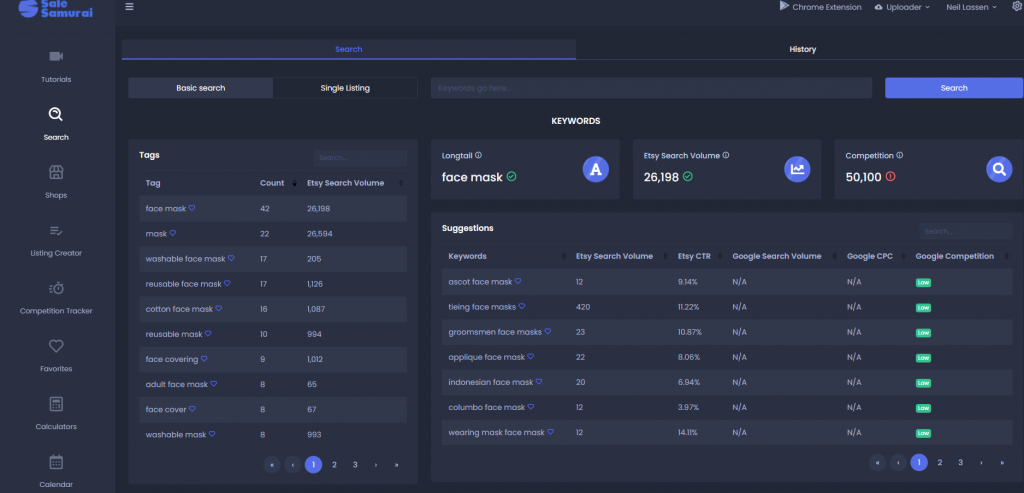 Some of the ways Sale Samurai can help you with this is by doing checks on how your Etsy shop is doing. Are some of your products missing tags or images? Are you optimizing your listings? Are you using the right words and descriptions?
Ultimately, it's one of the most powerful tools you'll come across on the market to take your business to new heights.
And That's A Wrap
Face masks are nowhere near done. The question is: are you going to join the 110,000 Sellers on Etsy making thousands of dollars each month and create your own, unique face mask, or will you let this opportunity pass you by? If you're in, then you need to do your research and do it well. But that doesn't mean scrolling endlessly on Etsy to see where success lies and where it doesn't.
You can do it the smart way with Sale Samurai. For a mere $9.99 per month, you've got the entire platform in the palm of your hand with brilliant insights and actionable strategies that you can implement to take your business to the next level.
We highly recommend that you take advantage of the three-day free trial and get as much information about the competition out there as possible. This means delving deep into long tail keywords, listing data, getting the real Etsy search volume for handmade face masks, tag suggestions, and shop analytics.