Etsy's main appeal for both buyers and sellers is the wealth of unique, handcrafted products created by artisans. It is one of the reasons why they have a strict "no reselling mass-produced items" policy.
That said, there are mass-produced items that you can technically "resell" on Etsy. They are your unique design, reproduced by mass means.
Typically, an Etsy artisan who wants to have multiple copies of the item they make does so by hand. A screen-printed scarf (buy the material, screen-print in the basement), a resin mini-statue (cast by hand, sand/clean/paint), a set of buttons (use that same old metal lever-action contraption that gives you "Popeye Arm" after a day of button-making).
What if you're smart/lucky enough to have a product that becomes a hit and supply exceeds your ability to meet demand? At the very least, you're missing out on sales. At the very worst, you could spend all your time making that one product with no time left to create new product once that first item inevitably slows down. You could train family/friends, perhaps even an entry-level fellow artisan, but if they are any good, they eventually move on.
The solution? Outsourcing to a factory.
The "O" word can be terrifying to those accustomed to making things by hand. I know. It terrified me when I started my business back in 2004. But no growth occurs unless you step out of your comfort zone.
The good news:
It is almost as easy as ordering something off the internet.
I am going to walk you through the process, using my own product as a case study.
ALIBABA.COM, NOT ALIEXPRESS
Your source is going to be the world's factory database, Alibaba.com. This is not to be confused with AliExpress, which is a wholesale marketplace for pre-made goods.
Alibaba.com is not just a factory database, it is a comprehensive concept-to-completion source for getting your product mass-produced. It features factories as well as brokers and sourcing agents (more on that in a minute), a payment method that keeps your money safe in case you are unhappy with the factory/product, and shipping options.
I discovered Alibaba almost 20 years ago and have not looked back since. Here are the steps to using Alibaba properly and avoiding some of the costly errors newbies make. One of my specialties is foam stress toys/squishies, so I will use our own product, a Mothman stress toy as an example.
FINDING FACTORY CANDIDATES
For the sake of speed, I am going to leapfrog over the account creation process. It is as simple and yet as annoying as setting up an account on any merchant, so expect to have all your personal/business/credit/DNA results on hand when they are asked for (I'm only kidding about one of those).
Once your account is set up, the fun part begins: search for a factory that will make your product.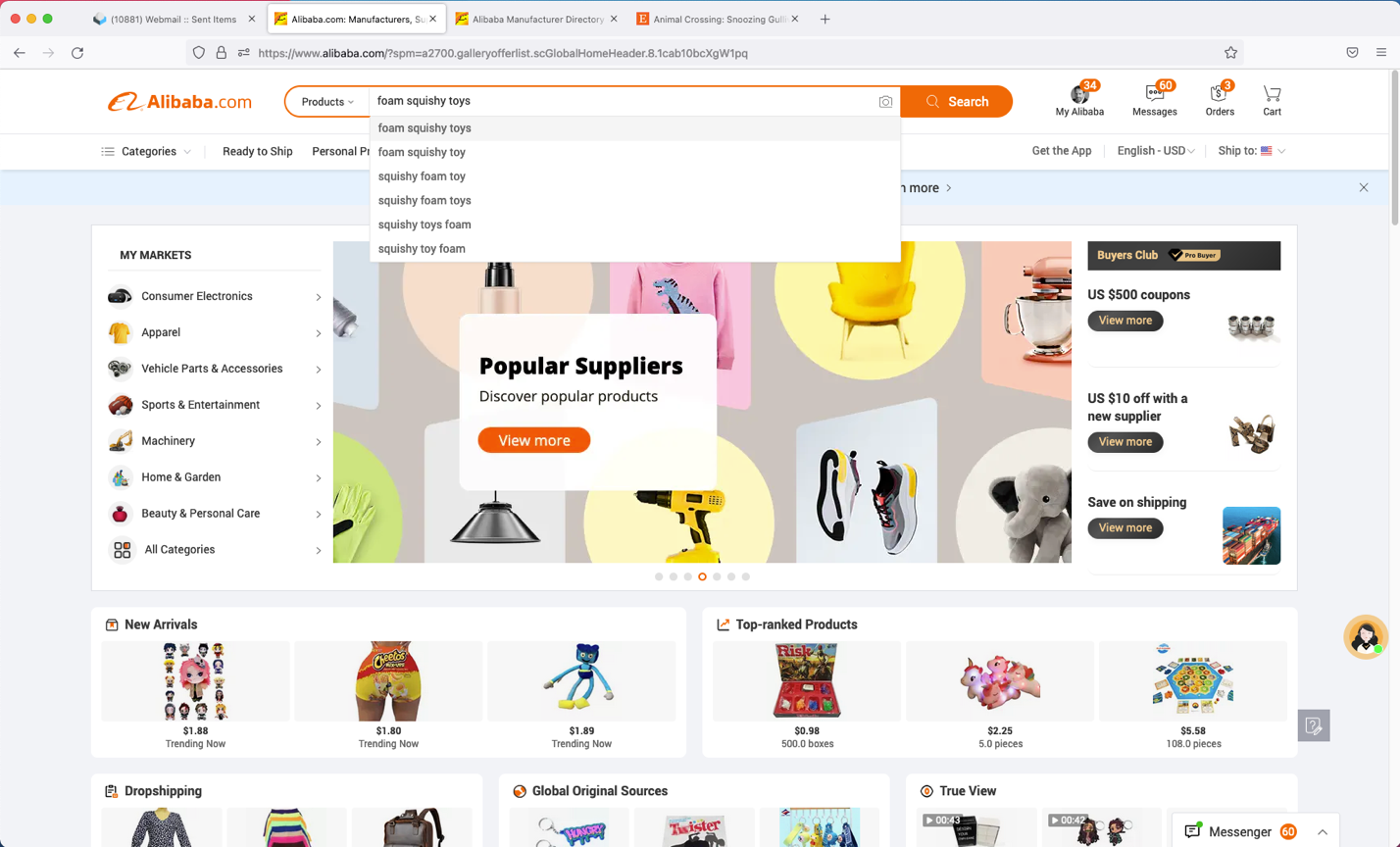 In the giant search bar at the top of the page, simply type in the type of product you want to produce. The first page will show about 20 factories who make the products you want, as well as a price range. Some important notes:
As with every other search engine, the first page is made up of factories who have paid to be there. They are usually larger enterprises or brokers. You are better off searching for the smaller factories – their customer service is more responsive and transparent, and they are run by managers who know their craft.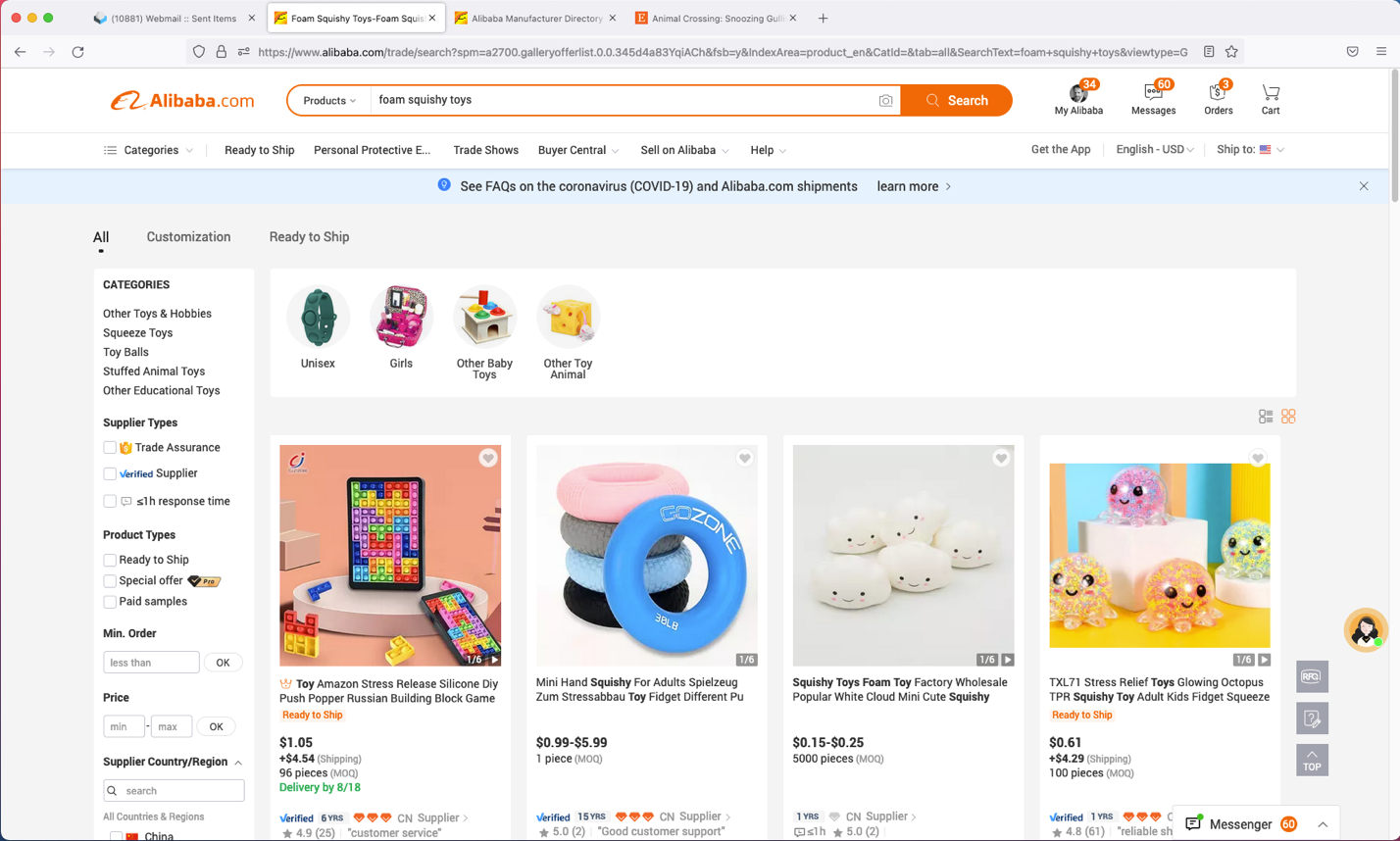 Each listing box has a price range and an "MOQ" (Minimum Order Quantity). This isn't a hard and fast number, but it's a guideline that will help you find a factory that is closer to what your budget can handle.
You want to work with factories that use Alibaba's "Trade Assurance" program, which is the payment protection plan I mentioned earlier.
What to Look for When Selecting a Factory Candidate:
Step One:
Click on the "Trade Assurance" tickbox in the left column. That will limit the search to factories that comply with this program.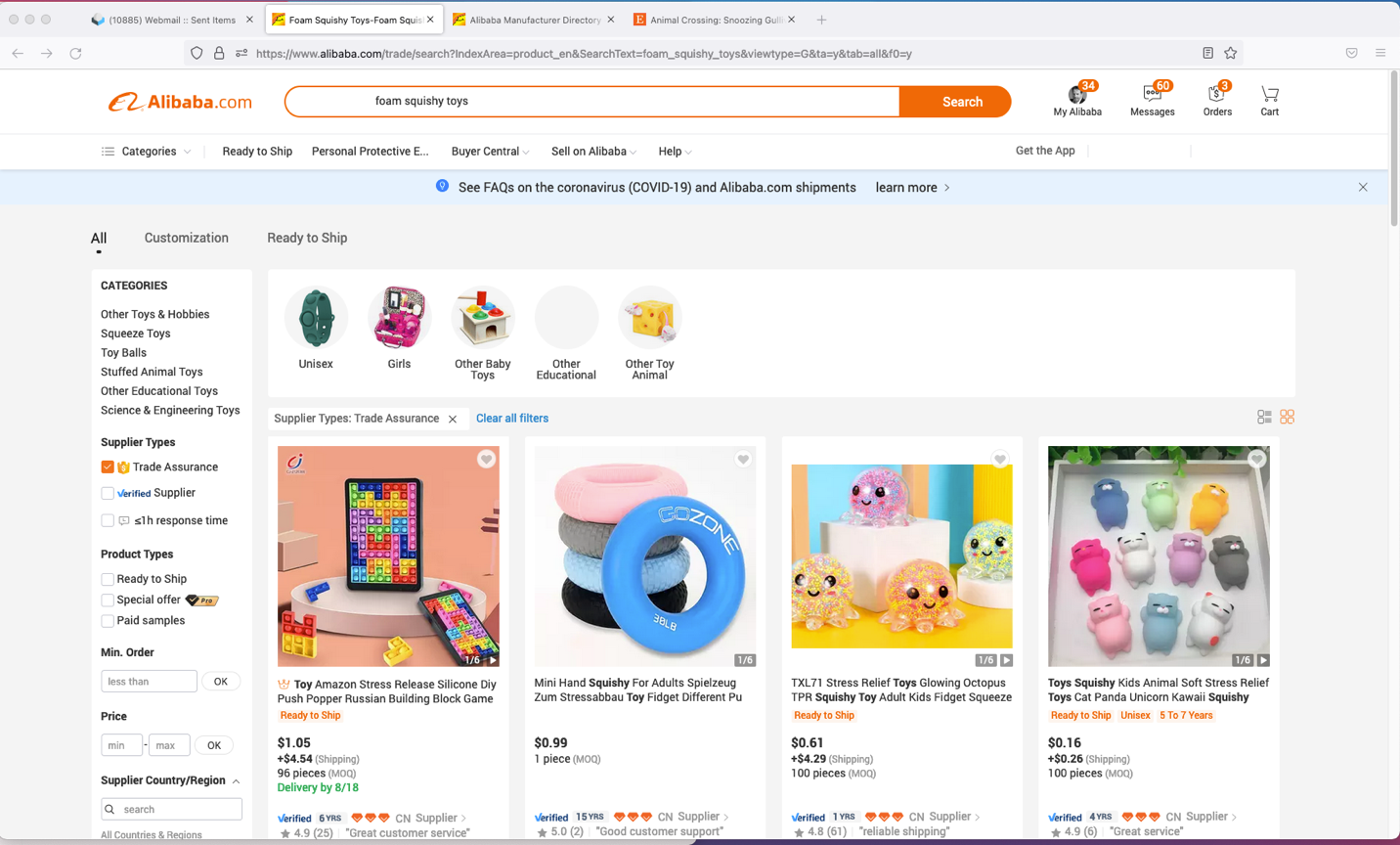 Step Two:
Start scrolling through pages (this is where you find the factories that don't rely on promotion and are more likely to be direct manufacturers) and click on factories that display a price range and an MOQ you are comfortable with.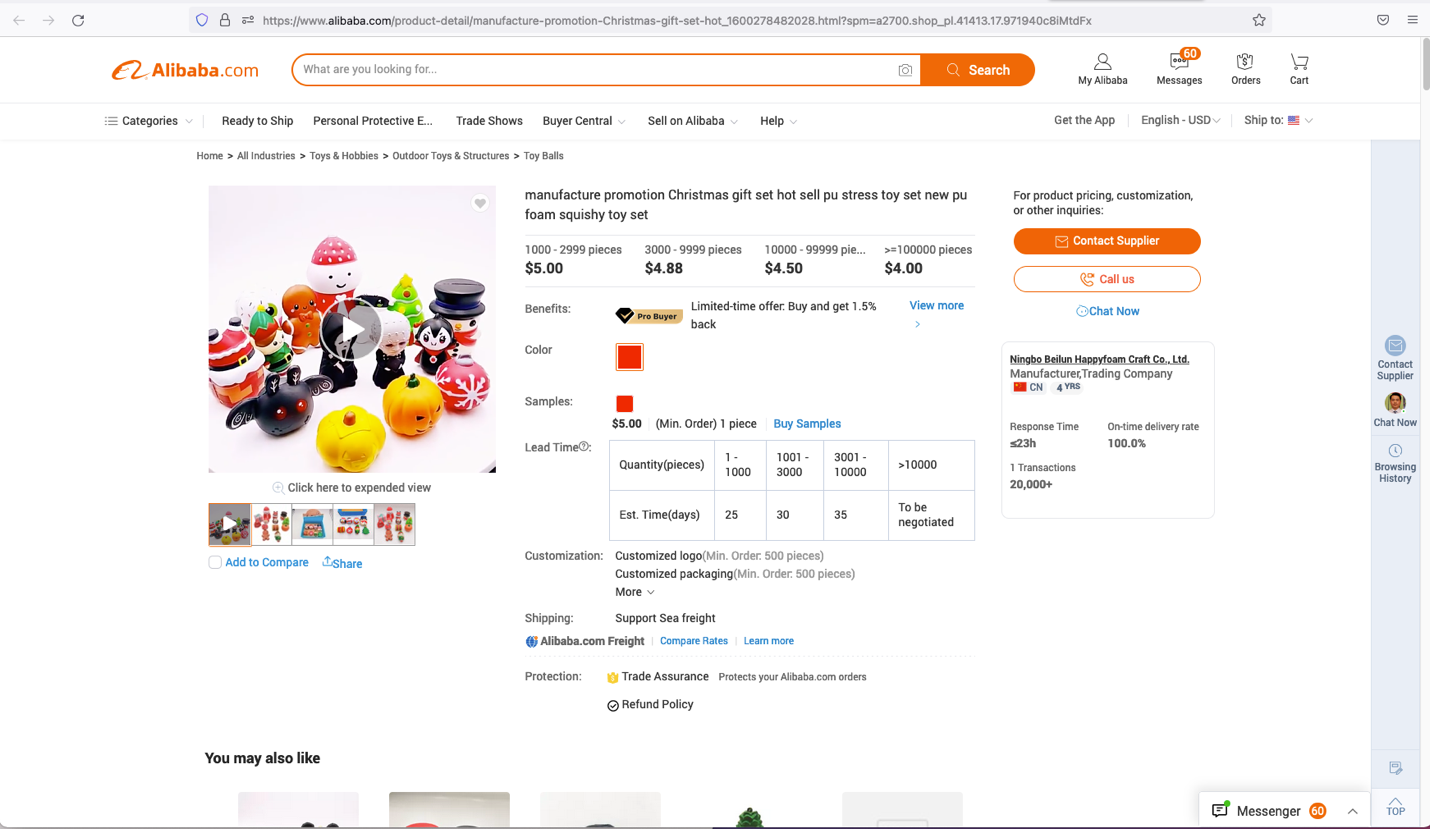 Step Three:
Click on the listing. In the upper right, click on the factory name. That will take you to the factory's main page. On this page you can glean these important elements:
How long have they been in business
Are they a manufacturer or a trading company? Some are both, so eliminate candidates who are "trading companies" only. These middlemen add time, cost and their products are inconsistent due to using several different factories
Their product range and capabilities
Their production capacity
Their product testing certificates (only important if you expand into licensed products and other sales platforms, not an issue with small batches on Esty).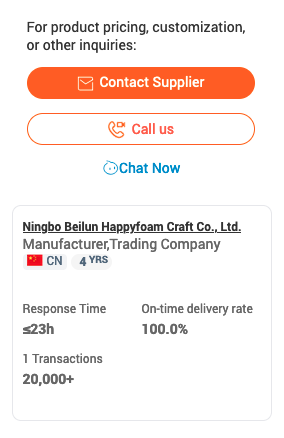 Step Four:
Select at least 12 possible factory candidates whose displayed ranges fit your budget and MOQ. That sounds like a lot, but this will be winnowed down during the quoting process.
Getting Quotes
Now that you have about 12 factories to choose from, the hardest part is preparing your information and sending it out to them.
Drafting An RFQ (Request for Quote)
Before reaching out to the factories, you need to organize the information about your product in as precise a manner as possible. Almost all the customer-facing representatives of the factories speak fluent English, but their command of the language differs from person to person. In any communication, it is recommended to write at a 6th grade level, avoid idioms, colloquialisms, and complex words where a simpler word can be used.
Draft a document (I recommend a Power Point converted to PDF) that includes the following:
Name of item
Brief description of item
Material needed
Number of colors to be applied
Type of design pattern you will provide (is it a sketch, a 3D model, etc.)
Quantity "breaks" (a range that will demonstrate how the factory prices based on quantity, for example "250/500.750/1,000 units)
Packaging requirements (do you want the product in a box, simple bulk polybag, etc.)
Target price (base this off an average of the ranges in your selections, as well as the cost you want to pay based on your retail price
Dimensions
Images: include every possible image you can find of your existing product, or a drawing from all possible angles
Draft a separate "introductory note". Before Alibaba allows you to send your RFQ document, you must provide a text-only introduction to the factory. This can be a bit repetitive, but it also allows the factory to quickly scan your needs and determine whether they can help you before even opening your RFQ doc.
"Hello _________,

How are you today? (Important to include this, politeness in initial communications is held in high regard)

My name is _____ and I run a company called _____________, which produces __________.

I am looking for a factory to produce an item, and I found your listing here:
(copy/paste the URL of the company's listing. Many factories produce many products; if you show them what made you approach them, that gives them a better idea)
Can you please provide me with a quote based on the following:

Type of item
Material needed
Number of colors to be applied
Quantity "breaks"
Packaging requirements (if applicable)
Target price (base this off an average of the ranges in your selections, as well as the cost you want to pay based on your retail price

A detailed RFQ will follow. Please respond with your quote or with any questions.

Thank you,

___________ "
At the bottom of the listing page is a text box with the name of the supplier contact, which you will include in your salutation. Copy/paste your introductory letter, include your lowest quantity in the "Quantity" box, and make sure you have the proper unit type selected in the pulldown menu next to it.
Repeat this step for all 12 of your candidates.
Once you have sent out all the introductory notes, you can send the RFQ document with all the visuals to the candidates. It's almost like starting over, but this is one of the very few annoying little glitches in Alibaba's process.
In the upper right of your page, click on "Messages". This will take you to a dashboard with all your sent messages in list format. Simply click on each message. At the bottom of the page, simply hit the folder icon, and you can attach and send your RFQ document.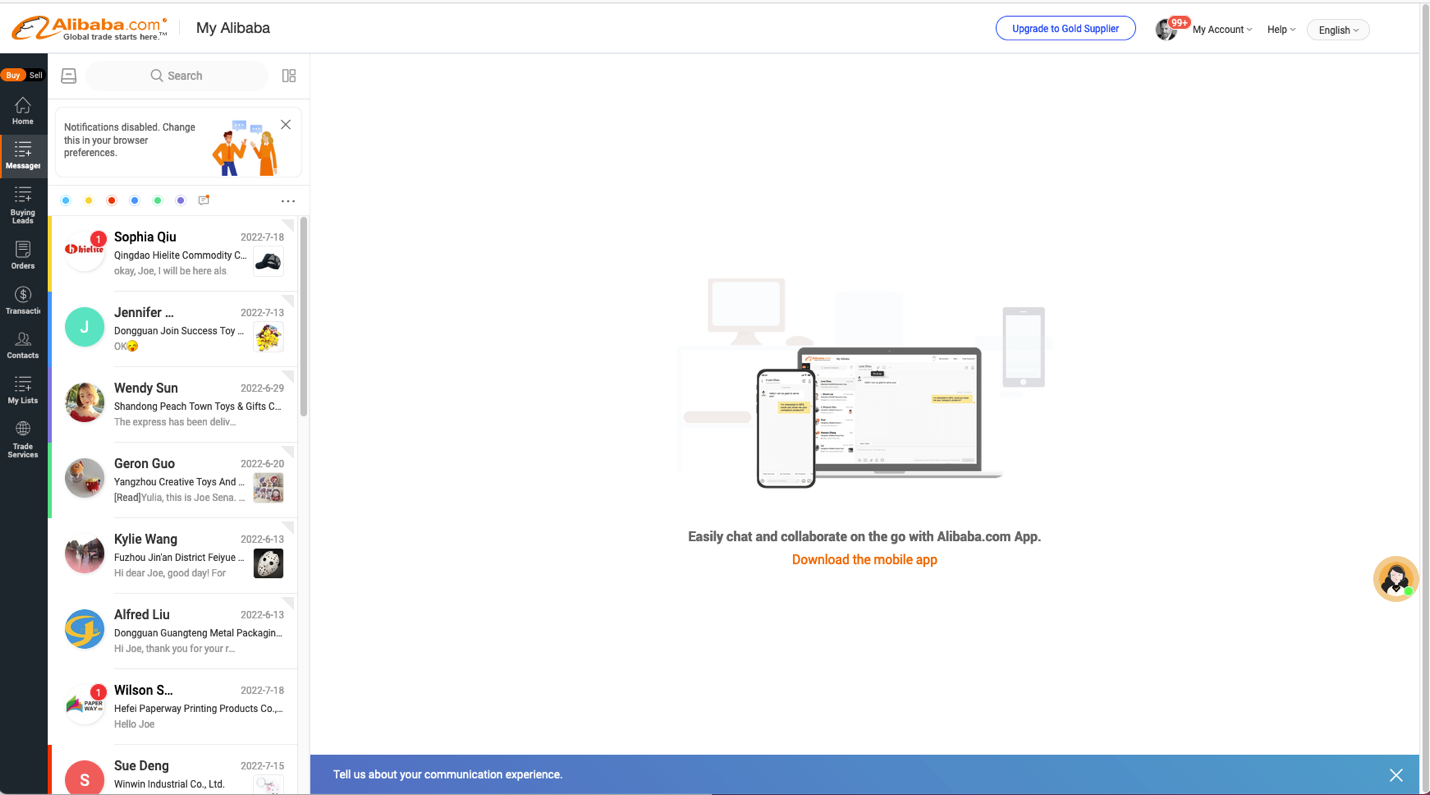 Selecting the factory
Once you've sent your information, then some or all the following will happen over the course of a week:
A factory will respond with an accurate quote the very next day (usually for simple items like enamel pins, buttons, simple resin statuettes)
A factory may ask questions about your product that you hadn't thought of (usually specific to the mass production process), then you will write back and forth until they respond with a quote
A factory will want to contact you on email (highly inadvisable – if you find yourself in an unfortunate situation with the factory down the road, having all communication in the message thread is the most credible evidence you have and virtually guarantees you a 100% satisfactory resolution)
A factory may not respond at all.
Once you've received quotes, select 3-5 factories that fit your price and MOQ.
Get samples of factory's work
Now you need evidence that they can do what they promise – request a sample of the factory's previous work.
This will cost a bit, but it's a critical investment. You want to have a sample of the factory's other work in your hands. Only you can judge whether that factory can produce the product to your satisfaction.
The factory will charge you to ship the product, which usually costs (as of this writing) about $100. So, you are looking at about $300-$500 to see their work. If that is too expensive, then go with your gut and select one factory. There's really a good chance that your gut is correct.
This is where Alibaba's Trade Assurance comes in handy. This is your first financial transaction with the factory, you want to protect your money. Ask the factory to set up a Trade Assurance order for the sample. Once set up, you will find that under the "Orders" icon on the top right of the page.
The order will appear with a button for payment, and it is as simple as ordering on any ecommerce platform: you can use a credit/debit card, PayPal, or more complex methods like wire transfers.

Within the week, you will receive the samples and you can make your final factory selection.
PLACING YOUR ORDER
When you have selected the factory and ready to start your project, ask them to set up another Trade Assurance order.
This order will be separated into three parts:
Product Sample
Deposit
Balance
The Product Sample is usually a small, separate charge (included in the quote) to produce a single sample of your product. You only must pay for the sample at this point, and within the factory's stated production time, you should receive the sample.
After you have approved the sample, then you can allow the factory to begin work. This is where you put a deposit down on the order (again, through Trade Assurance), which is usually between 30%-50% of the entire order.
The production process begins, which involves several steps:
A rough mold of your item (if 3D)
A painted prototype of a sample pulled from the mold
Approval of the prototype
Greenlighting production
Shipping
When production is complete, you will be asked to pay the balance on your Trade Assurance order and arrange shipping. These are steps that we will go into further detail in a later post, as each one also has advantages and drawbacks to pay close attention to.
For now, let's assume that you have received your shipment from the factory. If all goes well, you are thrilled and can offer the product on your Etsy store to the hungry masses craving your product.
If there is anything wrong with the shipment, then you can use Trade Assurance to get discounts, refunds, or improved product to replace any that are damaged or simply different than what was promised.
Your Etsy store is an extension of your vision. Just as your imagination is limitless, outsourcing your product to a reliable factory makes your ability to create happy customers just as limitless.