Spooky season starts earlier and earlier. If you're an Etsy seller, you'll want to start creating now (if you haven't already). Here are our ten favorite Etsy stores for Halloween gifts, in no particular order. And if you're just a fan of Halloween, you may see something you might want to get for yourself!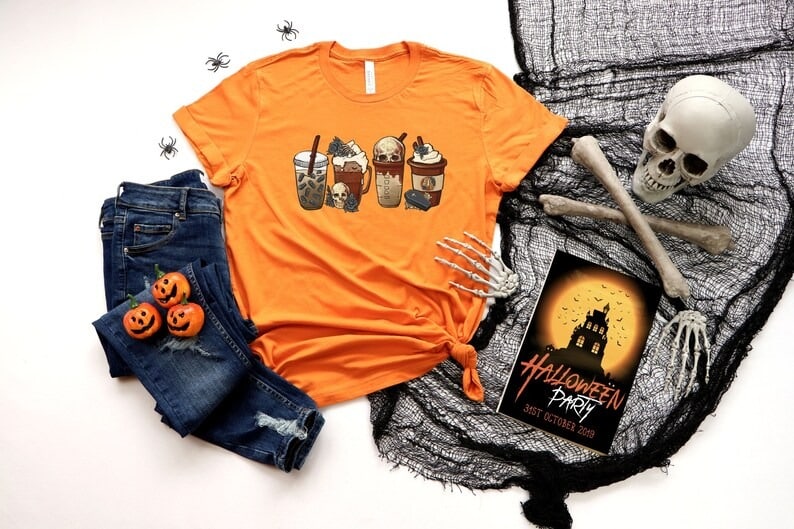 With 104 different types of Halloween items to choose from, this is a great shop for options. Cute designs, bright oranges, and deep blacks. They claim they have best quality custom and unique shirts for everybody and every occasion such as Christmas, Halloween, Mother's Day, Father's Day, Birthday, and Bachelorette, and we can see why!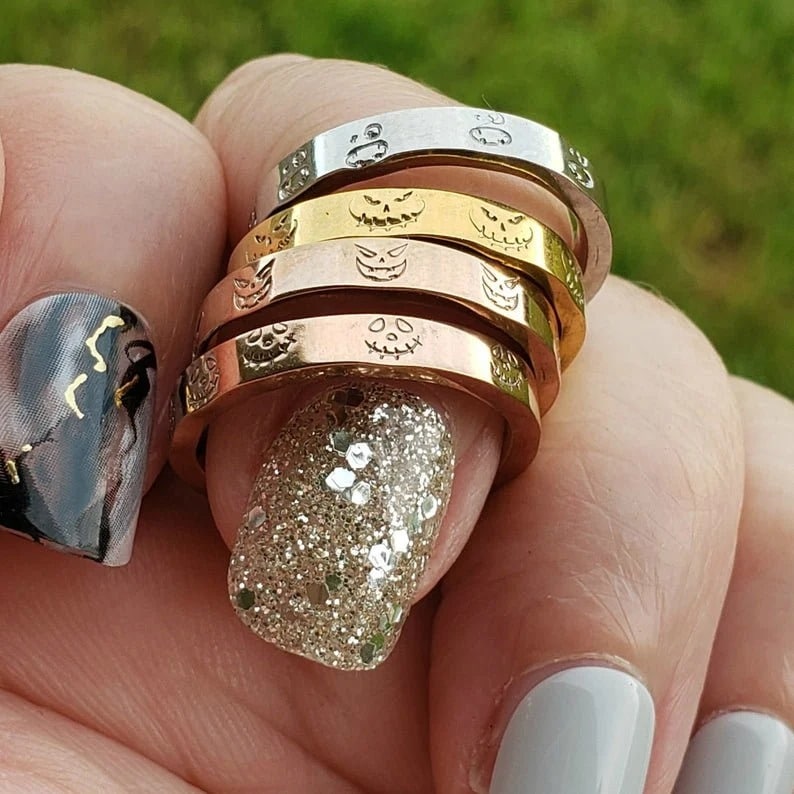 What grabbed us about Lemon Lime Creations was their beautiful offerings of Halloween rings, each one able to be customized with the scary face you prefer! Based out of Lumberton, Texas, this shop offers a wide variety of customizable metal rings in several different metallic finishes. We love the unique flavor these items present which is why this shop gets a nod on our list!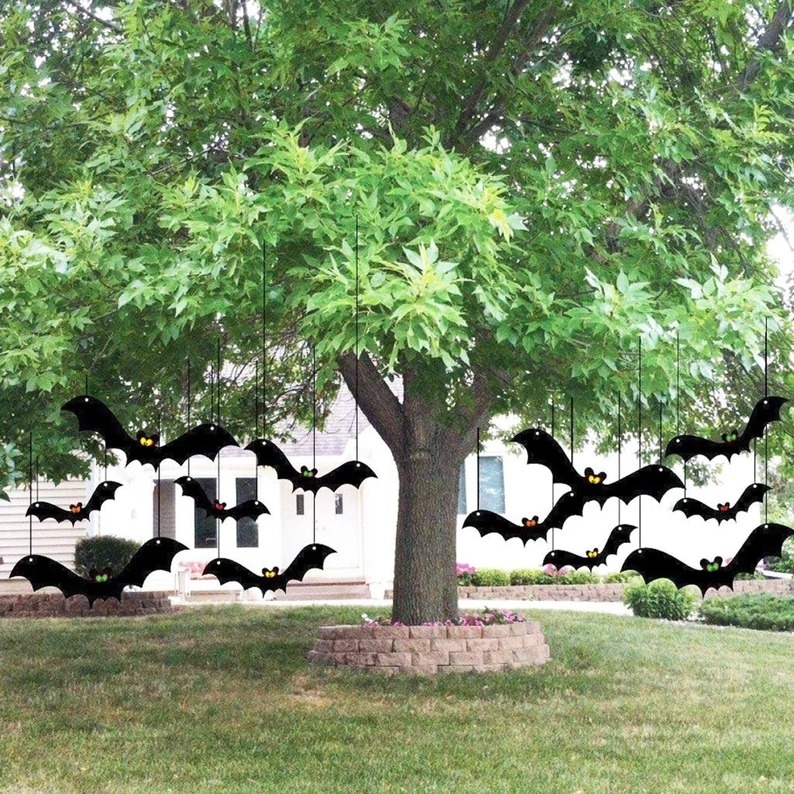 While Victory Store has a large amount of Halloween-related items such as magnets and prop tombstones, this set of plastic hanging bats draws us right in. Want to do up your entire yard all at once? This is how you get that done. This set of 12 Hanging Scary Bats is sure to make a great Halloween decoration! Each bat is:
– Durable & waterproof.
– Die-cut from flat Black Corrugated Plastic (not cardboard).
– Pre-drilled making them easy to hang anywhere (string to hang not included).
– The set comes with a variety of adhesive eyes.
(The set also comes in the form of oversized garage-door magnets)
4) KINGYM
Going out to a scary party or looking to represent your favorite horror movie wherever you go? Now you can while staying hydrated! Kingym's offering of horror-movie based tumbler covers are sure to please (AND scare!). Everything from classic monsters to today's modern horror icons are represented in these collections. Note to sellers: these are part of a growing popular trend of "printables", where you can download your favorite ones and print them yourself. They are sized perfectly for specific-sized tumblers and you can change them up whenever you wish.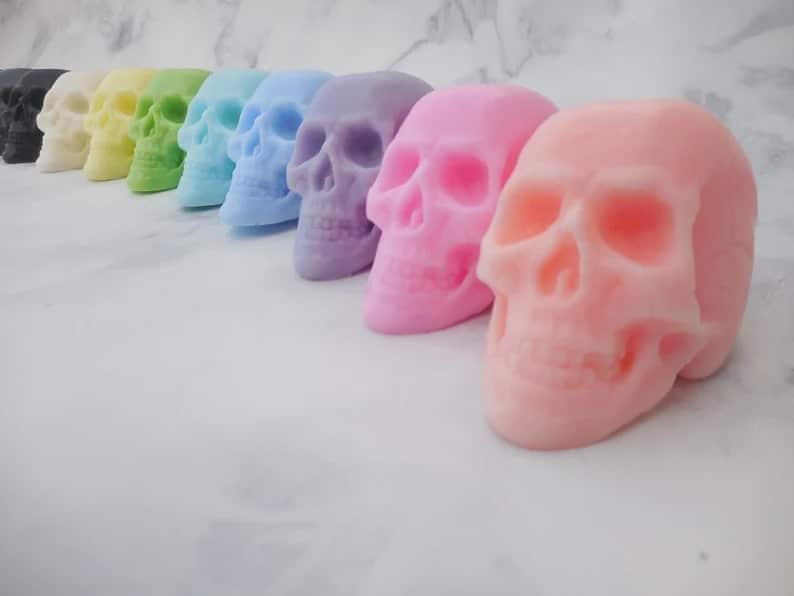 From the fun world of Cindy's Bath Creations, we have this wonderful assortment of skull-shaped soaps, perfect for Halloween, Dia De Los Muertos, or fun, creepy decor at any time… decorations that are also useable for their original purpose! Save and collect the full line, or use them as your new favorite bath soap. Each one is handmade from saponified oils (coconut, palm, safflower, etc) and glycerin and are vegan. They come in a range of dozens in both colors and scents. Your custom scary soap will be individually wrapped, packaged in bags (organza or cello wrapping, depending on availability), and if you like, will be created to your specifications, making them a spooky and convenient choice for Halloween party favors or non-edible Halloween gifts.
From over in England, we have a shop that makes unique creepy and scary labels to put on your bottle decorations for that special time of the year (or, really, every day because every day can be Halloween). These will look absolutely fantastic on your drink bottles whether they are all the same or a mix of shapes. As you can see from the pic, they are very versatile and will fit most shapes and sizes of bottles. Made using professional graphic cast sticker sheets and printed using a laser printer to give a high quality and vivid color. These stickers can be completely customized, so if you would like specific titles and wording you can send them a message using the request customize button in their main listing.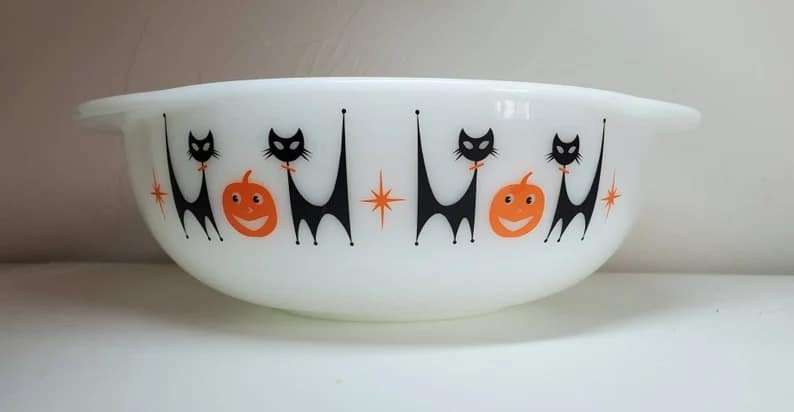 In a welcome blending of Halloween imagery and mid-century atomic vintage, we have these Atomic Cat and Pumpkin decals! Spruce up your trick-or-treat bowl with these vinyl beauties or decorate nearly anything in your home with them. And if MCM cats are not your style, the company also offers many Halloween-themed decals, from ghosts to classic film monsters. Crisp, clean images and precise cutting make these a delight to decorate with.
8) WITCHY WICKS CANDLE COMPANY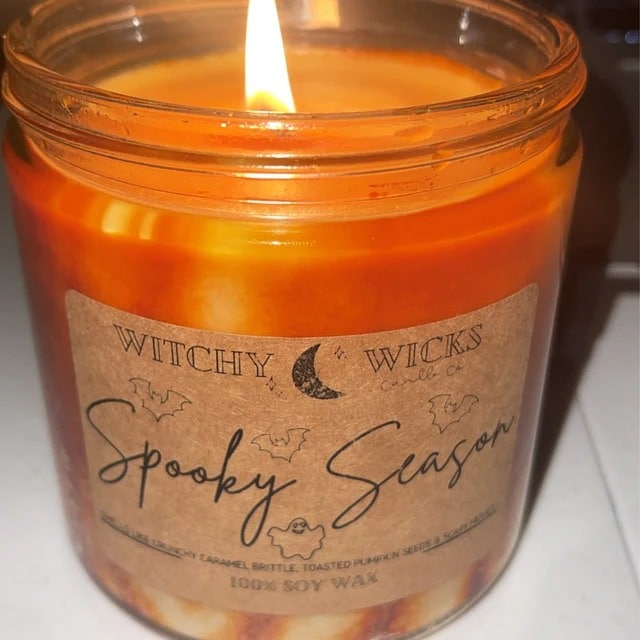 What item other than a jack-o-lantern says it's that spooky time of the year more than a proper seasonal candle? The Spooky Season 100% Soy Wax Candle from the Witchy Wicks Candle Company in Texas creates that very thing, a beautiful scented candle without the pollution of petroleum-based wax. As they say on their page "In our book, it's Spooky Season all year long! This delicious scent of crunchy caramel brittle with loads of salted peanuts and toasted pumpkin seeds is reminiscent of cuddling together while watching scary movies, sneaky trips to abandoned haunted estates, carving Jack-O-Lanterns and tales of spooky ghost stories."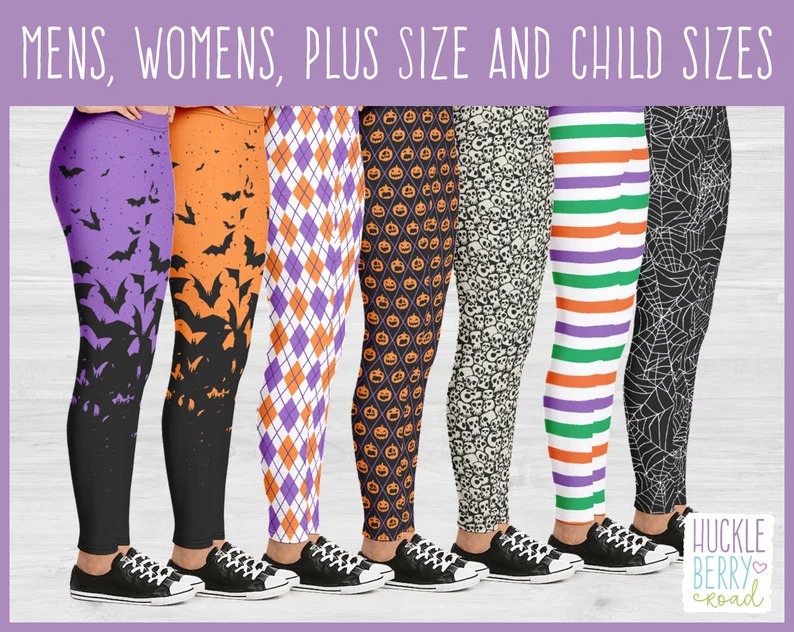 Out of Ada, OK, comes the Huckleberry Road Shop and their holiday line of special leggings for all people and all sizes! With 9 pattern styles and over two dozen sizing options, we are sure you'll find the perfect scary leggings for you. These Halloween leggings are 82% polyester and 12% spandex, and there are even options to customize a pair unique to you.
10) MOOD FOR WOOD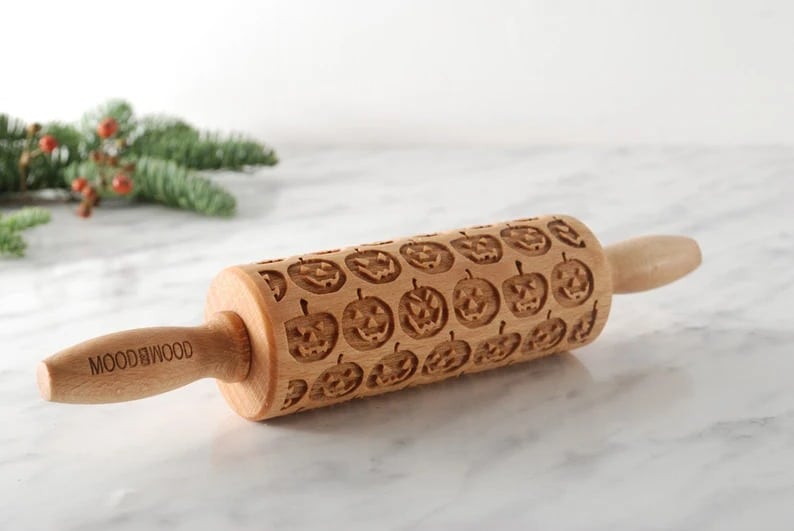 And finally, from our friends in Poland we have the JACK O'LANTERN mini embossed and engraved rolling pin for cookies, which is a perfect Halloween idea for you or your baker friends! Eye-catching cookies can be rolled out with this and who wouldn't want those on the night of the 31st? The company offers a wide range of these types of devices. According to their page, they source the Polish beech wood only from highly rated UE suppliers. It is all from legal timber and taken mostly from well managed forests where the biodiversity and wildlife is protected.
Each embossed rolling pin is based on original pattern, designed in their Warsaw studio, and are carefully covered with food-safe oil.