Rewind back to 2021 and purchases on Etsy generated almost $4 billion for the small businesses that sell on the platform. But coincidentally (or not?), also in 2021, a study found that 34% of consumers consider the environmental impact of their purchasing decisions. What's more is that this percentage rose to 45% for consumers aged 18 to 34.
With sustainability on the minds of a growing number of consumers, especially on Etsy, what are some green practices that you can employ at your shop and why is this important in the first place?
Read on to discover.
Why is sustainability important for Etsy artists?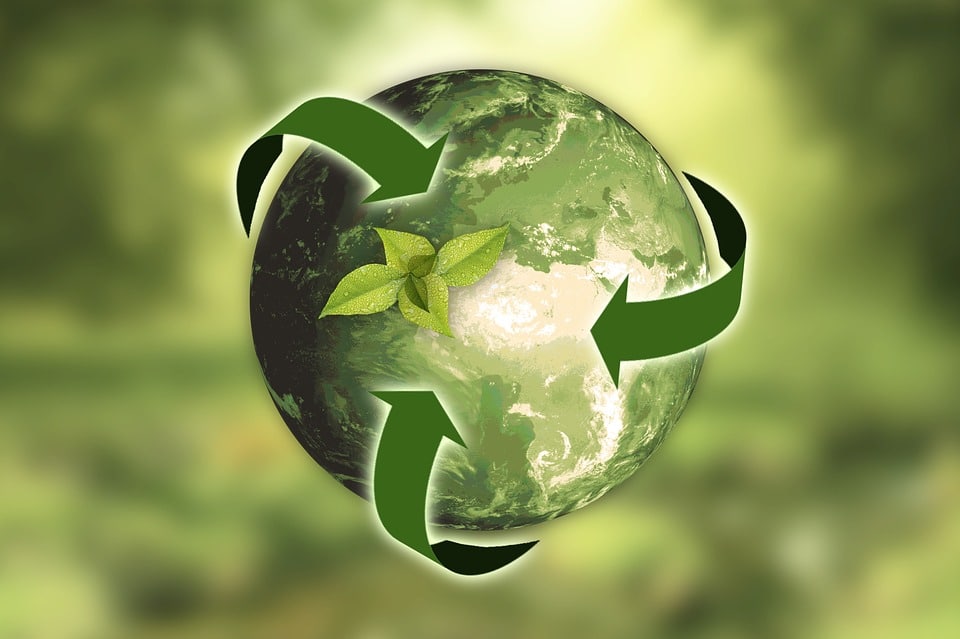 It's not just on Etsy, it's everywhere. An ever-growing number of customers want to know that their purchases are having an impact. As such, they are willing to spend time researching a business's products, its social structure, and environmental impact.
When it comes to Etsy in particular, sustainability is fundamental. It was the first major online shopping platform to become carbon-neutral. In fact, 100% of emissions from product shipments were offset through funding verified emission reduction projects.
Why is this important? Because shipping is responsible for 98% of Etsy's total carbon emissions. All this without cost or actions required by either buyers or sellers.
But the giant isn't stopping there. It is also committed to reaching net-zero emissions by 2030. As part of this, Etsy has partnered with EcoEnclose to bring US sellers packaging options made from 100% recycled materials or certified responsibly sourced paper at competitive prices.
As such, sustainability should be important for Etsy artists not only because the platform is calling for it. It is also important because customers are demanding it. And there are both traditional and modern ways you can market the sustainability of your shop.
Take a look at some of these options in more detail below.
What are the classic ways to show users that your shop is sustainable?
Although sustainability has started generating more momentum recently, it has been a topic of importance for decades. Early pioneers of sustainability used the following methods to show their commitment to sustainability.
Building an energy-efficient foundation
Whether on Etsy or off it, it's critical to do the actual legwork and ensure that your products or production processes are sustainable. For Etsy sellers, for example, sourcing more sustainable packaging is just one option to consider.
Creating an impactful mission statement
After laying the foundation for your eco-friendly efforts, you need to communicate them to your consumers. For Etsy shops this entails at least 1 or 2 paragraphs on sustainability in the shop's permanent description, as well as a line explaining the green practices involved in the creation and packaging of individual products. This, in turn, can be explained in the listing's description.


Establish good communication practices
Establishing good communication practices between your business and clientele to answer questions about your sustainability efforts is also key. The same is true for Etsy where client-seller communication is crucial for a seamless customer service experience.
What are the most modern and creative ways to show users that your shop is sustainable?
Today, there are multiple ways to show your Etsy buyers that your shop is sustainable. Here are just a few ideas you may wish to try:
Don't mass produce
It's easy to catch out a seller if they are mass producing items. This will be evident through their number of sales and the number of products in their inventory. Both of these criteria are easily visible on every seller's page. Mass production screams unsustainable practices and as such, is something you may wish to avoid.
Don't use dropshipping as an option
Even though Etsy is designed specifically for handmade, vintage, and craft supplies and tool items, many sellers on the platform don't stick to this and it's not always easy for Etsy to monitor all sellers. This is why some will use dropshipping to receive a product order and have it fulfilled by a third party. If this is the case, the chances are that dropshipping will not guarantee the sustainability of the shipping process. So, avoiding this practice is crucial.
Communicate with your audience via all channels
We already mentioned that communication is key for sellers and buyers as a traditional method. However, using your social media channels to not only promote your products but also to communicate your sustainability efforts is key.
Weave your brand story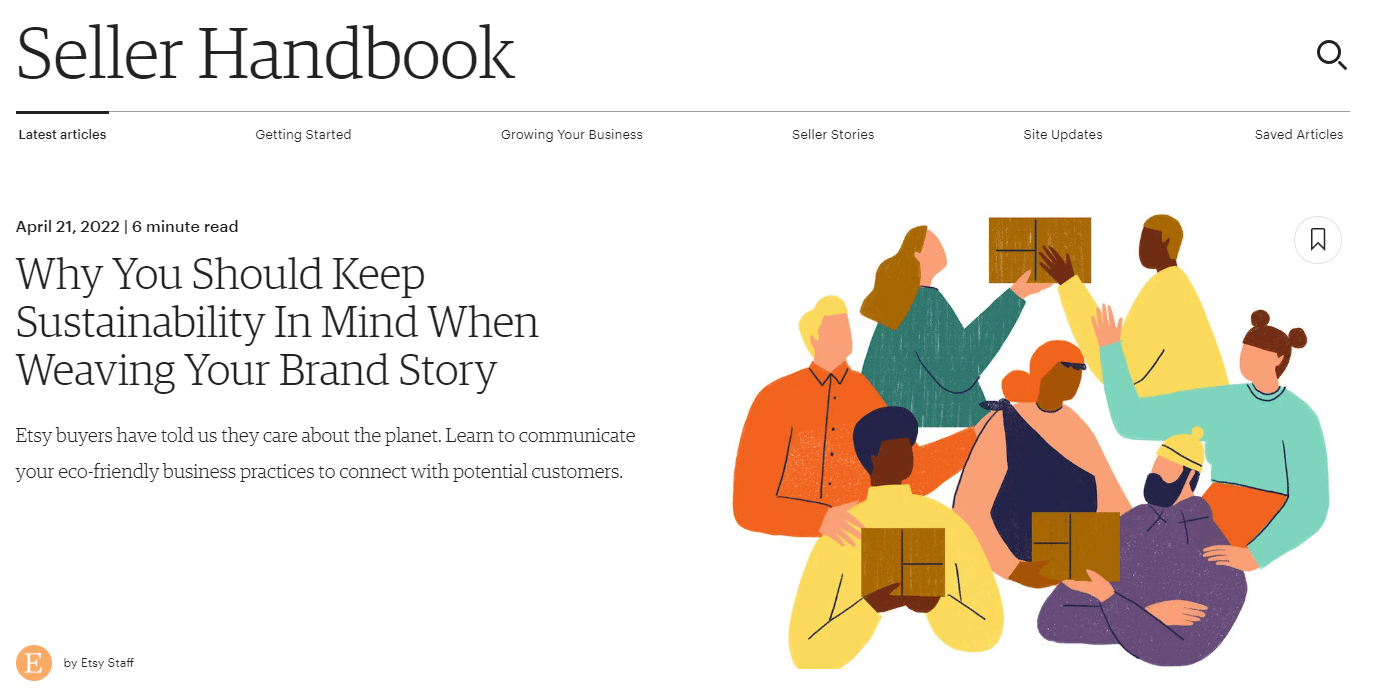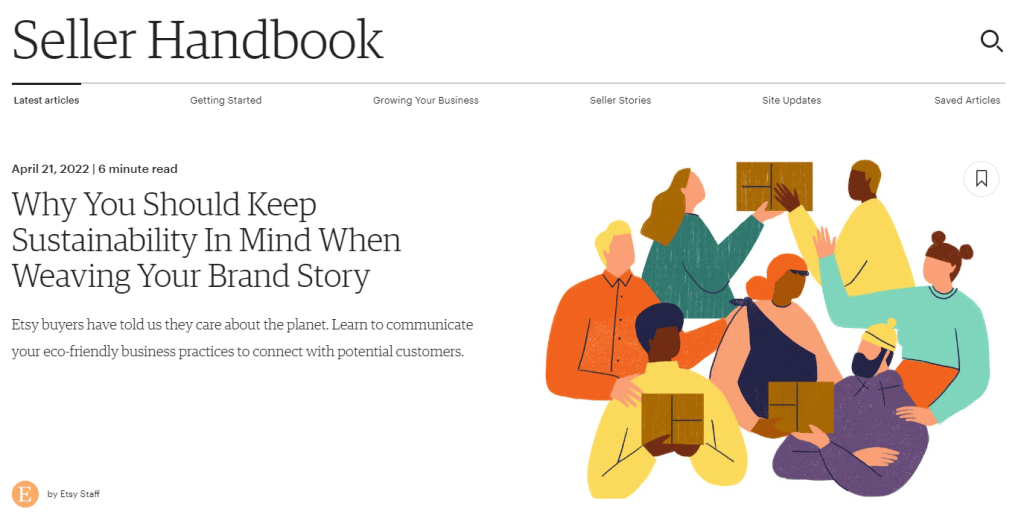 You also want to use engaging storytelling in your brand story and use it to share your thoughts, efforts, and practices geared toward sustainability. You can do this natively on your Etsy profile. You'd be surprised at how many buyers read this before making a purchasing decision.
Recycle, avoid plastic, and reuse shopping bags
These are just some ingredients to ensuring that your customers are happy with your efforts. But you can go further. You can, for instance, indicate in your product description that you use eco-friendly materials or ingredients. And in addition to this, when shipping your product, you can include recycling instructions with each order.
Use video to prove your credibility
Тhe "About" section in your shop can also be used to present your sustainable practices in video form. This will prove the authenticity of your production process and the fact that the product is truly handmade. Not to mention the power of video. As they say in marketing nowadays: "Video is king".
Attributes
Describing the product composition in as much detail as possible is another good way of demonstrating sustainable practices. And it's also the most natural one. Think of these as attributes that define sustainability. Some examples include words like: recycled content (metal, paper, glass, polyester, plastic), upcycled, reusable, plastic-free, organic cotton, linen, hemp, FSC-certified wood, organic ingredients, vegan, Leaping Bunny certified, ethical gemstones, vintage gemstones, etc.
Although sustainability attributes are currently not visible to buyers, they do help them in their search process and can help your business stand out, too.
What are the benefits of sustainability marketing?
But with Etsy placing such a strong emphasis on sustainability and customers seeking greener products, what is the benefit for the actual Etsy artist?
The answer is twofold.
Firstly, selling sustainable products can help your marketing efforts (if done right). Secondly, marketing well will help your bottom line.
And as a bonus point, you're likely to reduce your production costs when you source materials that are sustainable.
In conclusion
Sustainability is crucial for Etsy as an organization. But the more its sellers and artists incorporate and implement sustainable practices, the better it is for their customer base and their overall sales. Consumers today are savvy and educated and they will make informed purchasing decisions.
By being transparent about your practices, materials, recycling, and reusability of products and packaging, you're more likely to hit the sweet spot and address a growing eco-conscious consumer demand.