Coffee and tea are the warm beverages of choice for billions of people around the world. They've been drunk for centuries and the tradition carries on to this day. While the varieties of coffee and tea are great, the number of cups that one can use to enjoy their drink is also huge.
This opens up an enormous market for creative sellers who want to offer their customers something unique. By exploring the coffee and tea mugs niche on Etsy, it's clear that this market is vast. But is it profitable and what do you need to do to get in front of an audience?
We explore the answers to these questions below.
How big is the market for handmade coffee and tea mugs?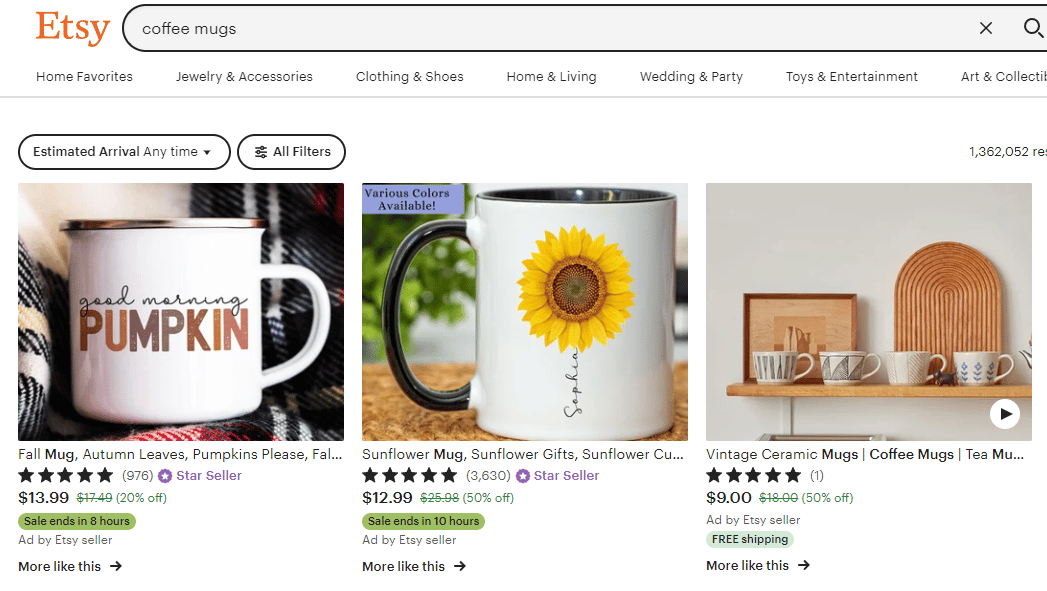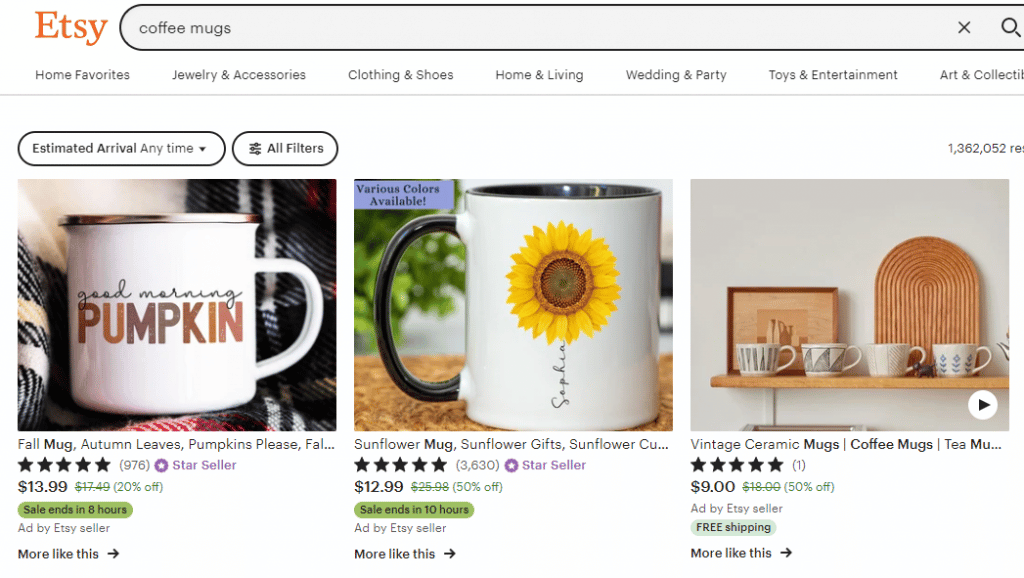 Using Etsy in conjunction with Sale Samurai, we explored the handmade coffee and tea mugs niche to determine the listings number for these items. Here's what we found.
In total, there are over half a million items under 600,837 listings on Etsy featuring some of the main words including "tea cups" and "coffee mugs". This indicates a high supply and a high subsequent demand for these products.
In fact, delving even deeper into our research, we found that the following keywords have quite a high listings count:
"Tea cups": 273,507 listings; search volume: 231
"Tea cups set": 118,178 listings; search volume: 168
"Tea cups and saucers": 60,966 listings; search volume: 212
"Tea cups and saucers set": 55,184 listings; search volume: N/A
"Handmade coffee mug": 39,052 listings; search volume: 28
"Stoneware mug": 16,788 listings; search volume: 377
"Stoneware mug handmade": 8,199 listings; search volume: 120
"Handmade coffee mug set": 7,927 listings; search volume: 21
"Tea cups with lids": 4,852 listings; search volume: 117
"Stoneware mug set": 4,598 listings; search volume: 21
"Stoneware mug black": 2,517 listings; search volume: N/A
"Tea cups with infuser": 2,221 listings; search volume: 28
"Stoneware mug no handle": 1,977 listings; search volume: N/A
We also explored some of the related keywords associated with search queries that had over 10,000 listings in an attempt to narrow down the search even further.
The results reveal the following search volume: "Aynsley tea cup" (3,555), "tea cup and saucer" (205), "Nippon tea cup" (184), "bat tea cup" (145), and "handthrown stoneware mug" (121).


As for the tags that sellers in this niche have used, we established that some of the most popular ones with an associated monthly search volume above 500 are:
"mug" (26,141)
"handmade mug" (3,379)
"ceramic mug" (3,259)
"coffee mug" (3,142)
"coffee cup" (860)
"tea set" (581)
"mug set" (580)
Finally, we also took a look at the prices asked for these products. A search for "tea cups set" yields an impressive high price of $1,062.50. However, on average, the lowest average price for the keywords mentioned above is $33.03 while the highest average price is $86.66.


Meanwhile, some of the lowest prices for coffee and tea cups and mugs are in the region of $2.20.
What are some of the best-selling merchants doing right?
From our research, we identified two best-selling merchants out of the plethora of coffee and tea mugs suppliers on Etsy.
First up, we have DelicaTeas, which is considered a star seller for its "DelicaTeas Ceramic Tea Mug with Infuser and Lid, Tea Cup with Steeper 350ml". This seller has not used up the full 140 characters of space for the title as allowed by Etsy, but the title is certainly descriptive. It captures searches for the "tea mug", "infuser", "lid" and "tea cup" queries extremely well. And the description is highly detailed, too. They've used up all 10 spaces allocated for images and their ratings are high with five out of five stars.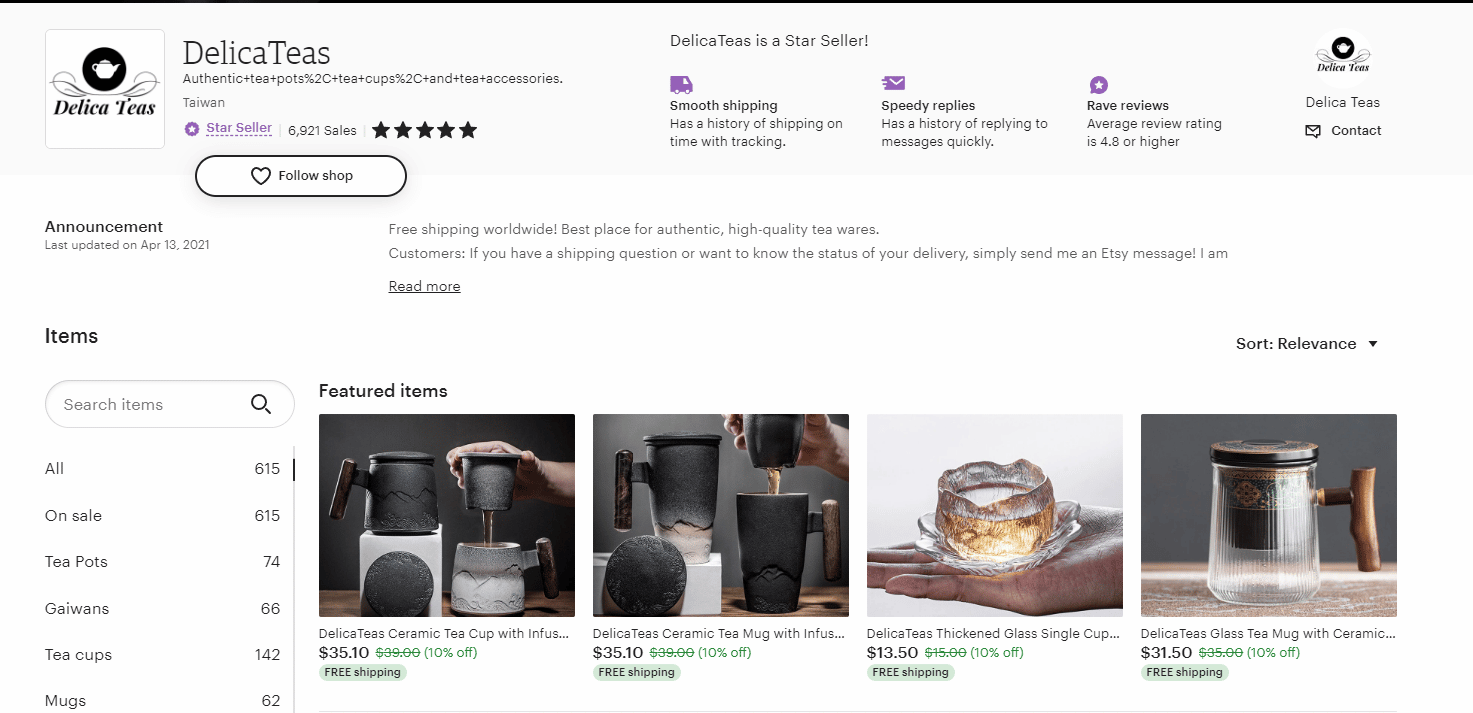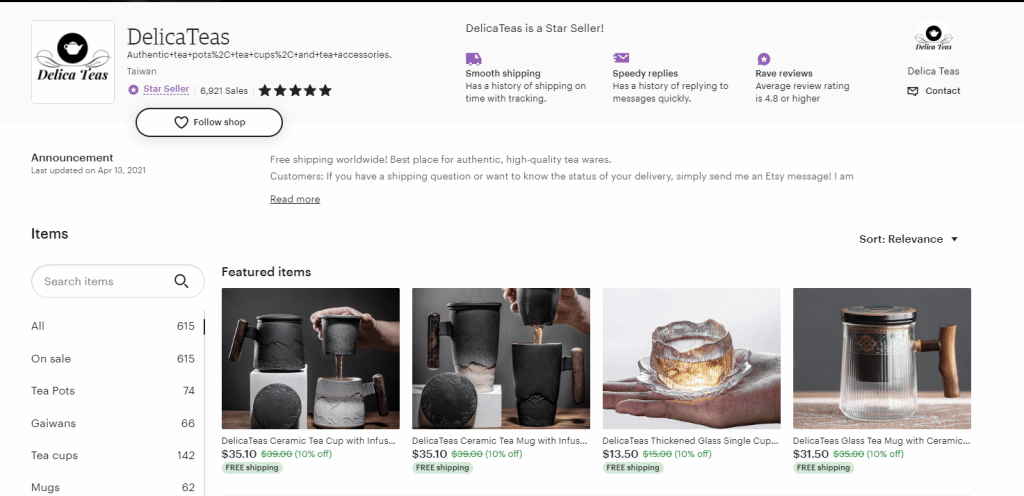 Tangpin is our second star seller of choice with its "TANGPIN TEA-Ceramic Teacup Chinese Kung Fu Cup". This seller's title is not optimized ideally because it only features the words "tea" and "teacup" in it. However, their sales have gone through the roof with an even balance between the below-average price of $10.66, the beautiful 10 images used, as well as their detailed description. The quality of this product is evident throughout the entire listing and is a possible reason why this seller has also received five out of five star ratings.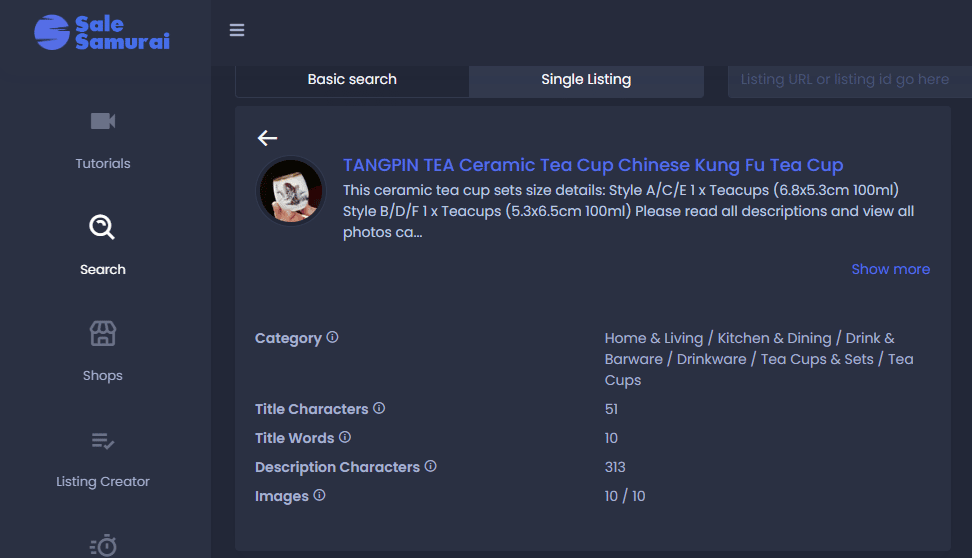 How profitable is this niche?
For those sellers interested in entering the handmade coffee and tea mug niche, it's crucial to see what sort of turnover you can expect to reach with your unique product offering. Hence, we explored the turnover of the two best sellers identified above by multiplying the number of sales by the selling price.
At $42.12, DelicaTeas has made 6,622 sales, resulting in a turnover of $278,918.64. Meanwhile, Tangpin has made a whopping 50,836 sales of their Chinese ceramic tea cup, which is sold at a price of $10.66. This results in a turnover of an impressive $541.911.76.
Other best sellers in this category of products are not doing too badly either with "firaworkshopUA" earning $158,492.16, "TISATI" earning $164.794.24, "Embersceramic" reaching a sales turnover of $191,791.80, and "AtelierCorvus" making $279,547.45.
Our recommendations for sellers seeking to enter this niche
If you want to enter this highly lucrative niche, it's advisable that you optimize your listings. This can be achieved by following these best practices:
Keywords: using the right keywords in combination with each other is perhaps the best way to optimize both your title and your listing's description. You should also remember to use up as much of the space allocated by Etsy for this purpose. Titles, for example, have a character limit of 140 symbols. Therefore, mixing up words like "tea cup" and "coffee mug" together with "stoneware" in a natural sounding sequence is likely to earn you more sales. Opt for high search volume and low-competition keywords to bat the competition out of the park.
Pricing: pricing is a very sensitive matter and the price you select for your product will be highly dependent on the time, effort, and materials used to create it. However, it's always advisable to follow the "average price strategy". To get the average price for products targeting certain keywords, use Sale Samurai to help you. This way, you will neither end up underpricing your labor, nor charge too much in a competitive and saturated marketplace.
Images: the right images can do wonders for your sales. You should utilize the 10 spaces for images that Etsy allocates to each seller optimally. In addition, make sure that your images stand out and that they're used in a lifestyle setting as opposed to a static environment.
Ratings and reviews: not necessarily something you can control, ratings and reviews can, however, act as social proof that your products are worth purchasing. These reviews generate a self-perpetuating cycle in that the more you sell, the more reviews you get. To get strong and positive reviews, ensure that your customer service, the unboxing experience, and after-sales offering is absolutely the best. This will enable you to compete on much stronger footing.
In conclusion
Although it may appear that the market for handmade coffee and tea mugs and cups is saturated, there's room for profitability if you enter the niche in an intelligent and strategic manner.
Let Sale Samurai help you with the research process and listing optimization so that you can gain more visibility and earn those sweet sales. At only $9.99 per month, the varied functionalities and modules of the software are perfectly positioned to get you in front of an Etsy audience and succeed in your side gig.
Overall, it's a tiny investment, which will give you an upper hand advantage compared to your competitors.