Have you heard about this new and growing niche on Etsy that is allowing people worldwide to make hundreds, thousands, and sometimes tens of thousands of dollars a month in passive income? It's called Digital Downloads and sellers are just now starting to take advantage of this incredible opportunity. You can sell virtually anything that's printable as a digital download but in this article, we will go over:
How to Sell Thank You Cards As Digital Downloads on Etsy. To sell thank you cards on Etsy as digital downloads you have to create a downloadable file type of your design and list it on Etsy as a digital product type.
In this article, we will go over everything you need to know from how you can actually create digital downloads, to listing thank you cards as digital downloads on Etsy, and how to maximize your earnings on Etsy. Read below to find out more!
Creating Thank You Cards As Digital Downloads
Now you may be wondering, what exactly are digital downloads? Or you may already have somewhat of an idea and just need to understand how to actually make and sell them.
Worry not because we have all the answers!
Digital downloads are essentially digital versions of products that you would normally print.
Let's say that someone makes and sells book covers, planners, or birthday invitations. Traditionally, this seller would buy the raw materials, make the products by hand, list them on Etsy, fulfill and process orders, and ship products out to customers.


Now instead of going through all that hassle, investing and holding inventory, putting in the hours to actually fulfill orders, and then dealing with shipping rates and times, all you do is create the product once as a downloadable file and then list it on Etsy.
This digital design can now be downloaded thousands of times by people all over the world who can then take the files to a professional printer and have them printed.
You don't hold any inventory, you have virtually no costs, and you reap all the rewards! This is an evergreen product meaning once you make the design and list it on Etsy you can sell it for decades without making any changes to the product.
Sure you can always update your designs and polish your listing with new keywords, which we will go over in a bit, but essentially this is just about as easy as passive income gets!
How To Create Thank You Cards As Digital Downloads?
Thank you cards are among the best-selling items on Etsy. And it's not just thank you cards but all sorts of greeting cards including birthday cards, invitations, get well soon cards, Christmas cards, Mother's Day cards, etc.
In fact, the NPD Group estimates that global greeting card sales top $6 billion every year, and with the rise in digital downloads you can make a splash in this huge niche.
Creating thank you cards as digital downloads is actually much less time-consuming in the long run than making them by hand. We recommend doing some research and choosing a design niche that you like or that you think will do well.
Some concepts include the 70's, classic, business, minimalist, etc.
Once you have an idea of your design just head on over to Canva.com and start creating! Canva is a free-to-use drag-and-drop software that is pretty self-explanatory and super easy to use!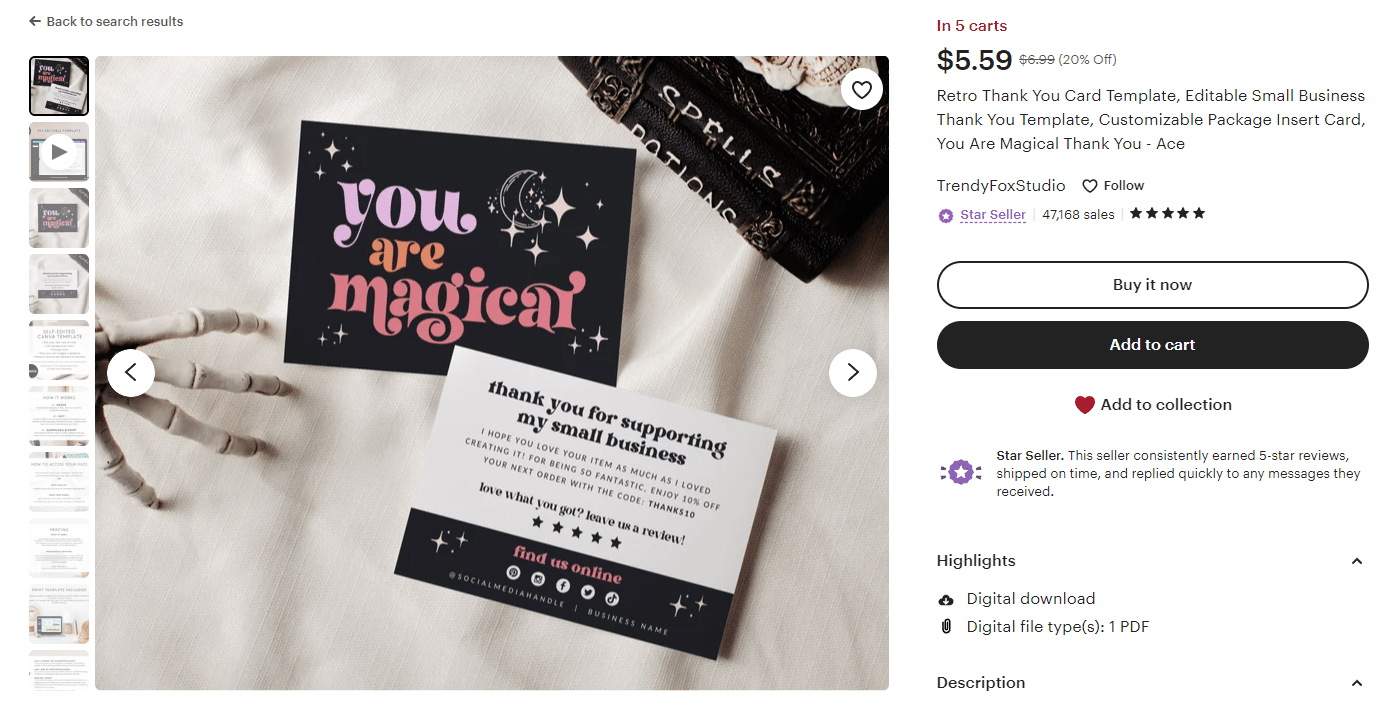 If you are more of a pro then you can use things like Photoshop or Illustrator and actually draw your designs on your iPad or tablet and upload them onto a file.
Then you just have to download your finished design and upload it on Etsy like you would any other product. Just make sure to choose the "digital" product type when uploading.
You can even offer customers a customizable thank you card option so they can send you their unique message that they want written in the design or font type you created for the listing.
Pro Tip: One way to really stand out design-wise is to offer products with unique lamination, embroidery, or gold and silver foil options. You can include these as printing guides at the bottom of your design and most high-level print shops should be able to do this.
Keep in mind that you should also include a design file without these highly-specific design types just in case your customers are going to print at FedEx or something like that.
Maximizing Your Digital Thank You Cards Sales on Etsy
If you're looking to make some serious money with digital downloads on Etsy then pay attention!
First of all, know that your goals are not too big.
No seriously.
There are hundreds of sellers on Etsy making hundreds of thousands of dollars a year selling digital downloads including things like thank you cards and greeting cards. So set your goals high!
Secondly, you want to niche down and define your audience and not just based on the type of designs you offer on your thank you cards but also consider who is buying from you.
Businesses tend to be big consumers of thank-you cards especially around the holidays.
Third, and most importantly, you have to do your research, list properly, and rinse and repeat.
Etsy SEO: Ultimate Guide To Helping Customers Find Your Shop
It's not going to matter how beautiful your designs are if your customers don't care or know about your listing.
You have to do proper research and find out what your target audience is searching for, what they are looking for, and what types of designs they are buying.
You then have to cross-reference this consumer behavior with how your competitors are listing products, what keywords they are using, and what areas they are falling short in.
Now you could do that for weeks and by the time you have your answer the market on Etsy may completely change or you could just use our incredibly intelligent software that does that all for you!
Seriously, Sale Samurai will show you what your customers are searching and the keywords your competitors are not using so you can jump ahead of the competition in no time.
Get in touch with us today to find out more and start your digital download thank you card journey!