As an Etsy seller, one of the essential components of a successful strategy is data. Without accurate and dependable insights into the market and competition, it's nearly impossible to make informed decisions and skyrocket your performance.
Sale Samurai offers precision in every step you make as a seller. But perhaps one of the most valuable abilities of the platform is to deliver information about your competitors.
So if you're interested in finding out how to uncover the secrets of your peers, keep reading.
What is the Competition Tracker feature in Sale Samurai?
The Competition Tracker feature in Sale Samurai enables sellers to access accurate and detailed data about other shops on Etsy.
It offers a quick and easy snapshot of the properties of the competitor and can be a helpful way to make a comparison between yourself and others. In addition, Competition Tracker enables you to track the competition for keywords that you want to rank for or consider utilizing in the future.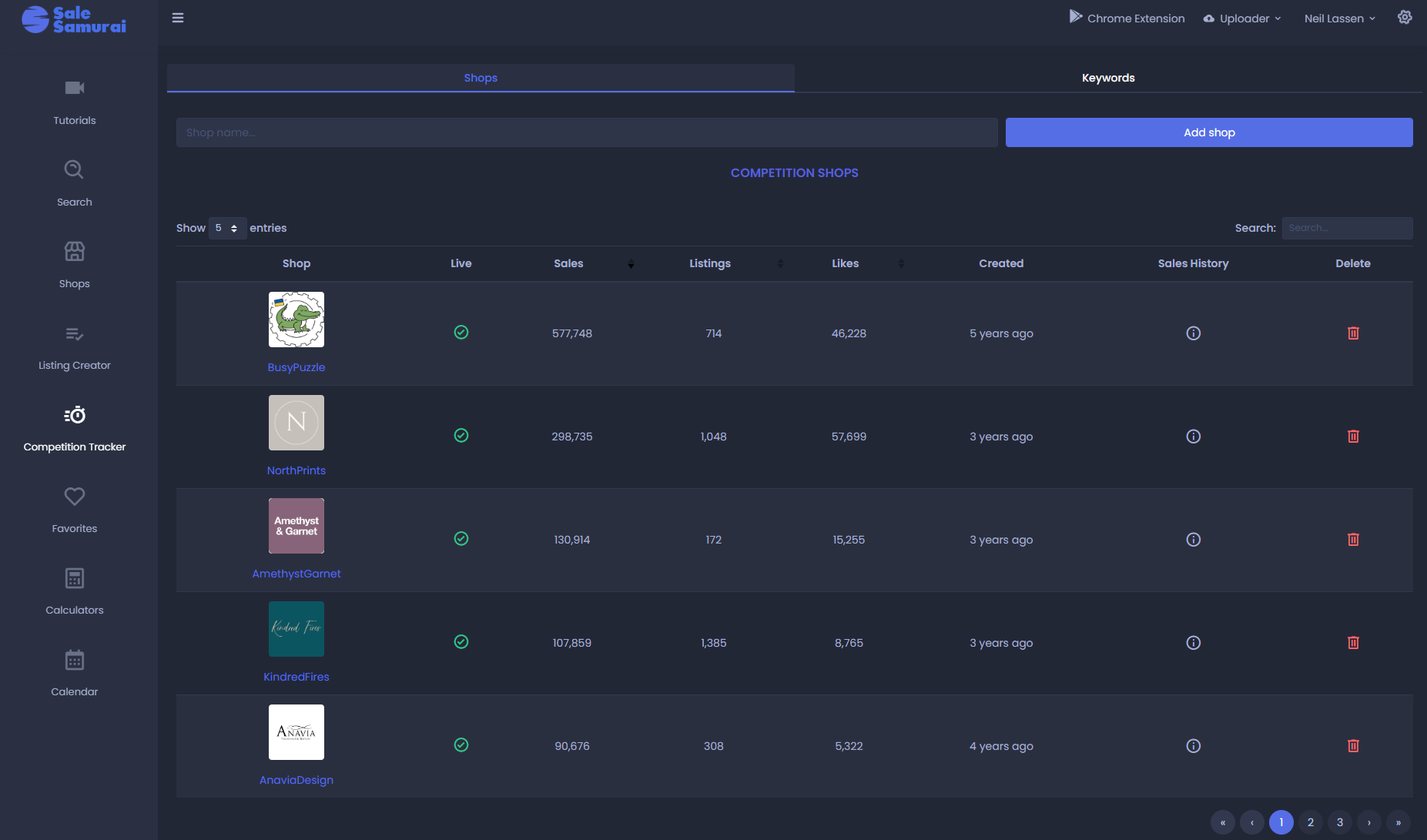 To use this feature, you can take the following steps:
Log into your Sale Samurai account
Click on the "Competition Tracker" module in your main menu
Choose from the Shops or Keywords tabs to start using the tool.
But what can both tabs offer?
Accessing data on competitor shops
The first option you'll have is to add a chosen Etsy shop to the software. For example, let's say that you're in the wooden furniture niche and you've noticed an extremely successful competitor that you wish to mirror.
Copy the name of the shop and paste it into the Shops section of the Competition Tracker. Click on "Add Shop" and give the platform a few seconds. Once the shop is uploaded, you'll be able to see valuable data under the "Shops" tab, including:
Live – shops that are live on Etsy will have a green tick in this section. This area helps you determine whether the shop is still active or has stopped offering listings.
Sales – the number of sales that the shop has achieved overall will be displayed in this section.
Listings – the number of listings that the seller has created for the shop. You'll quickly be able to see whether the competitor diversifies their portfolio or relies on a few products to generate profits.
Likes – the number of likes the shop has received from Etsy users. This metric is great for determining how popular the seller is among consumers.
Created – you'll be able to see how long ago the shop has been officially created.
Sales History – clicking on the information icon positioned in this area will open a graph that visualizes historic information on sales, likes, and active listings. Keep in mind that to access this data you'll need to give the tool additional time to extract the insights.


The Shops tab in the Competition Tracker tool is fundamentally important when first entering Etsy as a seller, but is also key if you're looking to tap into new niches, launch new products, or improve your performance.
Tracking the competition of keywords
At the same time, the feature empowers sellers with advanced information about specific keywords. Use this module if you wish to track keywords that you're trying to rank for or intend to target in the future.
Simply type in the keyword that you're interested in and click on the "Add" button. You can repeat this process for as many keywords as you wish. You'll notice that they'll be stored in a list on the left-hand side of the screen. On the right-hand side, you'll see detailed insights on each keyword.
Notice that the software will need about a day to analyze the findings and organize them into the tool. If the details section contains no data, don't worry. Simply come back to the tool the next day and you'll be able to access everything you need.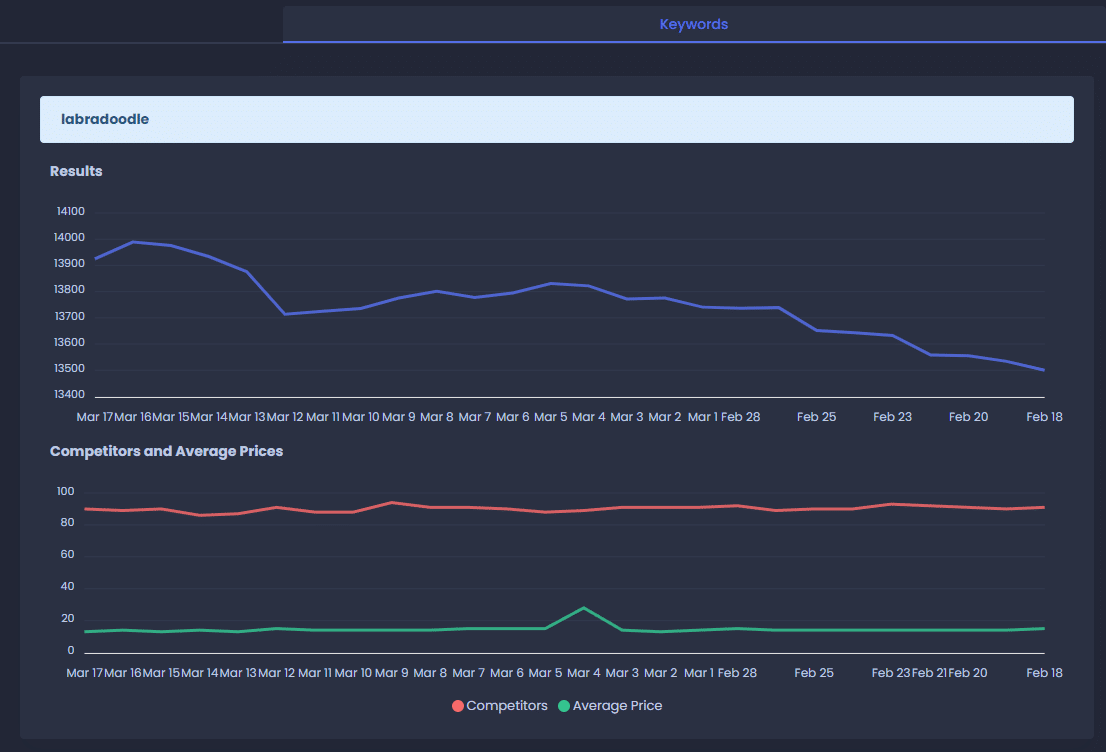 Once the platform is ready with the data processing, you'll see two main graphs for each keyword. One reveals the search volume for the keyword at a specific point in time. The other one uncovers how many competitors rank for the keyword along with the average price for listings that rank for it.
How to incorporate this module into your Etsy strategy
So, let's say that you're ready to use the Competition Tracker tool. How often should you visit it? How can your findings be useful for your overall strategy?
Although there's no golden rule for how often you should check your Competition Tracker, we advise taking a glance at least once a week. Start early and utilize this opportunity as soon as you subscribe to Sale Samurai. Add some of the shops that you're interested in at the moment and create a list of attractive keywords you're considering optimizing your listings for.
Regular check-ups could help you spot certain trends and discover money-making possibilities.
For example, let's say that the sales of several shops in a specific niche start dropping. This could indicate that seasonal or other factors are influencing the niche negatively. If you're active in this space, it could be more rewarding to shift your efforts elsewhere in the upcoming months.
How can you use all of this information to your advantage? There are plenty of opportunities:
Keyword discovery – the tool can help you identify attractive keywords that are highly searched for and have low competition. You can use these keywords to optimize your listings, rank higher, and attract more traffic and sales.
Listing creation – researching some of the shops that land the highest sales numbers can give you ideas for future product creation and niche tapping. This can result in a more diversified portfolio and new audiences.
Listing optimization – the feature can quickly show you the shops that are worth investigating for listing optimization best practices. The discoveries can transform your performance and help you position yourself better on Etsy.
A real-life scenario
Let's look at a real-life example. We used Competition Tracker to add a shop that specializes in handmade jewelry. Instantly, we saw that the seller enjoys a total of 2,091,564 sales and 338,521 likes. But how are these impressive results achieved?
We noticed that the shop was created eight years ago and contains 1,276 listings. This is a great starting point if we were to enter this niche as it reveals that a large and diverse product portfolio can be rewarding. We also spotted that the sales dropped dramatically just before St. Valentine's Day, only to skyrocket on the 14th of February.
Could this mean that a lot of shoppers made last-minute gift purchases? Or perhaps the reason is different? Regardless, we now have a stepping stone to deepen our investigation.
A similar approach can be taken for the Keyword tab. For example, you could add multiple keywords from the jewelry niche, like "necklace", "handmade ring", "handmade jewelry", "jewelry gift for her", and others. The module will show you which of these keywords are most attractive for shoppers, which are the least competitive, and which have the highest average price.
These are precisely the words that you should be going after for product creation and listing optimization. Why? Because they'll not only be easiest to rank for, but will also enable you to sell your products for more money, meaning potentially higher margins and therefore earnings.
These are just some examples of how you can use Sale Samurai's Competition Tracker to your advantage. As you gain experience with the tool, you'll be confident enough to experiment and create patterns to follow in your research.
Conclusion
The Competition Tracker tool in Sale Samurai can save you hours of manual work and extensive research. It offers a compilation of critical data on your competitors and on keywords that other sellers are ranking for.
By using it strategically, you can quickly enter new niches, create bullet-proof strategies, and always make the right decision. All of this results in attractive money-making opportunities and growth on Etsy.