Your Etsy shop is doing fantastic! Sales are coming in left right and center and you're on top of everything. Sound like you? Hopefully yes, if not one of the reasons may be that your listings don't have variations. Buyers want to be able to have a number of options to choose from when shopping for your products otherwise they may be inclined to go to your competitors. To avoid that here's:
How to Add Variations to My Etsy Listings?
1. Create or edit your listing
2. Choose One or More Options from the Category dropdown
3. For the attribute you want to add a variation for, click I Offer More Than One
4. Click Add Variations and Choose Variation Types
5. Click Save when you are done
Selecting variations for your Etsy listings is a simple and easy process. Read below to find out more and why you should include variations in your Etsy shop!
What Are Listing Variations?
Listing variations are selections that you choose when you have more than one variation of an item you are selling. These can include things like color or size variations but also more detailed options like the type of fabric or whether or not the jeans you are selling have pockets.
With the variation option, Etsy gives sellers the opportunity to add a whole catalog of choices for their potential customers. On the flip side, Etsy gives buyers the opportunity to find the specific color, material, and size of the items they are looking for.
So really it's a win, win.
Your audience gets a hyper-specific product they were shopping for and you as the seller get to capitalize and generate more revenue by offering more variations.
Sure the added options may mean more work for you but at least your customers aren't going to competitors who are offering what they are looking for.
How to Add Variations to Your Etsy Listing (Step-by-Step Guide with Screenshots)
Adding variations to your Etsy listing is simple and easy. You can do it while creating listings or editing them. We went over a quick guide on how to add variations once you already have listings so now let's go over how to add variations if you're just setting up your shop.
Here is a step-by-step guide, so you can get everything done in one place and save time.
First, you want to make sure you are on the "Stock Your Shop" section of the sign-up page, which looks like this: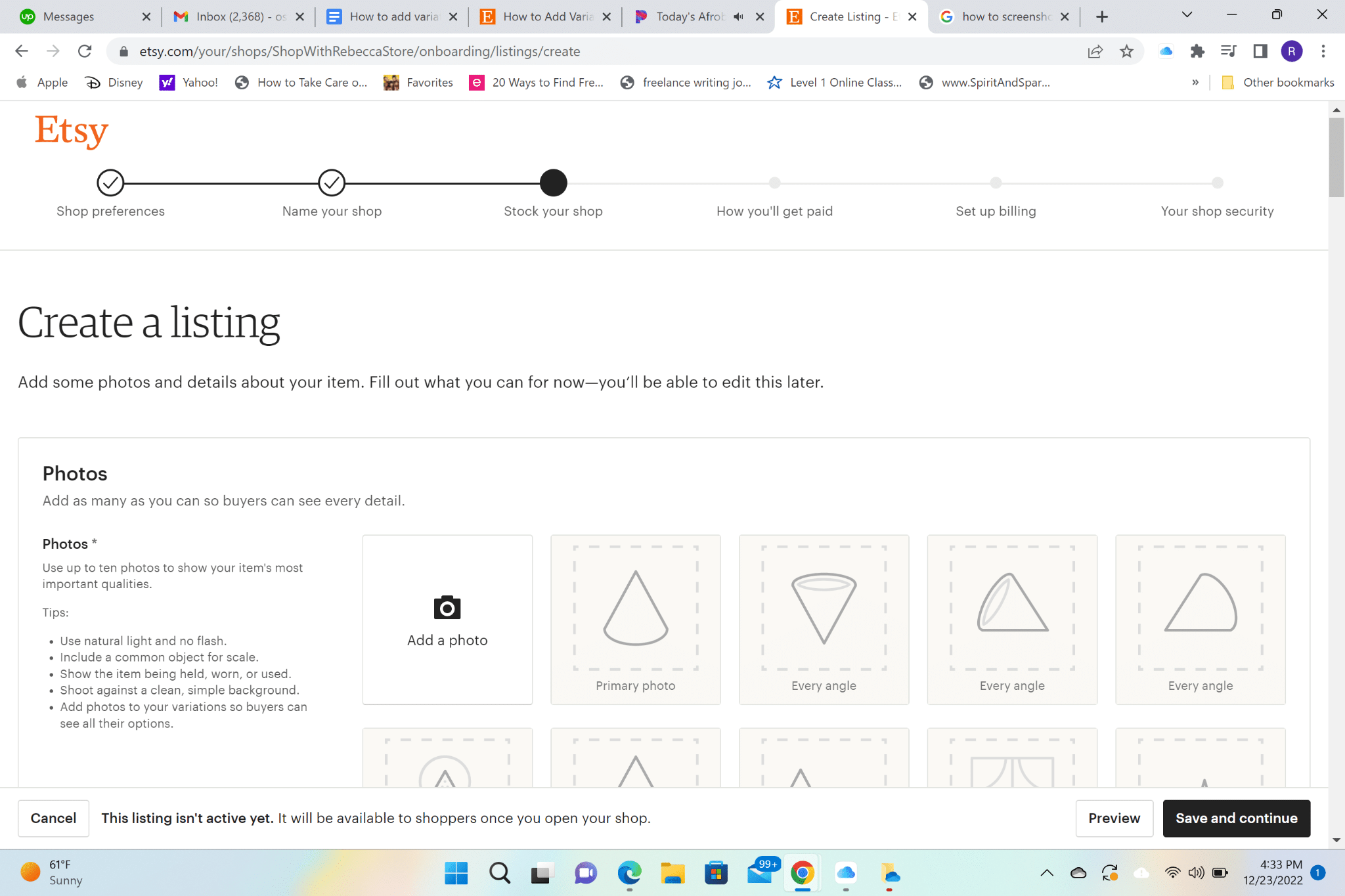 Next, you will want to scroll down until you see the "Variations" tab.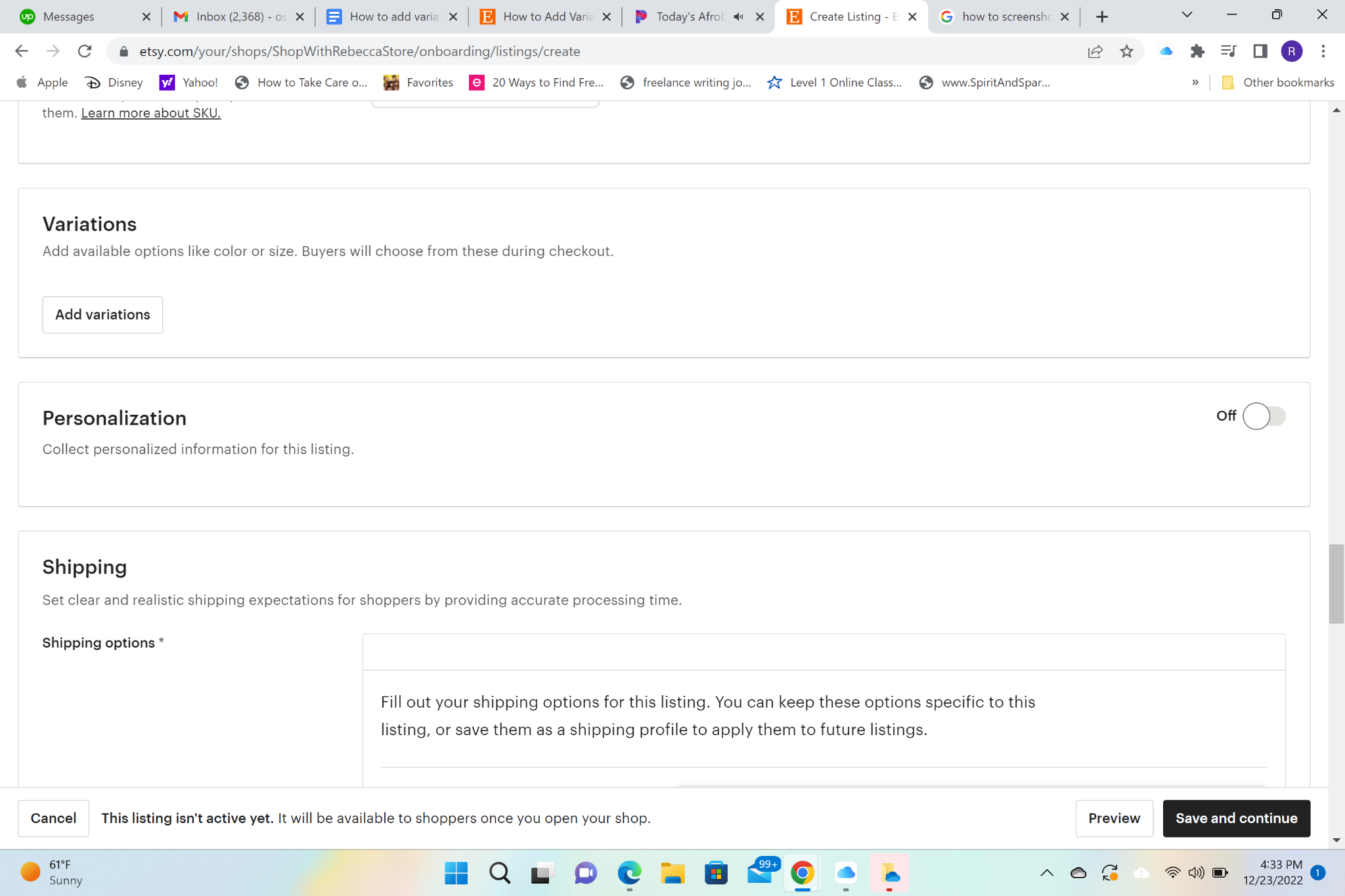 Then, click "Add Variation" and this box with a drop-down menu will appear.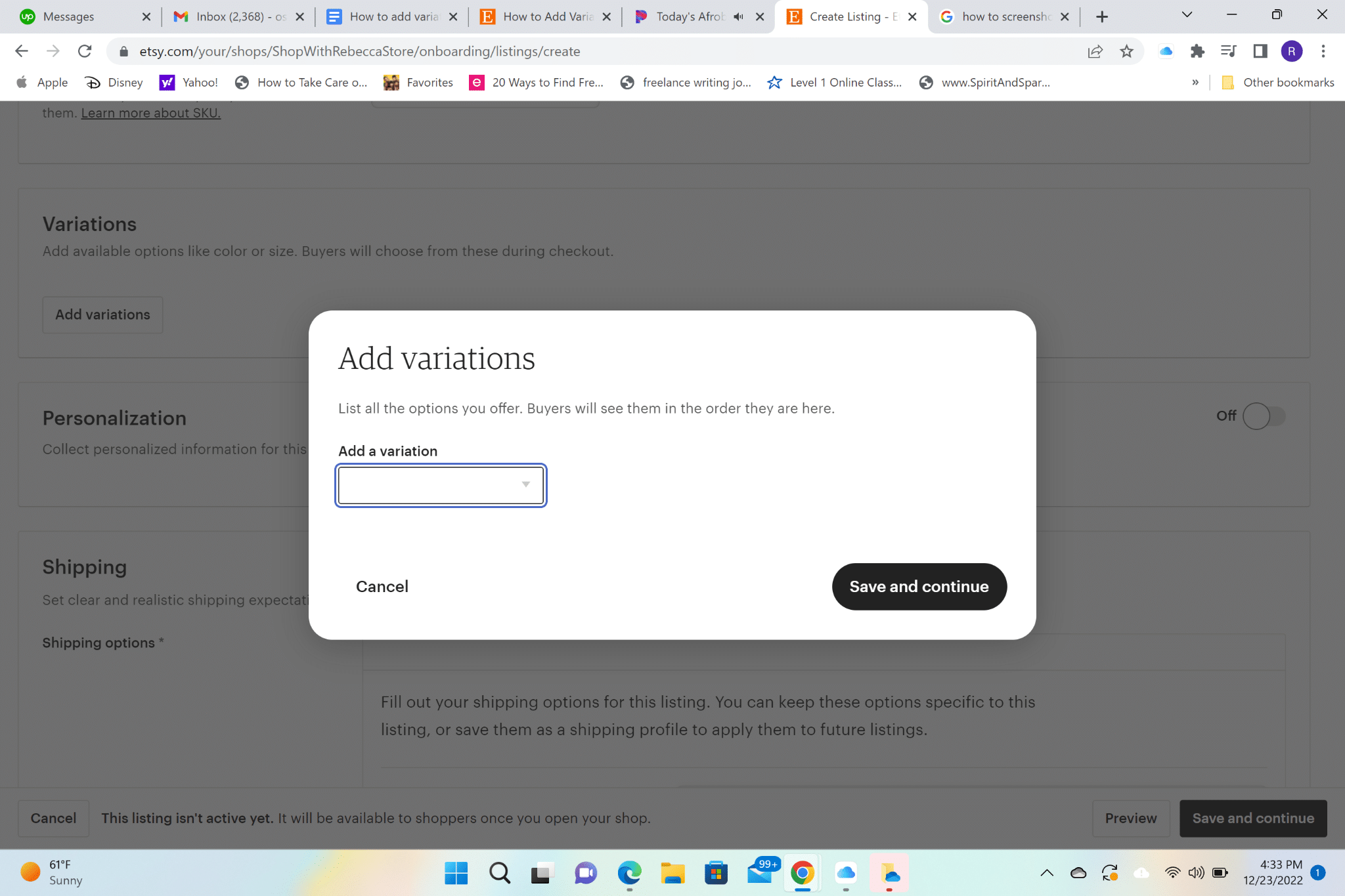 Click the arrow via the drop-down menu box, and you will see many options appear.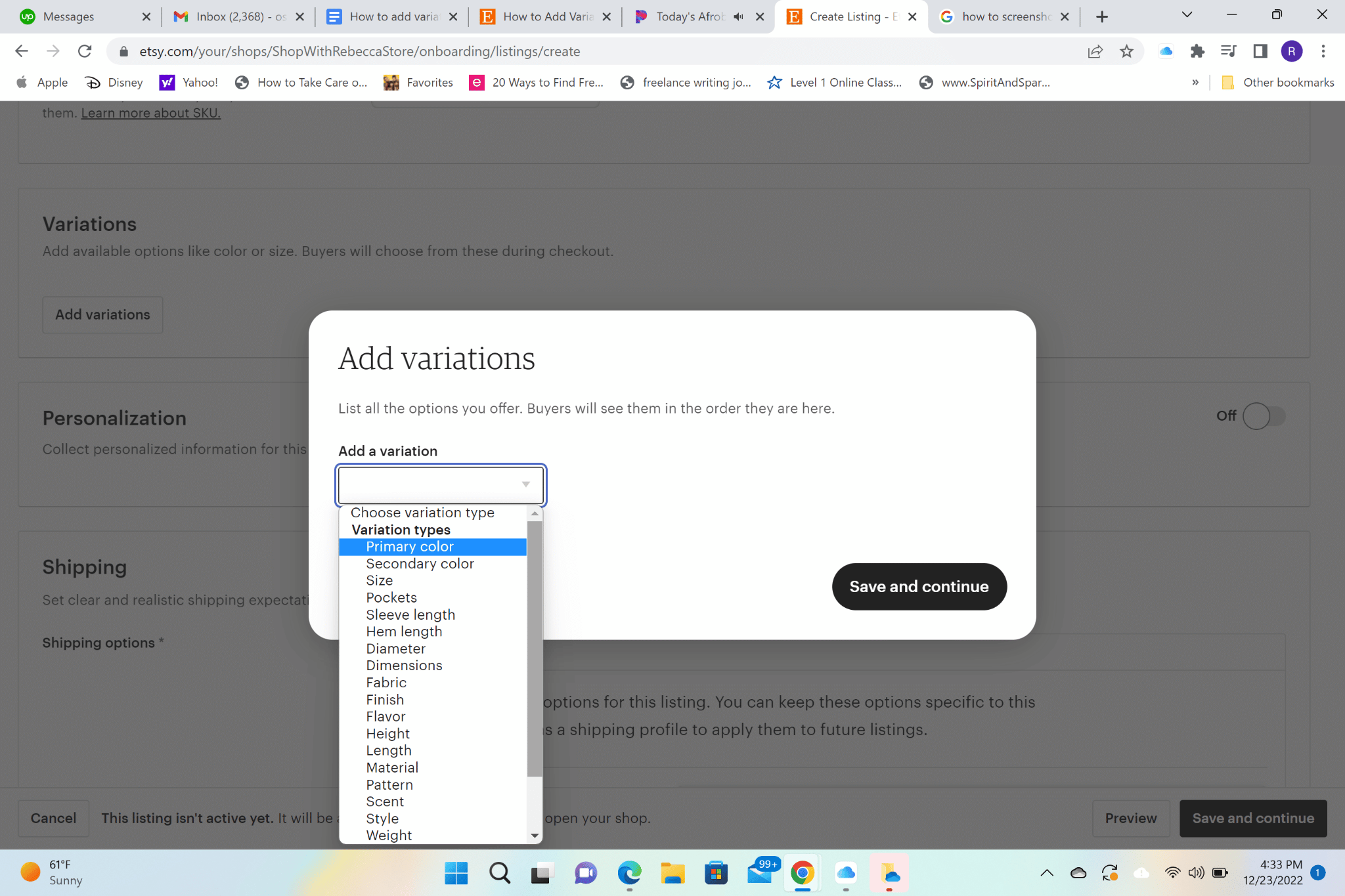 As you can see, you can choose anything from color to material, and even style and weight. For the following example, we are going to choose "Primary Color" as our variation option.
You will want to click "Primary Color" and this box will show up.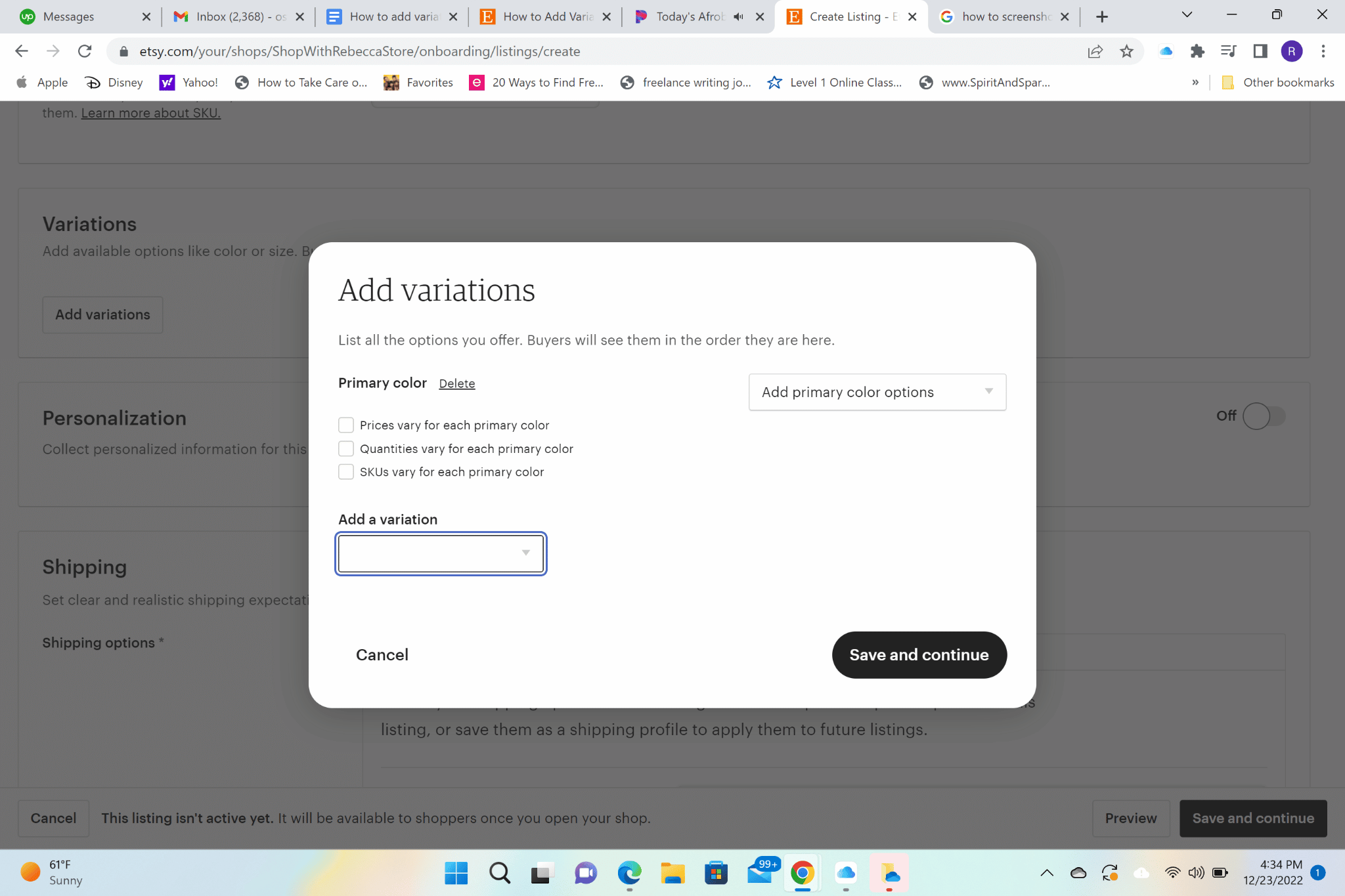 You will want to click the drop-down menu to "Add a Variation" and you can choose any of the three options: "Prices vary for each primary color", "Quantities vary for each primary color", and/or "SKUs vary for each primary color". For the following example, we are going to choose "Quantities vary for each primary color".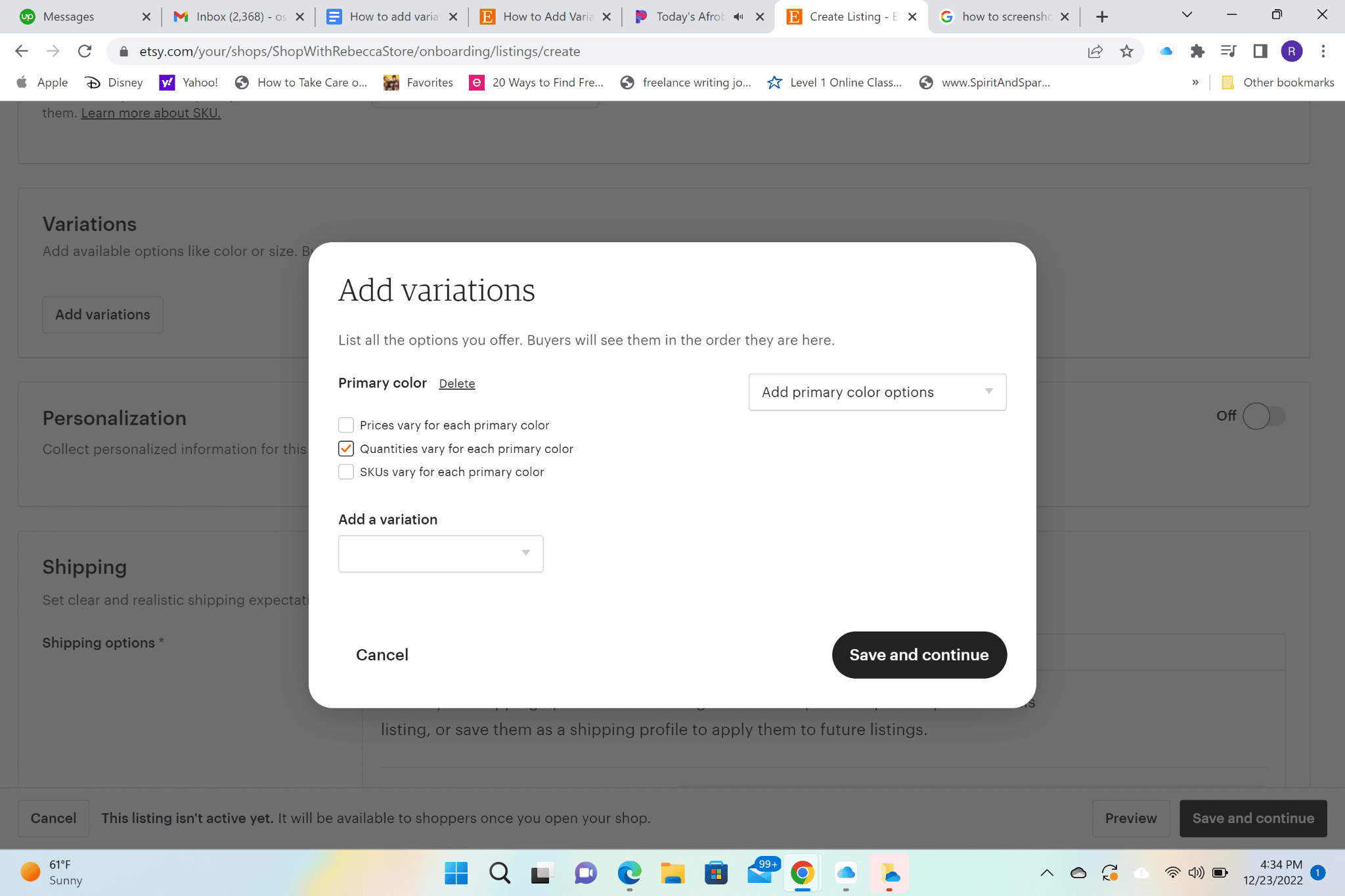 Next, add your primary colors. For this example, we are doing red, blue, and yellow.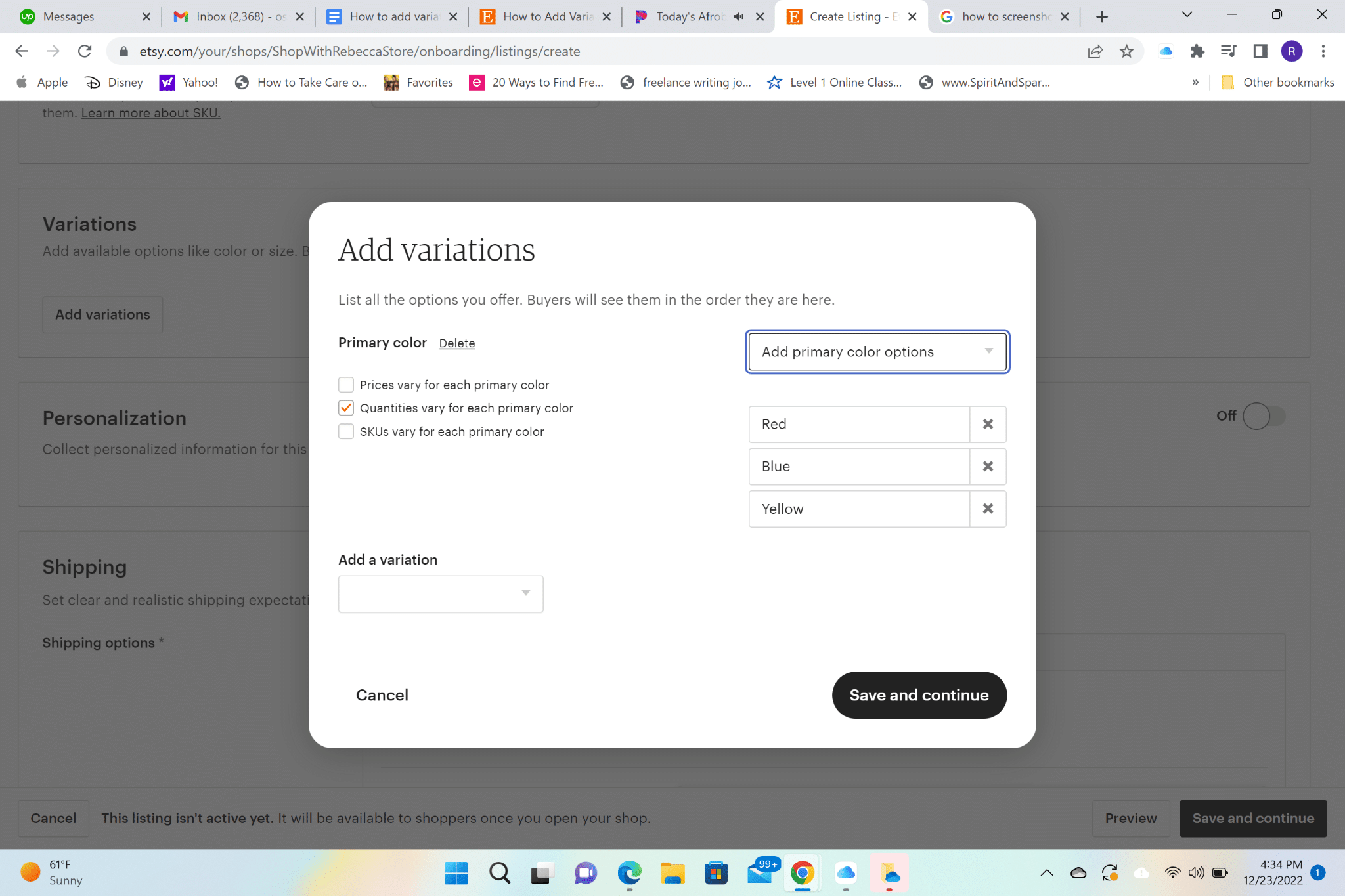 Now, you can add any other variation you would like to your product. You can see there are many options.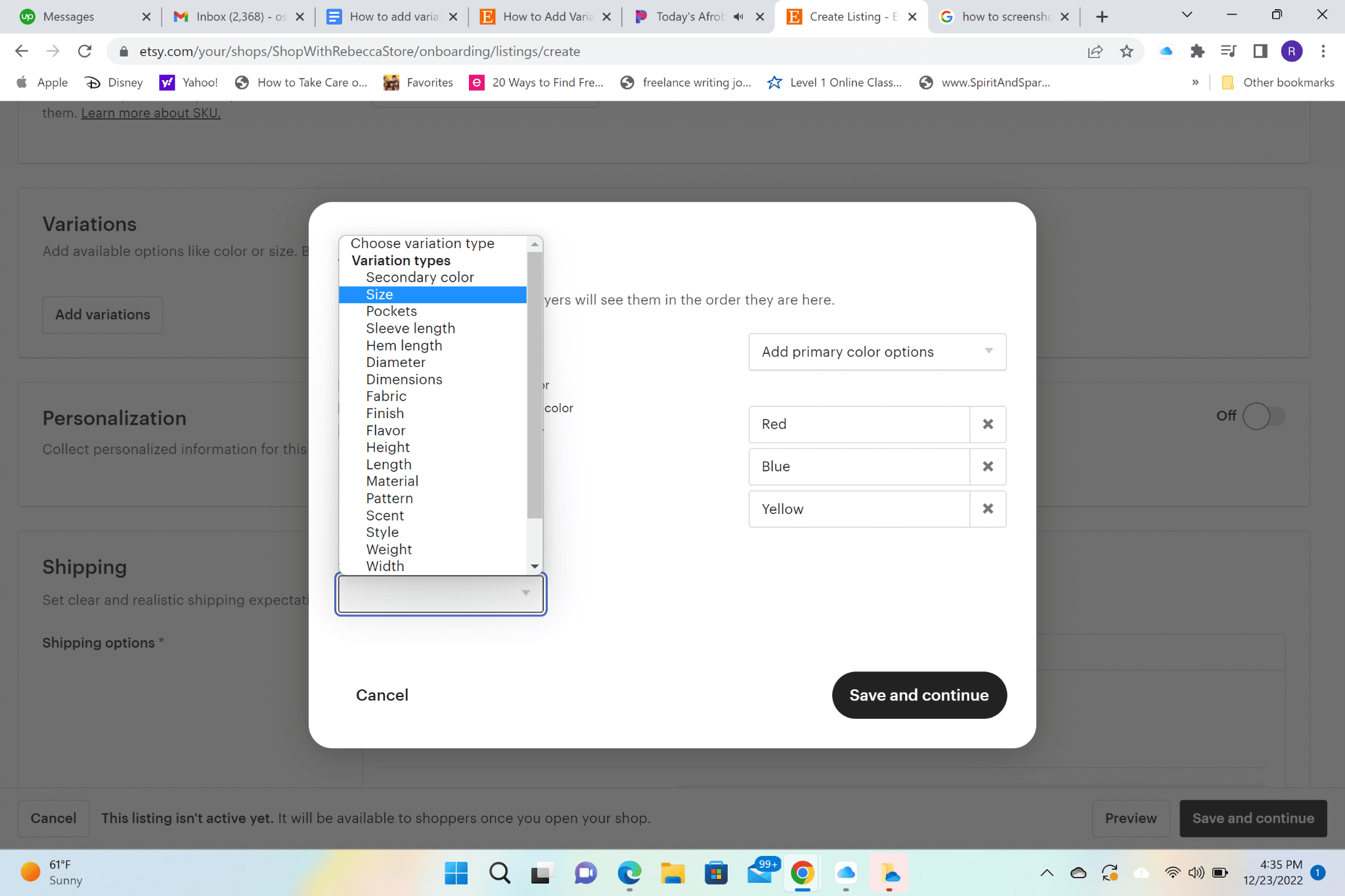 For our example, we are going to choose "Size" as our first one. Be sure to choose "Quantities vary for each size".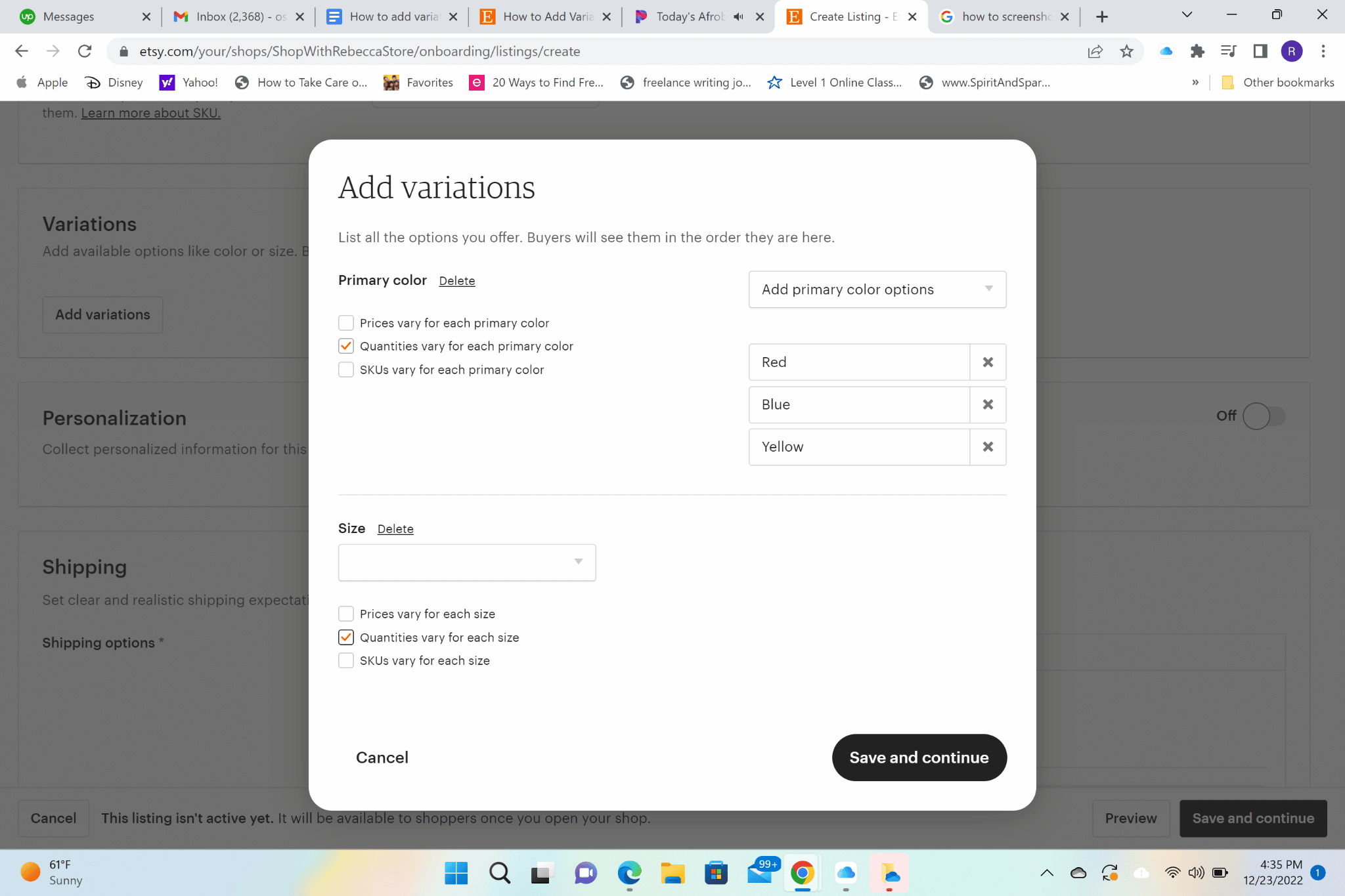 You can choose to make the sizing numerical or letter, whichever you prefer. For this example, we are doing "US women's letter".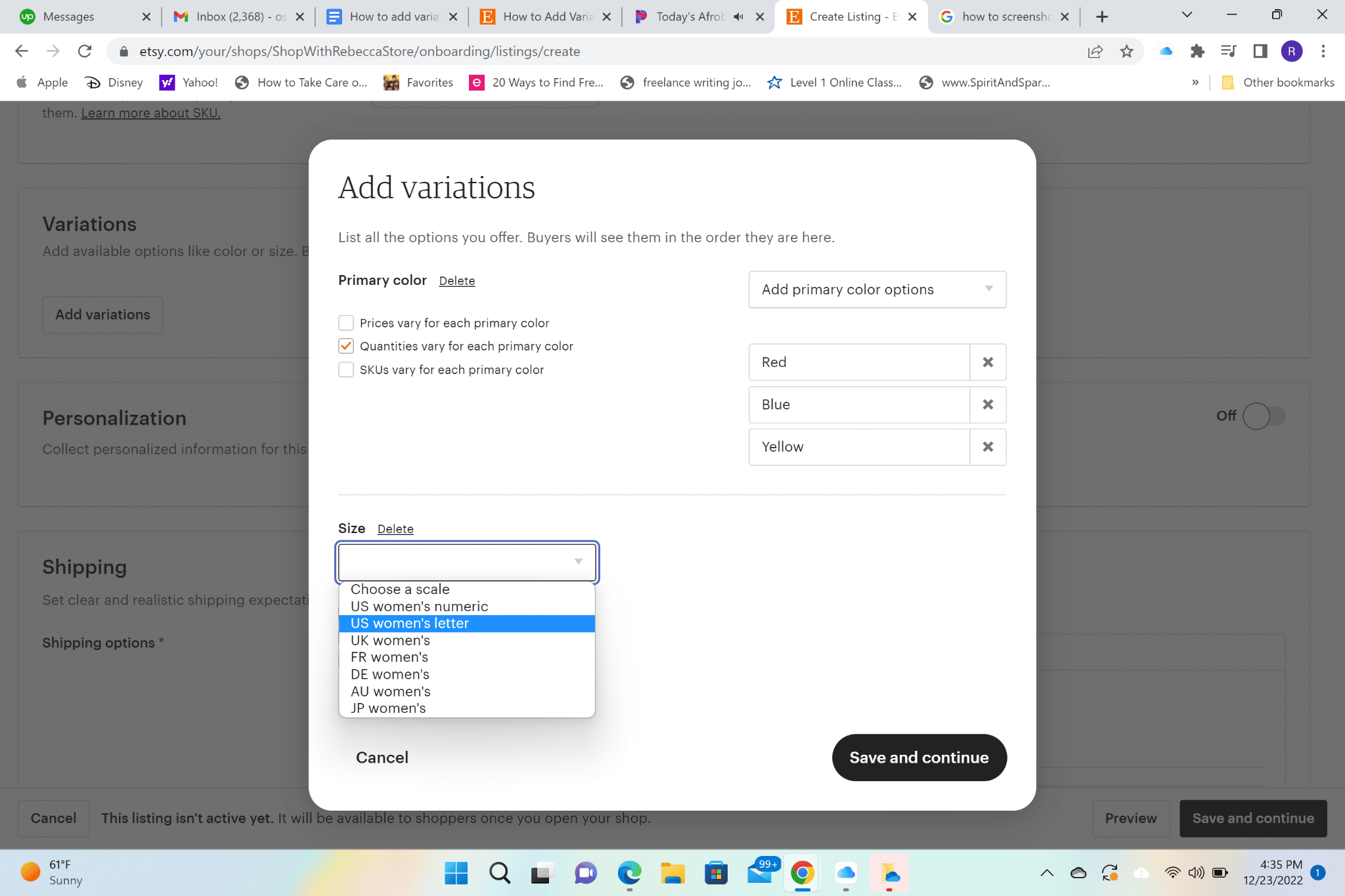 Next, you add your sizing options. We have chosen small, medium, and large, but you can do extra small to double extra large, and even plus sizes.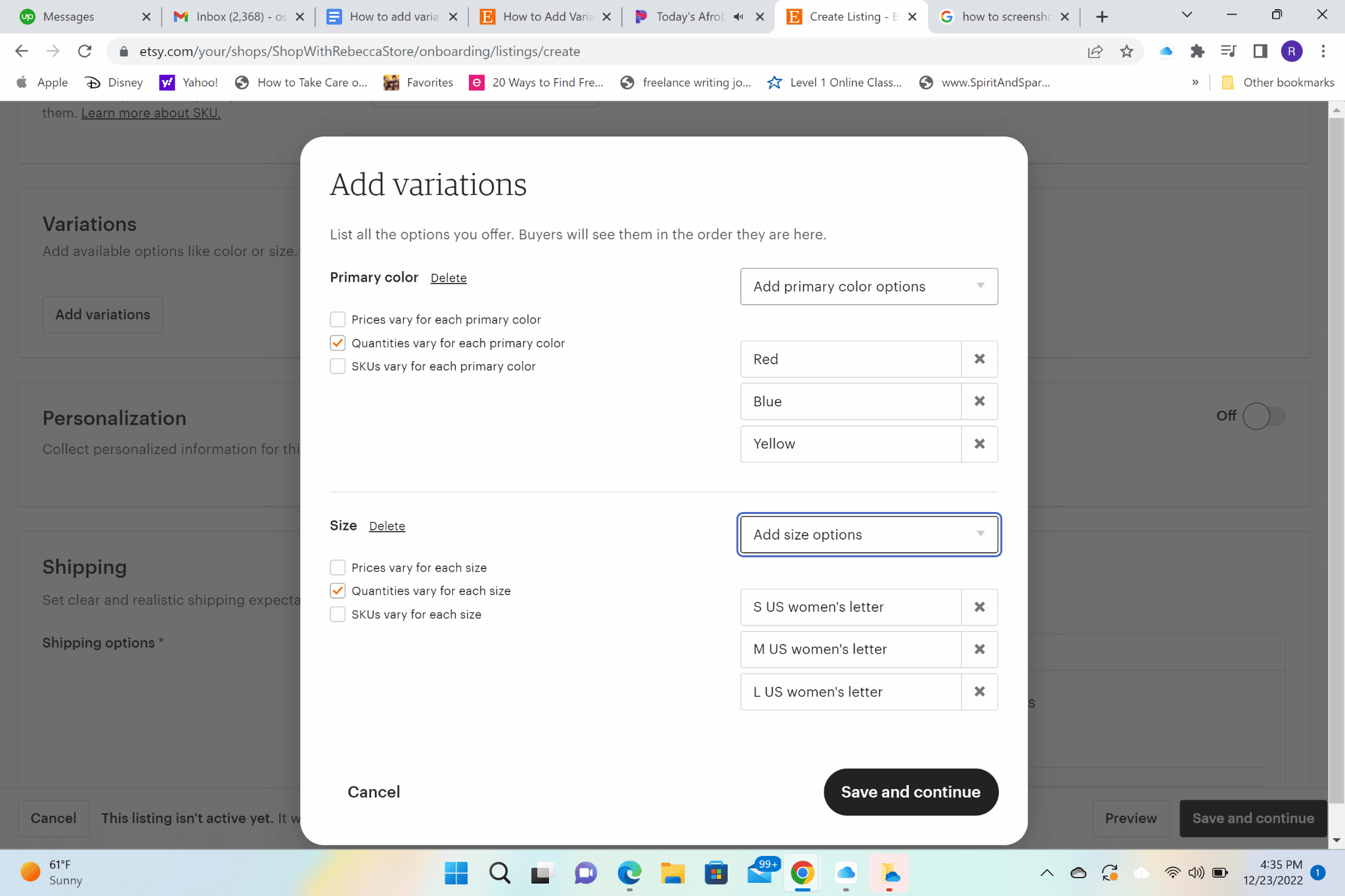 Once you hit "Save and Continue" this box will pop up.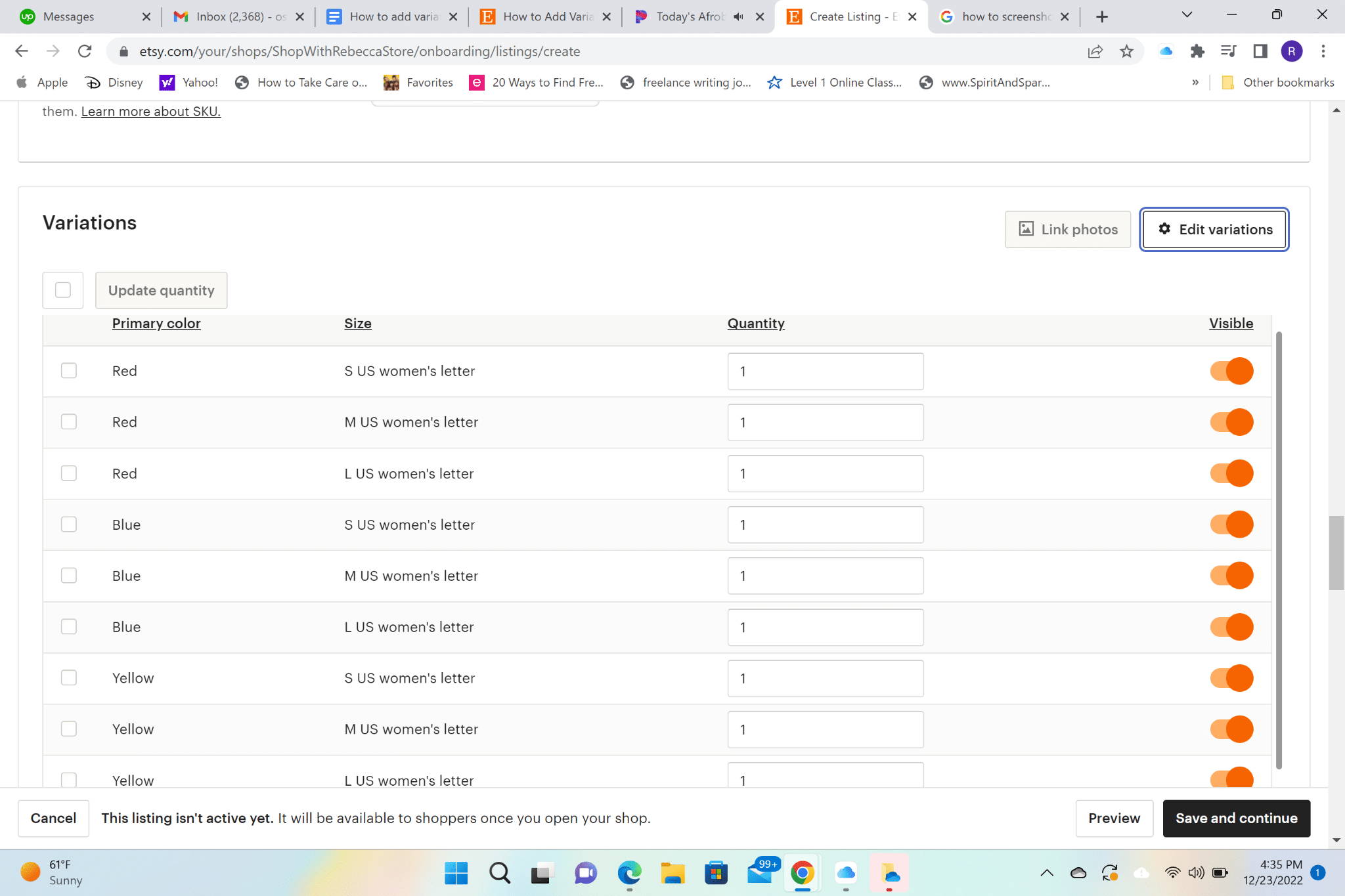 Here, you will be able to change the quantity of each product that you have in each color and size.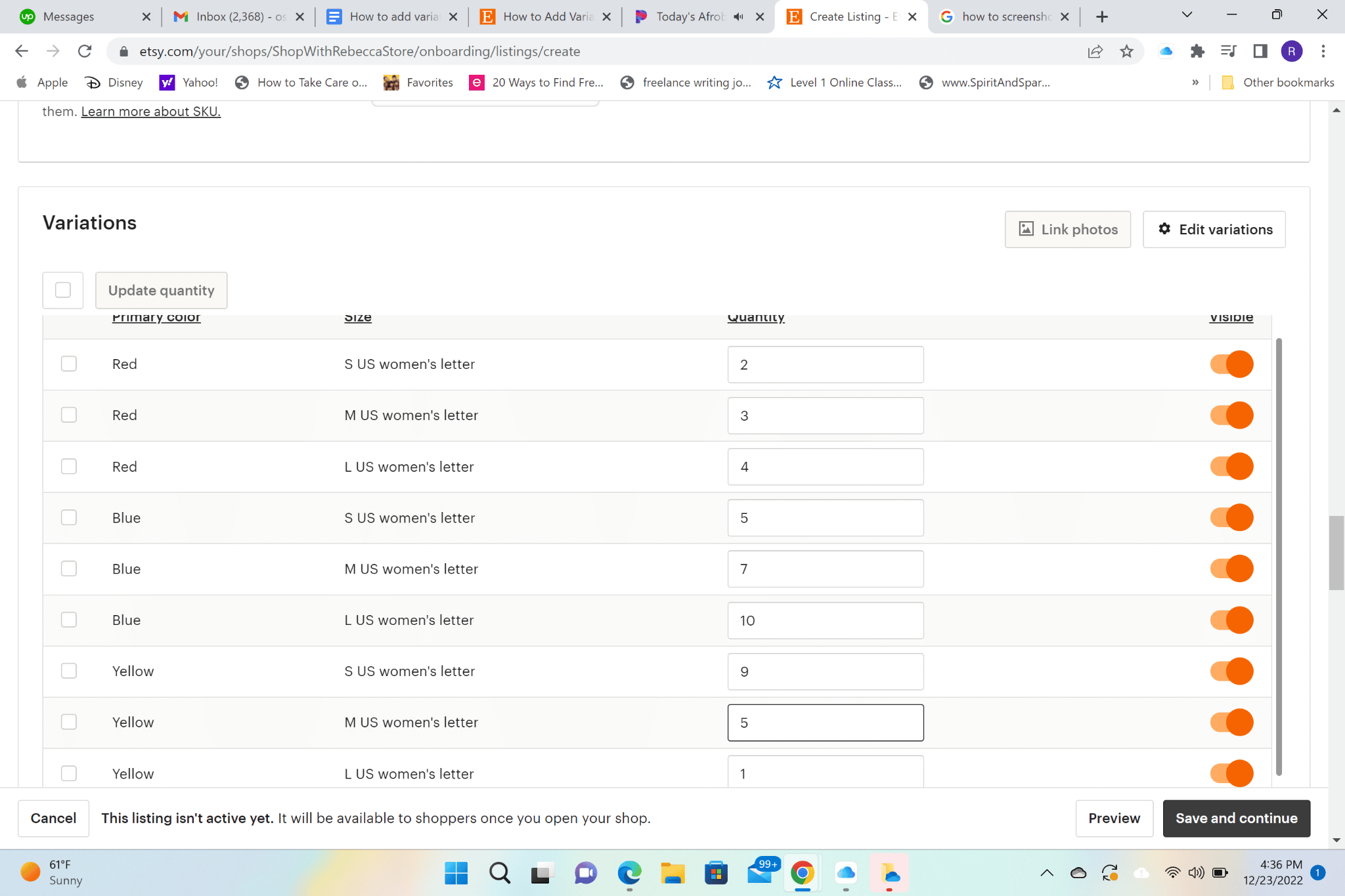 You can then add photos for your variations and pick by color or size.
Once you're done with each variation and specification just keep hitting Save and COntinue until it's published to your shop.
It's that simple!
What Variations Can You Add to Your Etsy Listings?
A better question would be what variation can't you add to your Etsy listing? The possibilities are basically endless!
You can select from these options:
Primary color
Secondary color
Size
Pockets
Sleeve length
Hem length
Diameter
Dimensions
Fabric
Finish
Flavor
Height
Length
Material
Pattern
Scent
Style
Weight
There are tons of options for every Etsy seller and for any creation you plan on selling to your happy customers.
This way you can maximize your earning potential on Etsy and make sure you retain your audience instead of having them jump to your competition because of a lack of options.
How Do You Hide Variations on Your Listings?
If for any reason you want to hide your variations there is a way to select this option, too, with Etsy. Hiding the variations on your Etsy listing is made with ease, so that way you do not have to go through endless buttons and clicks on your computer (or phone) screen.
When you want to hide your variations, you can do it in two simple steps. First, go to your Listing Manager button conveniently located in your account settings. Then, go down to the toggle to hide your variations and click on the toggle. That is it!
If you have sold out of an item, you can simply put the quantity to zero, so that way your customers know you have sold out and do not expect an item to come in the mail that you do not have anymore.
If you have been interested in selling with Etsy, now is the time. You can have a seasonal store or products or clothing for everyday use, and make money year-round.
Adding variations with Etsy has never been easier. Plus, we have provided this step-by-step guide to make things even easier. Sell your products, clothing, or any creation you can think of easier with this amazing option available.
If you're looking to massively grow your Etsy business then you need to get in touch with us today!