As we discussed in an earlier article, not every form of online merch is right for everyone. Bags and tees and empty diaries are awesome, but not everyone has an interest in selling them. Luckily, there are a vast number of items one can sell online, and today we are back to focusing on digital downloadable offerings. Namely, printable cards and invitations and such from downloadable files. One of the expanding sectors on Etsy is digitally downloadable templates for these products, and this sector shows little indication of plateauing. This is adjustable practical art in that the buyer can determine for themselves what size versions to create once they have the files.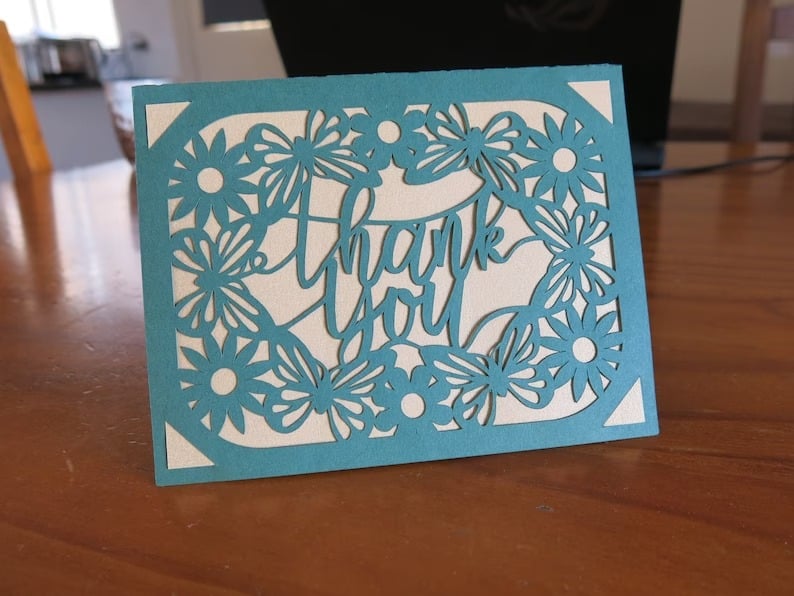 If you already sell other digital work on Etsy (or anything else on the marketplace), none of this will need a significant mindset shift. Selling downloadable greeting cards and announcements/invitations is comparable to selling other creative or digital works in that they can be as basic or sophisticated as the seller desires. And they can be wholly unique works created by you, commissioned from artists, or licensed from an owner of other copyrights.
Specific File Types People Are Looking For
But what exactly are these files that people want to buy? Downloadable artwork is a digital file or series of files that may be printed at home or through a professional printing service. It's a simple way to acquire high-quality artwork for less money than a real print. It allows the end user to get high-quality, hi-resolution images for a fraction of what physical copies would cost, and it allows the creator/provider to save on costs in the exact same way.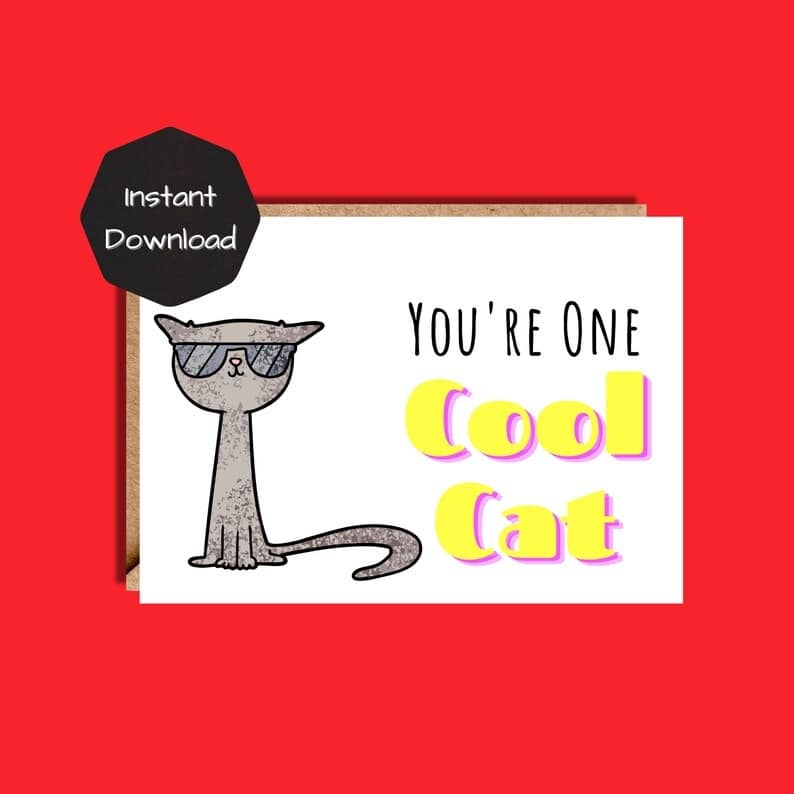 Anything can be printable art and similar designs can be used across a broad spectrum of intended uses. These types of files can come in a variety of forms, but they are most typically JPG or SVG files. For a full explanation of what the differences in these files are, please see our earlier article in this series. It's worth a look, especially if this is new to you. And if you want much more detailed information on SVG files in particular, you should give this article a close read: https://salesamurai.io/how-to-sell-svgs-on-etsy .
Instead of getting into the more technical aspects of this, we'd instead like to show you some practical examples of such things that are already for sale and doing well in the real world. After a few of these, you'll begin to see what we're talking about. And then it's up to you to decide if this makes a good match for your online store!
Printable Birthday Card from Dog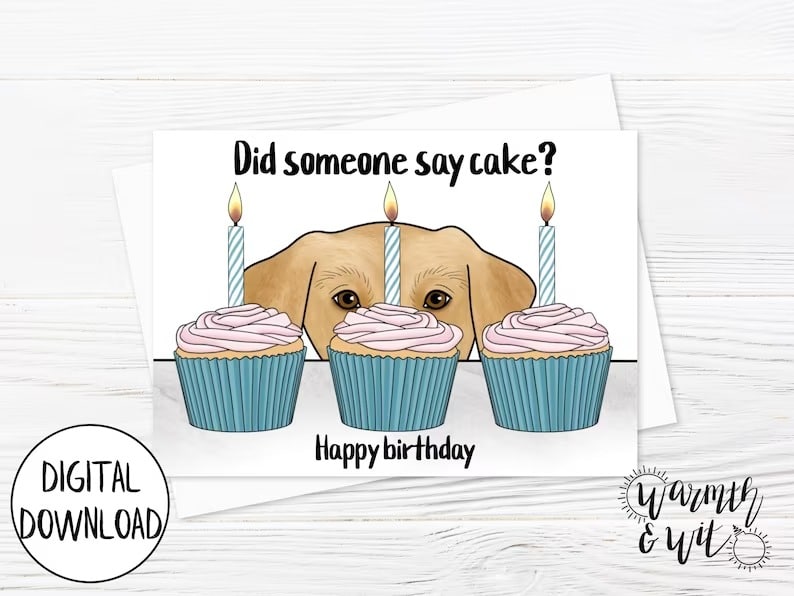 This is a perfect example of the kind of item we are discussing. This is a suite of files for a 5×7″ and an 8.5×11" printable birthday card that would make anyone smile. You can download this and print as many copies as you want, whenever you want. Unlike some other examples we will show, this creator opted to make their image un-scalable, so it's either one of the two image sizes to use. The end user has to ensure that the printer is set to "Actual Size," "No Scaling," or "100%" for these images to be reproduced as intended. And while the interior of the card is left blank for their own customized messages, the artwork and its text are un-modifiable.
DIY Wedding Card Bundle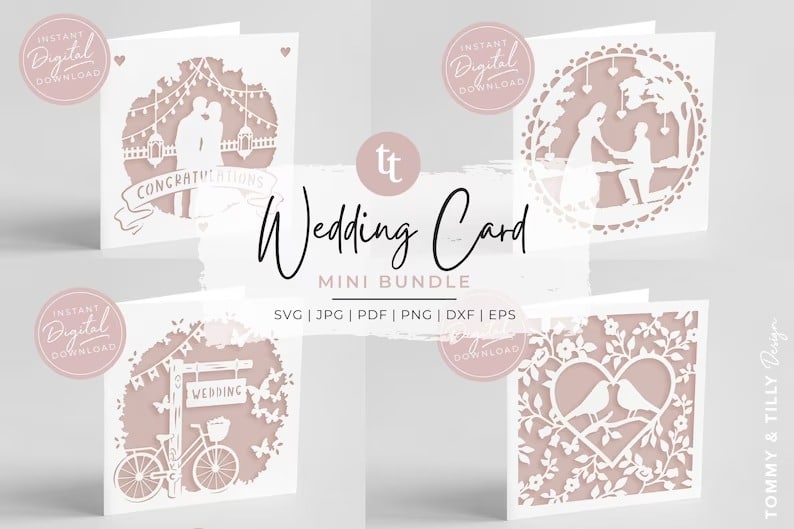 This item might be the exact opposite of the first. In this package, you not only get scalable files but you also get files for paper cutters to do scalable cut-out work! This wedding card bundle includes four designs in SVG, EPS, DXF, PNG, PDF, and JPG formats. These are ideal for hand papercutting or cutting with a Cricut or Silhouette machine if that particular machine understands the files included (not all do). This sort of design is best done it a two-tone style, with a lighter cardstock for the background and a thicker cardboard for the color insert.
This item also has interesting IP rules attached to it which can be quite flexible for the end user or other sellers. While the actual file may not be distributed, shared, or resold in any form, the original creator is giving others the ability to sell up to 100 finished products with this design. That's an interesting take on working in the new digital world that we really do not see too often.
Printable "Everything Bagel" Anniversary Card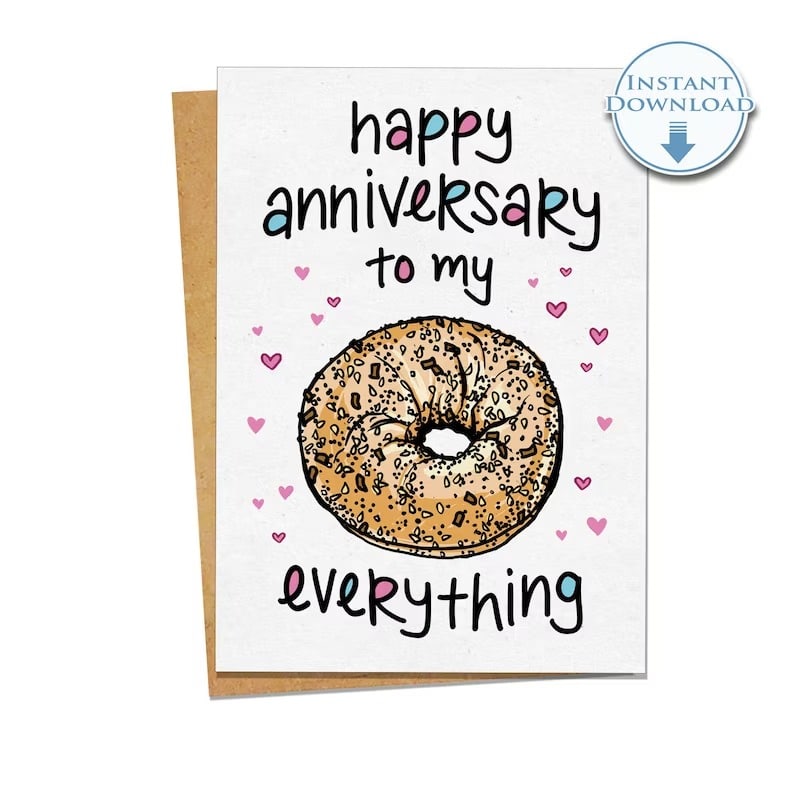 Let's face it: there are some annual celebrations that we try to remember and through no fault of our own, we forget. And yes, the irony is not lost here as we also sometimes discuss digital downloadable planners to avoid this exact sort of thing! But even so, people are people and humans make mistakes. But offering special occasion downloadable cards makes you a savior to countless people who remember at 2am that they need something nice for the next day. And unless they can get to a store without being noticed, you will be their only hope. Although this can work for any occasion, anniversaries are important and too often forgotten, and this is why we're using this great card as an example. Discreet and funny, this might be just the thing to make it all work.
And if you are still wondering about how all of this plays out for a customer (using this item as a typical example), upon purchase they will see a link labeled "VIEW YOUR FILES". This link will take them to the "DOWNLOADS" page. There, all files are accessible for download and they will remain accessible for future downloads. After payment is confirmed, downloads will become available. It can take a few minutes if they pay with PayPal or a credit card, but not much longer! They will receive a download notification email in addition to all Etsy and/or PayPal transaction notification emails.
Clearly, this innovative technology is not confined to image printing alone. With so much to choose from, you have numerous possibilities for what you can provide to customers. We always suggest sellers should conduct their own study to determine what is occurring in this end of the online business world.