Starting, running and growing a business on a platform such as Etsy can be an absolute thrill. That thrill can quickly turn into dread, disgust, and anger if one day you wake up to see that your Etsy seller account has been suspended.
If you are facing an Etsy account suspension of deactivation, you are likely racking your brain for what you did wrong, what you could have done to prevent this, and what are your options moving forward.
In this post, we are going to look at the options you have when your Etsy account gets suspended and what you should do moving forward.
Before we get into it, take a DEEP breath, exhale, take another DEEP breath, exhale…
Okay, let's begin!
What Do You Do If Your Etsy Shop Just Got Suspended?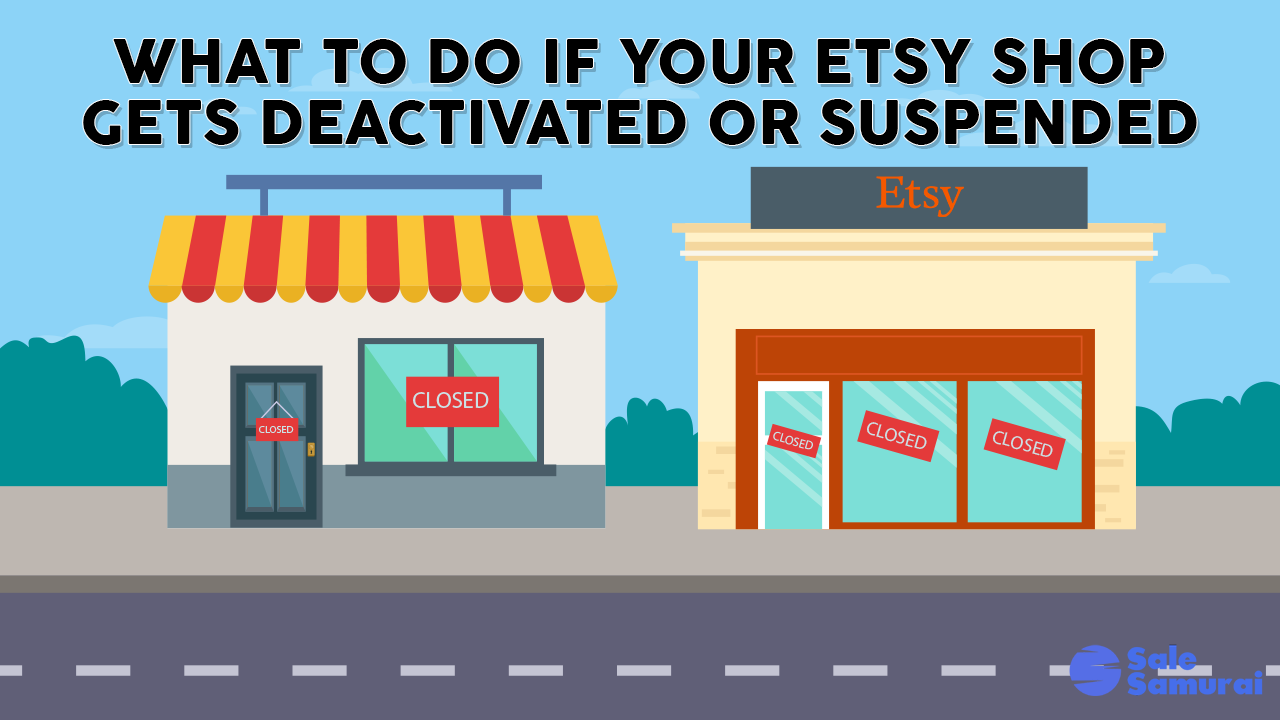 Reply Right Away To The Suspension/Deactivation Email
When the email first comes in, you need to remain calm while you read through it. These emails DO occur by mistake (which we have seen countless times), and sometimes, these emails are asking you to do something in order to reinstate your selling privileges. Look through the email as calmly as you can and see if the Etsy Integrity Department has asked you to do anything in particular.
If they are asking for something, respond quickly with the requested information. Make sure to give them details to everything the Etsy staff is requesting without going into a long-winded rant. Being concise and to the point is not only appreciated by the person that will read your email, but will ensure that you do not put them in a bad mood (which can happen to anyone if they receive a nasty email in return).
Once you have sent the reply, you will need to wait. They will not respond immediately to your reply. You will either get your account reinstated as soon as they read the email, or you may have to take further steps to get your Etsy account back.
Complete Orders Even If Your Shop Was Closed Or Suspended
If your shop just got closed or suspended, we know you are worried and that is the only thing on your mind.
That being said, Etsy still expects you to resolve any open orders by issuing buyers a full refund, or fulfilling those open orders.
IF your products do not violate the Etsy prohibited items policy, then you will be able to fulfill your orders. Make SURE that you take care of these, because if you do not by the stated processing time you have for each order, then Etsy will go ahead and refund the buyers on your behalf.
The Etsy Appeal Process
If the response you get to the suspension email that you sent off is not good enough for Etsy, they will mark your account permanently suspended and you will need to take the steps to appeal this decision.
In order to appeal the Etsy suspension, here is what you must do:
Step 1: Go to the page that explains how to appeal a suspended Etsy account here.
Step 2: Scroll down to the section on how to appeal your suspended account and click on the "appeal a suspension" button.
Step 3: If your account was deactivated, scroll to the bottom, and click on the Contact support button.
Step 4: Sign into your Etsy account
Step 5: Click on My account and then click on Reopening a Suspended Account
Now you will get to write an appeal message.
You want this message to be as inclusive as possible. Etsy also requests that you cover:
Details about your history selling on Etsy and what it is that your business sells/how it operates
List of factors that led up to your account being suspended (if they told you, list them out)
Steps you are taking/will be taking to fix the issues that led to your suspension
The items you sell and how they fit within Etsy policies (how are they compliant)
Make sure to lay out exactly what it is your business sells, how you got started, and what happened to cause a suspension. You will want to make very clear your plan to fix these issues, and how the products you sell are within the Etsy policies (so make sure you read them and read them again to know exactly what you are talking about when you make the appeal).
Once you file your appeal with Etsy, an Etsy specialist will take a look at your case. This can happen within a few days or take up to several weeks. If you made a genuine mistake, getting your account back is almost a sure thing. If you did something else like repeatedly trying to sell Intellectual Property from another company (selling Disney items for example), then your account will more than likely remain permanently closed.
Can I Open A New Etsy Store?
We have seen around the internet that people are suggesting that if your account remains closed, you can just open a new shop!
However, the answer to this is NO.
Etsy makes it very clear that if your account was permanently suspended, you cannot buy or sell on Etsy or create a new account:

How To Prevent Future Etsy Suspensions
There are 3 types of Etsy suspensions. These are an overdue balance, a permanent suspension, and an "other" suspension.
In the first case, you will need to make sure you are paying your bills. In the second and third case though, you want to make sure that you have familiarized yourself with what is NOT allowed on Etsy so that if you get your account back, you do not have to deal with this issue for a second time.
Here are some things that cannot be sold on the Etsy platform as it does not fit within their policies:
1. Prohibited Services
There are certain services that you are not allowed to sell on Etsy and if you try, can get you shut down quick. These will include sell intangible items (not physical and not digital), as well as things like item restoration.
Think of intangible items as selling things that do not physically exist in the world. Selling "thoughts", "prayers", or anything of the like is not going to fly.
This also goes for someone paying you for something on Etsy and expecting them to ship you a product to do something with, then sending it back (like item restoration). Listing these types of products will get your account suspended incredibly quickly.
2. Prohibited Products
There are many physical products that are prohibited to sell on Etsy. These are going to include drugs, alcohol, drug paraphernalia, and a whole lot more. You can read the full list under the legal prohibited items on Etsy here.
This policy is not just centered around drugs though. It goes into a lot of detail so make sure you read the article above, but certain mature content, hate items, and more is not allowed on the platform.
If you got suspended, make sure to familiarize yourself with this policy so you can clean up your store and get back into good standing.
3. Customer Complaints/Issues
No one wants to have a bad seller on their platform, and that includes Etsy! Do your absolute best to provide the customer service that YOU would want if you were on the other side of the screen. This involves solving disputes that may come up, because if you don't, this could lead to an Etsy shop suspension.
Customer issues and complaints WILL happen, just make sure you deal with them in a timely and polite fashion. You can decrease any issues you may run across by complying with the Etsy policies, being polite and honest, and using detailed product descriptions and images that accurately represent the products you are selling.
Wrapping It Up
That about wraps up this article on how to take care of an Etsy suspension or termination. If you find yourself in this situation, do your best to not panic.
Also, make sure you are representing your products accurately and that they are within the Etsy terms of service.
Using a tool like Sale Samurai will help you figure out exactly how to optimize your products after you have familiarized yourself with all the Etsy polices.
Good luck!