Digital stickers are the newest type of downloadable content and can be used in any number of applications. For our purposes, it's also one of the hottest products you can get involved with as an online seller. But what exactly are we talking about when it comes to this? Are they just regular stickers that you print out on label sheets? Well, they can be if that's what people want to do with them, but they are so much more when remaining in their native state
What are Digital Stickers? They are PNG image files with transparent backgrounds you can insert into your digital files. They are just like physical stickers in the aspect that you can stick them anywhere, but in the digital realm. They are designed and sold via downloads and often come as complete sticker books, sticker sheets, or as individual PNG files.
But why would anyone want these types of things, you may ask. It's kind of an odd though interesting development. And really, why use them? For one thing, with physical stickers you buy a sheet, use them once, and that's it. Where they reside, they reside for the rest of their lives. Plus, if you make a mistake, it's extremely difficult to remove the sticker and to replace it somewhere else. However, with digital stickers, you can reuse them as many times as you want. If you misplace your stickers, you can easily move them without tearing any paper. They are quite cost effective as they can be used over and over, forever.
And what types of applications do these items have? Well, you can use digital stickers just about anywhere. You can use them in your digital planners, journals, for flashcards, notes, and more. You can use them to label your notes on your tablet at school, adorn messages to friends, the list goes on and on. They can help students differentiate and pick out important concepts in their notes. But they are not just for that age group; they can also bring some color and cheer to your daily planners or in messages to others. Whether you're using a digital planner or daily journal, digital stickers will enhance both your planner/journal and your digital planning experience. It makes your digital planner unique and personalized.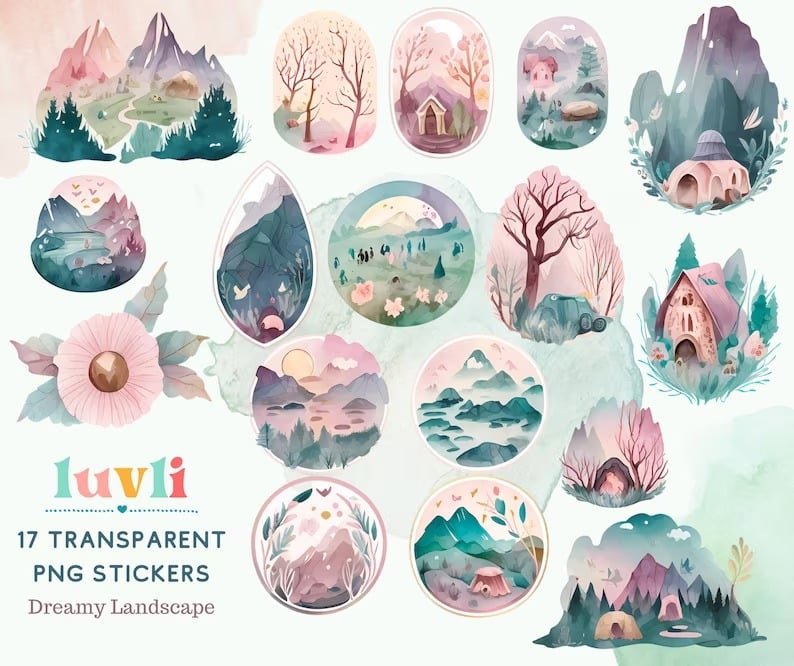 But how do customers actually get them and use them? Using digital stickers is a lot easier than you would think. You simply download the image or file set, save them onto your PC, laptop, or tablet, and you're already set. Import the image into whatever digital planning application you're using. And they come in several different ways, so here are the most common:
INDIVIDUAL PNG FILES
Digital stickers often come in the form of one-off, individual PNG files. What this means is that each sticker is its own individual file and nothing more. This makes them quite easy to use in your planner or notes, as you simply drop the image in your planner/note file. From there, you should be able to resize and/or rotate it however you wish!
PNG SHEET
If you download stickers, there's a chance it'll usually come as a transparent PNG sticker sheet. A PNG sticker sheet has all the sticker designs in one larger PNG image file. This process starts the same way, but when you drop the image into your intended application, you select the image and tap on crop, use either the rectangle crop or freestyle crop to select the sticker you want to use, and that is the one that remains. It is quite simple and easy.
STICKERBOOK
If you purchase stickers from many online sellers, a stickerbook might be included or is the only option, depending on the seller. The perk about using a sticker book is that all the stickers are pre-cropped in one place, ready for you to use. In application terms they are used the same way as the sheets, but you have many more options, or related options within the same book.
You should try the process out for yourself if you are interested in this sort of thing and start researching what sorts of images are most popular in terms of downloads. If you have a knack for this, you can be selling and profiting from this method in no time at all. Zero overhead (except for your valuable time, of course) and unlimited ways in which to design. This is a new frontier, and you should sell your new customers on the fact that they can use these as many times as want want, write or draw on them, resize and rotate them, and so much more than what anyone could do with traditional physical paper stickers. And here are some examples of what is already out there in this area:
5000 DIGITAL STICKERS FOR PLANNERS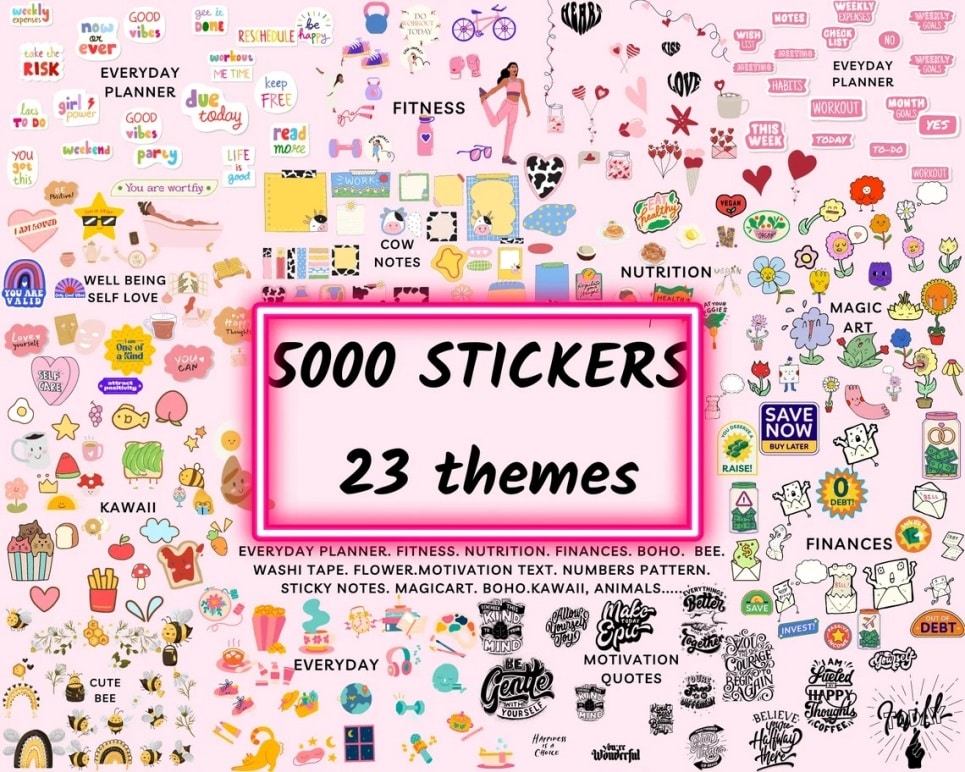 Over 5000 PNG stickers are included in this mega-sticker bundle, which is divided into 23 categories. A customer will receive stickers arranged in over 23 different themes and categories, from everyday planner types, bees, flowers, motivational text, number patterns, animals, fitness, nutrition, finances, etc. Following payment, files are instantly available for download.
FROGS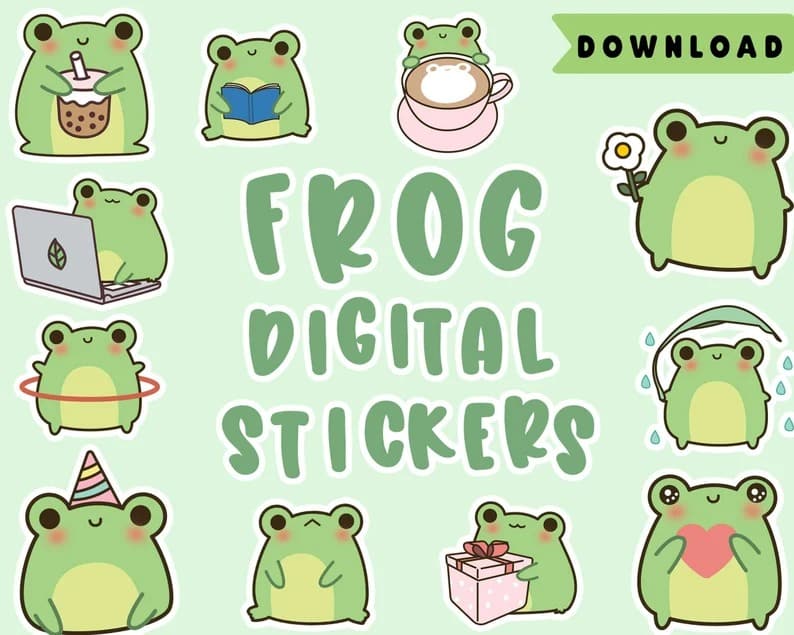 These are a series of unique, adorable frog stickers that work with Goodnotes, notability, and other programs. These are high-resolution files that can be printed and used as actual stickers as well, if that's their intended use. Each sticker is about 1000 pixels long.
In this set, the images are pre-cropped for Goodnotes, and they are distinct PNG files with a translucent background. IT should be noted with this particular seller that the usage is only for personal enjoyment, and that a business license can be purchased from the shop along with this item if the customer intends to use them for any purpose other than personal use.
DIGITAL PLANNER STICKERS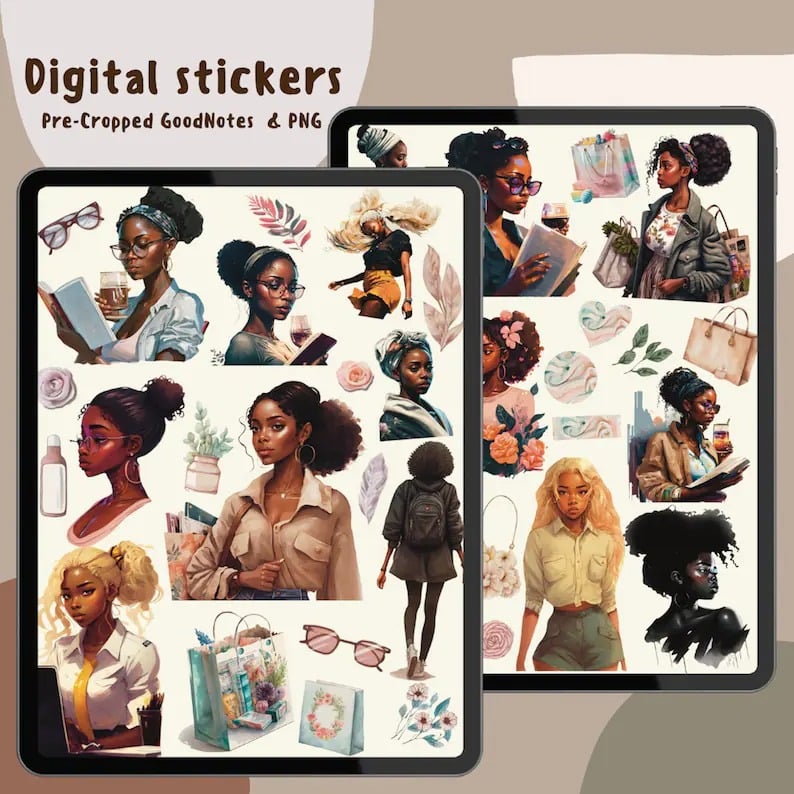 This wonderfully-illustrated sticker set also includes pre-cropped Goodnotes files and individually cropped PNG stickers. These images are designed for use in digital planners or journals, including Notability and other digital planning apps. The kit includes stickers combined in a .zip archive. It is worth noting here that even though these images look incredibly detailed, the maker suggests these only be used in the digital realm as they are not as a high enough level of resolution for printing and cutting for a paper planner. There is also no commercial license available with these designs, so they can only be used by the individual for non-business purposes.