In its most simplistic description, Etsy is an online superstore where vendors can post and sell handmade, vintage, craft materials, and one-of-a-kind items. Digital goods including printables, digital art, and other downloadable goods are also sold by some Etsy vendors.
But, just as you might go to a large mall and see a variety of shops inside, they are rarely uniform and they are never undecorated. Getting people to enjoy the way your online store actually looks like when they visit can make the difference in a sale or not.
And how do these online stores get nice and pretty? With digital decorations. And you can be the one to sell them.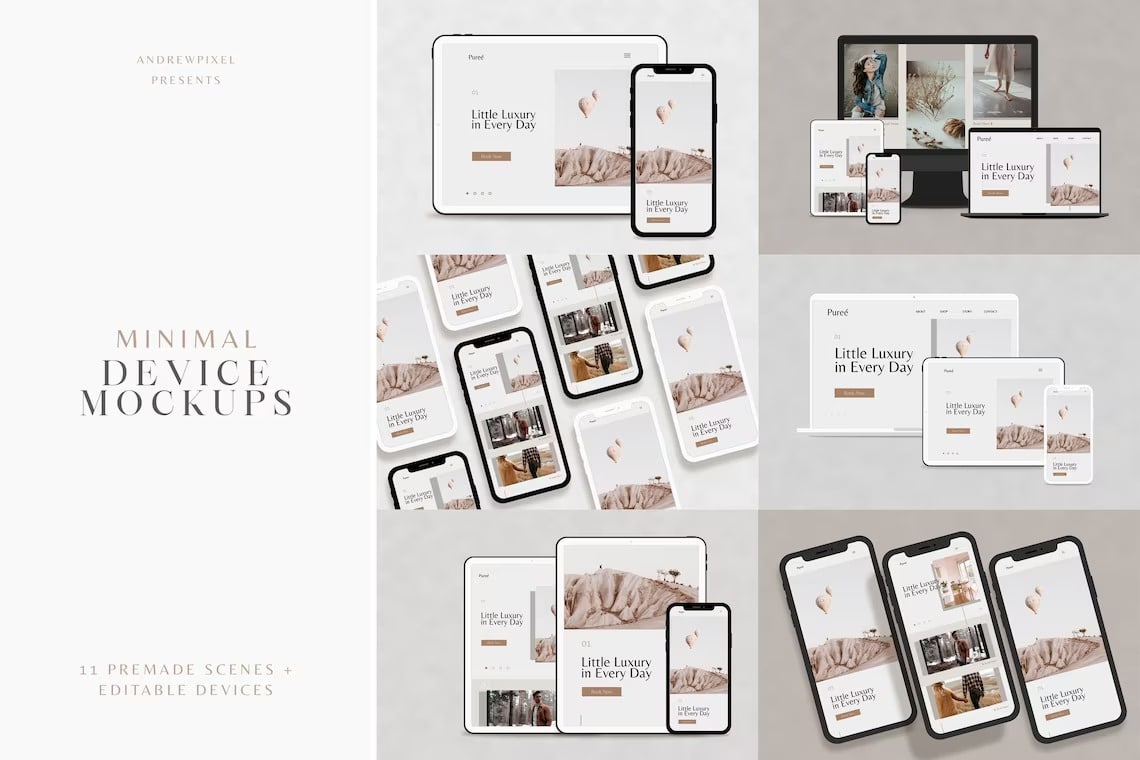 Many Etsy businesses sell digital downloads, which are a popular product category. Usually, these products are files that the customer can buy, download, and utilize. Digital downloads that have been sold on Etsy include printable wall art (digital files that may be printed as wall art at home or at a print shop), digital planner pages, SVG files that may be used to make unique designs on a range of materials with cutting tools like the Cricut or the Silhouette, and things like custom cards, invitations, and stationery. Digital patterns are files that can be used to make knitting, crochet, or sewing patterns. They could feature patterns for apparel, accessories, or home furnishings.
BE SURE YOUR "BUNDLE" IS EXACTLY WHAT YOU NEED
It remains important to carefully read the listing before making a digital download purchase on Etsy in order to comprehend what is included and how to download the files. Some vendors might also provide guidelines or advice on how to use the files. Also, not every type of downloadable file is proper for every application. But today we're focusing on the types of digital files that are used to plot and beautify news and existing shop pages.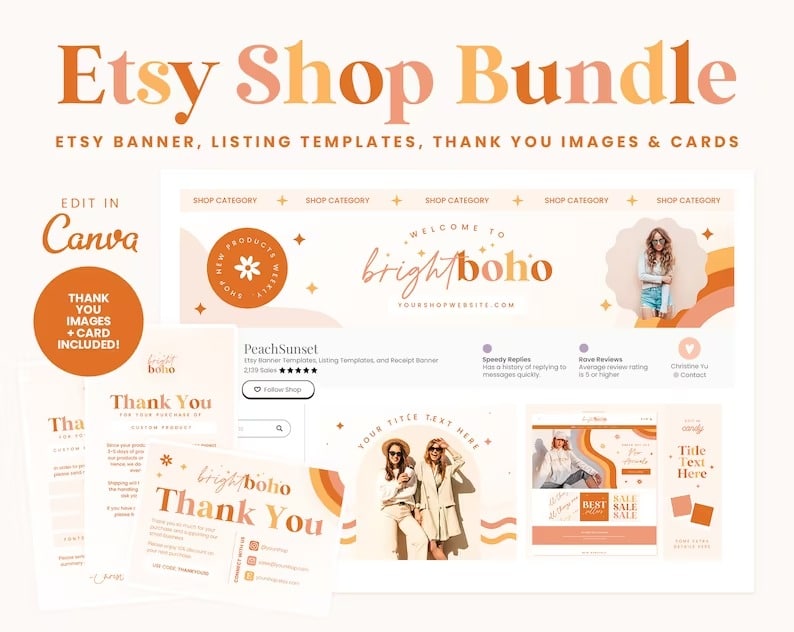 Etsy shop templates are pre-made designs that merchants may use to give their online store a polished and unified appearance. These templates can be used with a number of platforms, such as Etsy, Shopify, or Squarespace, and often come with changeable visuals, layouts, and fonts. There are numerous types of templates for Etsy shops, including:
Product listing templates
These templates are made to give product listings in an Etsy shop a unified appearance. They may also have areas for branding components like logos or color schemes, as well as areas for product photographs, descriptions, and pricing information.
Shop banners
With the help of these templates, a seller's Etsy shop's header and/or logo can be transformed into a banner image. They may contain text, visuals, and branding components that support the development of the seller's brand identity.
Social media templates
These templates are made to help you produce visuals for Facebook or Instagram. They might contain sample content for product launches, inspirational statements, and promotional articles.
Employing a pre-made Etsy shop template can help sellers save time and effort while also giving their online store a more polished and professional appearance. When selecting a template, it's crucial to look for one that captures the brand identity and personality of the seller and is simple to use and modify.
The possibilities for what you want to have your own shop look like are pretty much unlimited, but they have to be able to ultimately do one thing: showcase your goods in the most alluring way. That is how you'll make sales, especially initial ones.
Here are a number of products designed to do just that, and all of them from online sellers.
70's Style Editable Shop Kit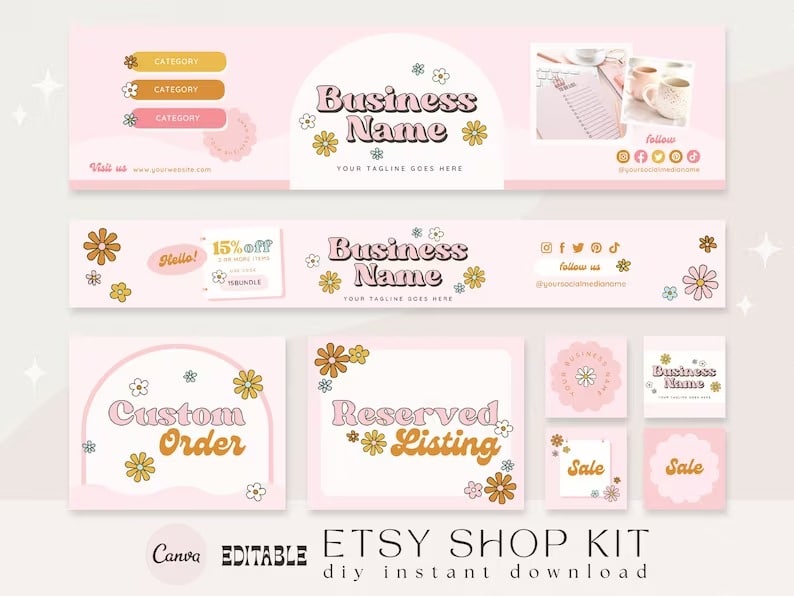 This gorgeous retro flower-inspired Etsy banner and shop kit is available for editing as part of the Jacklyn design collection. With simple to use designs for customizable shop banners, product listings, and shop icons, you can brand your Etsy business with ease. This Etsy shop kit will make your storefront stand out from other stores and get you ready for greater economic success!
This kit includes backdrop designs in the pink to peach range that you can mix and match or completely recolor as you choose. It is a purely digital template that anyone can modify and instantly customize. No tangible objects are sent to your customers. This is for store owners who want to obtain a professional look for their storefront without investing the time and money of either hiring a custom designer or attempting to start from scratch. Make an individualized store that best displays your goods. These templates can be downloaded as PNG or JPEG files and then edited to be posted to your Etsy shop.
The kit includes:
four full-size templates for shop banners
four templates for slim shop banners
four templates for listings
eight templates for shop icons.
You may combine several templates, alter colors and fonts, add pictures or your own logo, and more!
Etsy Shop Branding Bundle Kit
This next kit includes more than sixty templates, such as ones for listing images, order receipt banners, larger banners for Etsy, and micro banners for the marketplace. They are fully editable in terms of colors, texts, fonts, and graphics, and they come in the various varieties that are depicted in the images. Both product-based templates and digital content templates are included in this branding kit. PDF files can be downloaded including:
shop icons
huge banners for digital content on Etsy
other Etsy banners for content that is product-based
small banners
four types of receipts for Etsy orders, and
almost thirty templates for Etsy listings
83 Curated Mockup Pack for Stunning Product Presentations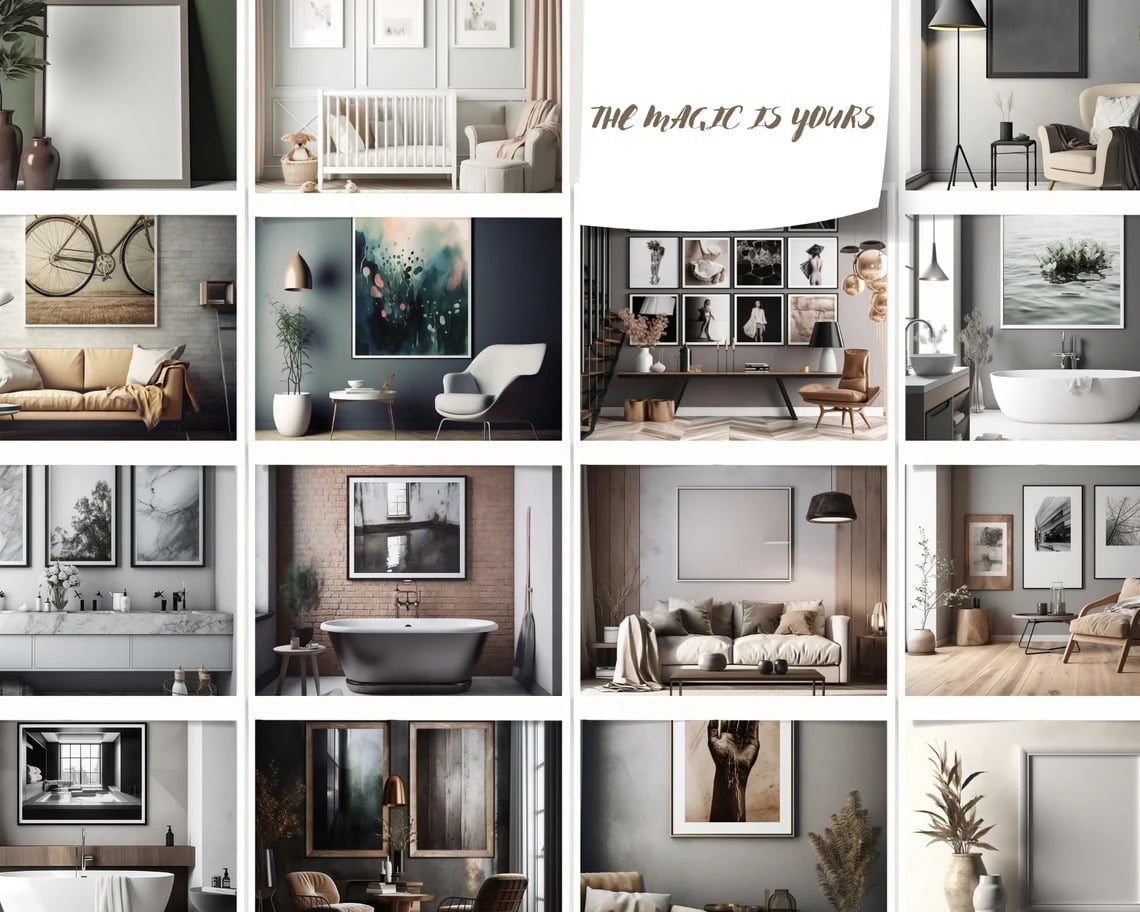 This one takes a different path. Instead of making banners and areas to customize, this uses professionally-shot real backgrounds to superimpose your products into. The handpicked collection of mockup photos from The Artful Lense can improve your product presentations. This mockup pack is ideal for merchants who wish to present their goods in the most favorable light possible with impressive photographs.
A wide range of mockup pictures, including frames, canvases, posters, and more, are included in this collection and are all intended to artistically frame your products. Using Photoshop or another design program and this mockup bundle, you can easily add your own designs to the mockups to create great images for your online business or social media. The pack was carefully created and it is likely that using a product like this will help improve the quality of final product presentations.