When looking at our online POD stores, it's easy to get caught up in what people want to wear. What's the hottest fashion right now? What seasonal items should you stock? So many choices, and your unique designs are going to be all over them.
But what if the items your customers, or potential new customers, are looking for have nothing to do with other people? What if they're shopping for their pets instead? They want them to look good too! How much can you do with POD for pets so you have a fully stocked pet sub-store?
Print On Demand Pet Products in Your Etsy Store
Print On Demand items for our animal friends are a hot ticket commodity today. Custom-printed items such as these are a great way to expand your business. And you can do so through various means, but today we are going to focus on a few product ideas but also on a way to link your Etsy store directly to companies that provide POD fulfillments using the Etsy POD Integration method and tools.
So what are Etsy Shop Integrations? The third-party tools listed in the Shop Manager's Integrations page are connected to your Etsy account and can help you improve your sales fulfillments quickly. Sign in, select "Shop Manager," and then select "Integrations" to view the provider integrations you can add to your shop. Visit the developer's website and click the integration you're interested in learning more about. If what you discover pleases you, register for an account on the developer's website and follow the instructions to link the integration to your Etsy store.
We strongly advise you to read all the information the developer provides about an integration before connecting it to your business because you might have to agree to third-party terms and conditions. Some integrations can also require you to buy something in order to use them.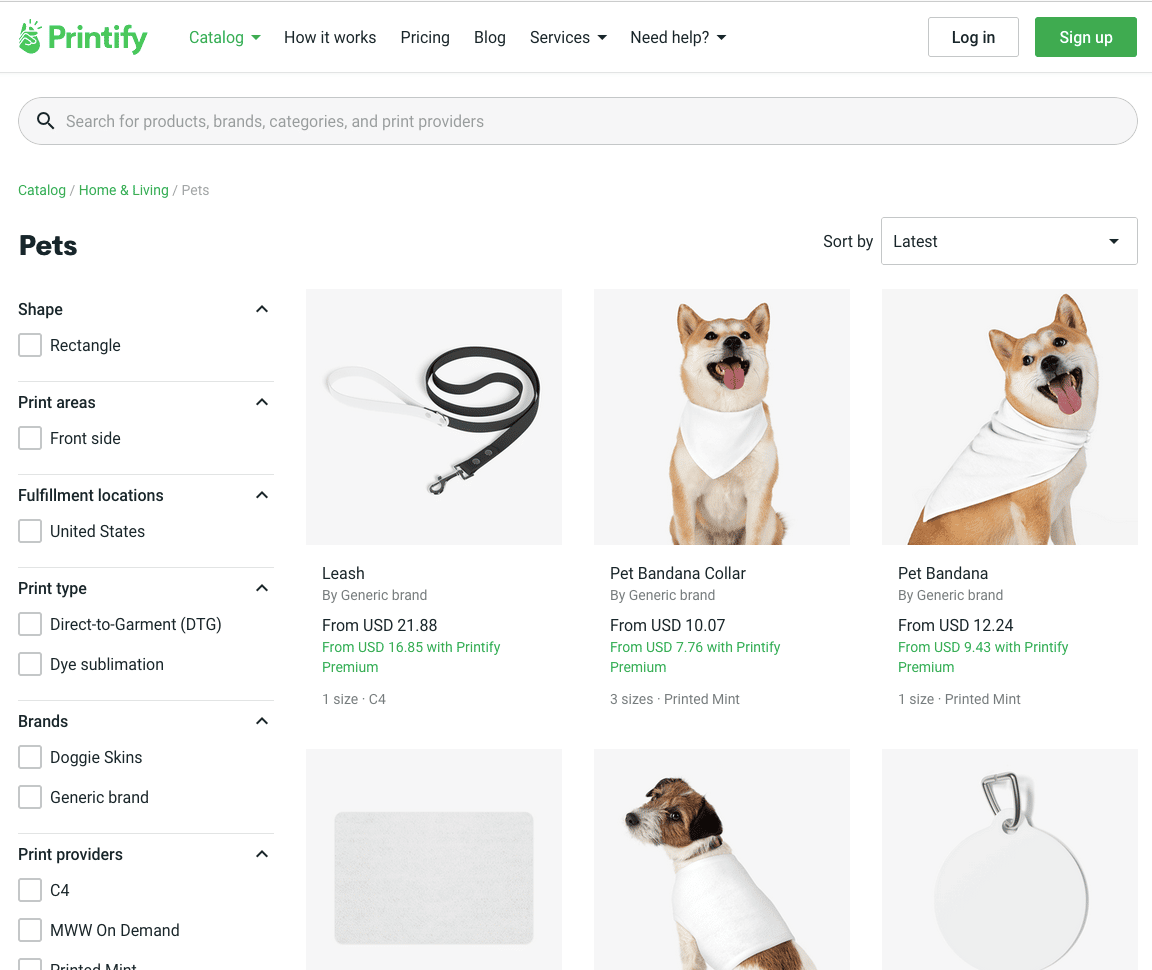 For example, one of the more popular companies that you can integrate with is Printify, which handles all the details of fulfillment including drop shipping. According to their corporate website, "Dropshipping is a method of order fulfillment that means a business does not need to keep the products it sells in stock. In this case, Etsy dropshipping means that your Etsy store sells the product but once an order is placed, Printify as a third-party supplier ships your print on demand for Etsy order to the customer."
But back to our furry friends for a moment; what are the people out there actually looking for? Visits to a number of the sites that you can link with provide some clues. And we are going to look at a few of them here today.
Print on Demand Dog Beds (Gooten)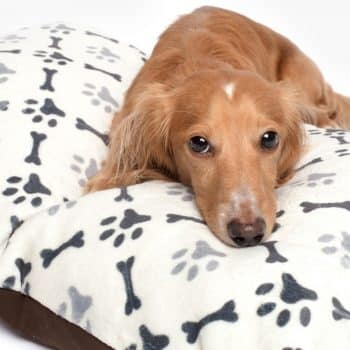 With this dog bed that may be customized, pamper your pet in style. The bed's material is weather, mold, and mildew resistant and is made to last. Additionally, the fleece provides a cozy, soft spot for your pet to lie on. To make washing simple, covers can be removed.
According to their website, "We integrate with the most popular eCommerce platforms. Whether you offer Print on Demand or more robust on demand manufacturing experiences for your shoppers, you can rely on the Gooten single API to plug into any of our partners. With a click of a button, you'll be ready to launch in a matter of seconds." You can learn more about Etsy integration with them here.
Pet Tank Tops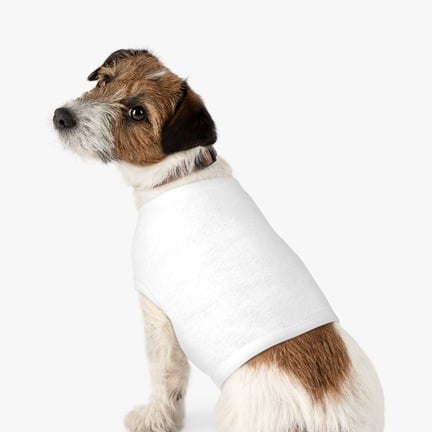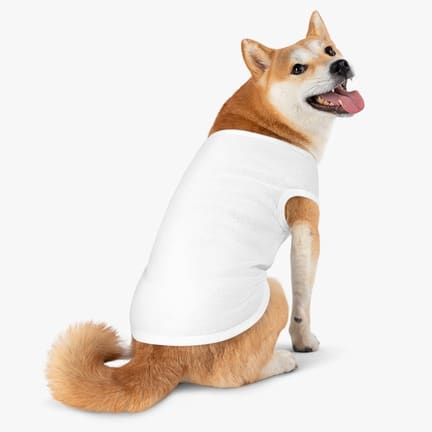 Ah yes, the standard doggie sleeveless t-shirt. These canine tank tops are white blanks just ready to get your designs emblazoned on them. Custom pet clothing items are ideal for keeping your tiny friend warm in addition to keeping them stylish. For the base colors of this pet tank, 100% cotton is used; however, heather hues also contain some polyester. Sizes range from M to XL, and they are safe to machine wash.
As we mentioned, Printify is a popular company to integrate with from Etsy. You can connect your Etsy store to Printify from your Printify account, so creating a profile with them is the first step (after the creation of your own Etsy store, of course.) Click "Manage My Stores" within Printify, then select "Add New Store." Next, select Connect by the Etsy logo. If you aren't already logged in, you will be prompted to do so in order to continue. You will then be prompted to grant access; select Allow Access to continue with the integration. To confirm that you are logged into the same Etsy account that you wish to link to Printify, check the email address that is displayed in this step. Following that, you can begin adding items to your Etsy store and control any orders from Printify. Products will be automatically given the Printify shipping prices.
POD Bandanas (not just for dogs!)
The All-Over Print Bandana from Printiful can be used as a scarf for a cherished pet or as a headband, armband, necktie, or bag accessory. It is tough and long-lasting to use for as long as you wish, with double-folded borders and an intricate single-sided pattern. Lightweight and plush to the touch, made of 100% polyester microfiber, with double-folded borders and a single-sided pattern. (They do note that the "small" size is the one for pets, and that it's too small for most people.)
Printful is another company that does Etsy integrations and connecting your store is done with a few simple clicks.
Family Portrait with Pets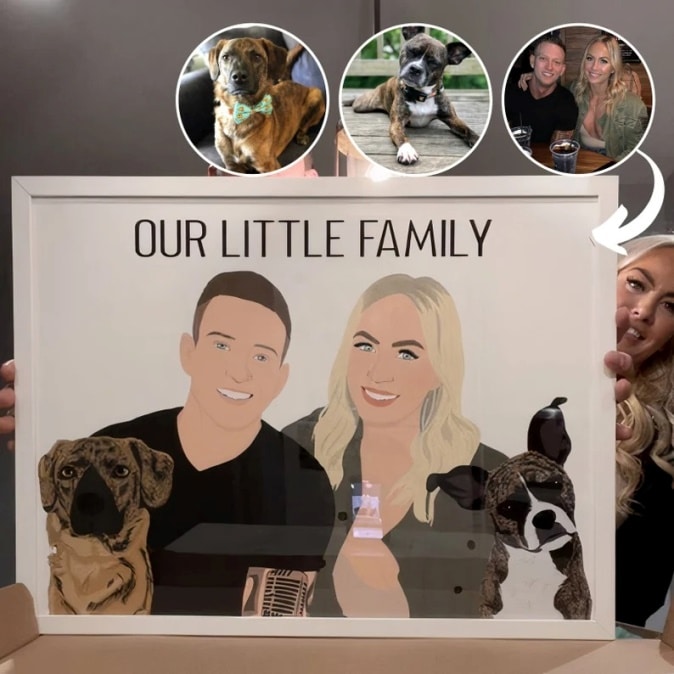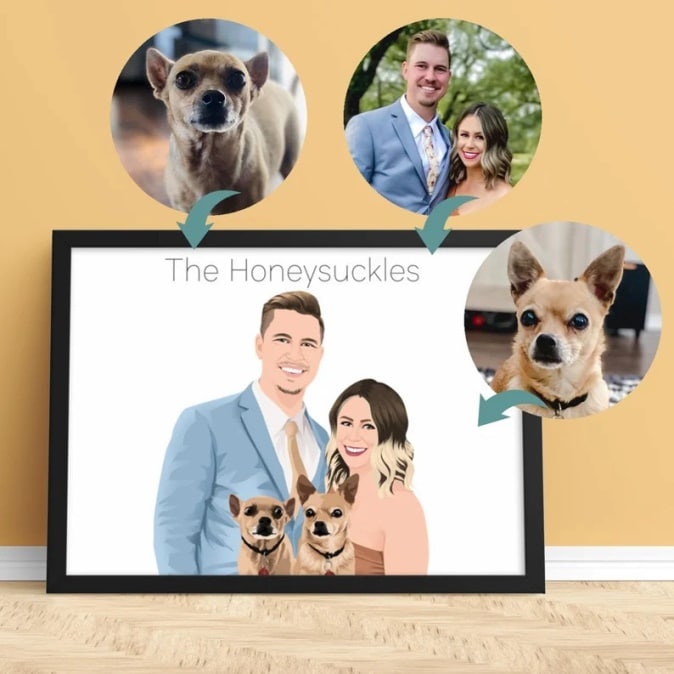 We're pretty sure this might be for the family more than their pets, but there's no denying the love that is shown when we see products like this. The opportunity to include your dogs in family photos has finally arrived. All you have to do is send in a single (or group) photo of each person and animal, and they convert it into a one-of-a-kind work of art that you will treasure always. This is a genuinely one-of-a-kind and customized present for any occasion.
Each design is 100% hand-drawn by a real artist using a digital tablet and computers. The finished item is quite beautiful. The original artwork is finished in a semi-hardwood frame and printed on heavy, matte paper. This could become an important part of someone's home. In the event that this is a present, the recipient will be astounded by the artwork and frame quality.
"Pet Parents" Shop For Their "Fur Babies"
Holidays are a big deal for anyone shopping for friends and family, and those who share their houses with pets are no exception. Take advantage of this knowledge and create great products for them!