As one holiday season exits, the next is right there to pick up the slack. And likewise, we have to be right there ahead of the wave, making sure we have all the proper things to sell to the masses when the individual days arrive.
Around this time of year, we are looking at quite a number of events that are celebrated widely:
• the Muslim holiday of Ramadan
• the Spring Equinox
• the celebration of one of the most famous Catholic saints in history, Saint Patrick.
Each of these celebrations brings with it its own meaning, cultural or religious context, and what we as creators can bring to those to partake in them.
Ramadan
Let us start with Ramadan, an event becoming more well-known in Western culture today than ever before. The Islamic calendar is based on the phases of the moon, sometimes known as the lunar cycle. As a result, the Holy Month of Ramadan begins around 10 days earlier in the Gregorian calendar each year. The start date of Ramadan in 2023 is predicted to be Wednesday, March 22, following the sighting of the moon over Mecca. Ramadan is an excellent month for thought, contemplation, and celebration.
Ramadan or Eid Gift, Fasting Shirt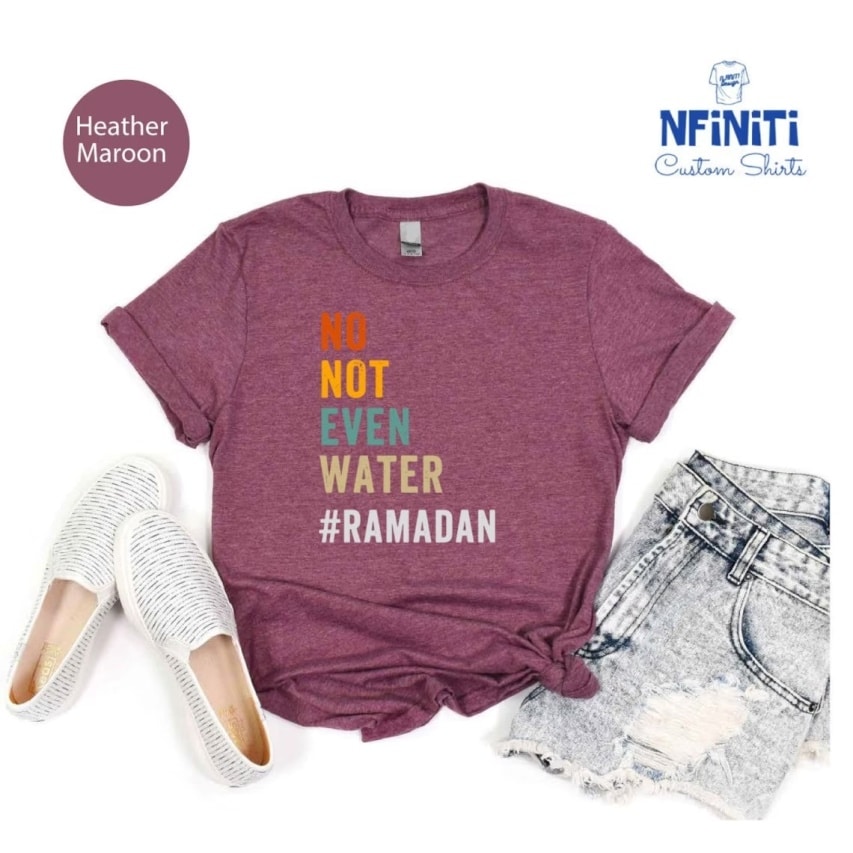 Sawm is one of Islam's Five Pillars and the Arabic word for fasting. Although fasting occurs throughout the Islamic calendar, it is most closely connected with the month of Ramadan because of the month-long fast. This occurs every day from sunrise to sunset. Eid al-Fitr, also known as the "Festival of Breaking the Fast," is a major holiday that ends the month of Ramadan. While this is a solemn religious observance, something like this can let others know it's done in joy and yes, these are the rules.
These unisex shirts shown above are 52% airlume/ringspun cotton and 48% polyester. They are side-seamed to accommodate your curves and prevent torqueing while washing. This helps to retain the garment's structure and keep that huge bold chest pattern front and center where it belongs.
Ramadan Table Runners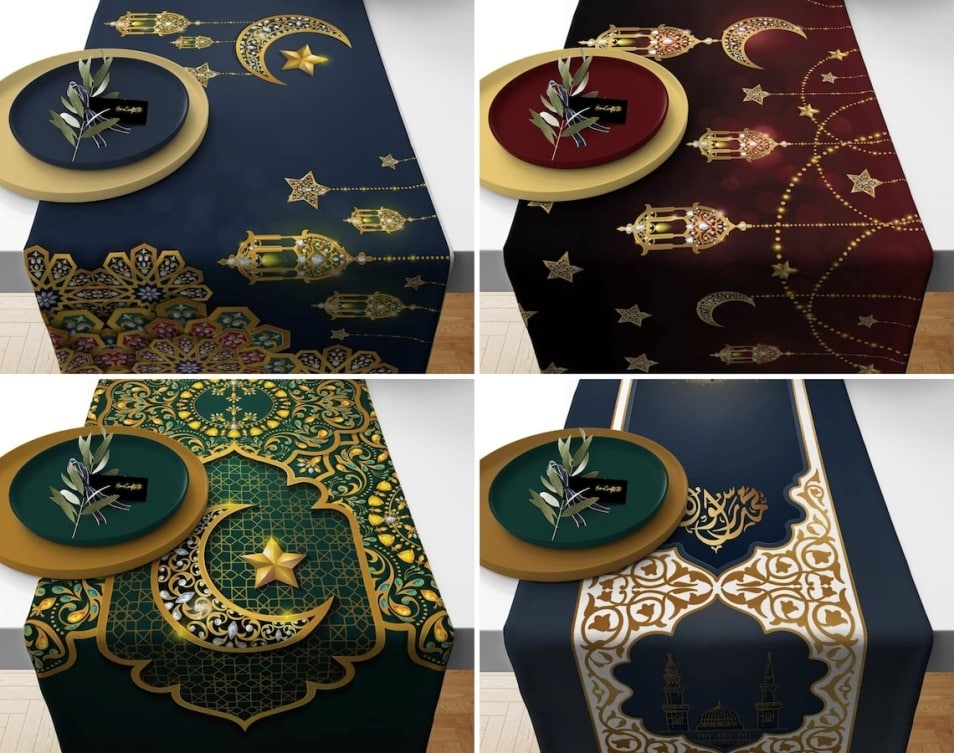 With these decorative Ramadan runners, you may give your home a totally new feel. There are hundreds of models in this store for you, all with vibrant colors and distinctive designs. This runner is unquestionably a fantastic option for any occasion and table décor, adding warmth and friendliness to your home. The upholstery fabric used to make this table runner is strong and long-lasting. The runners' dimensions are approximately 18×55″ (45×140 cm), making it long enough for use not just on dining tables but also on coffee tables, patio tables outside, and other places you choose.
Using microfiber polyester yarns and a unique knitting technique, the fabric is created and made into these shapes. It is incredibly soft yet also strong and simple to maintain. The printed colors are vivid and bright and won't fade over time as the print and fabric quality are of the highest caliber. Also, this product has received OEKO-TEX® Standard 100 certification, ensuring that it is free of chemicals that could be dangerous to both human and animal health.
St. Patrick's Day
The celebration of Saint Patrick's Day, which was proclaimed an official Christian feast day in the early 17th century, continues strongly around the world to this day. The holiday honors Patrick, the introduction of Christianity to Ireland, and the Irish people's heritage and culture as a whole. Festivities typically include wearing green clothing or shamrocks, participating in parades and festivals open to the public, and church services as well. In addition to being widely observed in Ireland, it is also commonly observed in the United Kingdom, Canada, the United States, Argentina, Australia, and New Zealand.
Saint Patrick's Day Irish Blessing Mini House-Shaped Sign Set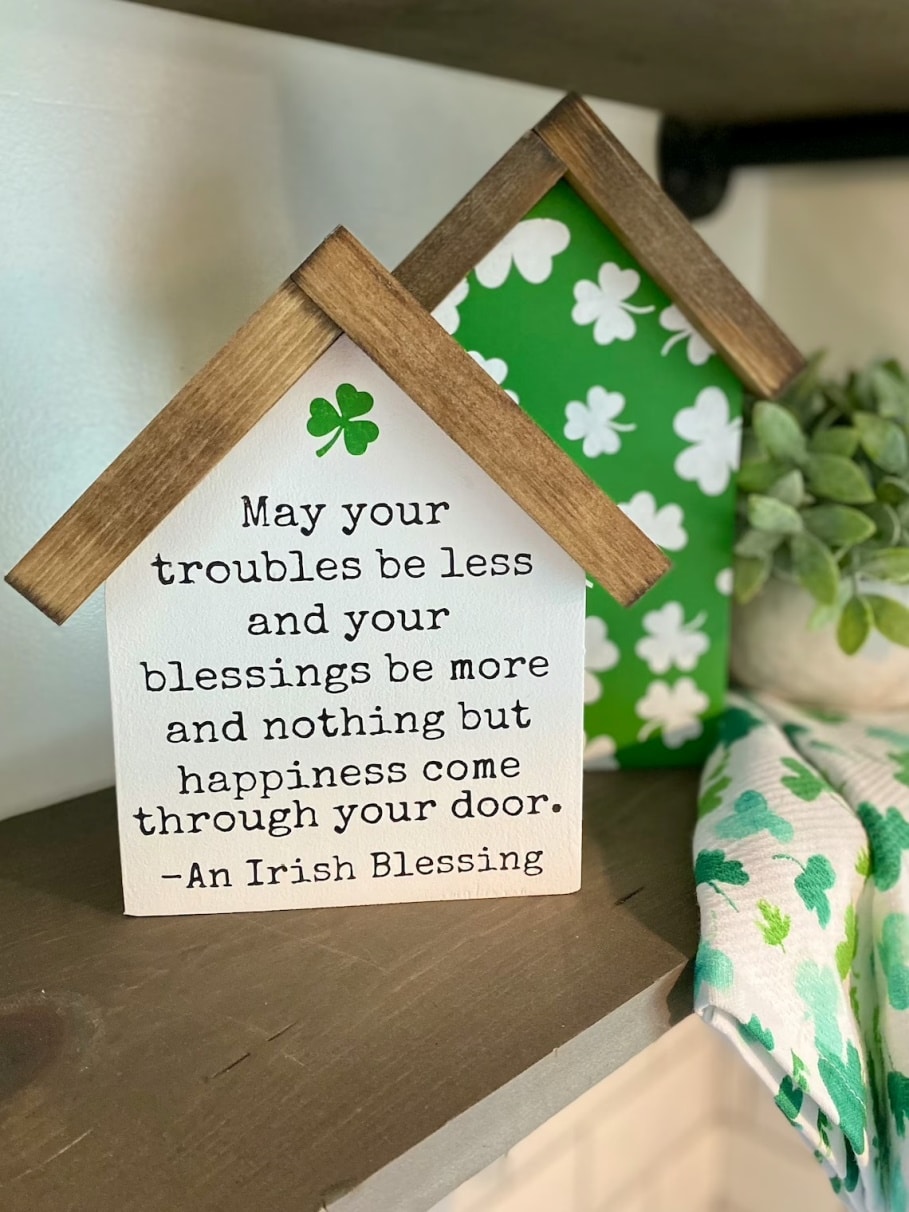 This set of "Irish Blessing" little house signs gives any house or tiered tray the ideal Irish flair! The Irish Blessing sign is available both alone and in a pair (one small and one tall). Together, they really make a great pair! This sign is cut by hand, sanded by hand, painted by hand (no vinyl), and then given a protective matte clear finish. It has a "roof" that is stained walnut. A truly customized, hand-crafted product perfect for the holiday!
Round Faux Stained Glass St. Patrick's Day Metal Wreath Sign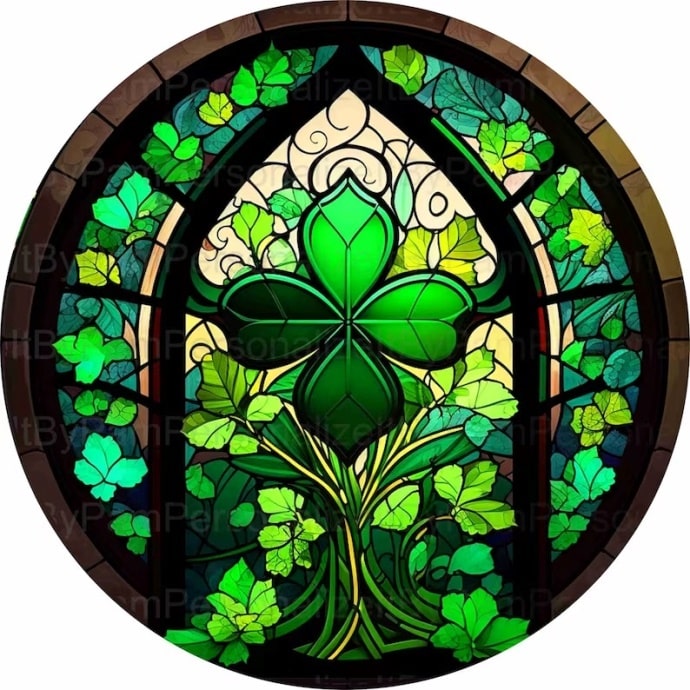 This is a great way to decorate the home in time for St. Paddy's (note: not "Patty") without the vast expense of actual custom-cut and welded stained glass. This is a lightweight aluminum wreath sign which is handmade by the seller in the USA. While the colors may vary due to computer screen resolution, the image is legally licensed for resale, which means the original artist receives proper payment for their original work.
More nations observe Saint Patrick's Day than any other national holiday. The Irish immigrants have had a significant impact on modern festivals, especially those that originated in North America. Nonetheless, the Saint Patrick's Day festivities have come under fire for becoming overly commercialized and for feeding unfavorable preconceptions about the Irish, especially in the stereotypes of alcohol abuse. It would be best to keep your offerings with this in mind. With so much rich culture to be found from Ireland, there's no reason to make products that perpetuate negative imagery.
Ostara – The Spring Equinox
Moving onto the oldest celebration of these three, we come up on the Spring Equinox, a midway point between the main equinoxes. The March equinox is sometimes referred to as the autumnal equinox in the Southern Hemisphere and the vernal equinox (spring equinox) in the Northern Hemisphere. It also acts as a guide for the calendars and festivals of numerous civilizations and religions. With more interest today into alternative religious practices and Paganism, there is a new interest in aligning annual celebrations with the movement of our Earth around the sun and the life cycles that flow with it.
Ostara Crystal Set – Gemstones for Spring Equinox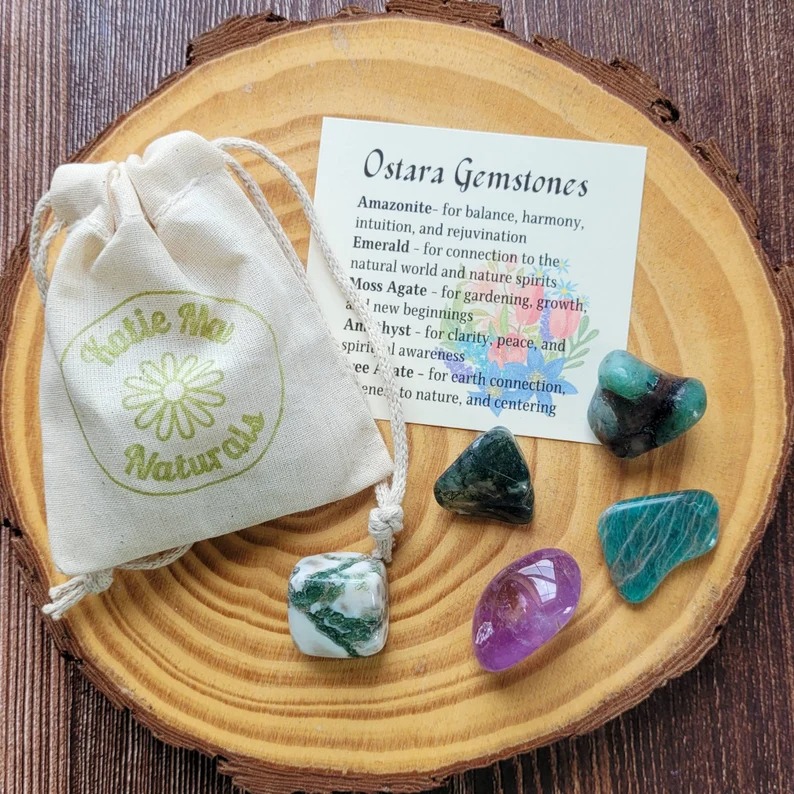 In Wiccan and Pagan traditions, this time of year is celebrated with Ostara, their name for the spring equinox. According to the explanation from this Etsy seller, Ostara is the fourth stop on the yearly wheel. As the days grow longer and the nights get shorter, it is a day of perfect balance, with an equal amount of light and dark. They celebrate Ostara, the Goddess of the Dawn, with rituals of regeneration and rebirth as they welcome their Sun God's energies as he displaces the winter darkness.
The five polished crystals in this collection are in tune with the natural vibrations and the fresh energy of this season. They come in a beautiful carry bag with an explanation as to what each mineral is used for in this practice.
Ostara Candle – Handmade Crystal and Herb Intention Candle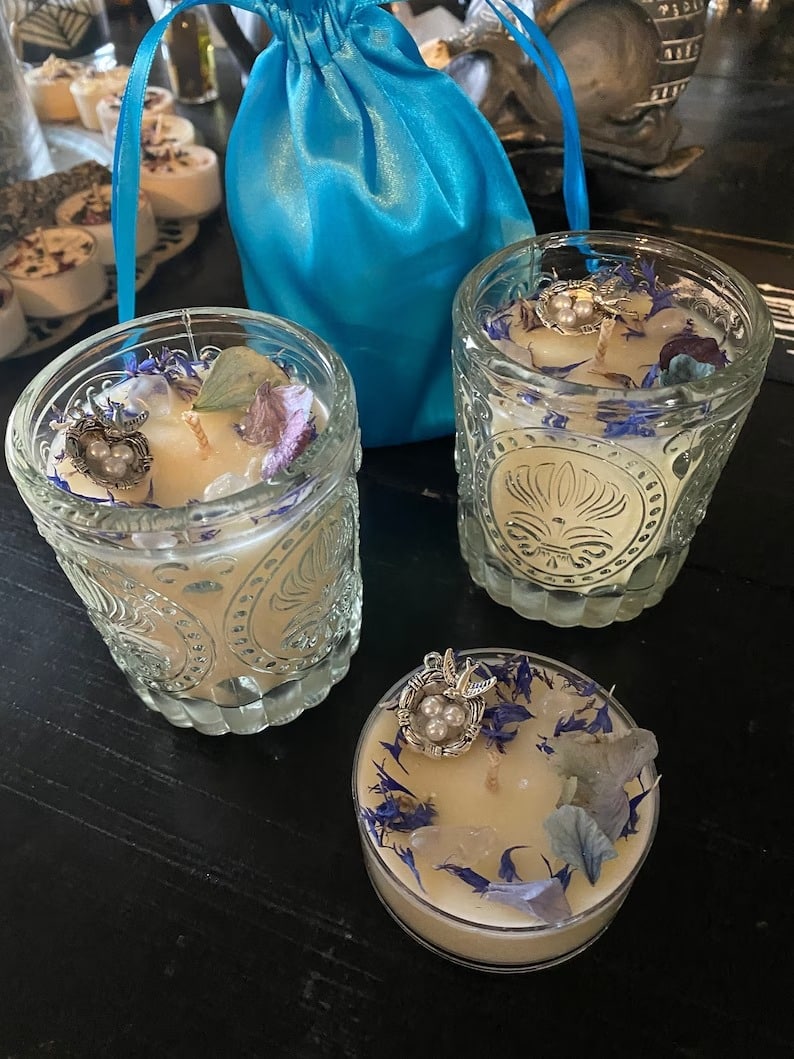 Crowned with gemstones, plants, and flowers that reflect the hues and motifs of Ostara, these individual candles include a metal bird's nest charm with a sparse coating of moon dust bio-glitter. Pastel Hydrangea, Blue Cornflower, Quartz, and other flowers and minerals are present. Sweet fruit, marshmallow, cream, and a hint of chocolate make up the scent. It ships in either in a reusable circular organza bag or a satin drawstring pouch.