The traditional business card. Almost everyone's had one at one point, or at the very least was given one, and it was assumed there was a right way and a wrong way to have them done. And for a long time that was true. If you wanted to show you were serious, standing out in the crowd was the last thing you wanted. Be a team player, and make everything the same, expected, and comfortable.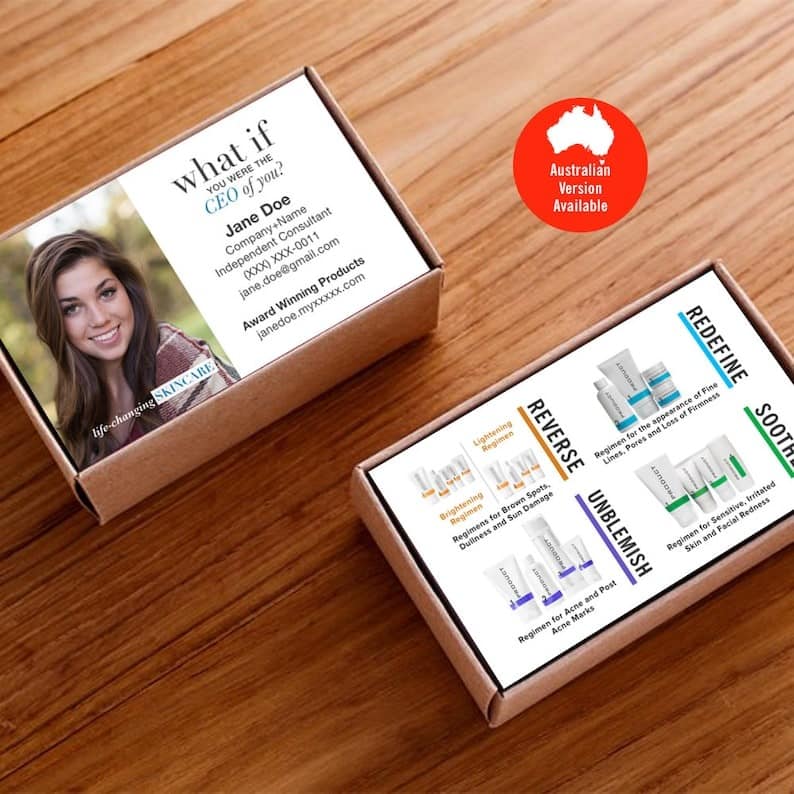 Today, thankfully, that mentality has gone away. But are business cards still important when everyone just taps their phones and exchanges information? Well, yes. Yes they are. And today we're going to look at how many people are making downloadable, customizable, editable templates of business cards for anyone who wants them. It's a hot item to produce for digital downloads and you can get in on it.
When looking at templates to offer, one of the most requested items by clients with design on their minds is an editable business card template. They'd like direct input on how they look. However, many of them lack the skills or resources to make changes to the design, making it a challenging task. Most customers who request changes to a preexisting business card design only want their names and contact information updated. But we can do much more than just that. Adobe Illustrator or Photoshop can be used to build the design, and then the file can be edited by adding text fields. Clients can make changes to the text in programs like Adobe Reader thanks to this, if that's the route they wish to take.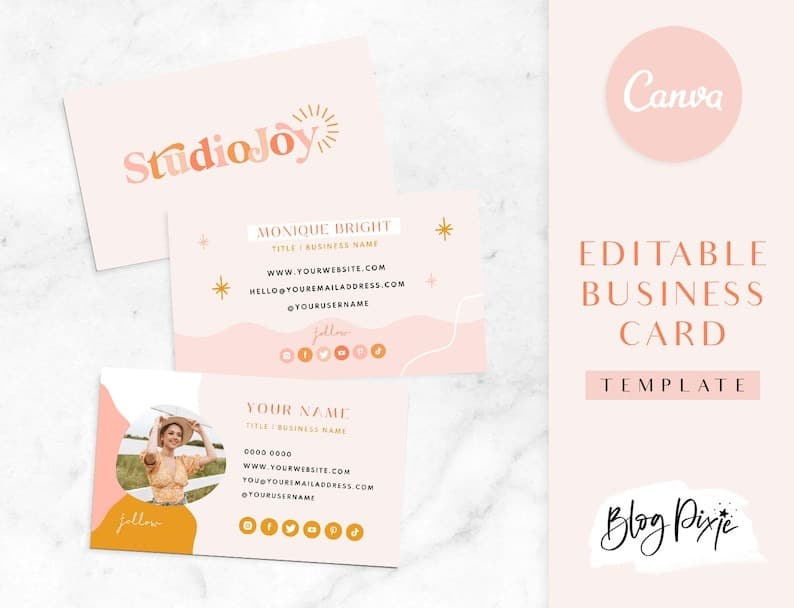 But how to start? First off, you'll need some skill in a design program, any popular software that can manipulate images will do. You don't have to go crazy trying to find the very best one; for what you're after, the popular standards such as Photoshop or Illustrator will do perfectly, though any good program will do. You need to set up your template for the typical US business card size of 3.5 x 2 inches (with 1/8 inch bleeds all around) to begin with. That is still the most requested size as it fits into a wallet or a pocket with ease. You can always expand your offerings once you get the swing of it.
When making a design, it's important to remember to hide any text layers before saving your design as a template. Later on, the customer can add those as fillable text fields. After you are happy with how your template looks create a sample standard PDF or JPG to show customers what the end product could look like once they start working with it themselves.
The next step is to convert the business card design into a fillable form so the customer may make changes to the content in Adobe Reader or the software of their choice. But they might also want the template in a different format, so consider offering it in the flavor the buyers are looking for. In order to make changes to the business card template, they may require special software that is compatible with the file format. Remember these are Photoshop and Illustrator for PSD and AI files, and Word from Microsoft for DOC and DOCX. This is information you might wish to include in your descriptions.
This all might seem a bit vague at this point, but keep in mind that you're not re-inventing the wheel; you're re-creating something you've seen your whole life but in a new and interactive way. And doing it in style with a solid design and not everyone can do that part. There's really three ways of handling this for customers and each one fills a different niche in this industry:
Create and sell the templates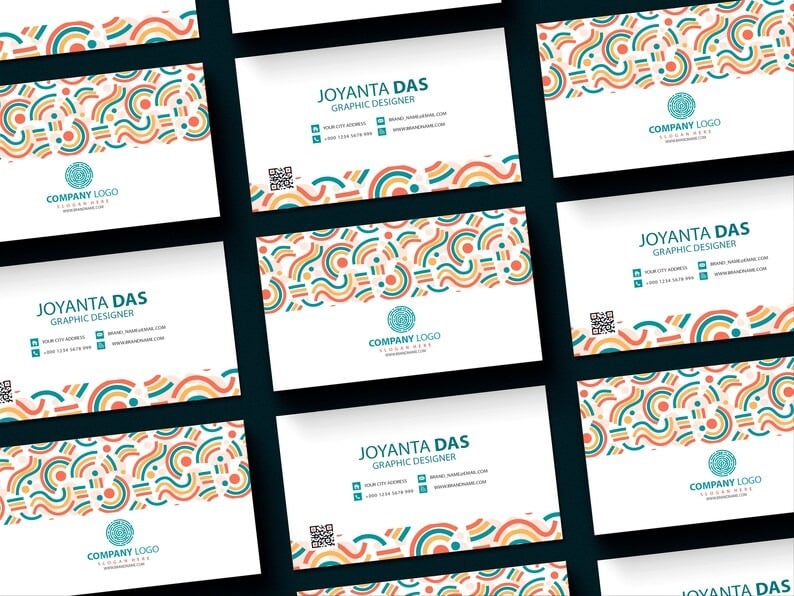 This is the process we described above. The item you're actually selling is the template of the design you created and the end user can download it and use it in the way they wish, or in multiple ways for different people they need to give the cards to. In this method, the end user does all the printing.
The above seller produces these editable images in both JPG and PSD formats and both are included in the download purchase. They also do this process in actual print, as described below using the same files.
Design and print the physical cards
In another method for this type of sale, the seller designs the template, and the end user enters their information and the seller mass produces the cards in bulk and sends them back to the customer. If you have access to, or are working with a reliable printer, you can become your own one-stop solution for business card production to the masses.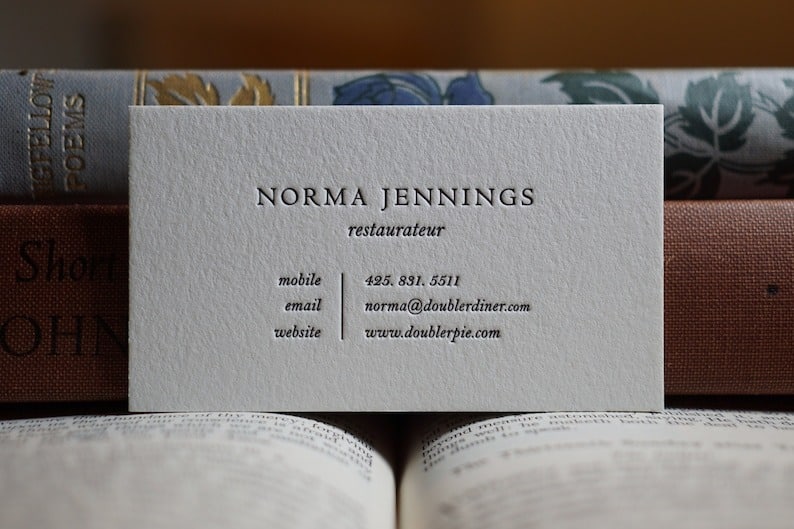 A fine example of this type of thing is from The Guildsman – Custom Letterpress Printed Calling Cards (pictured above). The Guildsman is written in the refined Centaur typeface, and addresses and phone numbers are written in Bell italics. The use of classic typefaces in conjunction with the card's modern layout creates an air of professionalism. This classy card works well with up to three lines of contact info and can accommodate names of varying lengths.
This seller lays out each card by hand, paying special attention to the tracking and kerning between each set of characters. A Chandler and Price letterpress from 1945 is used to create each business card by hand. In this particular sale, one hundred or two-hundred and fifty U.S.-sized (2.5″ x 3.5″) letterpress printed calling cards are created, and take two to three weeks to arrive.
Digital cards sent electronically
The latest form of this trend is to do without paper altogether. The concept here is the same, except what is produced is only sent and kept in the digital realm. Typically, these images are produced with the buyer's information and sent back to them, where they can then texted to potential clients over and over without the use of any physical form. This is becoming a more popular option for a number of reasons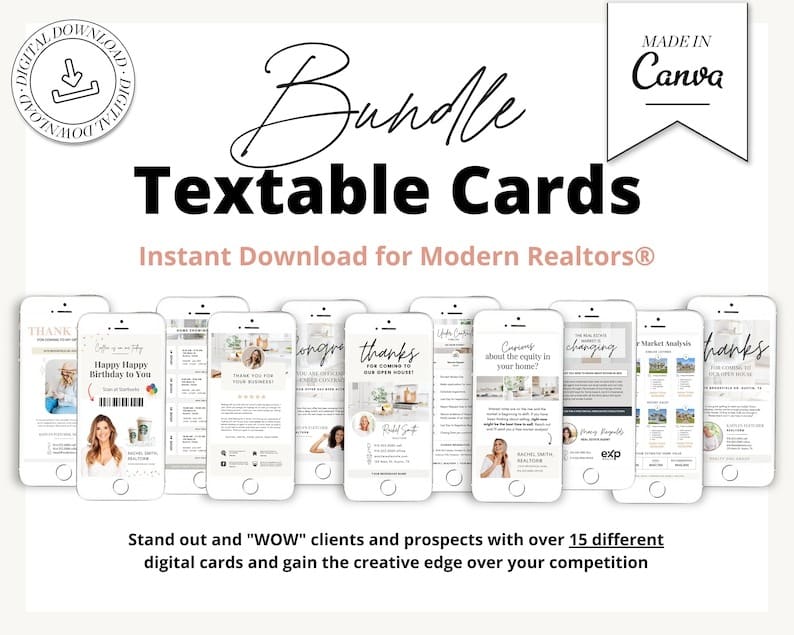 In this example, we see this type of thing aimed at the real estate market. Real estate agents thrive on getting cards to potential clients and in order to help today's agents stand out from the crowd, this seller has made a template available for immediate download. In Canva's free version, all of the template's features are available for editing. This means the customer may customize it to reflect their own identity by adding text, images, and adjusting the look and feel (fonts, colors, etc.).