Digital downloads on Etsy provide sellers with an Evergreen product class that generates thousands of dollars of passive income every month. Some of the most successful sellers on Etsy specialize in niche customizable digital downloads. In this instance, let's go over:
How to Sell Cosmetic Labels As Digital Downloads on Etsy. Selling cosmetic labels on Etsy entails allowing your customer to download your pre-designed labels and customize them to match their brand identity, colors, fonts, and logo.
If selling cosmetic labels as digital downloads on Etsy sounds complicated to you right now then you've landed on the right blog post. Let's go over how to make, list, and sell digital cosmetic labels on Etsy.


Why Sell Cosmetic Labels As Digital Downloads on Etsy?
In the U.S. alone, the cosmetic industry is expected to reach over $48 billion in 2023. And yes, that's billion with a "B".
Small and large businesses are selling a wide range of products from things like skincare to beauty products.
How To Make Customizable Digital Cosmetic Labels
Unlike actual cosmetic labels that you would physically print, list on Etsy, then fulfill orders by packing a set amount and shipping it to your customers, with digital downloads you just provide the file to your customers.
Once your customers actually download the file then they can print their desired quantity whenever they would like.
Now, this is pretty simple when you're talking about a one-off product like a sticker. But customers with existing products and brands want to be able to customize your designs to match their brand identity.
Meaning, customers want a quick base design that matches their vision for their product line but also the opportunity to place their own unique touch on the files.
This is where most digital product creators get confused because, unlike things like journals, calendars, to-do lists, birthday invitations, or wall art and posters, customized digital products are an un-editable file type – like a regular image.
The good news is, creating customizable cosmetic labels is much simpler than it seems.
If you're a seasoned designer and know how to use the full suite of Adobe applications including InDesign, Photoshop, and Illustrator, then skip over this part. For the more novice creators, designers, and entrepreneurs looking into selling cosmetic packaging labels as digital downloads, keep reading!
At this point, you are probably well aware of Canva as a free online design software that is great for beginners but when it comes to customizable file types we recommend using something like Corjl.com.

Corjl is just as easy to use as Canva but it is more geared toward the editable file type. Sure you could do the same with Canva and just send your customers links to designs but Corjl is specifically made for these purposes.
The best part about Corjl is that you can create watermarked sample designs and send your customers that link as a sample before they actually purchase the licensing to the design and make their own adjustments.
How To List Customizable Cosmetic Labels on Etsy
A lot of times customers will get confused when they first see your listing, The reason being, they think the placeholder name and branding you have is what you are selling.
You have to make it really clear to buyers that the mockup you have as the listing image is just there to give an idea of what the final printed product may look like.
Here's what you should do to ensure your customers know what they are getting.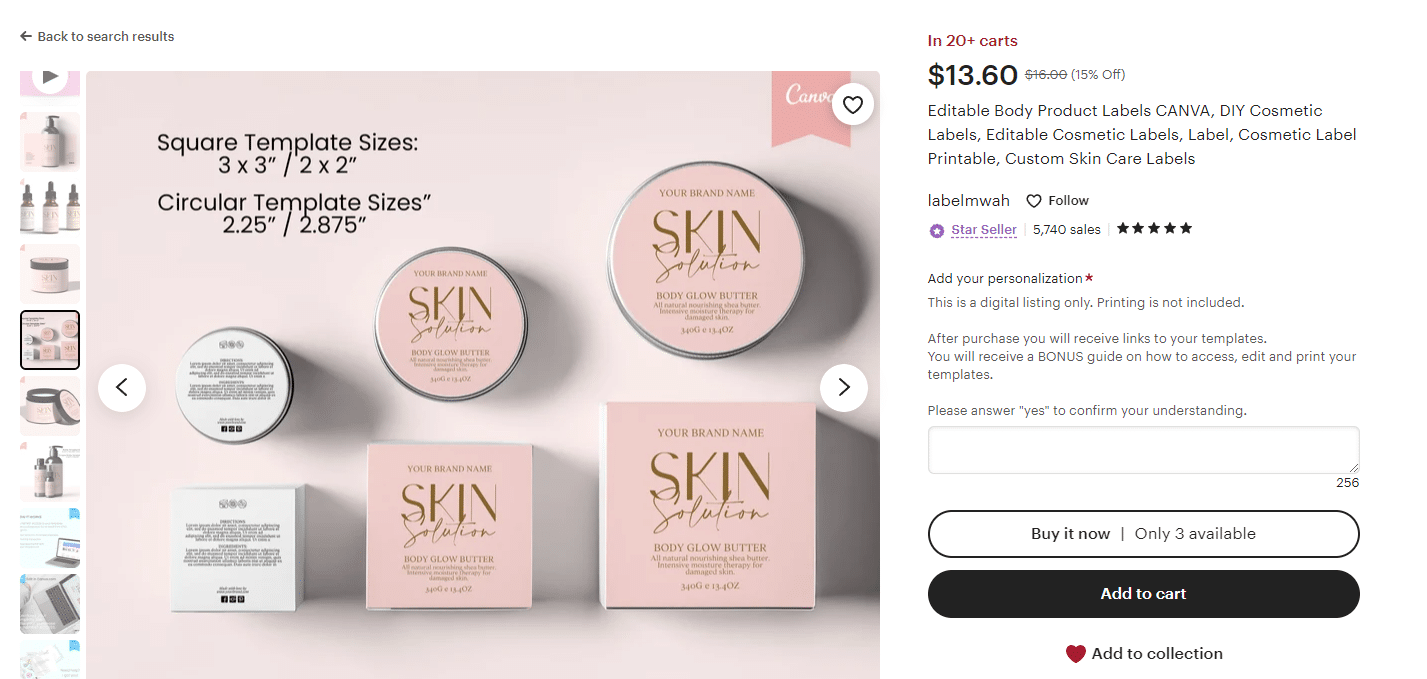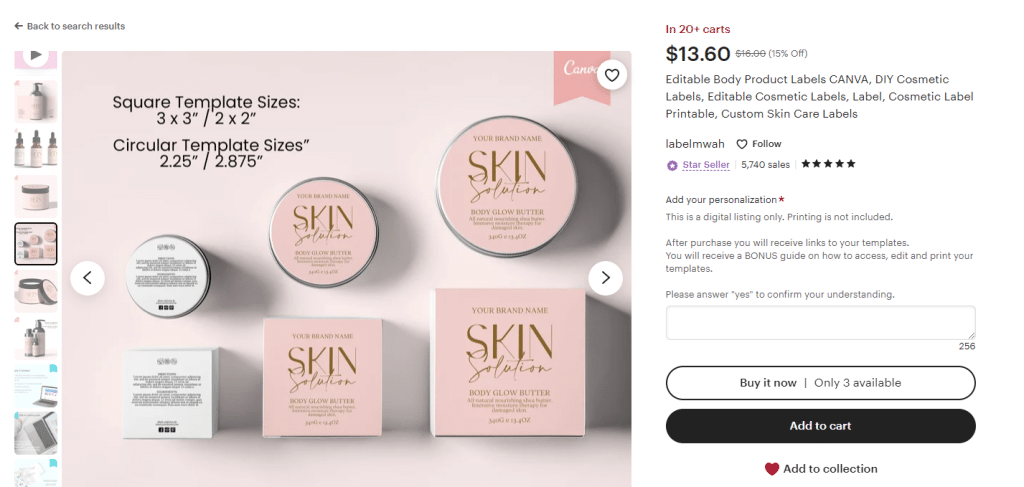 1. The Image
When creating your mockups instead of writing a fake cosmetic brand name on your labels, write something like "YOUR LOGO HERE" or "BRAND NAME". These indicate that the cosmetic labels are placeholders for someone's own brand identity.
2. What You Get
The best thing you can do is include a "You Will Get" section in your listing where you list what buyers can actually expect once they make a purchase.
List out the number of designs you are selling, the sizes of the cosmetic labels, and the fact that it's an editable file type.
It's also smart to include a disclaimer notifying the customer on Etsy that the image is just an approximate example and that a purchase does not mean a physical product but that it is solely a customizable digital download.
You should also list out what can be changed with the placeholder design including things like fonts, colors, sizes, styles, direction, and more!
3. Instructions For Printing
Definitely include instructions on how the designs should be exported, the file type, and where they can be printed.
Offer a Wide Range of Products
The best way to maximize your earnings with cosmetic labels as digital downloads on Etsy is to offer a wide range of products.
Your customers are looking to start skincare or beauty brands meaning they want to offer their customers all sorts of products from the get-go.
When you create your designs include mockups that have all sorts of cosmetic products showcasing the design in various ways so that even if your customers are looking for two or three product designs, they have the option of more.
Here's a list of container and product types to get you started:
Pumps
Rollers
Droplets and Pipettes
Sprays
Serums
Jars
Lip Balms
Gloss
Sticks
Pencils
Eye Shadow
Foundation, etc…
Besides the main design and look of the cosmetic containers, you can also sell labels and stickers of customizable ingredient lists so that customers can include their unique product ingredients when printing their labels.
Maximizing Your Earnings with Cosmetic Labels On Etsy
Everything above is great advice for when you are just getting started and it may even get you some initial sales but if you are looking to really make bank or at least a few thousand dollars of passive income every month with cosmetic labels as digital downloads on Etsy, then you need to get in touch with us today.
Our software will allow you to spy on your competitors in real time and find out what customers are searching for.
We will provide you with the most recent data on keywords your competitors aren't using but buyers on Etsy are searching for every day! Get in touch with us today to exponentially grow your custom cosmetic label business on Etsy.